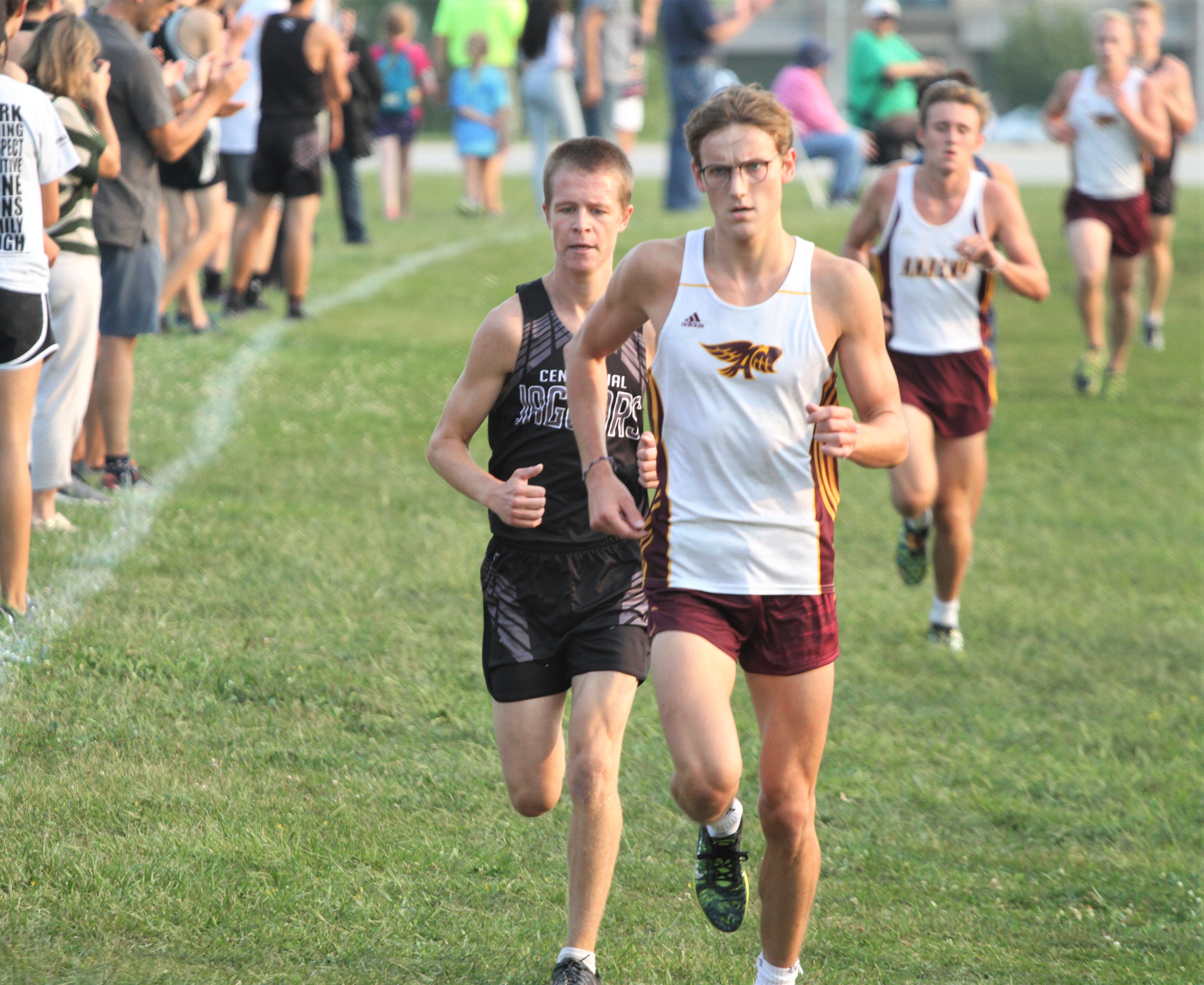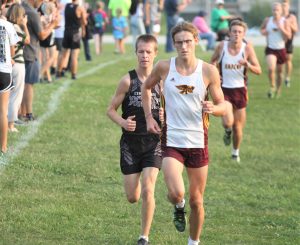 Joey Reichenbacker has helped the Ankeny boys' cross country team to a No. 5 ranking in Class 4A, while fellow senior Jonah Vicker has helped Ankeny Centennial to a No. 11 ranking.
Reichenbacker placed 12th in a time of 17 minutes 2 seconds at the CIML Central Conference meet on Thursday at Southeast Polk. He helped the Hawks to a third-place finish.
Vicker did not run at the conference meet, but he'll be back in the Jaguars' lineup at the district meet on Thursday. He is ranked 27th in Class 4A as an individual.
Here is some inside info on the duo:
How is the season going thus far?
Reichenbacker: This season is going really well. I feel as if this is the best season I've had as well as the team.
Vicker: Our season is going very well! We have had some pleasant surprises along the way.
What has been the highlight for you?
Reichenbacker: It was getting to run at DMACC again before my senior season ended. I started there my freshman year, and now I'm glad I got one last race on that course before I graduate.
Vicker: For me, I would say that my highlight is either getting a team victory at Indianola or having a great race at Marshalltown to put my name on the map.
You've had to deal with a variety of weather conditions this fall, including several days of rain over the last couple of weeks. Are you sick of getting wet yet?
Reichenbacker: The rain honestly hasn't really been bothering me. It makes the races more interesting. It makes them more fun.
Vicker: I think that there are definitely pros and cons to the crazy weather this season. (Having one race cancelled) definitely gave us some time to rest and be ready for the next meet, but that was also just one less meet to compete in and show what we can do.
What do you consider to be perfect running conditions?
Reichenbacker: Sunny, and around 50-60 degrees. With barely to no wind at all.
Vicker: They are different for everyone, but for me (a temperature in the) mid-50's, sun, and no wind is the perfect recipe for a great race!
What did you think of your team's performance at the conference meet?
Reichenbacker: I thought it was phenomenal. We went out and left it all out there. We showed people who the Ankeny Hawks are. I'm very proud of the whole team.
Vicker: We were pretty happy with it, especially with the changes that were made. With Gabriel (Vicker), Alex (Patkin) and I sitting out, we were able to watch and help support that hard-working pack that needs to keep progressing. They worked hard considering the tough Southeast Polk course and the combining of two divisions of the CIML.
Joey, were you happy with your race?
Reichenbacker: I ran a smart race and I'm happy with the results I got.
Jonah, was it difficult to watch the race?
Vicker: Looking at the results, I was a little sad that I didn't compete with such a great group of individuals in the CIML. However, it gave me an opportunity to rest to gear up for two more solid races at districts and state.
What is your favorite course?
Reichenbacker: My favorite has to be Southeast Polk's course.
Vicker: This is a tough one. I have loved running on every course throughout my years, whether I had a great race or a terrible one. However, if I had to choose, I would say either Marshalltown or running at home on the DMACC course. I have had a handful of races at home. Some were good and some were bad, but I always looked forward to running there and having everyone come and support me.
Now that you know your team's district assignment, do you think you have a good chance to qualify for state?
Reichenbacker: We go to Indianola, and I think we have a very good chance of qualifying again this year. It's what we always train for.
Vicker: I look forward to running out in Marshalltown one last time. I believe that both my team and I have a good chance to qualify to run in Fort Dodge (at the state meet) on Oct. 27. After a disappointing district result last year, I am determined to bounce back and qualify individually and as a team.
Joey, your teammate Tim Sindt recently became the first Iowa runner to ever break 15 minutes for a 5k. Do you think he ever gets bored running by himself?
Reichenbacker: I feel as if Tim never gets bored running alone. He does it so well, pacing himself while he's alone. That's big for a competitive runner. And I definitely think it's helped Tim accomplish his goal of breaking 15 minutes.
You also compete in wrestling during the winter. Does cross country put you in pretty good shape for the start of wrestling?
Reichenbacker: When we first start wrestling season, I always know I'm in the best shape because of cross country. I think it's helped me a ton when it comes to helping my body get into the wrestling season.
Jonah, your brother Gabriel has been Centennial's top runner and is ranked 11th in Class 4A. Did you know when he joined the varsity squad last year how good he was going to be?
Vicker: I didn't know that he was going to be quite this good, but we have known since he was in seventh grade that he had something special. It's been awesome watching him become one of the best in the state. I can't wait to see what the future has in store for him.
The two of you sometimes run together during a race. Do you find that strategy helpful for you?
Vicker: Yes, I find this to be helpful. However, I think that we run better when I have to chase him, but I do have to believe that I belong up in the front pack with him.
Plans for next year? Would you like to run in college?
Reichenbacker: I haven't yet decided what I want to do after I graduate. I'm still trying to decide, but yes, I would like to run in college.
Vicker: If the right opportunity approaches, I might take it. However, what I want to do is going to come first.
What are you going to study?
Reichenbacker: I'm not quite sure yet.
Vicker: As of right now, I want to study something related to engineering.