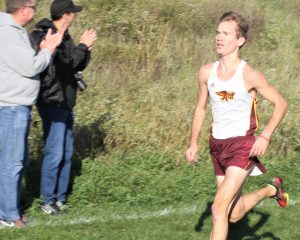 All eyes will be on Tim Sindt Saturday as the Ankeny senior tries to win a second consecutive boys' Class 4A state cross country title in Fort Dodge.
Sindt won last year's race in a time of 15 minutes 23.7 seconds. He has easily won all seven of his races this season, including the Ankeny Centennial Invitational on Oct. 4 at DMACC, where he became the first Iowa runner ever to break the 15-minute barrier.
"I'm very excited for state and seeing how my teammates and I measure up against the competition at the state level," Sindt said.
Sindt led the sixth-ranked Ankeny boys' squad to a second-place finish in a district meet on Oct. 18 at Indianola. The Hawks are seeking their highest finish since 2005, when they placed fourth for their 11th consecutive top-six finish.
"There are a lot of teams running really well right now, but if we do what we are capable of we certainly have a shot at the podium," said Ankeny coach Jon Lindaman.
No. 1 Dowling Catholic, which won the Indianola district, is looking to improve on its third-place finish from a year ago. No. 2 Dubuque Hempstead and No. 3 Pleasant Valley, the defending champion, could also contend for the crown.
Ankeny boasts four individual state qualifiers. Sindt won the district race in a time of 15:52, while Aiden McCombs placed seventh, Joey Reichenbacker took eighth and Jalen Elwell finished 11th.
"Our four qualifiers are looking to earn top-25 finishes, and Sindt is looking to be the first 4A runner to win back-to-back titles in over a decade," Lindaman said.
Ankeny Centennial senior Jonah Vicker will also compete in the 4A race. He qualified for state as an individual by placing fourth in a district meet at Marshalltown.
"My goal is to get on the podium and finish in the top 15," Vicker said.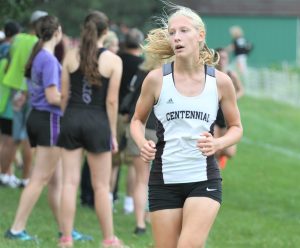 The No. 12 Centennial girls' squad, meanwhile, will be making its sixth straight state-meet appearance. The Jaguars are coming off a third-place finish in a regional meet at Marshalltown.
Centennial is seeking a top-10 finish after placing 13th at last year's meet.
"I think the top seven teams have separated themselves from the other eight teams," said Centennial coach Eric Cogdill. "I also think No. 8 Cedar Rapids Prairie and No. 9 Iowa City West have put a little separation to the teams ranked 10-15, but both are catchable if a runner or two have an off race. The remaining teams could be quite interchangeable depending on which squads perform well at state and which ones had to taper earlier just to get to state. If we run our best, we have a shot to hit the girls' goal of earning a top-10 finish."
Sophomore Kathryn Vortherms has been the Jaguars' top finisher at the last three meets. She placed fifth at the regional meet, while Jeanne Peters (7th) and Katie Jensen (14th) also qualified for state as individuals.
Morgan Graybill is expected to rejoin Centennial's lineup after sitting out the regional meet, where she was replaced by senior Brianna Smith. Smith placed 28th in a time of 21:27 in her final high school race.
"This was a planned switch that we determined just over two weeks ago," Cogdill said. "After the conference meet (on Oct. 11), Morgan passed her spot for state qualifying to Bri so that Bri could run one more race as a senior with her teammates and also allowing Bri the opportunity to earn academic all-state honors. By finishing within the top 30 and the work she has done in the classroom, Bri has met the requirements to be honored by the (Iowa Association of Track Coaches)."
The rest of Centennial's lineup will remain unchanged.
"We've had a great week of preparation and I'm excited to see how things go," Cogdill said.
The state meet begins at 11 a.m. with the Class 4A girls' race at Lakeside Golf Course at Kennedy Park. The boys' race will then follow at 11:30.