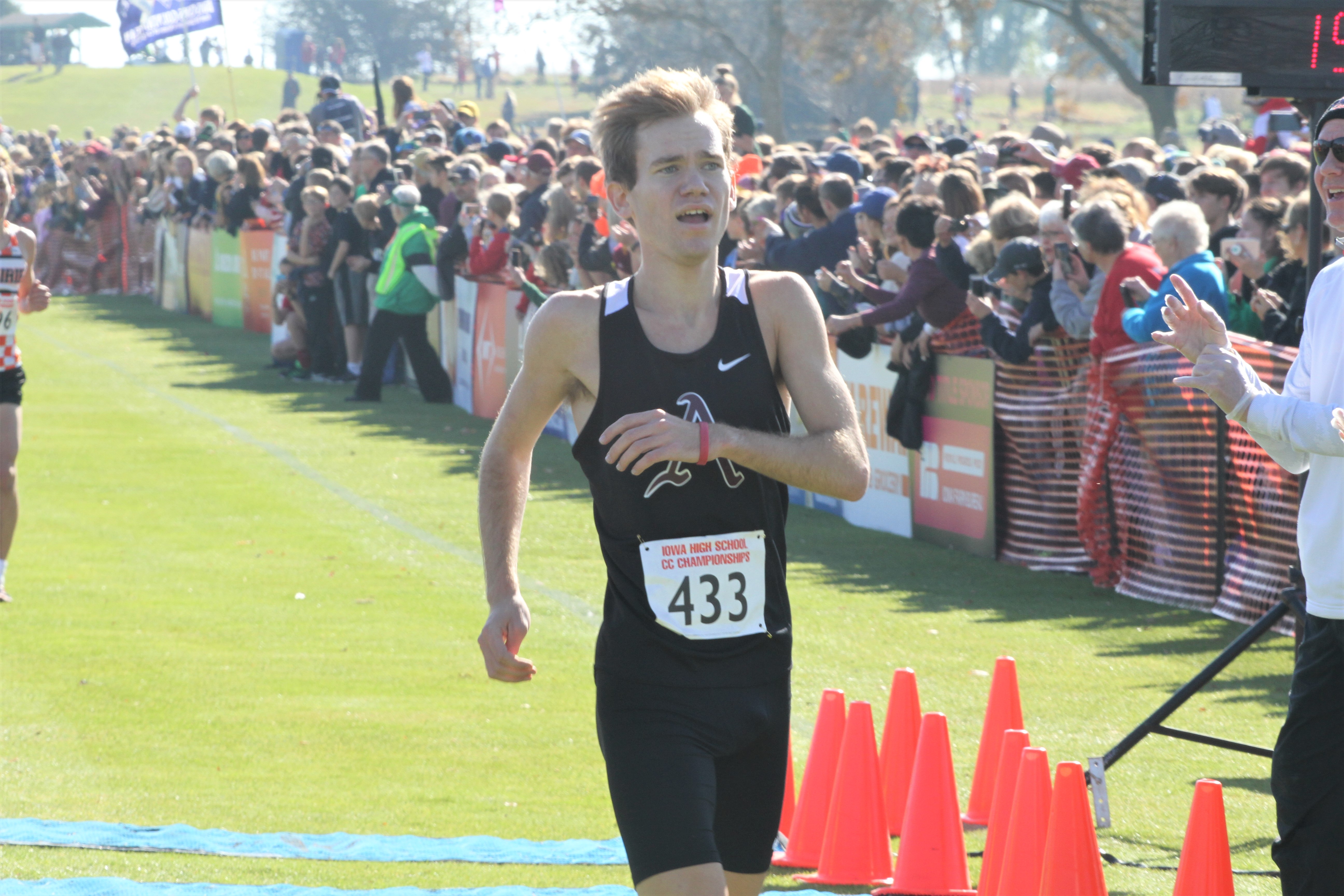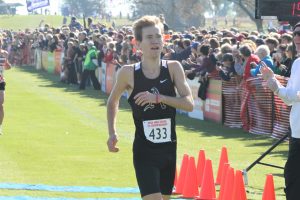 On Saturday morning, Ankeny boys' cross country coach Jon Lindaman tweeted out a photo showing dozens of loaves of bread.
"Fresh & Ready @TheeTimSindt," Lindaman tweeted.
A few hours later, after the Class 4A state meet in Fort Dodge, Lindaman tossed a loaf to senior Tim Sindt, his star runner. It was Sara Lee's Classic White bread.
"Something we say all the time is, 'Let's get this bread,'" Sindt said. "And so we got the bread today."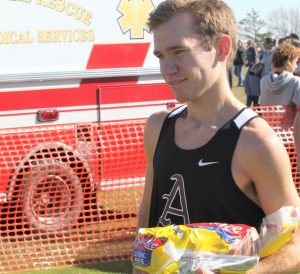 Sindt raced to his second consecutive state title on the 5k course at Lakeside Golf Course. He posted a time of 15 minutes 36 seconds to defeat junior Jack Pendergast of Cedar Rapids Prairie by about 6 seconds.
Sindt became the first Class 4A runner to win back-to-back crowns in more than a decade.
"I actually think it was harder this time," Sindt said. "Last year I kind of had people pushing me the whole race–with me and ahead of me–and it was really good. This year, I kind of jumped out to the lead early and I knew people were behind me, but it's easier when they're next to you."
Sindt wasted no time in surging to the front of the field at the sound of the gun. He wanted to set a fast pace.
"I was hoping to guide (my teammates) to some PRs, but it ended up not being a super fast race," Sindt said. "But it was a good one nonetheless."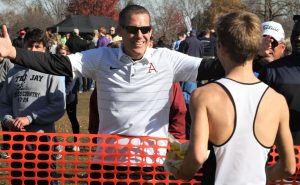 Only seven runners broke the 16-minute barrier, even though the meet was held under near-perfect conditions. Sindt was never seriously challenged by any of the top contenders, which also included senior Kolby Greiner of Iowa City West and junior Sam Hall of Dowling Catholic.
"I was expecting seniors mostly to run really well and kind of have that senior magic step in, but I was glad I could hold them off and have some of my own," Sindt said.
Sindt and four other seniors helped sixth-ranked Ankeny to a fifth-place finish in the 15-team field. The Hawks, who scored 163 points, earned their highest finish since placing fourth in 2005.
"We were shooting for top three and if not that, then top five," said Aiden McCombs. "I feel like we accomplished our goal."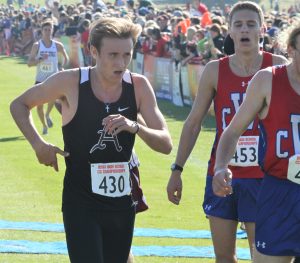 No. 1 Dowling claimed its third title in four years, finishing with 72 points. The Maroons edged No. 2 Dubuque Hempstead by one point.
McCombs joined Sindt on the awards podium by placing 15th in a time of 16:10. The top 15 individuals are recognized after the race.
"I came in ranked 29th and I knew they kind of (underestimated) me a little bit," McCombs said. "I felt like all the work I put in this season would show. I brought it out to the course, and I did pretty well."
McCombs, a senior, improved tremendously this season with some assistance from Sindt. He was not in Ankeny's state-meet lineup a year ago.
"It was pretty nice to learn the ins and outs from one of the best runners in the country and just taking pointers from him," McCombs said of Sindt. "I'm just trying to do what he's doing, and I'm seeing it pay off right now."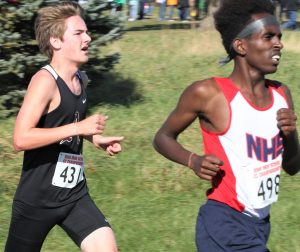 Joey Reichenbacker placed 39th for the Hawks in 16:44, while Jalen Elwell was 52nd in 16:56. Cole Johnson, another senior, placed 97th in 17:34.
Cael Cox was Ankeny's fifth scoring runner, placing 83rd in 17:22. Fellow sophomore Andrew Poock finished 110th in 18:09.
"We didn't really care about the times," McCombs said. "We just cared about the place because that's all that matters for the team, but the conditions were great. It wasn't too hot, and it wasn't too cold. I thought it was perfect weather."
It was also a perfect day for Sindt to make some history, becoming the first repeat winner in 12 years.
"It feels really good," he said. "That's a pretty cool thing in my eyes."