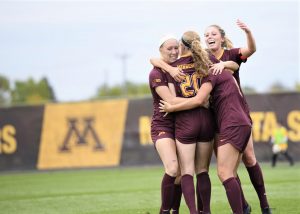 Four former members of the Ankeny-based Iowa Rush Soccer Club have advanced to the semifinals of the Big Ten Tournament later this week at Grand Park in Westfield, Ind.
Sixth-seeded Nebraska and seventh-seeded Minnesota both pulled off upsets in the quarterfinals on Sunday, setting up a showdown between the two teams on Friday at 12:30 p.m. The game will be televised on the Big Ten Network.
Nebraska (9-6-5) played No. 3 seed Ohio State to a scoreless draw in Columbus, but the Cornhuskers won the penalty-kick shootout by a 3-2 tally. Former Ankeny Centennial star Meg Brandt hit the left post in the second set of kicks, but Nebraska eventually won the game when goalkeeper Aubrei Corder saved an attempt by Izzy Rodriguez.
During the first 110 minutes of action, the Huskers managed three shots on goal, two of which came from Brandt. Nebraska's defense recorded its fifth shutout despite Ohio State outshooting the Huskers by a 16-7 margin.
Brandt, a junior midfielder, and freshman defender Olivia Brown, another former Ankeny Centennial standout, played the entire game for Nebraska. Senior midfielder/defender Caroline Buelt, a former Ankeny star who has battled an injury this season, saw 30 minutes of action for the Huskers as a reserve.
Minnesota, meanwhile, posted a 1-0 victory over No. 2 seed and 21st-ranked Rutgers at Piscataway, N.J. Big Ten Forward of the Year April Bockin scored the game-winning goal in the closing minutes of regulation for the Gophers (10-8-1).
Freshman forward Megan Gray played as a reserve for Minnesota. Less than five months ago, Gray and Brown were teammates on the Ankeny Centennial squad, leading the Jaguars to the Class 3A state title.
In Friday's other Big Ten semifinal match, top-seeded Penn State will face No. 5 seed Illinois at 10 a.m. The championship game is slated for Sunday at Grand Park, starting at 11 a.m.