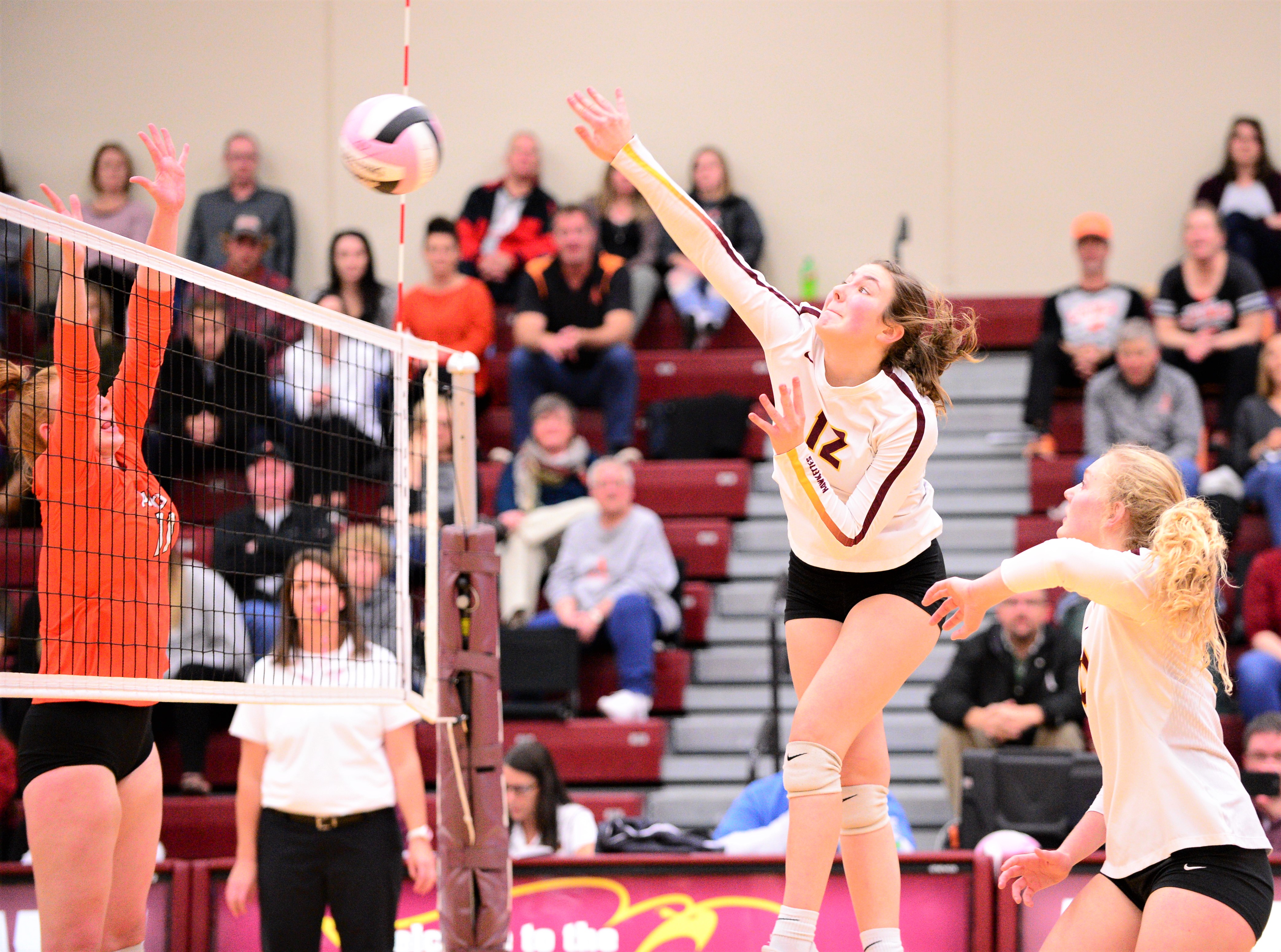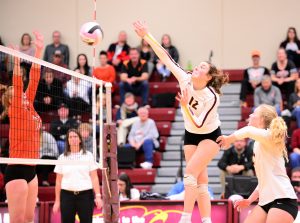 Junior outside hitter Isabelle Vacek has helped the sixth-ranked Ankeny volleyball team to a 31-12 record and a berth in this week's Class 5A state tournament at Cedar Rapids. She was named to the CIML Central Conference first team.
Vacek leads the Hawkettes with 348 kills. She has also contributed 82 blocks, 134 digs and 34 aces.
Here is some inside info on Vacek:
Congratulations on advancing to the state tournament. What did you think of your team's performance in the regional final against Ames?
I am really proud of the team. We started off really strong in the first set, had a small rough patch in the middle, but finished strong. I think it was a big game for our middles because we've been working on using the middles more and that was effective. Overall, it was an exciting night filled with energy and love for the team.
I know this was one of the team's biggest goals, but you're not satisfied with just reaching the state tournament, are you?
Reaching this point in the season is what we have worked for all year and qualifying for state has been a goal for us. However, we do not want qualifying to be the highlight of the season. It is amazing to reach this goal, but we still have many more to accomplish before the end of this week.
Your team will now play No. 3 Valley in Tuesday's quarterfinals. What will it take to avenge three earlier losses to the Tigers?
I believe if we play how we are capable of playing, with serving and serve receive being our main focuses, we have a great shot at Valley. Also, when all our hitters have confidence and success, it opens up more of our offensive possibilities. I think if we execute our defensive and offensive game it will be a great matchup.
Valley boasts one of the state's best players in Nebraska recruit Madi Kubik, who has racked up 480 kills this season. Do you think she can be stopped, or do you just try to contain her?
We will try to contain her, but our main focus will be on keeping our side where it needs to be–playing our game.
With a victory, your team would likely get a rematch against No. 2 Ankeny Centennial in Thursday's semifinals. I'm sure you'd like another shot at the Jaguars, wouldn't you?
Yes, it's always exciting to get a shot at beating another great team.
Your team has not played No. 1 Cedar Falls, but you did see them at the Centennial Invitational earlier this season. Do you think the Tigers, who have won 70 straight matches, are beatable?
I think that any team is beatable. You just have to have a strategy and get your own team to play with confidence and aggressiveness.
You are the only current Ankeny player who saw some action at the state tournament in 2016, when the Hawkettes lost to Cedar Falls in the semifinals. What can you tell your teammates about the atmosphere at the U.S. Cellular Center and how to prepare for it?
I have told them that it is an intense atmosphere and an amazing experience. I have told them that the atmosphere isn't like any other they have played in yet and that when we play we need to focus on our team, not the outside distractions. I think that it's something very exciting to experience not just as a team of athletes, but as a group of friends–it's a really fun and exciting atmosphere!
Were you nervous the first time you played at the state tournament?
Yes, I was very nervous as I was a freshman and it was my first high school sports experience being in such an intense situation.
Coach Morton moved you from the middle to the outside this season. Was it an easy transition for you?
I really love playing middle with the quick sets and blocking so it was a move to help the team. It was a tough transition at first because I have been used to running a fast tempo in the middle. Having Phyona (Schrader) as a setter has made the transition easier because we can run a faster paced ball on the right side. When I play all the way around, I think that I bring the possibility of the back row attack and an energy to the court that I can't bring from the sideline.
Sophomore McKenna Scheib has helped pick up some of the slack in the middle. How critical has she been to the team's success?
I think McKenna has become a presence that we needed in the middle. Sara (McCullough) has had more experience in the middle on the varsity level and she does an awesome job, so we needed someone opposite her who could also do some damage.
You mentioned Phyona, who has already committed to play for Notre Dame. Where are you at in the recruiting process? Do you have any offers?
I plan on playing volleyball in college. I have visited a few of my top picks, but haven't decided where I want to attend yet.