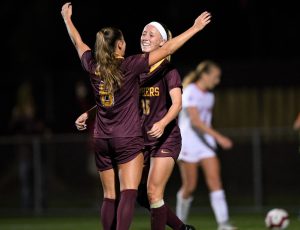 Molly Close wasn't too worried when the Wartburg College women's soccer team lost to Loras, 3-2, in the championship game of the American Rivers Conference Tournament on Saturday.
The former Ankeny standout thought the Knights would still receive an at-large berth to the NCAA Division III tournament, and she was right.
Wartburg (13-5-1) received its seventh NCAA Tournament bid on Monday. The Knights will travel to face 23rd-ranked University of Wisconsin-La Crosse (17-2-2) on Saturday at 1:30 p.m.
"I was pretty confident that we would get an at-large bid because we were ranked so high in the region," said Close, a sophomore midfielder. "It would have been fun if we could have won conference and got an automatic bid, but I'm happy with where we are at. I'm excited for the game on Saturday."
The first two rounds will be hosted by UW-La Crosse. The other teams in the pod are St. Thomas (Minn.) and Knox College.
Close is one of four players from Ankeny on the Wartburg roster. Her former Ankeny teammate, Hailey Osburn, is a freshman defender for the Knights.
Sophomore midfielder Emily Fontana and freshman goalkeeper Marissa Lopez are both former Ankeny Centennial standouts. Fontana, Close and Osburn have started all 19 games, while Lopez has appeared in 16 games with 14 starts.
At least five other former Jaguars are headed to national tournaments, including Megan Gray, a freshman forward at Minnesota. The Gophers earned an automatic bid to the Division I tournament by winning the Big Ten Tournament championship on Sunday at Westfield, Ind.
Minnesota will be making its third NCAA Tournament appearance in four years and 11th NCAA appearance in program history. The Gophers (11-8-2) will play at Auburn (12-5-2) in the opening round on Friday at 3 p.m. CT.
It will be the third all-time meeting between the two schools. The winner will play second-seeded UCLA or San Jose State in the second round.
"For us to go on the run that we did at the end of the year here through the tournament is fantastic to put ourselves in the position to play a team like Auburn," said Minnesota coach Stefanie Golan. "It could be a quick turnaround and we have to get our team ready to go, but high-level soccer is the best kind of play."
Meanwhile, Minnesota State has earned the No. 4 seed in the Division II Central Region tournament. Two former Centennial standouts, junior defender Jessie Ault and junior forward Sammy Stoelk, are members of the Mavericks' squad.
Minnesota State (18-2-1) will face fifth-seeded Emporia State (14-5-1) on Friday at noon CT at Edmond, Okla. The No. 1 seed, Central Oklahoma, will host the first two rounds.
The Mavericks earned an automatic bid to the NCAA Tournament after winning their seventh Northern Sun Intercollegiate Conference Tournament title on Sunday. They defeated Minot State, 1-0, in the championship match.
Minnesota State is making its eighth consecutive NCAA Tournament appearance and 13th overall.
Augustana (S.D.) is the No. 6 seed in the Central Region and will play No. 3 seed Central Missouri in Bemidji, Minn., on Friday at a time to be determined. This will be the Vikings' fifth NCAA appearance and their fourth in the last five seasons.
Former Ankeny star Alexis Legg, a freshman midfielder, has scored a team-high 10 goals to lead Augustana (12-5-3). Former Centennial standouts Claire Dahm, a junior, and Kenzie Geiger, a freshman, are both forwards for the Vikings.
"I am so excited. It is such a hard thing to make it into the NCAA Tournament," said Augustana coach Brandon Barkus. "Central Missouri is a great program and last year's national champions so it will be a big challenge for us."