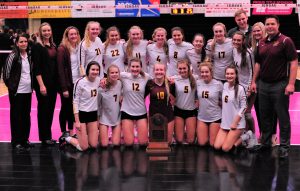 The Ankeny volleyball team got off to a shaky start Tuesday in the quarterfinals of the Class 5A state tournament.
The Hawkettes never recovered.
Third-ranked Valley jumped out to a 14-4 lead in the opening set and went on to post a 25-12, 25-17, 25-18 victory over No. 6 Ankeny at the U.S. Cellular Center in Cedar Rapids. The Hawkettes finished the season with a 31-13 record.
"We just came in and didn't quite execute some of the nerves," said Ankeny coach Joe Morton. "The bigger facility and the bigger venue kind of got to us a little bit. When we finally got it figured out, it was just a day late and a dollar short."
Madi Kubik pounded a match-high 22 kills as Valley (41-3) outhit the Hawkettes by a .420 to .135 margin. The Tigers defeated Ankeny for the fourth time this season.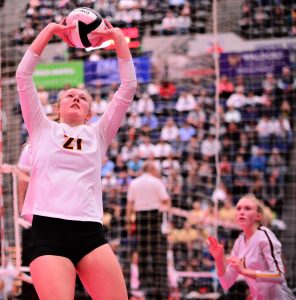 "Honestly, I don't even remember playing (Ankeny) this year because I felt like we played them more in tournaments and not the regular Tuesday night matches," Kubik said. "But they're a really strong team and Phyona (Schrader) does a really good job of running their offense. We had to do a really good job of serving aggressively to keep them out of system."
Isabelle Vacek and Taylor Richards each had nine kills to lead Ankeny. Schrader added five kills, 17 assists and two aces.
"In the beginning we were nervous and we weren't really playing for each other," Schrader said. "Toward the end, we were playing for the seniors and I think that helped a lot."
Ankeny struggled in the opening set, finishing with more hitting errors (8) than kills (6). The Hawkettes committed a service error to end the set.
Ankeny then had another service error to begin the second set–one of its eight in the match.
"It was the errors on our side that really hurt us," Morton said. "The 22 kills (that Kubik had) I can live with, but we just didn't slow down some of their other players enough."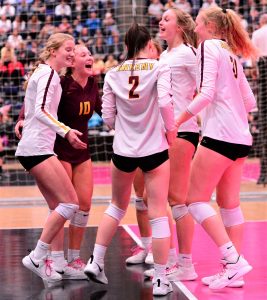 Vacek had three kills early in the second set, but Valley then broke away from a 3-3 tie by scoring 11 of the next 13 points. The Tigers eventually closed out the set on a kill by Jasmine Spann.
"The goal was not to stop (Kubik) at all," Vacek said of the Nebraska recruit. "We wanted to push her through the front row and take what we could, but some of their other girls stepped up."
Ankeny tied the score at 9-9 on an ace by Schrader in the third set, but Kubik then responded with three kills as Valley pulled away to a 14-11 lead. The Tigers later went on an 8-3 run to close out the match.
"It was pretty big and really loud," Schrader said of the atmosphere inside the arena. "The ceilings are really high, and as a setter that made things pretty tough."
Ankeny was hoping to utilize middle hitters Sara McCullough and McKenna Scheib, but the duo combined for just three kills in the loss.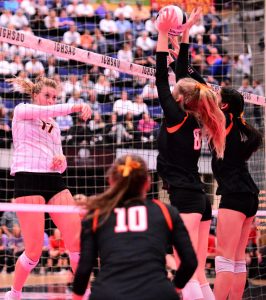 "Our pass just wasn't where it needed to be to make the middles live," Morton said. "Our game plan kind of got thrown out the window, and then we were scrambling and that's never good for anybody."
Valley will play No. 2 Ankeny Centennial in Thursday's semifinals for the third straight year. The Tigers swept last year's match before falling to Cedar Falls in the final.
"They've got a team that basically returned from the championship match last year," Morton said of the Tigers. "We only have one girl, Isabelle, who has played in the state tournament. I think that was a big part of it. We'll look to reload again next year with some young kids and now that we've got that experience, I think we'll have a different mindset."
Vacek vowed that the Hawkettes will be back in Cedar Rapids next year.
"I think this will definitely be a building block for us," she said.