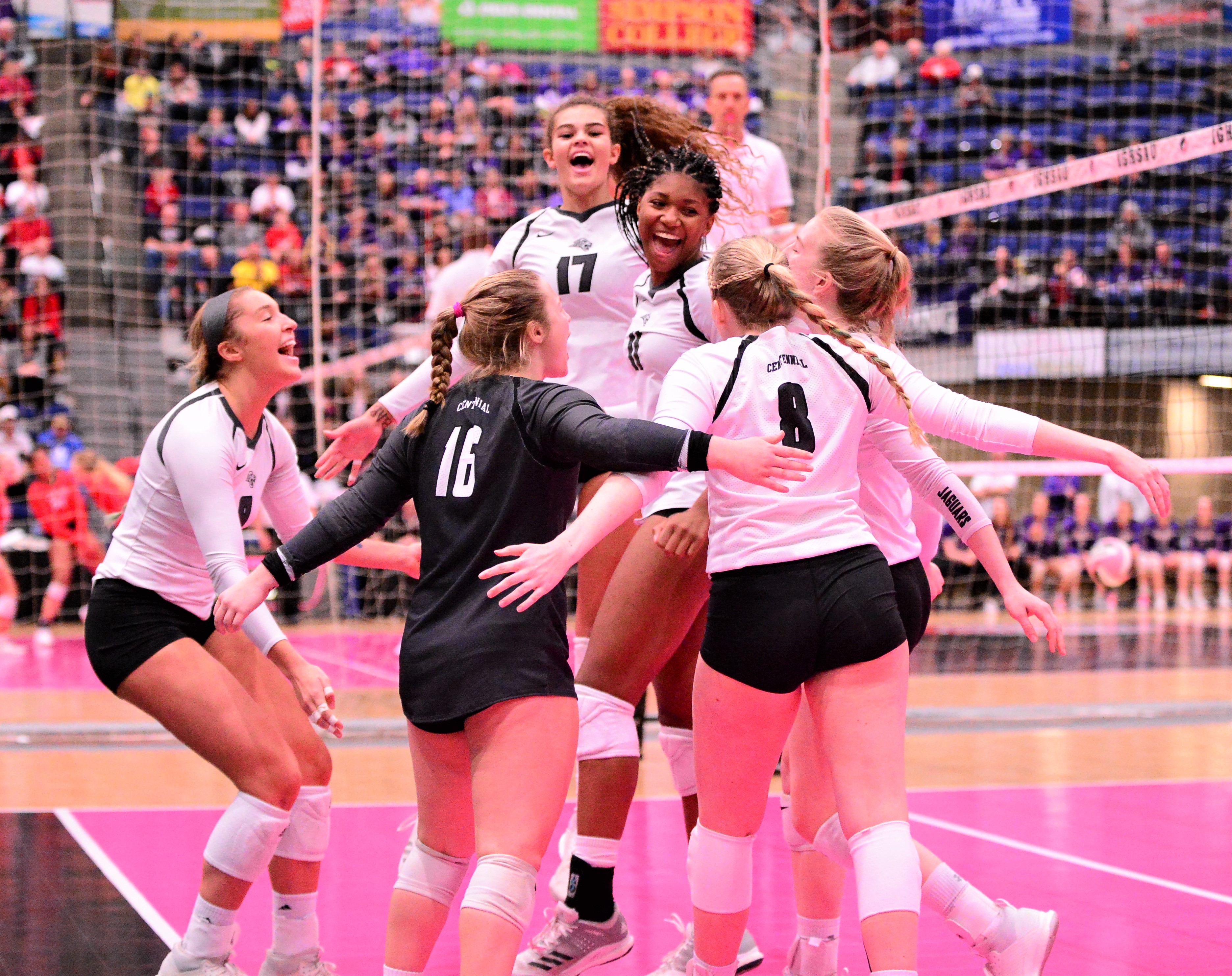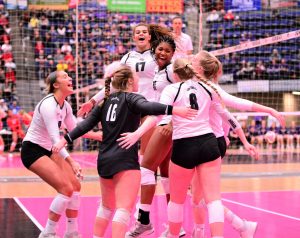 There was no panic in the huddle after the Ankeny Centennial volleyball team lost to Dowling Catholic in Set 3 of a Class 5A quarterfinal at the state tournament on Tuesday.
The Jaguars knew what they had to do.
"I think what we have that the other teams don't is that we all trust each other," said Centennial middle hitter Megan Lively. "We all knew when Riley (Morgan) set somebody that we were going to get a big kill. We just trust each other enough that we never really worried. We were like, 'Ok, let's go!'"
Second-ranked Centennial then dominated the fourth set to complete a 25-10, 25-19, 23-25, 25-12 victory over No. 7 Dowling at the U.S. Cellular Center in Cedar Rapids. The Jaguars (39-3) will play No. 3 Valley (41-3) in Thursday's semifinals for the third straight year.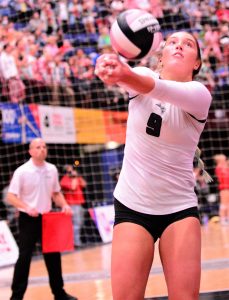 "We've been working hard this whole season and especially the last few weeks," said outside hitter Kenna Sauer, who led the Jaguars with 24 kills. "This is just a part of our goal. Our goal is a state championship, so this is just the first step toward that. We're very happy to get this win out of the way."
Centennial hit better than .400 in every set and outhit the Maroons by a .462 to .149 margin. The Jaguars defeated Dowling (29-13) for the third time this season.
"(Those earlier wins) gave us a lot of confidence, but you've still got to respect a team," said Centennial middle hitter Devyn Robinson. "You never know what they could bring out. They beat us in the third set."
Robinson had 14 kills and five blocks for the Jaguars. Ari Winters added eight kills and 12 digs, while Morgan dished out 43 assists.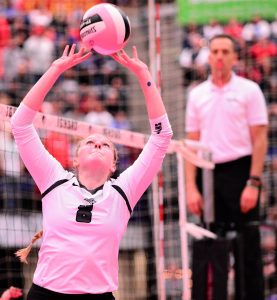 "We just didn't play like ourselves that third set," Morgan said. "We just really needed to find ourselves again, regroup, get some more energy on our side of the court, and that's basically just what coach told us."
After Dowling scored the final two points to win Set 3, the Maroons took an early 3-1 lead in the fourth set. But Centennial then scored 10 of the next 12 points and pulled away for the victory.
The Jaguars eventually closed out the match on a block by Calea Jones.
"It feels really good to know that we've made it to the semifinals," Robinson said. "I feel like we practiced really hard. We tried out a lot of different situations and prepared ourselves really well for that game."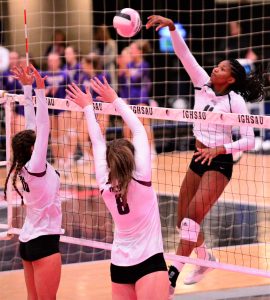 Jacey Koethe led Dowling with 15 kills. Anna Godfredsen added 10 kills.
"They passed really well, which made them hard to defend," Centennial coach Jessica Rinehart said of the Maroons. "Their middles got a lot of kills on us. We had a lot of single blockers, and our goal was to have a double block. But they passed really well, and that created a lot of opportunities for them that maybe they didn't have in the first two matches."
Dowling hit .400 and never trailed in the third set, but the Maroons were unable to sustain their momentum. They had more hitting errors (9) than kills (7) in the fourth set.
"We started in a different rotation. We put Jacey on Devyn to try to control Devyn a little bit more, and we definitely passed a lot better," said Dowling coach Mary Beth Wiskus. "We told the girls we had to serve and pass to win, and ultimately in Set 4 that's what got us. We didn't pass very well, and we opened the door for them to come back in.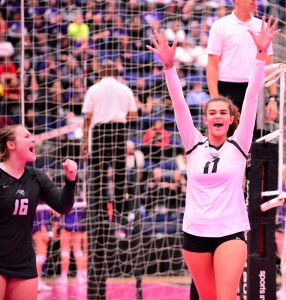 "But they have some great hitters. They're a really talented team, and I wish them all the luck," Wiskus said of the Jaguars.
The Jaguars will now play Valley for the fourth time this season. Centennial won the first two meetings before the Tigers won the last matchup in the final of the Urbandale Invitational on Sept. 29.
The Jaguars, who were swept by Valley in last year's semifinals, have been waiting a year to get some revenge. But it's a matchup that the Tigers wanted as well.
"We want to play them just as badly," Valley star Madi Kubik said after the Tigers extended their winning streak to 25 matches with a sweep over No. 6 Ankeny in a quarterfinal on Tuesday. "It seems like we always match up with (Centennial) in the semis, but we're ready for the challenge. We're just so pumped for the opportunity to play them."