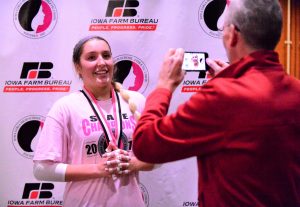 When Kenna Sauer was a sophomore in 2016, she enjoyed a dream season for the Ankeny Centennial volleyball team, earning all-tournament team captain honors after leading the Jaguars to the Class 5A state title.
Sauer may have topped herself on Friday.
The senior outside hitter smashed a kill from the left side to give second-ranked Centennial its fourth state championship in five years. She finished with 13 kills and 12 digs as the Jaguars swept No. 1 Cedar Falls at the U.S. Cellular Center in Cedar Rapids.
Sauer was again named the captain of the all-tournament team.
"It feels amazing," said Sauer, a Missouri recruit. "I think probably since my freshman year when I joined this team, that's been the ideal picture in my head. I think I couldn't have done any of that without all my teammates. They push me every day, we push each other, we make each other better–not just this tournament, but in practice every day. This is the best way I could have asked for it to end, and it did."
Sauer was joined on the all-tournament team by Centennial teammates Ari Winters and Devyn Robinson. Robinson was a repeat selection to the all-tournament team, while Winters was also honored for the second time–she earned all-tournament honors as a freshman in 2015.
Also named to the all-tournament team were Akacia Brown and Emerson Green of Cedar Falls, Madi Kubik of Valley and Megan Renner of Linn-Mar (Marion).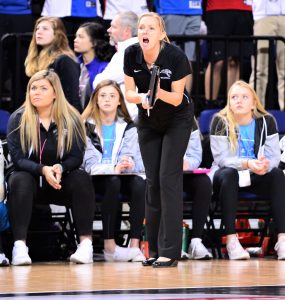 MOVING UP. Centennial coach Jessica Rinehart has now won four state titles, moving her into a five-way tie for eighth place on the state's all-time list. She joins a group that includes former Ankeny coach Dave Whims, who also captured four crowns.
Tom Keating of Dubuque Wahlert holds the record with 11 championships.
"They're all special, and this one is extremely special," Rinehart said.
Centennial has also matched its crosstown rival by winning a fourth title. Ankeny won championships in 2004, 2005, 2008 and 2009 under Whims, who was sitting courtside most of this week watching both the Jaguars and the Hawkettes, who lost to Valley in Tuesday's quarterfinals.
SENIOR CLASSIC. Both Sauer and Winters will play in the Iowa Girls' Coaches Association's Senior Volleyball Classic.
The event will be held on Nov. 16-17 at Carroll High School. A total of 32 players have been selected to participate.
SMART CATS. Four Centennial seniors have been named to the academic all-state team by the IGCA.
Those honored were setter Riley Morgan, middle hitter Emma Wallestad, and outside hitters Rachel Schon and Taryn Lindaman.