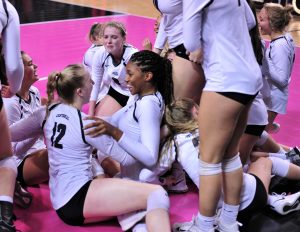 How did the Ankeny Centennial volleyball team pull off a stunning sweep in the Class 5A championship match against top-ranked Cedar Falls, which had dropped only two sets all year and entered the final with a 75-match winning streak?
The numbers tell part of the story:
* The Jaguars outhit Cedar Falls by a .266 to .168 margin. Both teams racked up 42 kills, but the Tigers had 22 hitting errors–nine more than Centennial.
* The Jaguars had eight aces, while Cedar Falls managed just three. All-tournament team captain Kenna Sauer led the way with three aces. She served an ace to open the match, then later had another one to begin the third set.
* Centennial had nine total blocks, four more than the Tigers. Megan Lively was a monster in the middle, putting up three solo blocks and one block assist.
* Both teams went on a 6-0 run in Set 3, but the Jaguars had more runs throughout the match. They had three 5-0 runs and a pair of 4-0 runs. Cedar Falls, meanwhile, had just one five-point run and one four-point run.
* The Tigers got a match-high 16 digs from Kirsten Graves, but Centennial relied on a balanced effort to slow Cedar Falls' attack. Sauer finished with 12 digs, while Kenedy Balentine, Riley Morgan and Ari Winters each added nine.