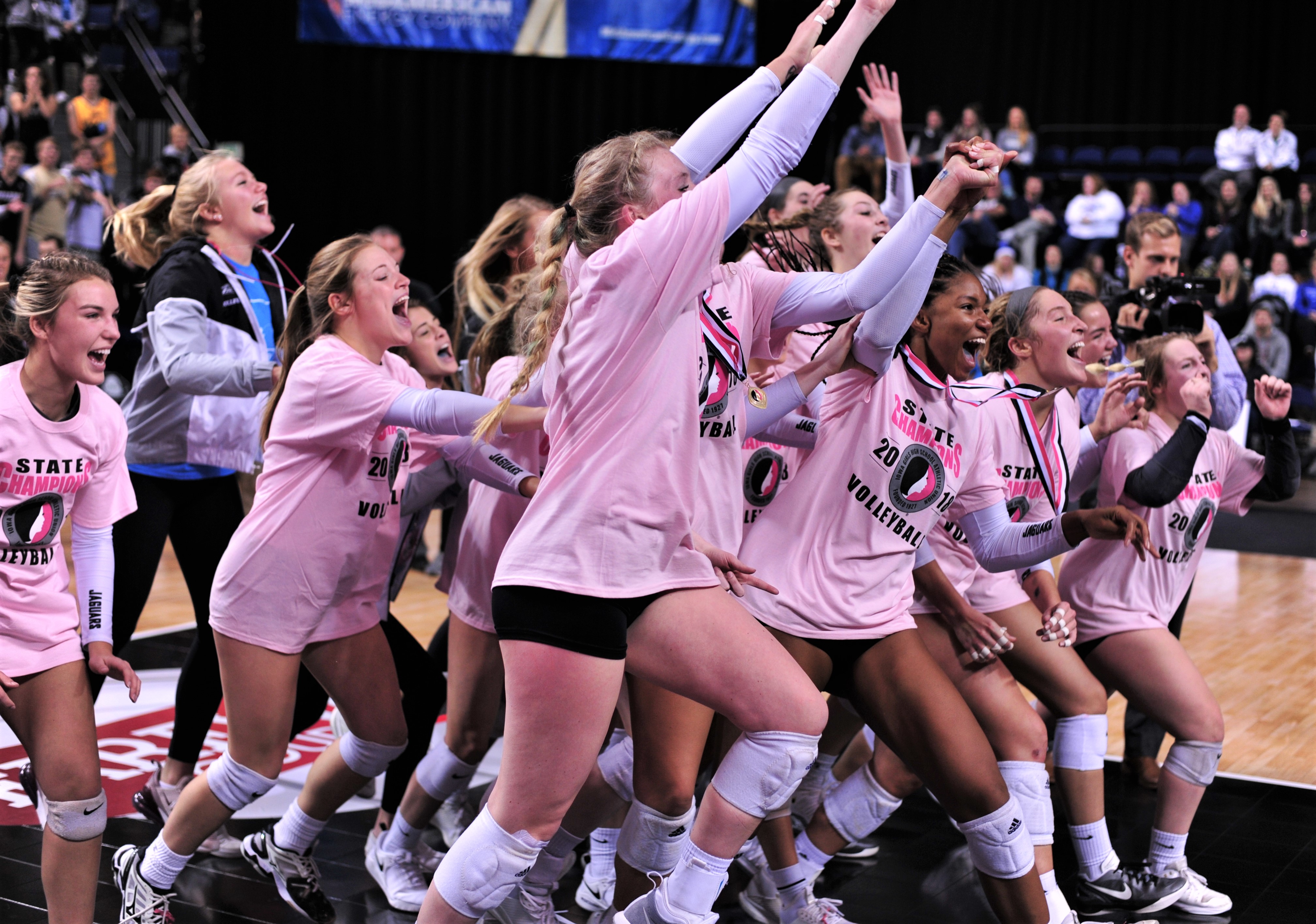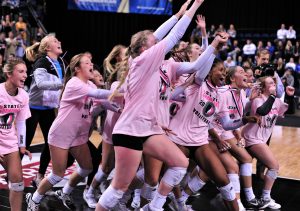 The Ankeny Centennial volleyball team was not at full strength when the Jaguars lost to Cedar Falls at the Centennial Invitational on Aug. 25.
The top-ranked Tigers discovered on Friday that one player can make a huge difference, especially when she's 6-foot-1 and can jump out of the gym.
Devyn Robinson had 12 kills and three blocks to help the No. 2 Jaguars sweep Cedar Falls, 25-18, 25-22, 25-23, in the championship match of the Class 5A state tournament at the U.S. Cellular Center in Cedar Rapids. The junior middle hitter missed the first meeting between the two teams because she was playing for the USA Volleyball youth national team in Honduras.
"I wasn't the only factor," said Robinson, who was named to the all-tournament team for the second straight year. "Everybody else has their own piece that they add to the puzzle."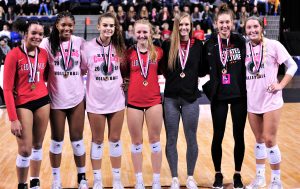 Senior Kenna Sauer had 13 kills and 12 digs to lead the Jaguars to their fourth state title in five years. She closed out the match with a kill from the left side.
Sauer was later selected the captain of the all-tournament team. Teammate Ari Winters added eight kills and was also an all-tournament pick.
"It feels good, just because we get to end our careers as seniors as state champions," Winters said. "It doesn't get much better than this."
Centennial finished the season with a 41-3 record. The Jaguars avenged two of their losses in the last two days, knocking off No. 3 Valley in Thursday's semifinals before ending Cedar Falls' bid for a perfect season.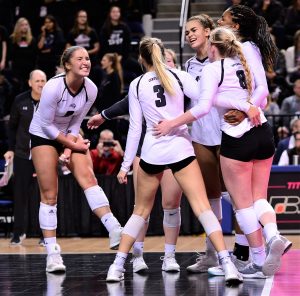 The Tigers (46-1) were trying to become the first unbeaten state champions since Dike-New Hartford in 2012. They had won 75 straight matches dating back to last year.
"We challenged them since they had gone all season without being defeated," Robinson said. "We just went after them mentally and physically. We always called them out at the net to psyche them out, and we worked hard in practice for every situation."
Amazingly, Centennial's run to the title was a replay of the Jaguars' path in 2016. In both tournaments, Centennial outlasted Valley in five sets in the semifinals before sweeping No. 1 Cedar Falls in the final.
"It was a carbon copy from even Thursday to Friday," said Centennial coach Jessica Rinehart. "We said it would be ok if history repeated itself, and it happened to do that."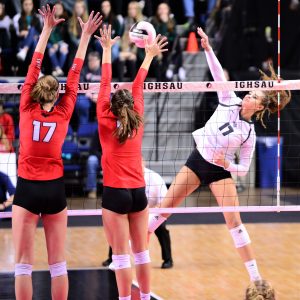 Just like two years ago, Rinehart was concerned about her team's ability to bounce back less than 24 hours after the marathon match against Valley. The Jaguars held a short practice at Kennedy High School on Thursday night, then tried to rest up for Friday's showdown.
"We took naps and some ice baths, and we just went to bed at a decent time," Winters said. "We didn't move around a lot, and we just really prepared to know there was another battle going on (Friday)."
The Jaguars took control of the match by scoring 11 of the last 13 points to close out the first set, erasing Cedar Falls' 16-14 lead. Robinson had a block, three kills and an ace in her team's run.
"There's a sigh of relief when you win that first game," Rinehart said. "Then you're not scrambling from behind and trying to get the second game (to even the match). For me as a coach, it always feels great to get that first game. And we just kind of rolled it into the second (game)."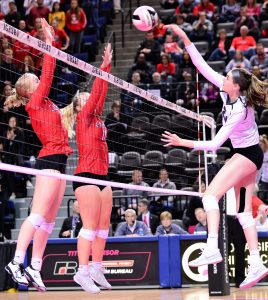 Centennial held an 11-10 lead in the second set before the Jaguars went on a 9-2 run to pull away. Sauer started the run with back-to-back kills, then later had a block to put her team ahead, 20-12.
Cedar Falls rallied and closed the gap to 23-22, but Winters then answered with a kill. A bad pass by the Tigers ended the set.
"They were just on (Friday)," Cedar Falls coach Matt Johnson said of the Jaguars. "They serve received as well as I've seen them serve receive. I think in the middle of the second game they had a hitting error on a ball that was out of system, and I turned to my coaches and said, 'Is that the first hitting error they've had in this match?' They were locked in, which is kind of fun. I didn't think we played terrible. We didn't do some of the things that we wanted to do, but at the same time a lot of credit to them that on a day when they needed to play well, they showed up and were sharp."
Cedar Falls jumped out to a 7-2 lead in the third set, but the Jaguars battled back. They took a 14-12 lead on an ace by Riley Morgan, capping a 6-0 run.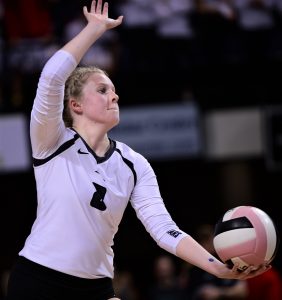 The Tigers later regained an 18-16 advantage, but Centennial then got a kill from Megan Lively to spark a 5-0 run, giving the Jaguars the lead for good.
"One of the keys for us was keeping them out of system by serving tough," Rinehart said. "They wanted to run their middles so we wanted to keep their middles off the net. I think we knew what they were going to do in specific rotations, and the people on the court did a great job of communicating that information. We also took away their setter dump, which was another part of their offense."
After Sauer pounded the final kill to end the match, the Centennial players sprawled all over the court in celebration of the victory. None of the Jaguars showed any signs of fatigue.
"When you're in this big atmosphere, you're not thinking about how sore you are," Sauer said. "All you're thinking about is winning."