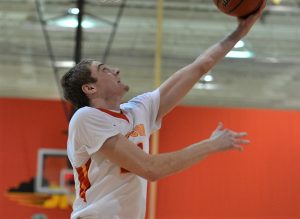 Conor Riordan is still making big buckets.
The former Ankeny star hit a 30-foot jumper at the end of regulation to force overtime in Simpson's season opener against Bethany Lutheran on Saturday at Indianola. His heroics weren't enough, though, as the Vikings eventually prevailed, 103-100.
Riordan, a junior guard, poured in a game-high 35 points. He went 12-for-22 from the field, 5-for-9 from 3-point range and 6-for-6 from the charity stripe in reaching double figures for the 19th straight game dating back to last season.
Adam Reiter, another former Ankeny player, had 11 points and six rebounds for the Storm. A wild final minute of regulation began when Reiter scooped up a loose ball in the lane and dunked it to give Simpson an 89-88 lead.
Trenton Krueger hit a pair of free throws to give the lead back to Bethany Lutheran, and Riordan lost the ball out of bounds with 4 seconds left. He stole the ensuing inbounds pass, but called a timeout the team didn't have after getting trapped in the corner with 2 seconds left.
Austin Bauer made both free throws for the Vikings to make it 92-89, but Simpson was awarded possession at the point of the technical following the free throws. Inbounding in front of his own bench, Tyler Stumbo found Riordan, who came off a pick to get open and sent the game to overtime with a deep 3 from the left wing.
Simpson later led in overtime, 100-98, before Jared Milinkovich hit a 3 from the right corner with 10 seconds left to put the Vikings (2-0) ahead. The Storm turned it over on the inbound, Cire Mayfield hit a pair of free throws and John Barbee's potential game-tying 3 missed long in the closing seconds.
Simpson lost a season opener for the first time under fourth-year head coach Brad Bjorkgren.