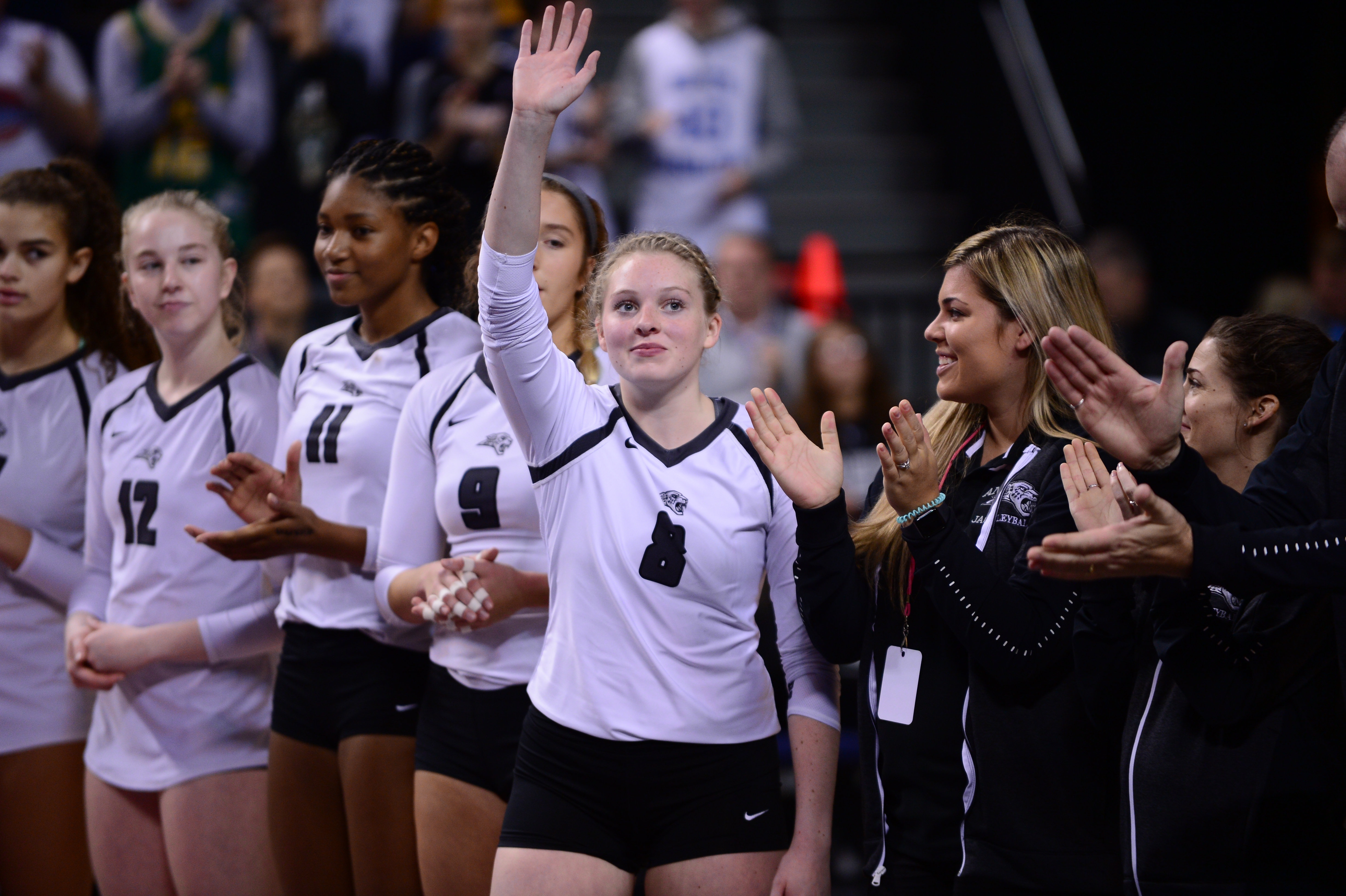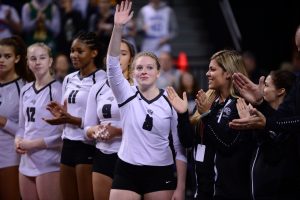 Senior setter Riley Morgan helped the Ankeny Centennial volleyball team to its fourth state championship in five years last week at the U.S. Cellular Center in Cedar Rapids. She dished out 34 assists as the second-ranked Jaguars swept No. 1 Cedar Falls in the Class 5A title match on Friday.
Morgan finished her career with more than 1,000 assists, surpassing the milestone during the state tournament. She was named to the CIML Central Conference first team by the league's coaches.
Here is some inside info on Morgan:
Congratulations on winning another state title. Did you do anything special to celebrate?
Thank you so much! Winning state has been one of our goals since the 2017 season ended. After winning we drove back to Centennial to go to our welcome home party and talk a little about our season, give thanks, and celebrate our win. After that, we all went over to (coach Jessica Rinehart's house) to watch the championship game!
What do you think was the key to the win over Cedar Falls?
Our coaches do a great job watching video and scouting any team we play, so going into the match we knew exactly what they were going to do, where they were going to hit, and what was open. But, I think the biggest key to beating Cedar Falls was our heart. This team was something special, and when we play with our hearts we are unbeatable.
Did you ever imagine that your team would be able to sweep an opponent that had lost only two sets all season?
I knew we could do it. Cedar Falls does not play very good competition (besides our home tournament which is in August) so we knew their record really didn't tell anything about how good of a team they were. We also had been challenged by good teams in our season which helped to shape us into a better team.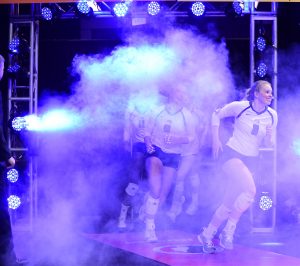 Your team survived an epic five-set battle against Valley in the semifinals. Are you glad that you won't have to play against Madi Kubik again?
What a crazy game! Madi is one of my good friends and it's always fun playing against her; she's one of the best players in the state! I will miss the good competition and volleyball that came out of playing the Valley Tigers.
I thought your team had the potential to go undefeated this season, but you did suffer three losses en route to the title. Do you think those losses ended up being a blessing in disguise?
Our losses were definitely a blessing! The one that sticks out in my mind is our Senior Night match vs. Omaha Marian. This game was a heartbreaker, but it taught us so much. We got to play against a very good defensive team, and that reassured us that defense wins championships. After that game we focused in on getting every single ball up on the court, and you could see that mentality in our state run.
Centennial has now won four state titles in the six years that the program has existed. Why do you think coach Rinehart has been so successful?
Coach Jess is the best coach in the state of Iowa, possibly the nation. Jess knows exactly what to say at the right times, and always knows what level we are capable of playing at. One little thing that Jess does is she gives out chapters from motivational/mental toughness books that get our mind right before a game or practice.
Your team boasts four hitters who are headed to Division I schools. Did those girls make your job easier this season?
Absolutely! I am one lucky setter. I can trust that any one of my hitters will put a ball away no matter where the ball is set. Along with setting and hitting comes passing. None of the big kills or perfect sets would be possible if it weren't for our great passers, Josie Magner and Kenedy Balentine. They are where our greatness starts.
I'm sure you've played against all of your teammates during practice. Which of your teammates hits the hardest spikes?
I have been playing volleyball since I was in fourth grade and have played against some of the best teams in the nation, but when Devyn Robinson goes up to hit the ball I get scared. I am glad we are on the same team together because I would not want to be on the receiving side of her hits.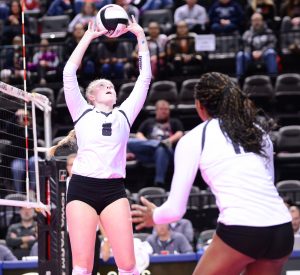 Are you planning to play volleyball next year? Have you looked at any schools?
I am not planning on playing volleyball next year. Schools were recruiting me, but I decided to not pursue them.
Your brother, Tanner, was a football standout at Centennial who started his college career at Oklahoma State before transferring to Northern Iowa. Did he give you any advice about the recruiting process?
Absolutely! When Tanner was a senior in high school I went on a few college visits with him and got a feel of what the process was really like. I heard him talking to coaches on the phone and having conversations with my parents about colleges recruiting him. Having him go through the process before me helped me with mine.
What are you going to study?
I will be studying biology at Florida Gulf Coast University in Fort Myers. I am also looking at minoring in Spanish.
You were named to the academic all-state team by the Iowa Girls' Coaches Association. Is it difficult to keep up with your studies during the season?
Absolutely! Being a student-athlete has taught me how to effectively balance my activities and school work without getting behind. It also has taught me good study skills.