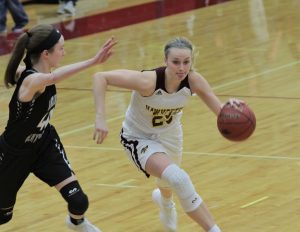 The Ankeny girls' basketball team advanced to a Class 5A regional final last year for the first time since the split into two high schools.
The Hawkettes also reached double digits in victories for the first time, finishing with an 11-12 record in their second season under coach Dru McAnelly.
Now, McAnelly's goal is to take the program to even greater heights.
"We did nine things in one year that hadn't been done since the split," he said. "We definitely needed some building blocks, and now we have some. But obviously, we want to take the next step this year and see what we can do."
Ankeny returns several key players from a team that ended last season with a 68-41 loss at Dowling Catholic. Leading the way are senior forward Sara McCullough and junior guard Kayla Pitz.
McCullough averaged 16.2 points and 7.0 rebounds per game a year ago, when she also led the Hawkettes with 34 blocks. She made 48.1 percent of her 3-point shots, connecting on 52-of-108 attempts.
McCullough scored in double figures in 21 of the 23 games. She poured in a career-high 27 points during a loss at Waukee, when she scored all but nine of her team's points.
"Sara is the centerpiece of our program right now," McAnelly said. "I don't know if I've seen in 15 or 16 years of coaching a player from her sophomore year to junior year, or any year for that matter just in one year's time, improve the way she did. She just took her game to a totally new level."
McCullough, who signed a national letter of intent with Northern Iowa on Wednesday, was named to the Class 5A all-state second team by the Iowa Girls' Coaches Association. She was also selected to the West all-district team and to the CIML Central Conference second team.
"I want to step up and be the main leader on the court," McCullough said. "That's definitely my goal."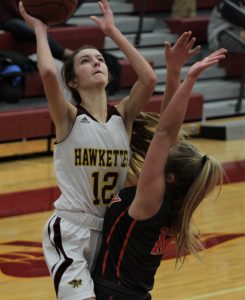 Pitz averaged 5.7 points and made 25 3-pointers as a sophomore, when she earned all-conference honorable mention. She led the team with 65 assists and 33 steals.
Pitz, who scored a career-high 14 points in a loss at Southeast Polk, could become more of an offensive threat this season.
"Kayla started every game for us last year and really distributed the ball and controlled the team. She has unbelievable court vision," McAnelly said. "I know she wants to shoot it a little more this year, and I think she will–she's put a lot of time in the gym. We're hoping that with good ball movement and having a few different girls who can shoot from the outside that it will help our shooting percentage."
Among Ankeny's other returnees are senior guard Jaelynn Kueker, junior forward Holly Trimble and junior post player Isabelle Vacek. Kueker averaged 4.4 points and 2.5 rebounds last year, Trimble averaged 3.9 points, and Vacek averaged 2.8 points and 2.4 rebounds.
Junior guard Ashley Harrington is also expected to play a key role. The Northern Iowa soccer recruit played in just eight games last year before breaking her wrist.
"Ashley is healthy this year, and that will be really big for us," McAnelly said. "She's a really good player."
Sophomore guard Ellie Maschoff and sophomore forward Abby Johnson are also back after averaging 2.3 points and 1.8 points, respectively. Two other sophomores, forward Calyssa Wright and guard Rachel Christmann, will provide even more depth.
"We've got a lot of girls who are doing a really good job in practice," McAnelly said. "Our hope is that we can go eight, nine or maybe 10 players deep."
McAnelly is hoping that his team can play at a faster pace this season.
"We've been working really hard in practice on pushing the ball in transition," he said. "We're going to look to mix in some more pressing and try to get after people. Outside of Sara and Isabelle, we don't have a lot of size. But we have some rangy athletes that can do some things on the court and hopefully we can mix up our defenses and give some people some trouble."
Ankeny will host Des Moines East in its season opener on Tuesday. The Scarlets are 13th in Class 5A in the preseason rankings.
"We're really young this season–there are only three seniors," McCullough said. "We definitely have a lot of work to do, and we're considered small for the 5A league. But I think we have a lot of potential to be good."