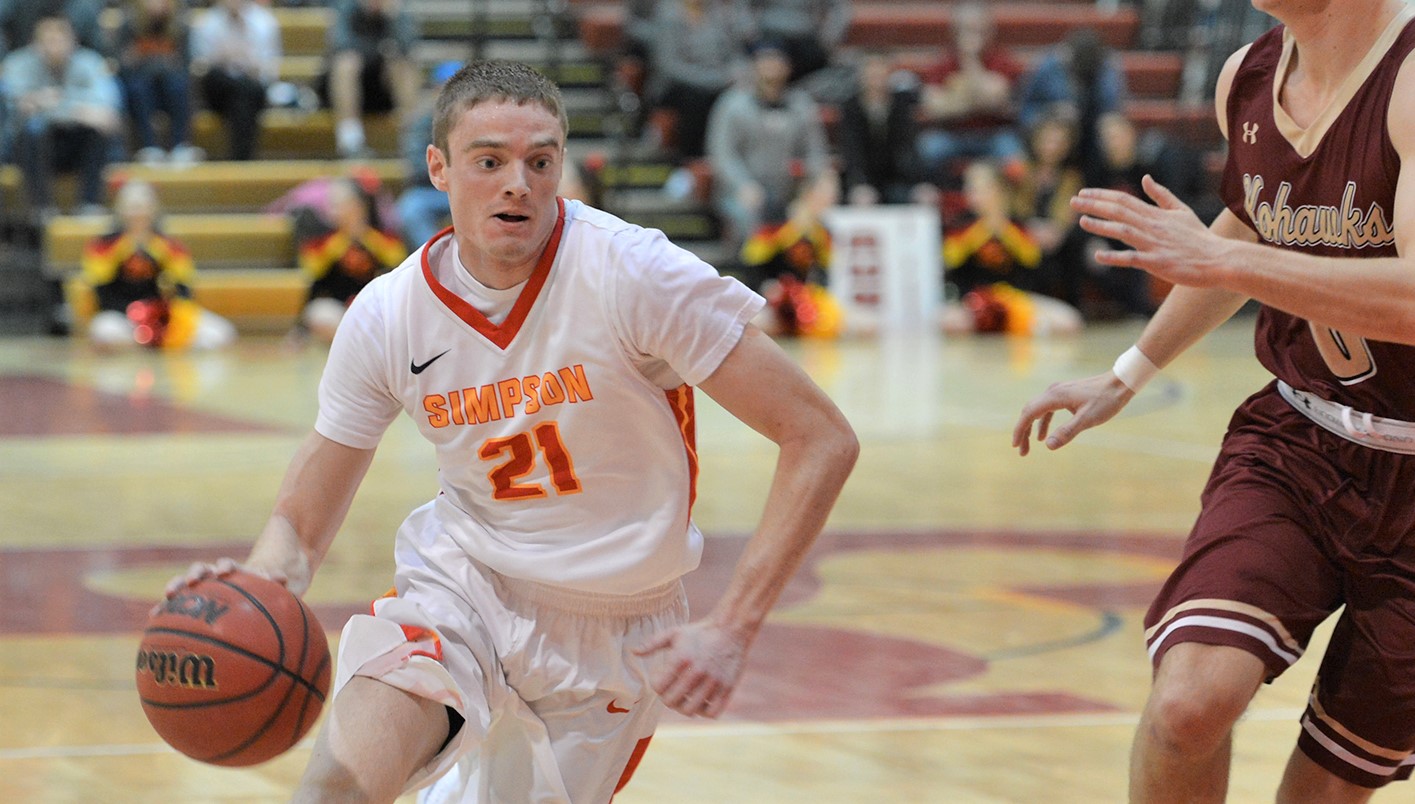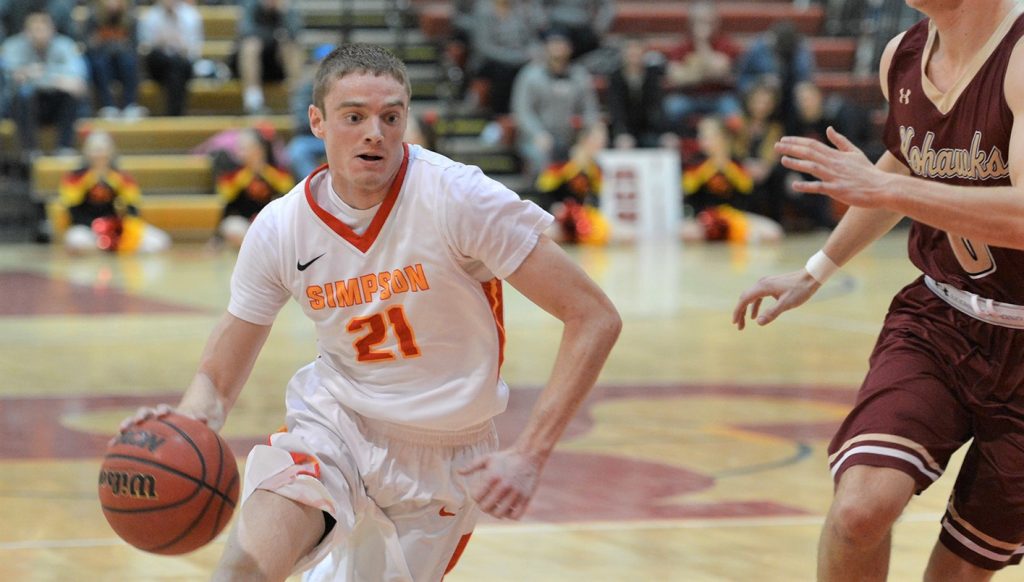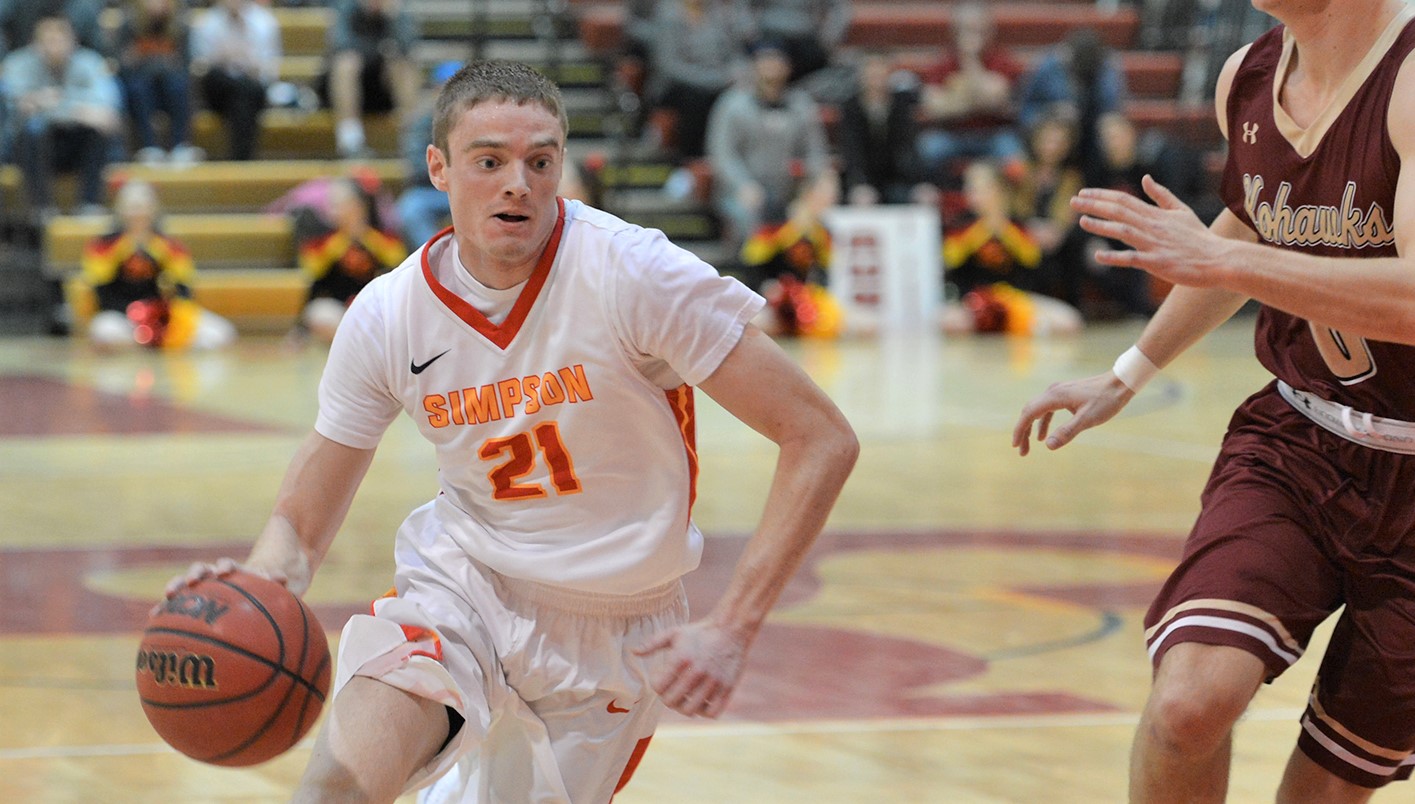 Conor Riordan wasn't the only former Ankeny player to fill a huge role for the SImpson College men's basketball team this season.
Junior center Adam Reiter led the American Rivers Conference in rebounding and joined Riordan in earning all-conference honors after the Storm went 16-10 overall and 9-7 in league play.
"Adam had a really good year," said Riordan, a junior guard. "It was cool to see him do well."
Riordan was a repeat selection to the all-conference first team after averaging 18.2 points per game, which ranked third in the league. He was also selected to the Google Cloud Academic All-District 8 First Team.
"To see the type of kid he is, the kind of hard worker he is, and the time he has put in at the gym, I'm not surprised at what he has been able to do," Reiter said of Riordan. "I see him in (the gym) all the time. He's dedicated to the sport, and it's paying off for him."
A lot of hard work has also paid off for Reiter, who earned second-team all-conference honors after posting career-high averages of 13.6 points and 7.5 rebounds. He had averaged just 2.8 points and 1.8 rebounds as a sophomore.
"This offseason I did a lot in the gym," Reiter said. "I stayed down at Simpson and pretty much had my own weight room, and I also played in the Cap(ital) City League. I think that helped me take the next step for this season."
Riordan scored in double figures in 18 of the 22 games that he played in. He shot 49 percent from the floor and 39 percent from 3-point range.
Riordan, who led the conference in minutes played (34.7 average), sat out four games over the winter break due to a stress fracture in his right foot.
"I think it was just from overuse…it just naturally started hurting," Riordan said. "I played on it for three or four games before I got it checked out, and then the x-ray showed a fracture. I took about a month off and that set me back a little bit, but I think I was definitely a more consistent shooter this year. I think I guarded better this year, too."
Riordan poured in 35 points in the season opener against Bethany Lutheran on Nov. 10. After returning from his injury, he scored 36 points in a loss to Coe College on Jan. 19.
Simpson later avenged that loss with a 72-70 victory at Coe on Feb. 16. The Storm blew a 24-point lead before Reiter followed in a miss by Riordan for the game-winning basket at the buzzer.
"On that last play we pretty much wanted to get any shot we could get against their 1-3-1 zone, and their zone was phenomenal–we didn't have any answer for it," Reiter said. "I pretty much wanted to get Conor the ball, and if he misses I told myself I'm going to get the rebound and put it back up. And it went right to me, and thank God it went in. It was unbelievable."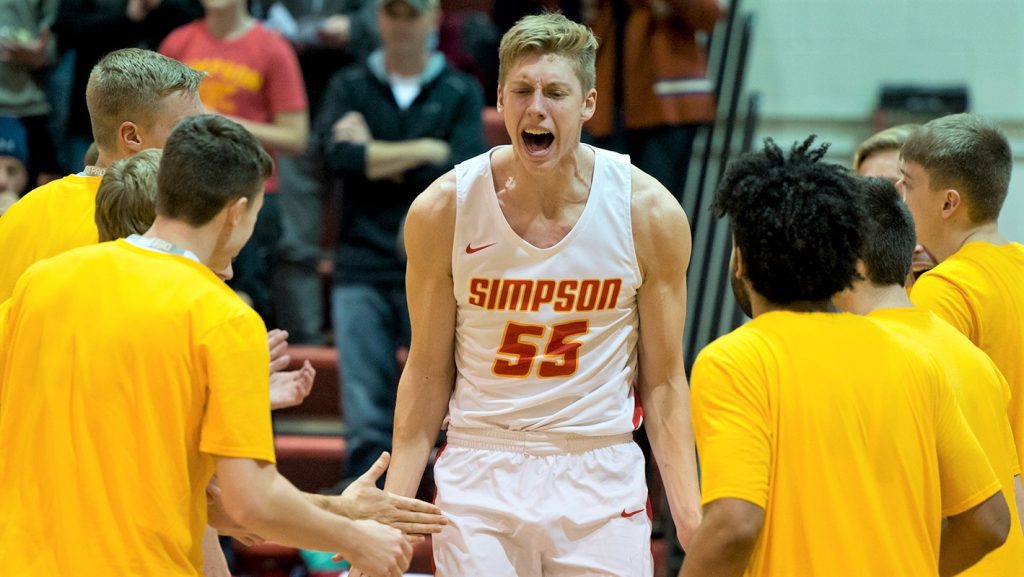 Simpson then hosted a rematch against Coe in the opening round of the conference tournament three days later. In that game, Riordan scored 21 points and Reiter had a double-double with 20 points and 12 rebounds as the Storm pulled away in the second half for a 90-82 triumph.
"I think we definitely took good strides as a team, too," Riordan said. "The conference is really good. We competed with some of the best teams in the country each and every night, so we felt pretty good about where we ended up."
Simpson ended its season on Feb. 21 with an 85-80 loss at defending national champion Nebraska Wesleyan in the conference tournament semifinals. Riordan again led the way with 21 points, while Reiter added 15 points and 12 boards.
"It was an exciting year," said Reiter, who was named the ARC co-player of the week on Dec. 9. "I'm excited to take another step next year."
The 6-foot-8 Reiter has come a long way since high school. As a senior at Ankeny, he played in just 11 games and averaged 3.0 points.
"I think being a big guy, it took me a little longer to develop," Reiter said. "But I also had a passion for the sport that kept me going."
Reiter credited his experience in the Capital City League for some of his improvement. He played on the same team with Iowa State freshman Talen Horton-Tucker.
"It was fun playing against DI guys from Iowa State and Drake," he said. "Horton-Tucker was on my team, and it was pretty cool to talk to him. He's a really good passer, but I would try to get him the ball as much as possible."
Reiter scored a career-high 26 points in a win over Central on Feb. 13.
"He's gotten so much better," Riordan said of Reiter. "He's worked really hard at it, and he deserves all the success he's had. He's just so naturally gifted."
Both players will be back next year along with teammate Kyle Wagner, who was also a second-team all-conference pick. Riordan will enter his final season needing just 11 more points to reach the 1,000-point career mark.
"We do lose a lot of senior leadership and some scoring and depth on the wing, but we feel confident that we've got a good core coming back," Riordan said. "We're excited to get going already."
Riordan, who sports a 3.96 grade-point average while majoring in mathematics, would like to become a teacher and coach in the Des Moines area after graduation. For now, he'll serve as Simpson's coach on the floor for one more season.
"I think that's kind of the point guard's job," he said of being a leader. "Being under coach B(rad Bjorkgren) for the fourth year now and being in the system, we've got a lot of seniors who need to step up but I think I need to be the leader overall."