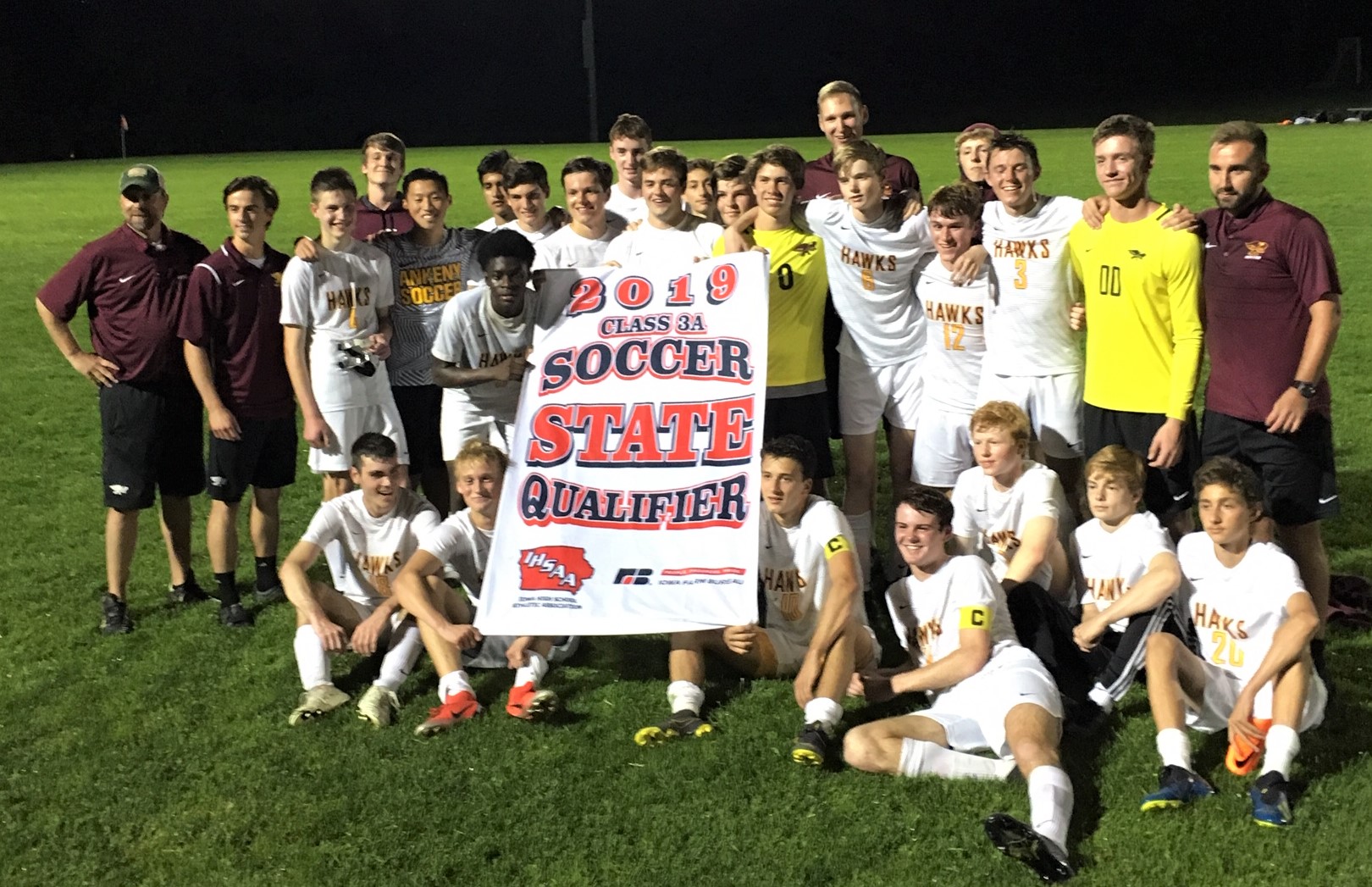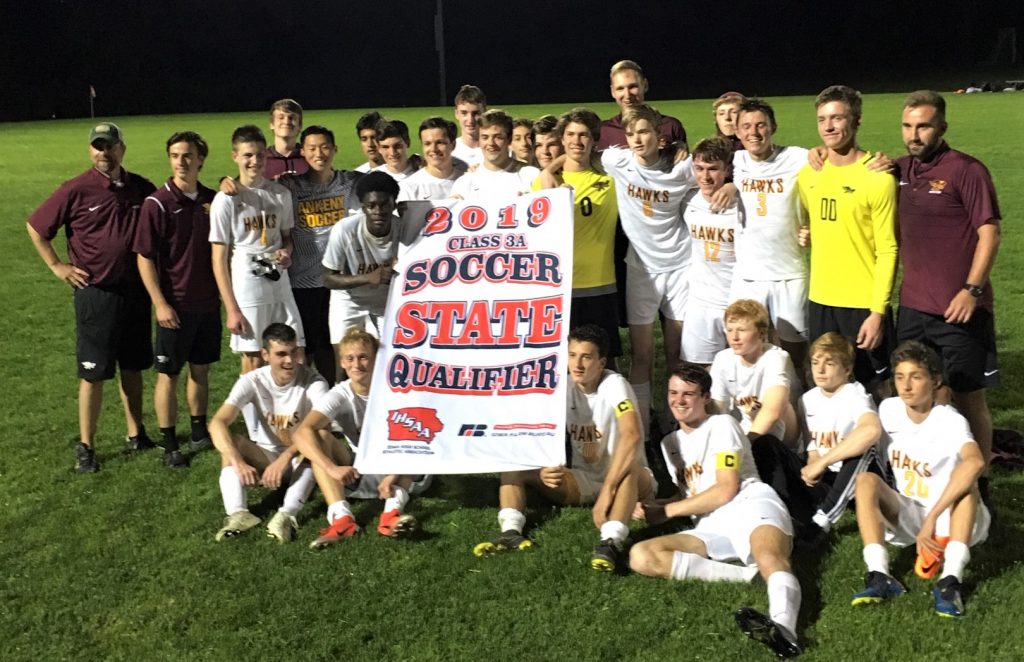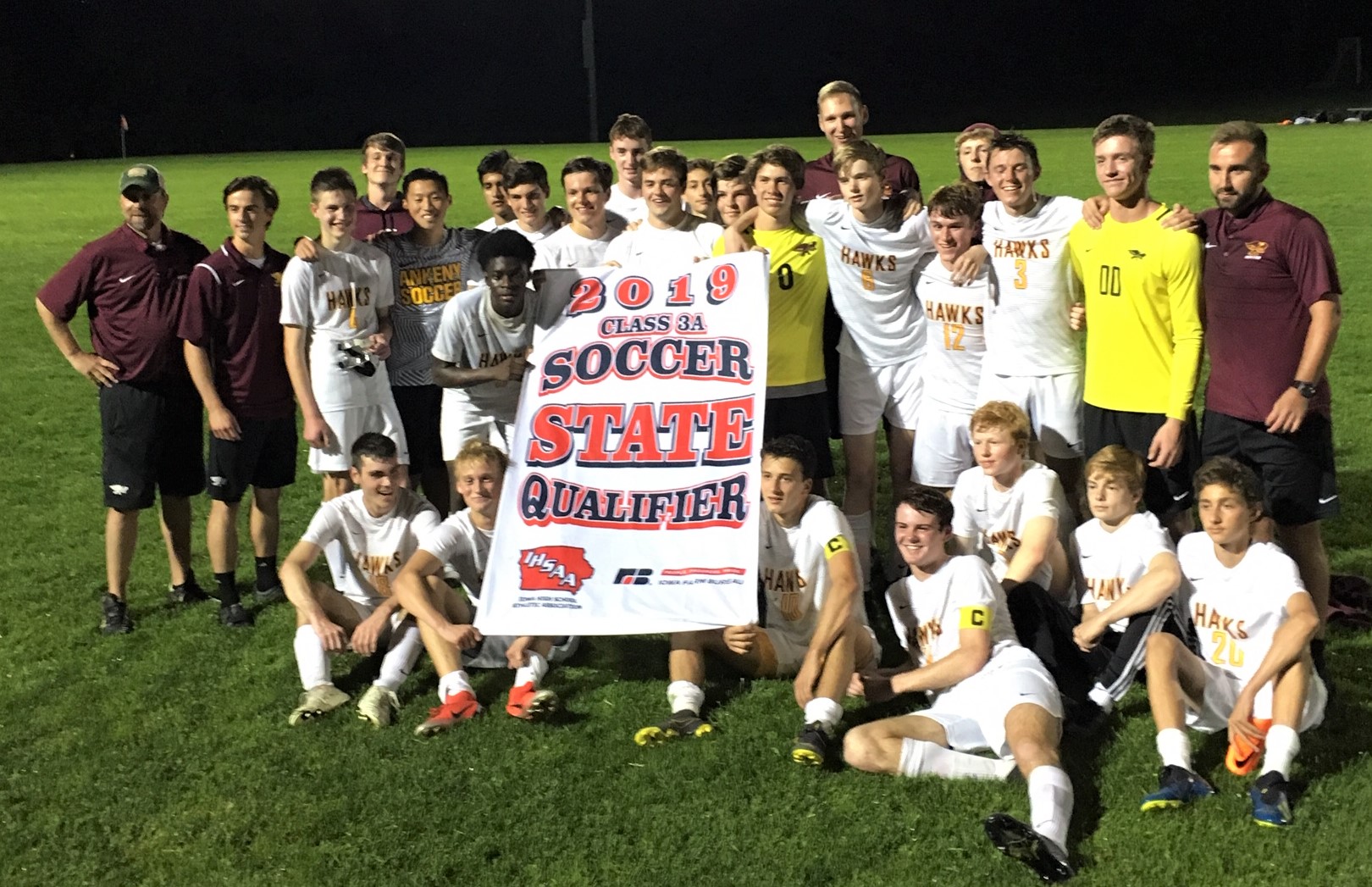 Ankeny's Charlie Pritchard had to sit out the final game of last year's boys' state soccer tournament after picking up a red card following the Hawks' loss to Bettendorf in the Class 3A semifinals.
The senior forward never lost faith that he'd get another chance to play at Cownie Park.
On Saturday, Pritchard scored a pair of goals to ignite the 10th-ranked Hawks to a 4-1 victory over No. 12 Des Moines Lincoln in a Class 3A substate final. The game was played at Cownie Park, where Ankeny will return this week for its third state-tournament appearance in the last four seasons.
"This was definitely my goal," said Pritchard. "With this group of boys–me, Kolby (Raineri) and Riley (Wood), the three of us–I love them to death and I'm really going to miss them next year at college. But we have a great team and a great atmosphere. There was never a doubt in my mind that we wouldn't get back here."
Nate Albertson and Wood each had a goal in the last 6 minutes to help seal the victory. Ankeny improved its record to 12-6, while the Railsplitters finished the season at 13-4.
"What a night of football," said Ankeny coach Jordan Burns, who has now guided the Hawks to back-to-back state tournament trips since taking over the program. "I've had many, many good memories down here (at Cownie Park) as a player, and now these memories as a coach are starting to rack up as well. I say this every day, but there's something special about this group of players. Their togetherness and their winning desire is fantastic, and they showed that tonight–even when there was a lot of emotions in the game."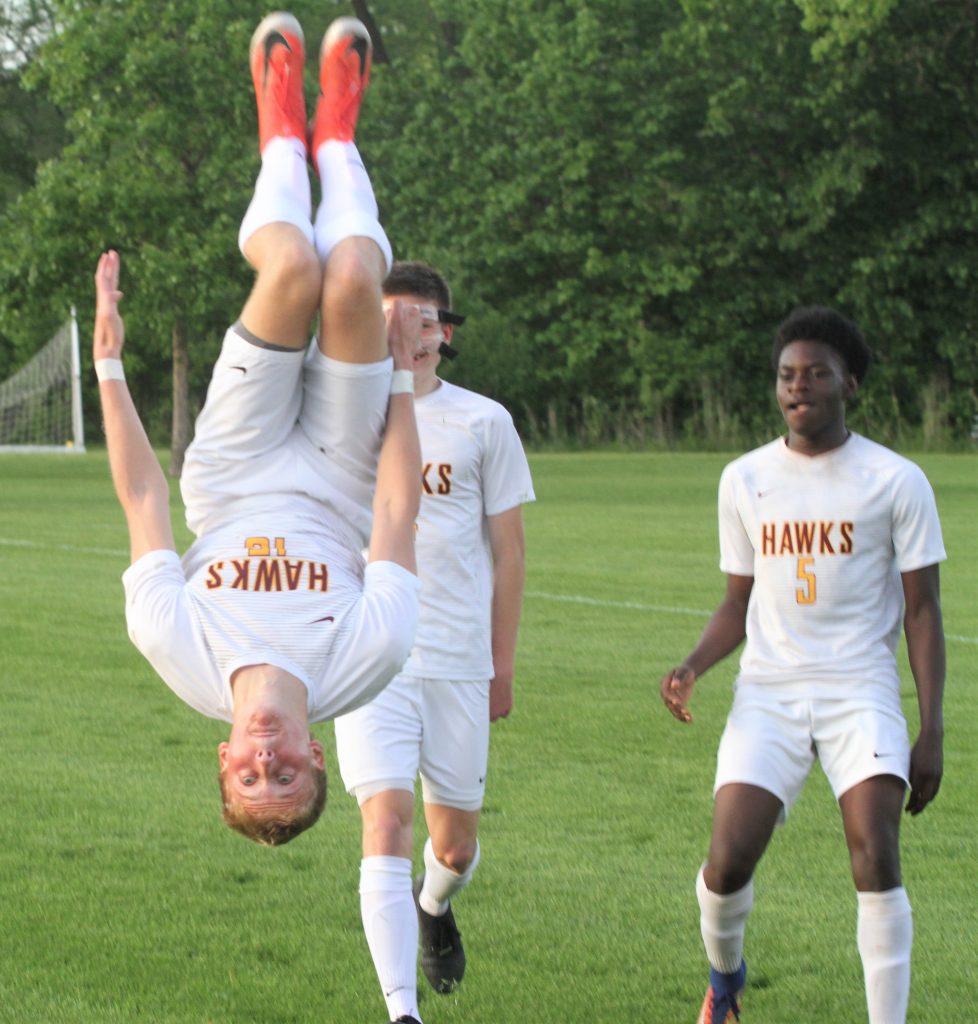 Pritchard put the Hawks ahead for good with a goal in the 16th minute. He beat a defender on the left side and then found the net.
After celebrating with a backflip, Pritchard scored again about 1 minute later. This time, he connected from the right side for his team-leading 19th goal of the season.
"We knew it was going to be different coming onto the grass," Pritchard said. "Burns broke down their defense pretty well. He wanted the forwards to check in, because there was some big space between the mids and the back line. And that's where we really exposed them.
"We were all hungry. They gave me a great ball, and I was in a great position. You just have to work some magic, and that's it," he added.
Pritchard has scored 10 goals in the last seven games, helping Ankeny to a 6-1 mark during that stretch. The only loss was to No. 1 Waukee.
"I think all season Charlie's just been on a different level from everyone," Burns said. "When he's at the top of his game, there's no one that is going to stop him. What a guy and what a player. When our special guys show up and we get the support from the other guys–when we're defending like dogs–we're a hard team to beat."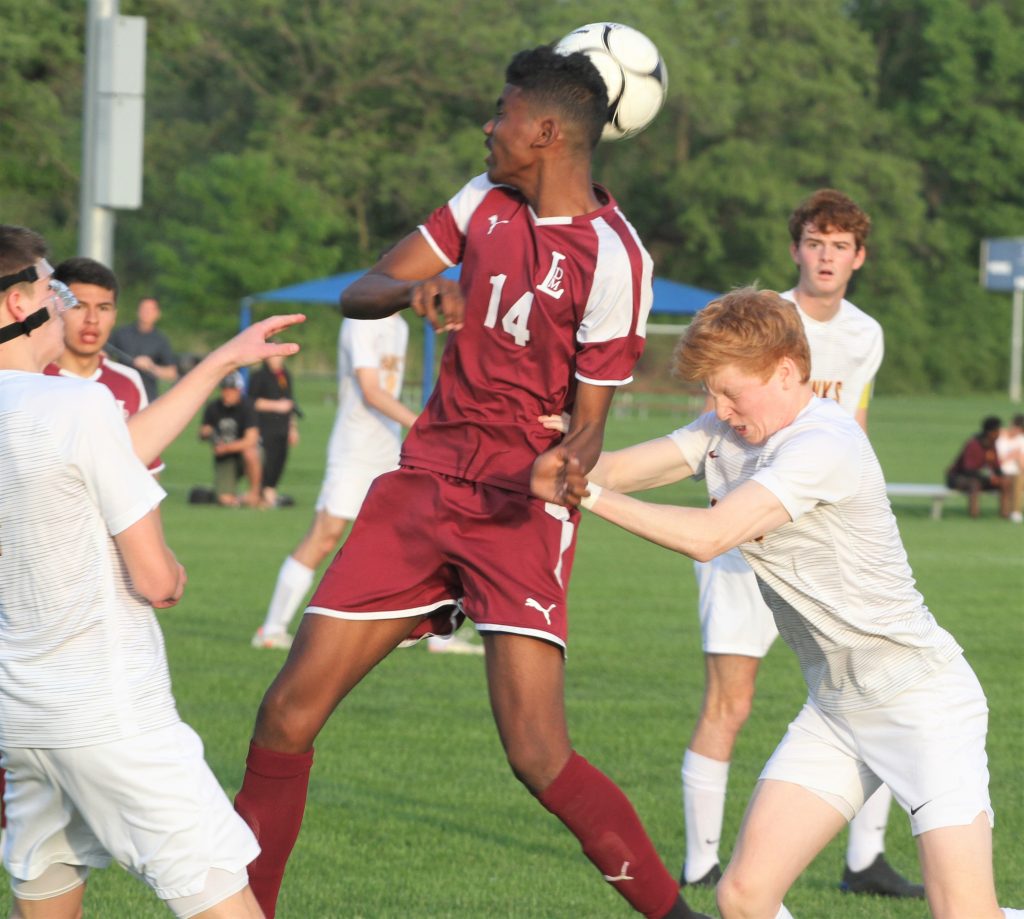 Lincoln started losing its composure after falling into a 2-0 hole. The Railsplitters picked up two yellow cards shortly thereafter, then got a red one–which forced them to play a man down the rest of the way.
Lincoln got another yellow card about 5 minutes later, which led to the ejection of a Railsplitters' fan. Ankeny, meanwhile, did not receive any cards until late in the first half, when Raineri got a yellow one.
"I knew the intensity would be really high because obviously everyone wants to go to state," Raineri said. "We saw the article on Lincoln talking about how they've never been to state, so we were kind of pumped up to stop that. I knew they wanted it, but we wanted it more. It just came down to who could finish the ball."
Burns was pleased with the way that his team responded to the emotions of the game.
"It could have went against us and we could have got caught up in it, but I'm really proud that we managed to rise above it and we showed our professionalism and let the ref do his job," he said. "We just took advantage of our opportunities."
The score remained 2-0 until the 73rd minute, when Lincoln got a goal to keep its hopes alive. But it didn't take long for Ankeny to answer.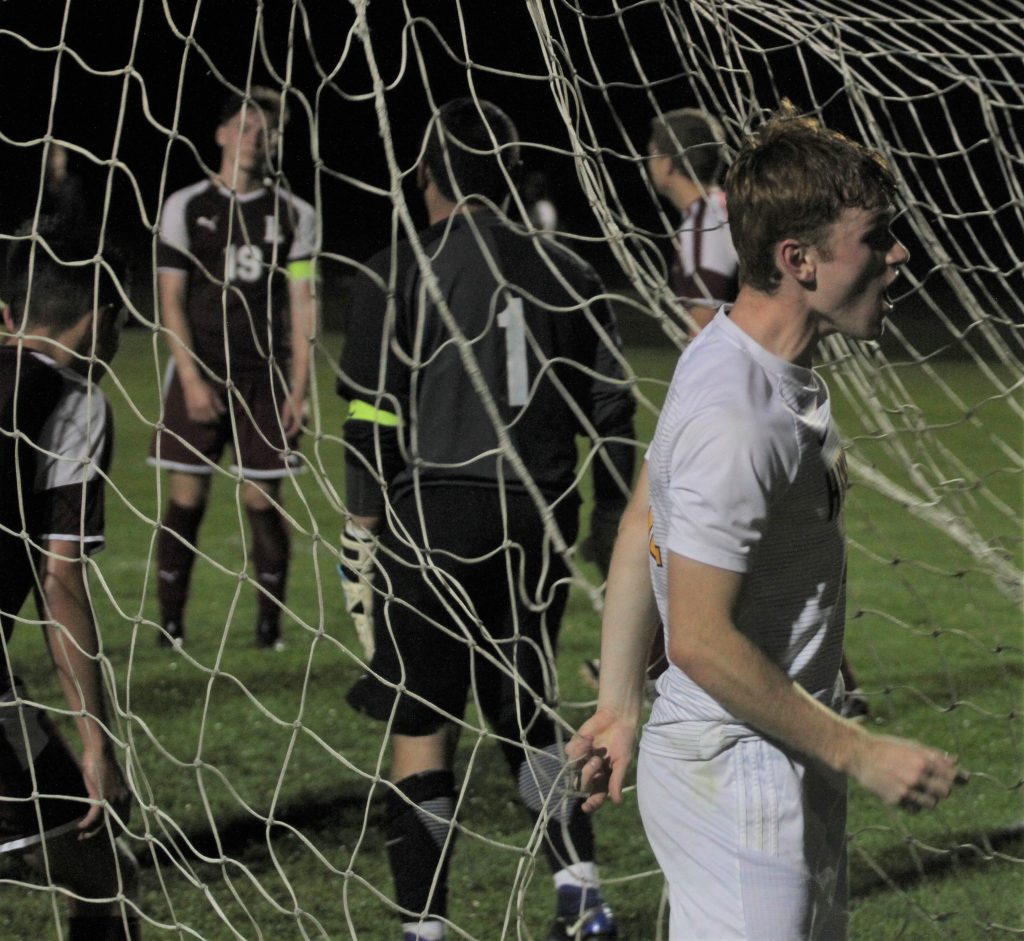 "I figured we'd be able to bring the tempo back up," Wood said. "I wasn't too worried."
The Hawks scored about 1 minute later when a corner kick by Pritchard was deflected by Raineri and finished by Albertson. They added another goal shortly thereafter when a free kick by Wood from midfield found the net after Pritchard collided with the Lincoln goalkeeper.
"Coach said to put it in the box and make it dangerous, so I figured I would just loft it up to him," Wood said. "He's a short goalie."
After the game, the players posed for photos with the state tournament banner. The Hawks will play No. 2 Iowa City West (16-1) in the Class 3A quarterfinals on Thursday at 5:15 p.m.
"It feels amazing," Pritchard said. "This team is special, and we go again!"