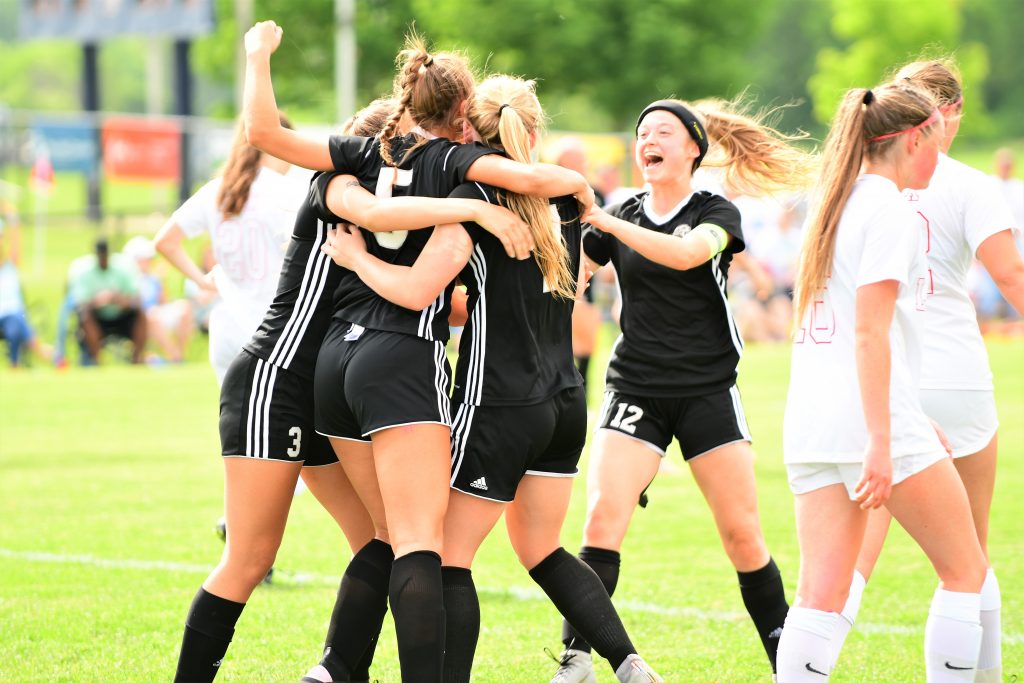 Ankeny Centennial's Kenzie Langstraat wasn't worried when Council Bluffs Lincoln scored the tying goal midway through the second half of Thursday's Class 3A quarterfinal at the girls' state soccer tournament.
Less than a minute later, Langstraat scored what proved to be the winning goal as the fourth-ranked Jaguars advanced to Friday's semifinals with a 3-2 victory over No. 5 Lincoln at Cownie Soccer Complex.
"I was pretty confident," said Langstraat. "I was kind of feeling a goal today, so I just went out and did it."
After Lincoln tied the game on a penalty kick by Taren Newman in the 57th minute, Centennial's Macy Epp set up the go-ahead goal with an attack from the right side. Her shot was deflected by Lincoln keeper Rilee Filip, but Langstraat was in perfect position to clean up the mess.
"That was all Macy," Langstraat said. "We've been working on staying on the back side and keeping ourselves disciplined to stay over there in case the ball comes over, and it went off the keeper and I was in the right place, and I just kind of bodied it in. Macy did all the work to get it up there, though."
Centennial, the defending champion, improved its record to 16-3. The Jaguars defeated Lincoln in the quarterfinals for the second straight year.
The loss ended a 14-game winning streak for the Lynx (16-3), who also dropped a 1-0 decision to Centennial on April 5.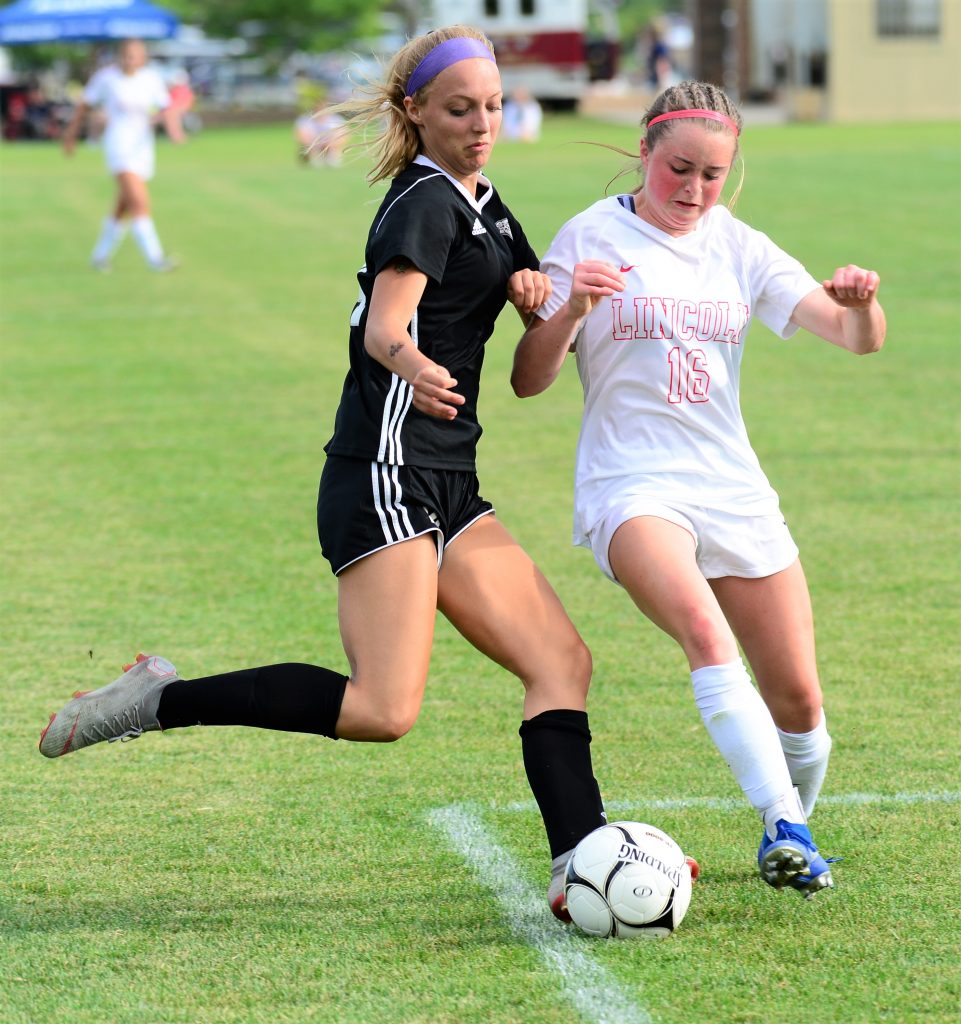 "I think they came in with a different attitude than last year," Centennial coach Chris Allen said of the Lynx, who suffered a 7-0 loss at the 2018 state tournament. "According to what their coach said, they were building it up and weren't just happy to be here. They came to battle, and I think they did a nice job of that. We ended up pulling it out, but it certainly wasn't easy."
The Jaguars got off to a good start, taking a 1-0 lead on a goal by Carlie Jensen in the 8th minute. It was her 10th goal of the season.
"I basically just took it down the line," Jensen said. "We've been practicing that. I just cut in and let it rip."
In the 18th minute, Lincoln tied the game on a goal by Nebraska track recruit Darby Thomas. The Lynx played a long ball to Thomas, who outran the Centennial defenders and then buried a shot for her 21st goal of the season.
"We gave them too much field to work with, and I think it's because we were pretty nervous about her speed and rightfully so," Allen said. "But we've got to believe in ourselves a little bit more in that moment, I think."
Centennial defender Olivia Wee doesn't often get outraced to the ball. But Thomas is not an ordinary soccer player.
"She's extremely fast," Wee said. "She's a great player."

About 6 minutes later, Wee helped the Jaguars regain the lead. She booted a corner kick to the far post that found teammate Jaecee Hall, who headed the ball into the net.
"I was getting a little bit frustrated because none of the balls were going where we needed them to go," Wee said. "I just decided to take the initiative, and I'm glad (Hall) was able to capitalize. It was a great job on her part. I'm glad my team stepped up."
It was Hall's second goal of the season.
"We work on that in practice all the time, and Olivia gave me a nice ball," Hall said. "We always try to have someone on the back post, and usually it's Olivia. I usually run the middle, but she told me she could get the ball to the back post and I was like, 'If you're going to get it there, I need to capitalize on it.' So I did that."
Centennial appeared to be in control until Wee was called for a foul in the box in the second half. That led to the tying penalty kick by Newman.
"I was shielding her from the ball, so it could have been a foul," Wee said. "I was going for the ball, but yeah…it could have been a foul."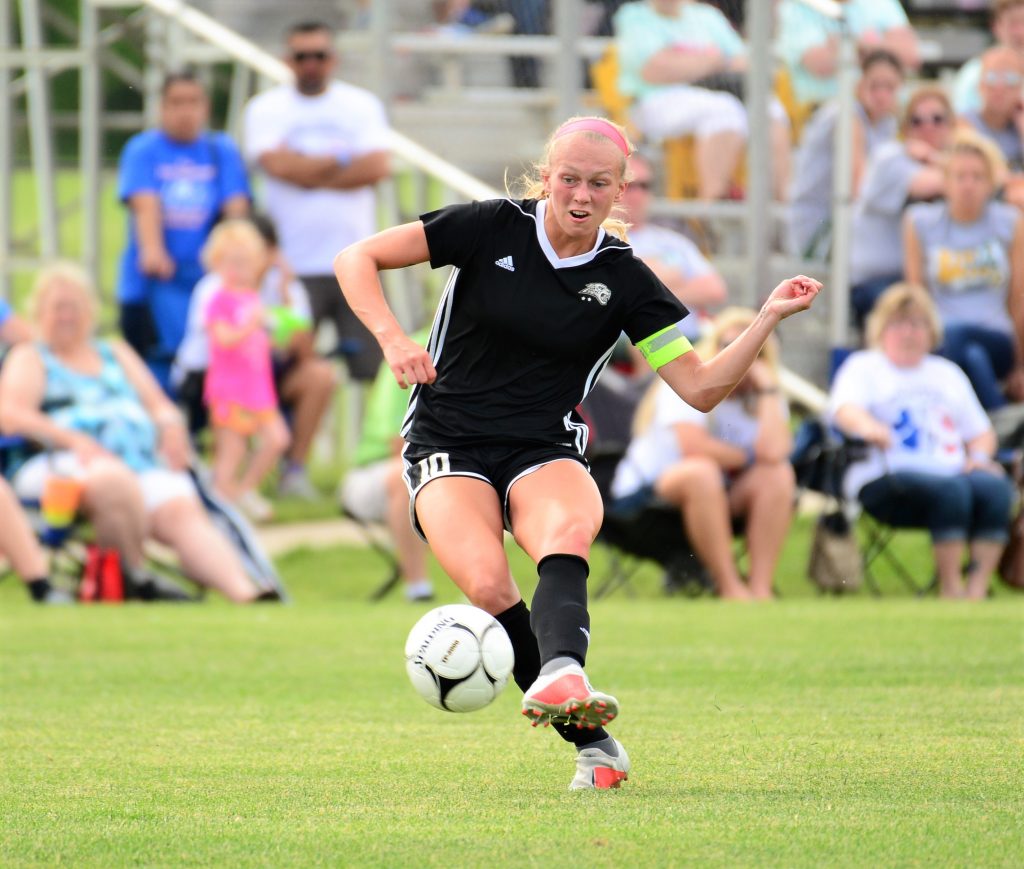 It didn't take long, though, for the Jaguars to respond.
"I knew our team was gritty," Hall said. "We were playing for each other and for the seniors. I knew we could win this game."
Langstraat, a senior, didn't want her high school career to end just yet. She crashed the deflection of Epp's shot and scored the game-winner for her seventh goal of the season.
"We struggled with that earlier in the season," Allen said. "A lot of times we were putting that ball over the top of the goal, but for Kenzie to get the game-winner off of a very composed crash, that was excellent on her part."
The Jaguars will play No. 1 Waukee (16-3) in Friday's semifinals at 4 p.m. The Warriors advanced with a 2-0 victory over No. 12 Pleasant Valley.
It will be a rematch from last year's semifinals, which was won by Centennial, 2-0. However, Waukee won an earlier matchup this season, 2-1, at the Tournament of Champions in Burlington on April 27.
"I think we can pull it off again," Hall said. "Everyone deals with the heat, everyone deals with exhaustion. I think it's the team that can be the grittiest and just pull out all the stops, and I think we can do that."