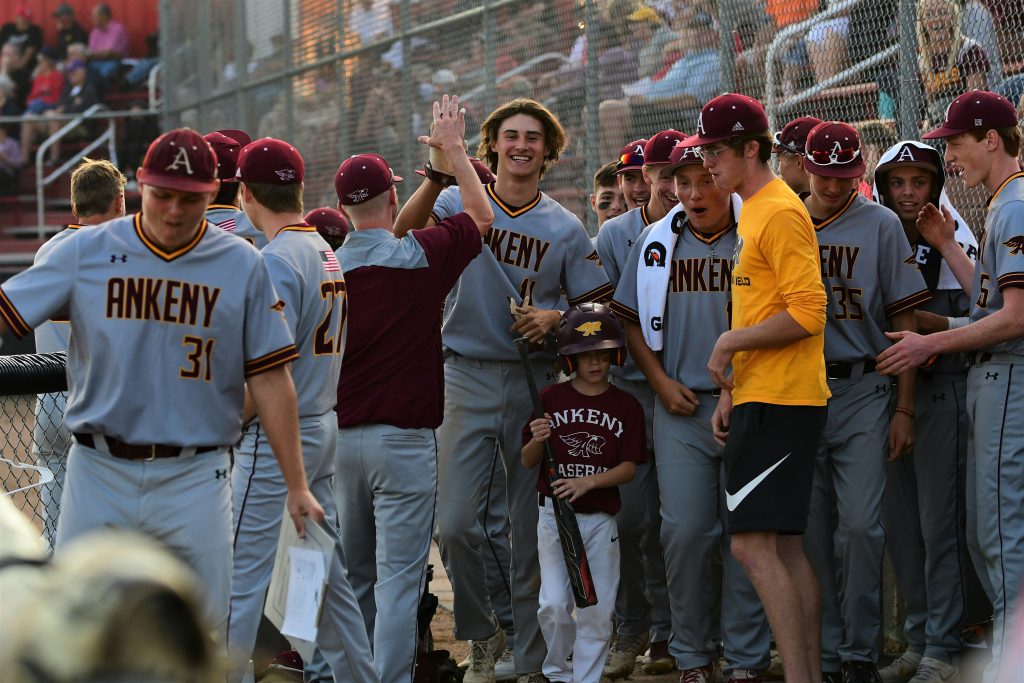 The rankings and the seedings–not to mention the records of both teams–suggested that Mason City was a better baseball squad than Ankeny.
Monday's Class 4A substate semifinal at Roosevelt Field suggested otherwise.
The visiting Hawks broke open a tie game with a four-run fifth inning and went on to defeat 10th-ranked Mason City, 9-2, in a Substate 2 showdown. It was the fourth straight victory for Ankeny (20-17), which advances to Wednesday's substate final against No. 7 Des Moines Roosevelt (29-9) at Southeast Polk.
"We have faith in each other. We have all the confidence in the world in us," said Ankeny outfielder Brody Brecht, who blasted a three-run homer during the Hawks' fifth-inning outburst. "We came out and played a great ball game and got it done."
Chris Spear (4-5) tossed a seven-hitter and had eight strikeouts to earn the victory. He allowed no earned runs.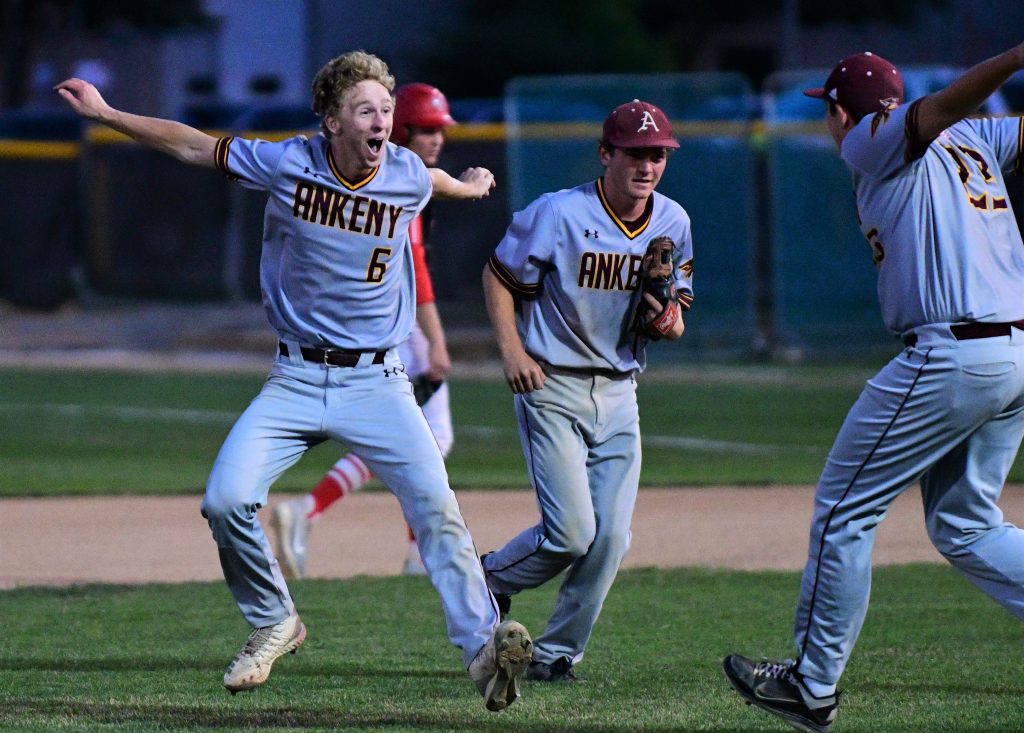 "They've got some pretty good hitters in their lineup, but coach (Joe Balvanz) told me I just needed to throw a lot of off-speed (pitches) and just keep it low and that's what I did, and it worked," said Spear. "All of my pitches were working tonight."
Mason City ends the season at 25-15. The Mohawks earned the No. 2 seed over Ankeny–and the right to host Monday's game–based on their better record, even though they played a schedule that included several smaller schools.
The Hawks, meanwhile, may have played in the toughest league in the state. The CIML Central Conference boasts four top-10 teams in No. 1 Johnston, No. 4 Ankeny Centennial, No. 6 Dowling Catholic and No. 9 Urbandale.
"We were confident," said Ankeny junior Mo Watson. "We've had a tough schedule all year, and we've played the best. We can play with anybody, and we can beat anybody. It doesn't matter if it's Johnston or Roosevelt."
Watson played a key role in Monday's win. He hit an RBI double in the first inning to open the scoring, then came home on a single by Evan Lyons.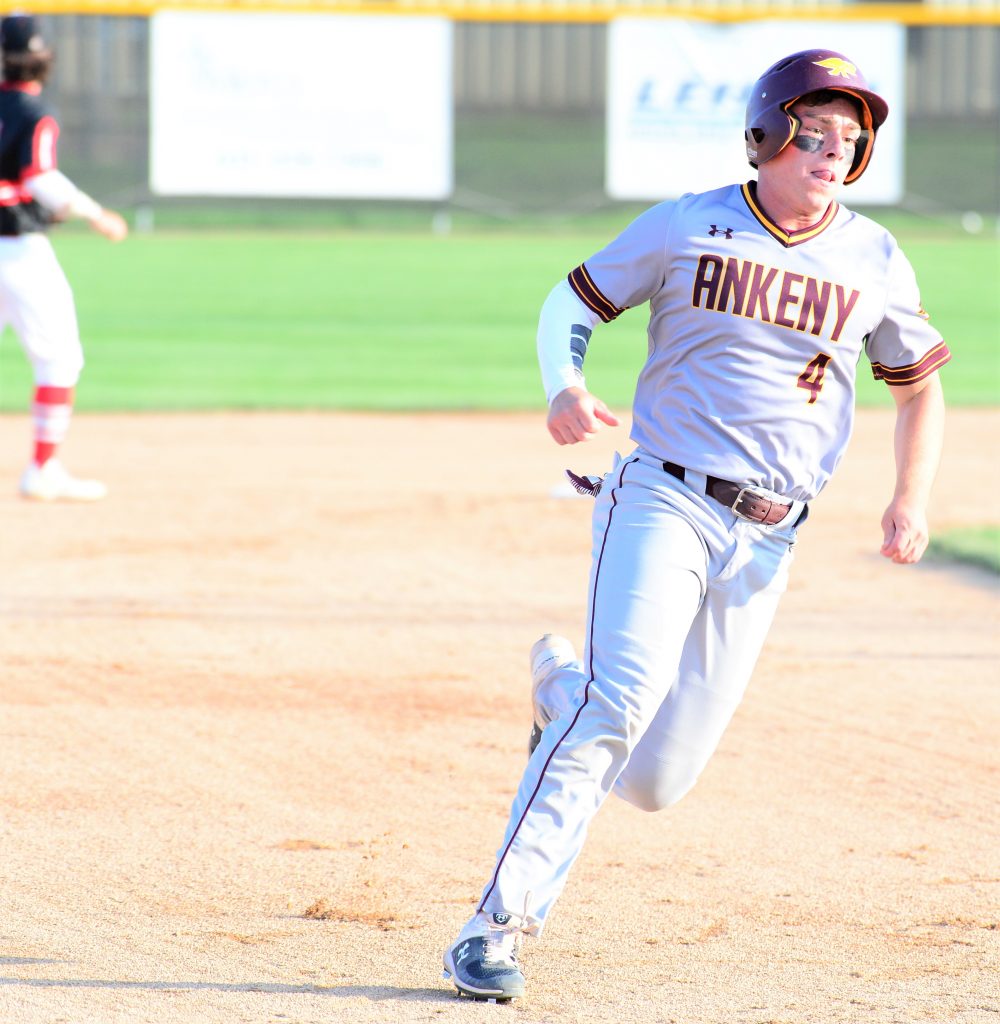 "We knew that (Harrison Nagel) was going to throw a lot of curves," Watson said. "He didn't throw me a fastball that at-bat, so I was just looking for a curve and sat back and he threw it. I put a good swing on it."
Mason City tied the game with two unearned runs in the third inning. Two Ankeny errors opened the door for the Mohawks, who knotted the score when Ben Pederson bounced a bases-loaded single into left field with one out.
However, Spear then retired the next two batters to limit the damage.
"I felt like we had a pretty good report on (Mason City)," Balvanz said. "I thought if Chris could get his breaking stuff over for strikes and compete and move the ball around, we were going to have a chance to win. We kind of gave them those two runs, but we also got ourselves out of some bad spots that we haven't always been able to do. I don't know if we could ask for more leadership out of Chris. And I thought Evan called a great game."
The Mohawks committed three errors of their own, including two that ignited Ankeny's fifth-inning rally. Pinch-hitter Kade Somers reached on an error, advanced to second on a bunt by Carter Smith, and then moved to third when Cael Boyd reached on another error.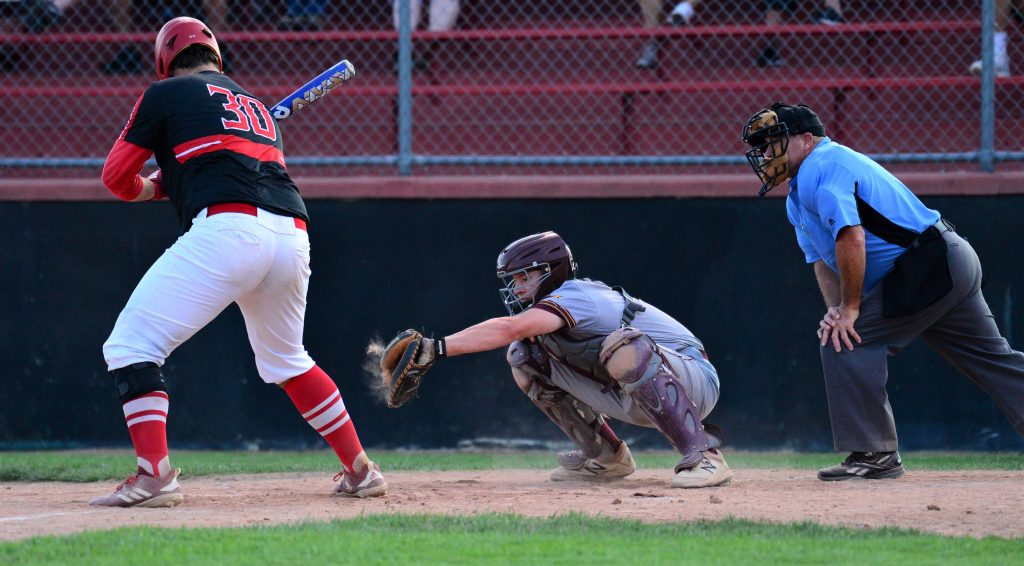 Watson followed with a perfectly-placed bunt to the right side for a single that drove in Somers with the go-ahead run.
"It was supposed to be a squeeze," Watson said. "But when I got the bunt sign, I was like, 'Let's just make it a hit. Why not?' I got a good bunt down, and it just played out perfectly."
Brecht then hammered the next pitch from Nagel over the left-field fence to break the game open. It was his third home run of the season.
"We knew they were going to throw off-speed most of the night, and I got a curveball and liked it and drove it," said Brecht, who had flied out to the warning track in the first inning. "It felt really good."
Lucas Juhl singled in the sixth inning and scored on a triple by Boyd to make it 7-2. Juhl then added an RBI single as the Hawks scored two more runs in the seventh.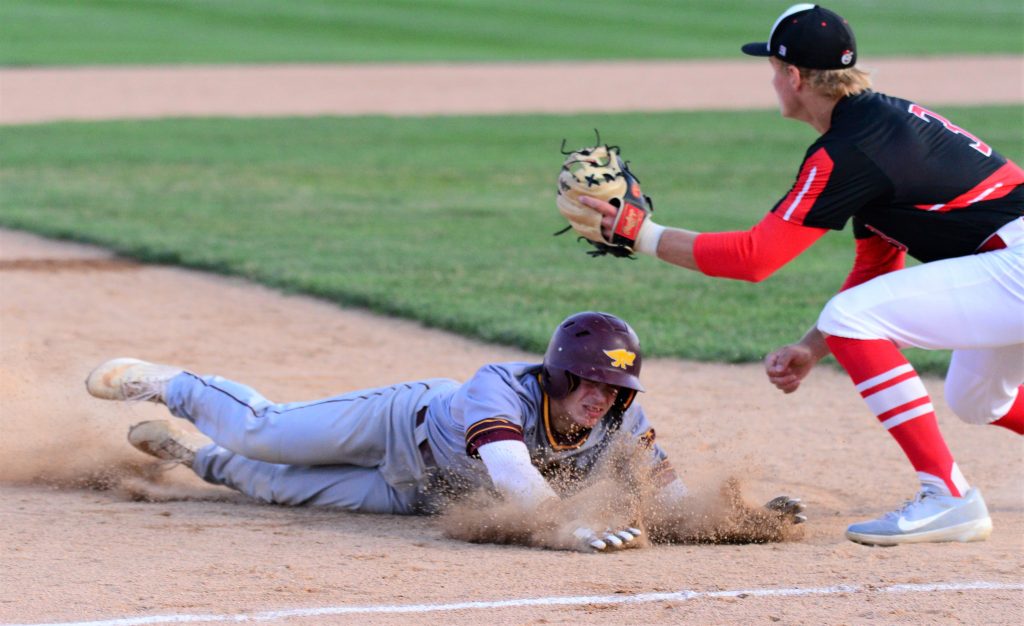 That was more than enough support for Spear, who threw 90 pitches on Monday after throwing 35 in a one-inning save against Fort Dodge on Friday.
"I was fairly confident in myself (to go the distance)," Spear said. "I just did what I did the whole game, and it worked out."
Lyons went 2-for-3 in the win. Cooper Cox was also credited with an RBI when the Mohawks botched a rundown in the seventh inning and Ankeny runner Peyton Agan beat the throw to the plate.
Shortly thereafter, Spear snared a line drive by Pederson to end the game, setting off the Hawks' celebration.
"We had a long bus ride and we didn't want to go home sad, so it felt good to get the win," Watson said.