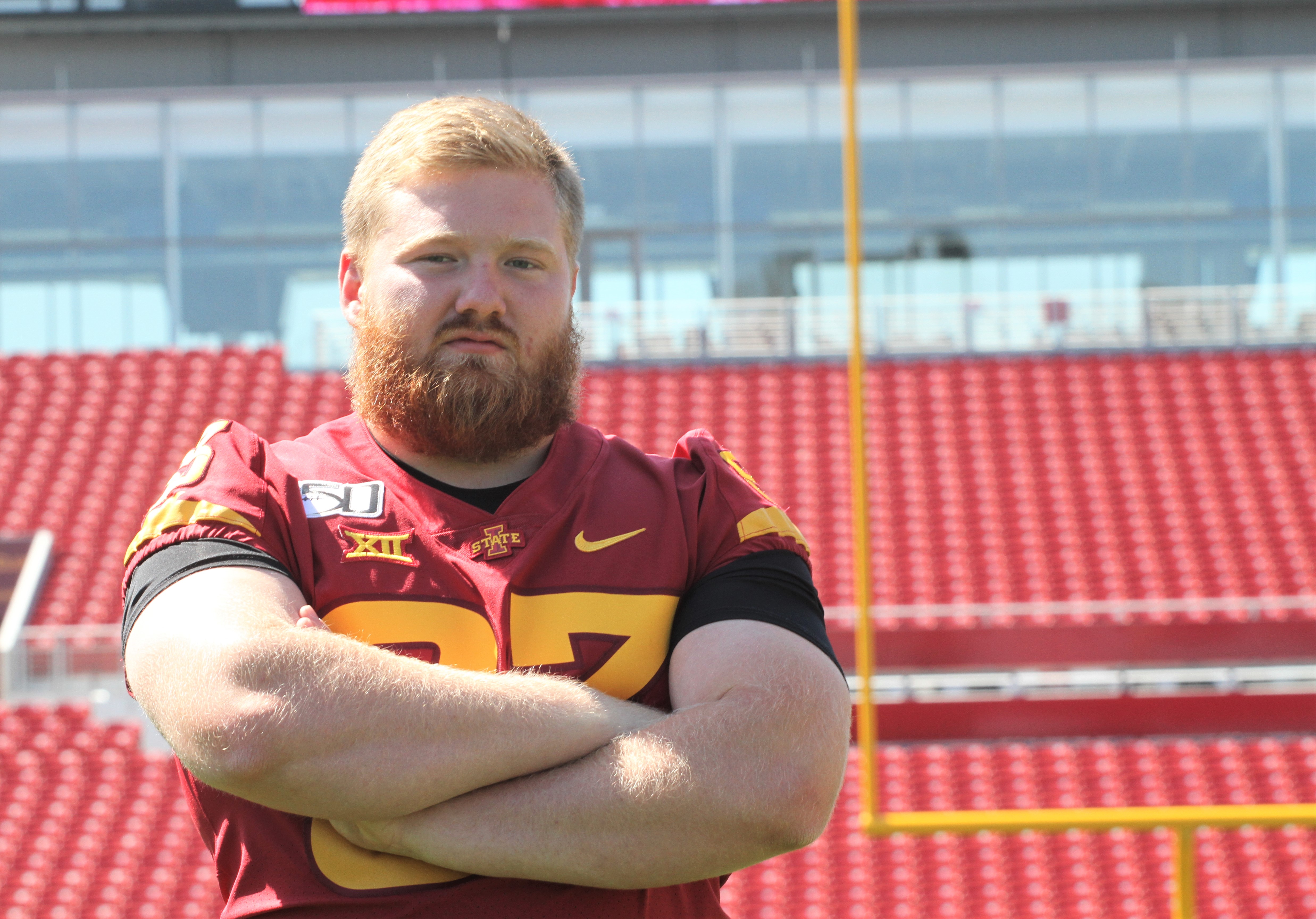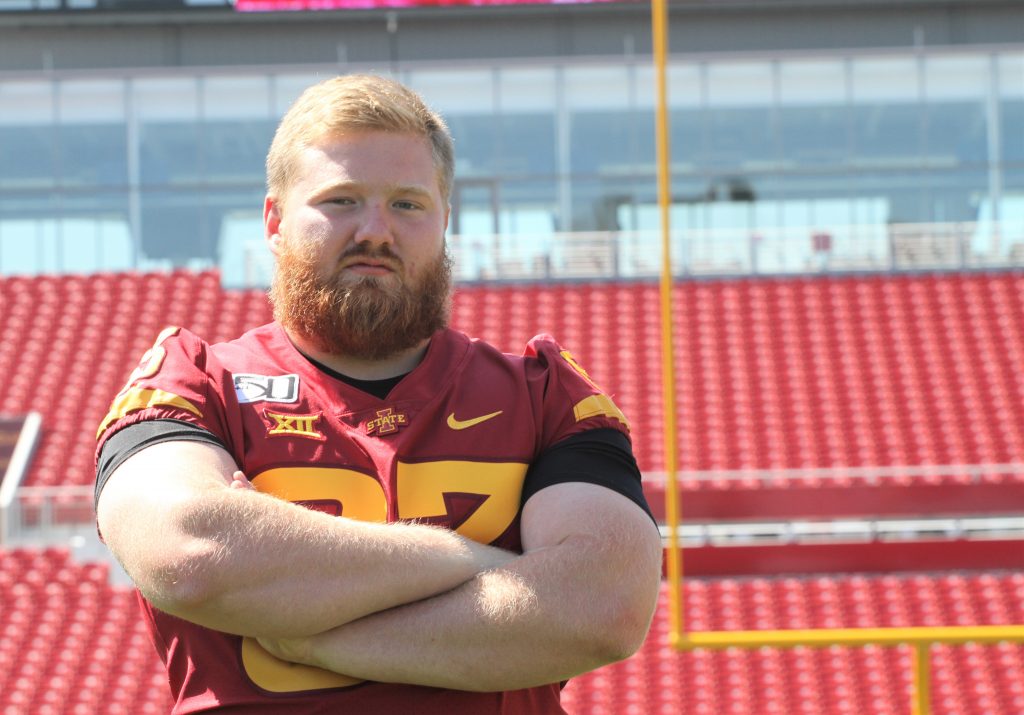 Collin Olson didn't earn his first collegiate start until the third game of his redshirt junior season on the Iowa State football team.
Now, after starting the final 11 games last year, Olson is firmly entrenched as the No. 1 left guard on the Cyclones' offensive line. However, the former Ankeny Centennial standout still doesn't consider himself a starter.
"It's kind of the polar opposite position of what I was last year," Olson said. "It feels good (to be the starter), but I'm definitely not comfortable. You can even go back to me last year–I was a guy who wasn't even on the depth chart and I worked my way up. We've got young guns like Trevor Downing coming and fighting, so right now I wouldn't even say I'm the starter. I think we're going to have a good position battle all the way across the O-line this fall. It should be fun."
All five offensive line starters are back for the Cyclones, who are coming off an 8-5 season and a second consecutive bowl appearance under head coach Matt Campbell. Four of the linemen are seniors–Olson and fellow guard Josh Knipfel, and tackles Julian Good-Jones and Bryce Meeker.
Downing and Joey Ramos, another redshirt freshman, are among the talented backups waiting for their chance to play.
"We've got eight or nine guys that can come in and play, so as a position group we're trying to take over the team a little bit and take over the offense for sure," Olson said. "(We want to) lead the team and sustain success with that position group, and that should radiate throughout the whole team."
The 6-foot-1, 290-pound Olson began his collegiate career as a defensive lineman, but switched to the other side of the ball following the 2017 Liberty Bowl. After Iowa State opened the 2018 season with back-to-back losses to Iowa and Oklahoma, Olson was inserted into the starting lineup for the next game against Akron.
Olson helped the Cyclones to a 26-13 victory and remained the starter for the rest of the season. The former walk-on was later placed on scholarship by Campbell.
"I've had another spring and summer to really hone in on the details of the position," Olson said. "I think sometimes last year that's where I got beat–in the details. So just being able to correct those (mistakes) this summer and spring with the other three seniors alongside me helping me has been really influential for my growth."
At the Cyclones' media day on Thursday, Campbell said it takes awhile for an offensive lineman to develop. It also takes time to put an effective offensive line together as a group.
"I do think there's no shortcut to building an offensive lineman," Campbell said. "When you look at the first offensive line we had here, Year 1 and Year 2, we were trying to bridge it together or piece it together. Last year was really the first time we felt like we got a foothold there and we had some building blocks in place. At Iowa State, you're not just going to snap your fingers and have a great offensive line. Offensive line is a learned skill–it's a craft. You've got to work in the weightroom, you've got to work in how you eat and how you play. It's got to be five guys playing as one to be successful.
"It's been fun to watch that group grow and become the best they can possibly be," he added.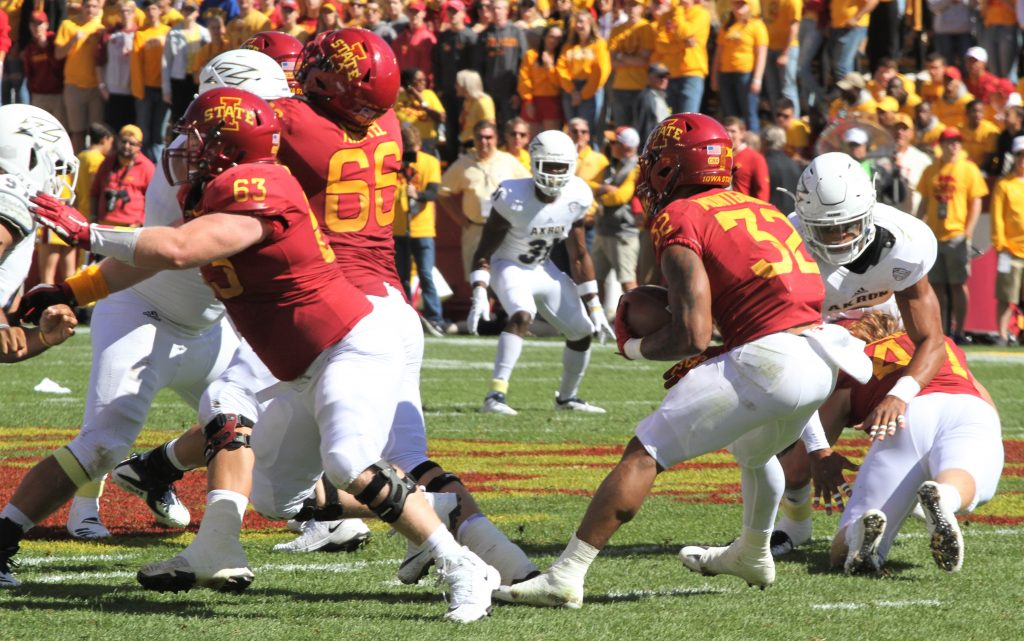 The expectations are high for Iowa State, which will open the season on Aug. 31 against Northern Iowa. The Cyclones have been picked to finish third in the Big 12 Conference.
Olson said he laughed when the preseason poll was announced.
"We finished 8-5 two years ago, and then they picked us to finish eighth or seventh (last year) and we finished third," he said. "And now, they think we've finally made it or something. But we don't really look too much into that. We take it with a grain of salt. We're just kind of focused on us. We don't worry about the outside noise."
The return of sophomore quarterback Brock Purdy, who took over the starting spot midway through last season and led the Cyclones to an Alamo Bowl appearance, is a big reason for the optimism around the program. Olson said he thinks Purdy will be even better this season.
"Last year he was working on an offense that wasn't really built around a mobile quarterback, because we started the year with Kyle (Kempt)," Olson said. "But then Brock took over, and he just took over that offense. I think now that we've had an offseason to build in some different packages for him to use his legs, I think it'll be good for him. He's really taken ahold of the offense."
Olson isn't too worried about the early departure of standout running back David Montgomery to the NFL. There are several capable backs ready to take over the position.
"We've got five or six guys that are real good players," Olson said. "The two freshmen that just came in (Breece Hall and Jirehl Brock) are highly touted. I know Sheldon (Croney Jr.), Kene (Nwangwu) and Johnnie (Lang) all can play ball, too. It'll be interesting to see who takes over that spot, but I'm comfortable blocking for all five of those guys for sure."
Olson is also comfortable in his new role as one of the Cyclones' grizzled veterans. He is even sporting a thick beard to prove it.
"It's just kind of laziness, not wanting to shave it," Olson said. "I thought it would be nice to grow it out at least through fall camp. We'll see how long I can last with it."
Olson won't be the only Ankeny product on the Cyclones' roster this fall. Freshman defensive back Tyler Rodgers, a former Centennial standout, has joined the program as a walk-on.
Offensive lineman Brady Petersen, who will be a senior at Centennial this fall, has also committed to join the Cyclones in 2020.
"For me, looking up to Joel (Lanning) was always a thing I did," Olson said. "I hope I set a good example for younger guys from Centennial and Ankeny, so if they look up to me like I looked up to Joel, that's a pretty special feeling."