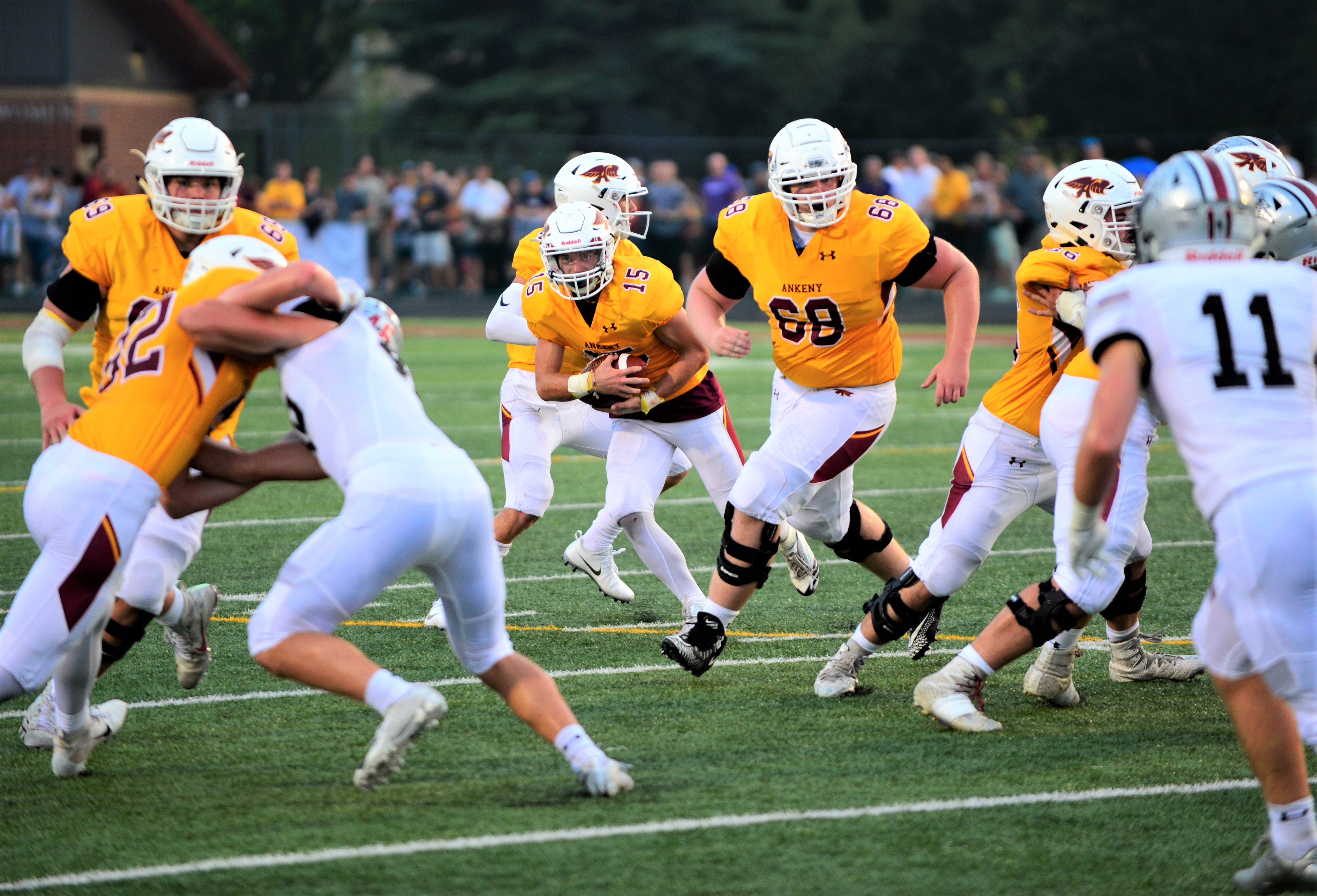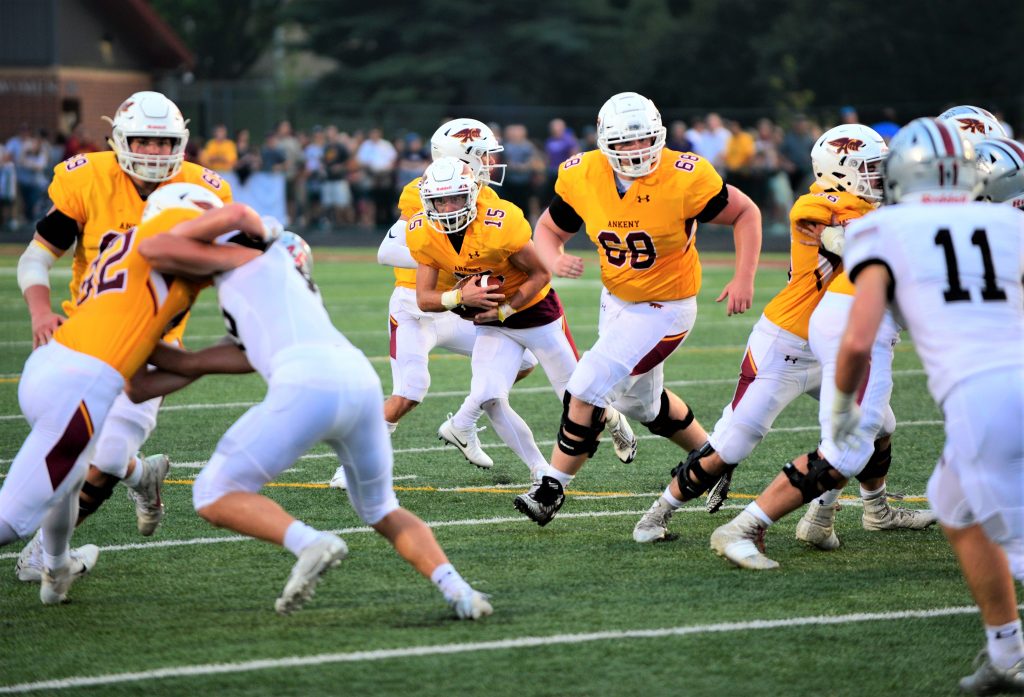 In recent years, the Ankeny Centennial football team has dominated the Jag-Hawk rivalry.
Will the Jaguars' dominance continue in 2019? We're about to find out.
Centennial will host Ankeny on Friday in the season opener for both teams. Kickoff at Ankeny Stadium is at 7 p.m.
"I think it's kind of neat to play them for the first game of the year," said Ankeny coach Rick Nelson. "It was a great crowd last year, and it's fun to be a part of. We'd just like to win."
Centennial has won the last four games in the series since Ankeny posted a 24-16 victory in 2015. The Jaguars recorded back-to-back shutouts in the last two meetings, 21-0 and 20-0, but Centennial co-head coach Ryan Pezzetti is expecting a tough battle in Friday's contest.
"Coach Nelson does a great job with his team, and they've got some really good kids over there," Pezzetti said. "We know we're going to have our work cut out for us."
Centennial returns nine starters from last year's team that posted a 9-1 record, including all-state running back Avery Gates. Gates rushed for 115 yards and three touchdowns in the Jaguars' victory over Ankeny a year ago.
"They're a good team," Nelson said. "They run the ball so well–that Gates kid is a really nice player. We've got to try to keep him in check."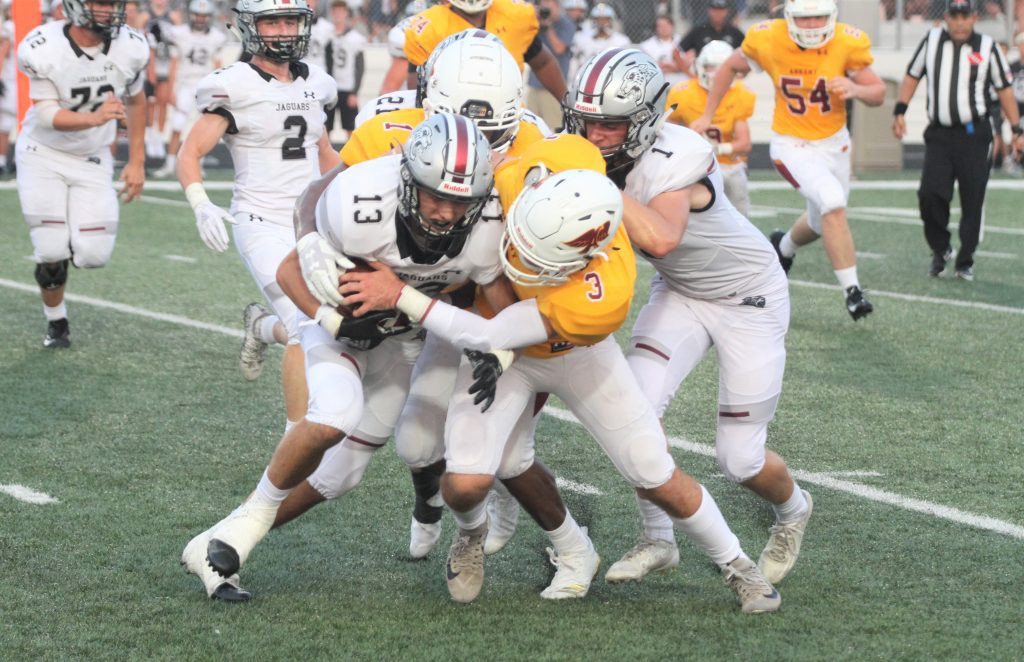 The Hawks, meanwhile, started eight sophomores in last year's loss to Centennial. Those players are now a year older and coming off a 24-21 loss to Valley in the opening round of last year's Class 4A playoffs.
"It's going to be a huge test for us because they do have some skill kids that no other team does," Pezzetti said. "That's going to be a huge challenge for our kids."
Ankeny's offense revolves around a trio of juniors–quarterback Jase Bauer, running back Cael Boyd and wide receiver Brody Brecht. Bauer started on defense in last year's game against Centennial, then took over at quarterback the following week.
"We did ok against them last year, but we just couldn't score any points," Nelson said. "If we could at least stay with them or maybe get ahead of them, that would help. But we haven't scored a touchdown in the last two years–or a point."
Centennial will be relying on a lot of first-time starters, but many of them served in backup roles in 2018. Now, it's their time to take the bulk of the snaps.
"We've got a nice nucleus of kids returning, but we also have a lot of new faces," Pezzetti said. "The good thing is that we're pretty healthy for the most part going into this game. It's time for us to find out where we're at."
One of Centennial's new starters could be senior quarterback Hayes Gibson, who played at Ankeny last year. He completed 8-of-17 passes for 101 yards in the loss to the Jaguars.
"Hopefully, we can hold their running game down," Nelson said. "We know Hayes can throw the football, so I'm sure they'll launch a few of them up and we've got to try to eliminate the big play."
Ankeny Fanatic Kickoff Tailgate
Going to the big game? Then be sure to stop by the Ankeny Fanatic Kickoff Tailgate from 3:30-6:30 p.m.
Ankeny Fanatic will co-host the event along with some other great sponsors–Wee's Tees, Gershman Mortgage, 515 Real Estate and Fareway. The tailgate will be held at 515 Real Estate, located at 215 NW 18th St., Suite 107–just north and east of Ankeny Stadium.
Admission is $5 and includes your choice of burger, brat or hot dog, along with chips and a drink courtesy of Fareway. Kids under 10 are free, and there is a maximum $15 charge per family.
There will be multiple giveaways, including a raffle for gift cards from different businesses. The first 100 people to attend will receive a free t-shirt.
The Ankeny cheerleaders are expected to make an appearance at 4 p.m. The Centennial cheerleaders will perform at about 5:50 along with the Jaguars' band.
All proceeds go to the Ankeny Schools Athletic Booster Club.