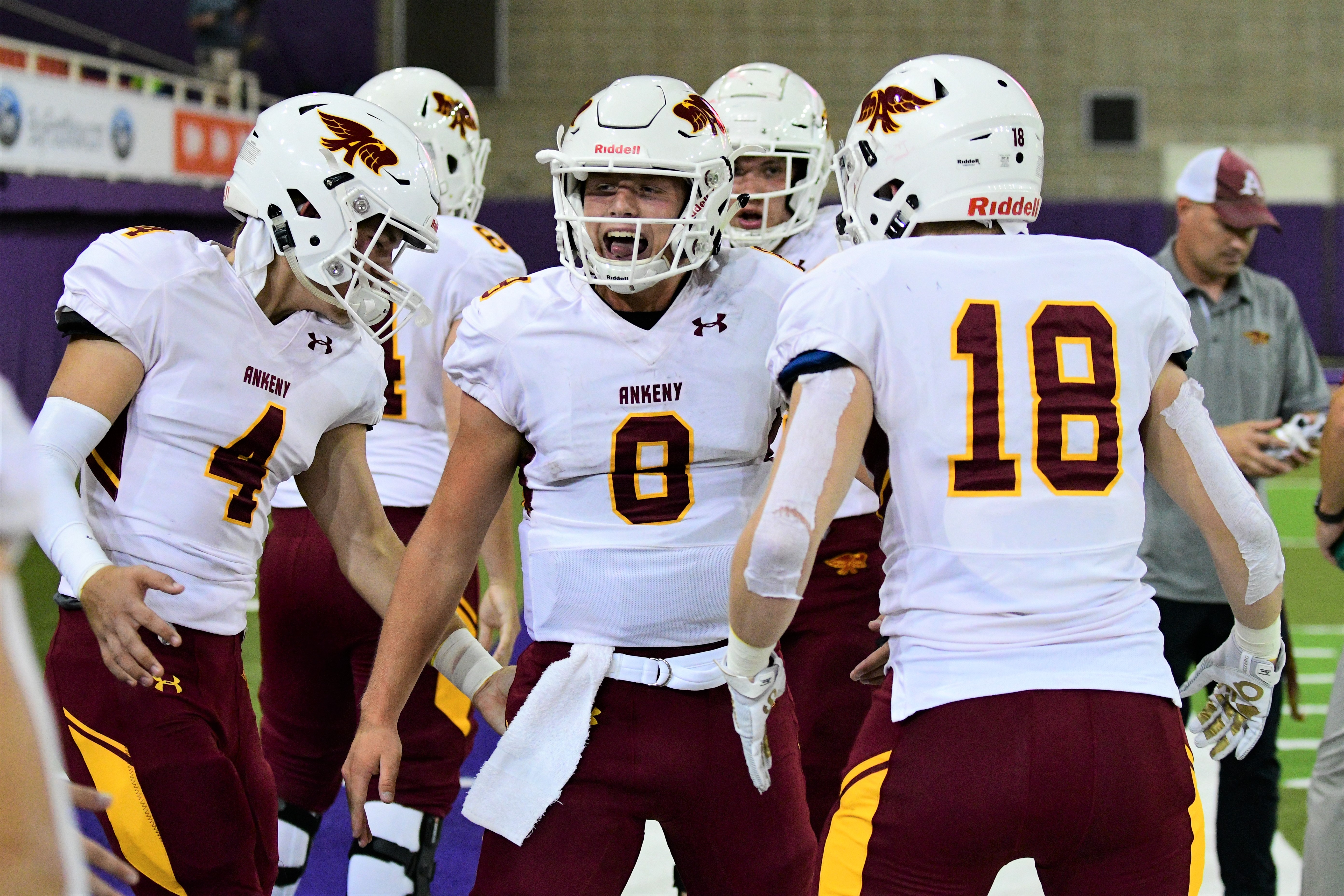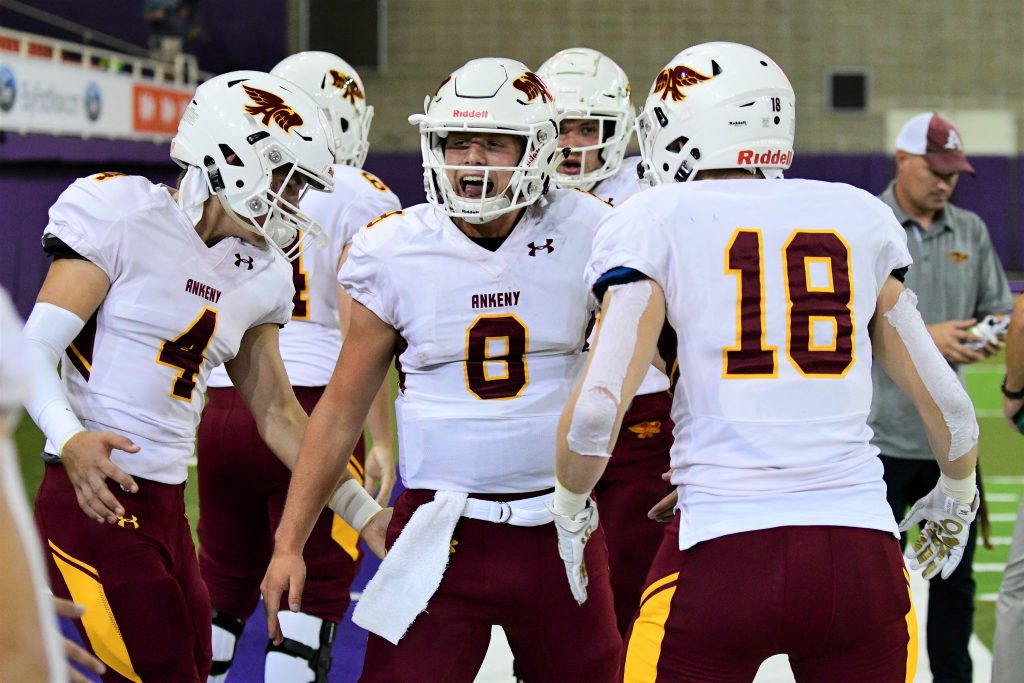 Rick Nelson knows his way around the UNI-Dome about as well as anyone.
The Ankeny football coach returned to his old stomping grounds on Friday, but it was a bittersweet homecoming.
Nelson's Hawks came up short in their bid to knock off defending Class 4A state runner-up Cedar Falls, dropping a 28-27 decision to the Tigers in a battle of top-10 teams.
"It was cool," Nelson said of his return to Cedar Falls, where he spent the majority of his coaching career as an assistant at Northern Iowa. "I didn't get to see anybody, but it was neat to be back in the Dome. I spent 17 years here."
Ankeny (1-2) was in position to pull off an upset after quarterback Jase Bauer ran for his third touchdown of the game, scoring on a 10-yard run with 9 minutes 11 seconds left to play. Bauer then passed to Jordan Kumm for a two-point conversion as the Hawks took the lead for the first time, 27-21.
"We came in thinking we had a great opportunity to win it," said Bauer, who ran for 109 yards and passed for 209 more. "Things didn't go well for us in the first half. We battled back in the second half, but we just didn't have enough juice at the end."
Cedar Falls, which trailed for the first time this season, didn't take long to respond. The Tigers (3-0) got a 42-yard kickoff return from Bryce Albaugh, setting up a 43-yard drive for the go-ahead score.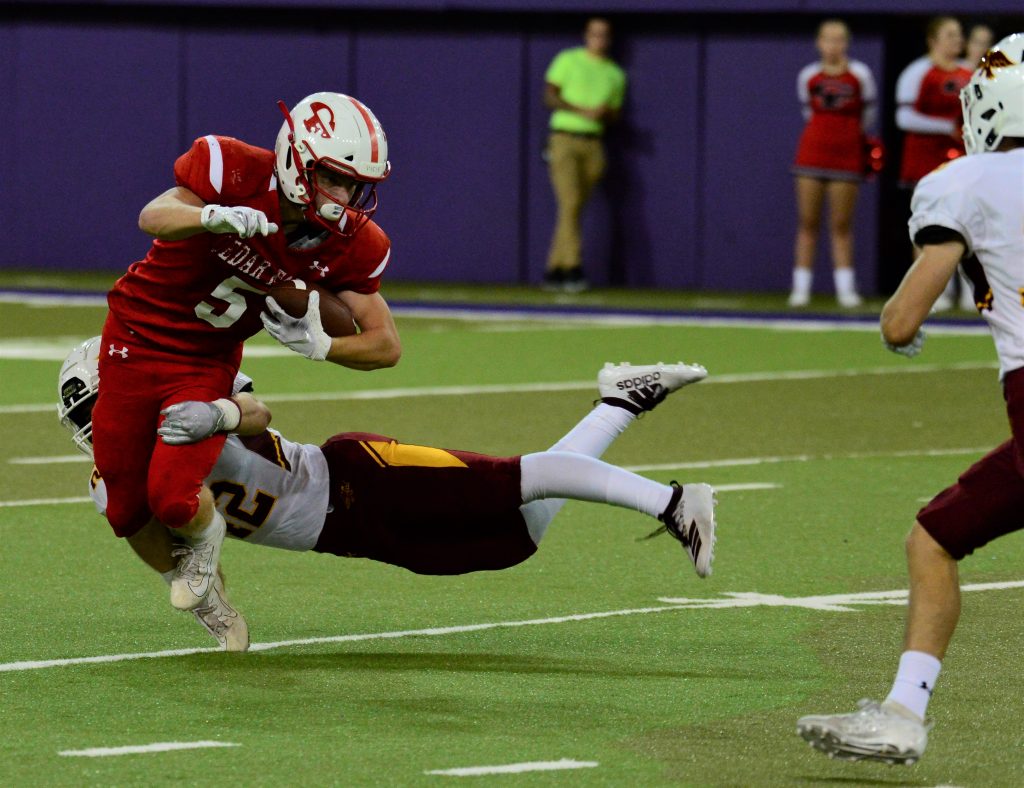 Six plays later, quarterback Cael Loecher dashed 4 yards to the end zone to tie the game with 6:44 remaining. Albaugh then added the decisive extra point.
Albaugh earlier scored on an 85-yard kickoff return.
"They ran two or three kickoffs back, so they had some short fields probably three times," Nelson said. "And we gave them another short field. I'm not taking anything away from them, but we're our own worst enemy. We're just kind of getting in our own way."
Ankeny lost despite outgaining Cedar Falls by a 371-237 margin. Bauer provided most of the offense, completing 15-of-23 passes while carrying the ball 22 times.
"We were going to pass the ball a lot more, but the run was working so we kind of stuck with that," Bauer said.
Brody Brecht caught seven passes for 121 yards. Colin Kadolph added 77 yards rushing on 13 carries.
"We played a heck of a game," Brecht said. "The first drive on offense we had that fumble that backed us up to the 2-yard line. If we change that around, it's a completely different game. We've just got to start out fast, and we would have had that (win). We're four points away from being 3-0. We're right there."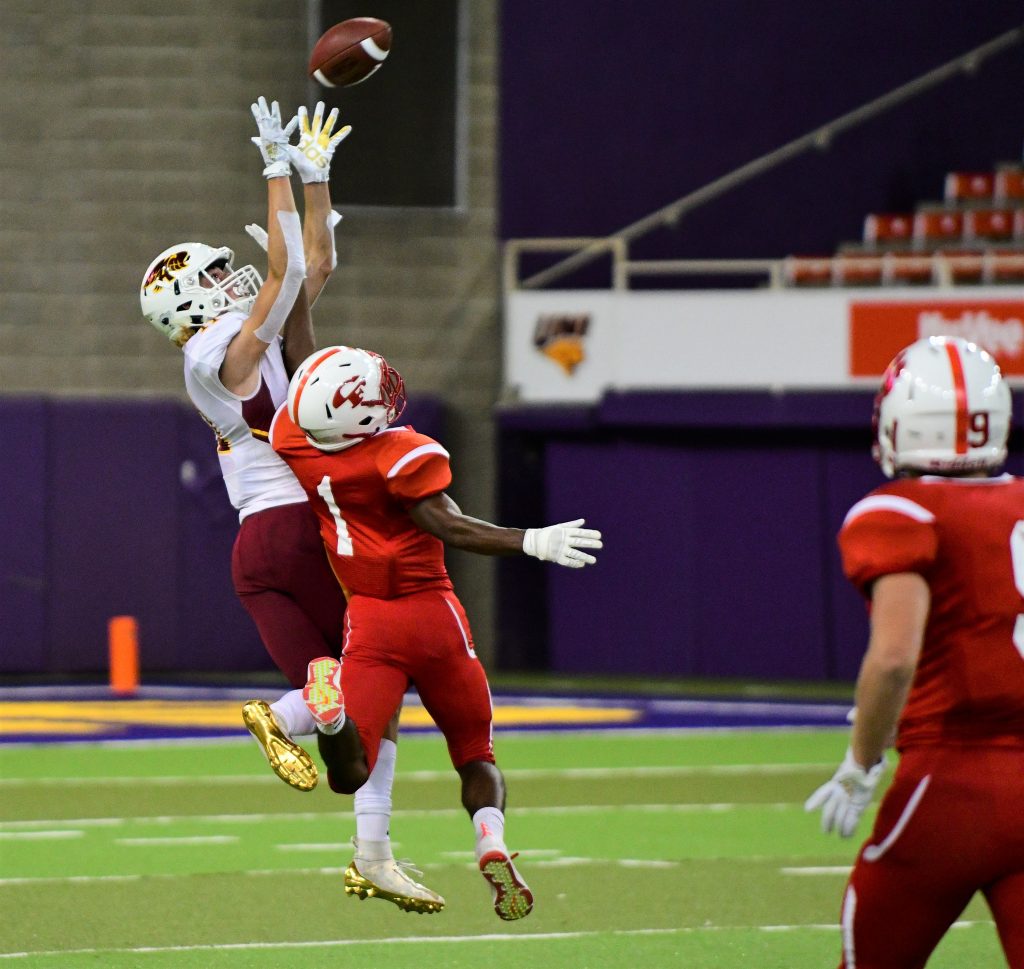 A bad snap on Ankeny's first play from scrimmage resulted in a 19-yard loss. The Hawks were eventually forced to punt from their own end zone, giving Cedar Falls a first down at Ankeny's 29-yard line.
On the Tigers' first play, Loecher fired a scoring strike to Ben Sernett down the left sideline. It came less than 2 minutes into the game.
"I think we were a little shell-shocked at first," Nelson said.
The Hawks' next two possessions ended with an interception and a fumble. Cedar Falls later took a 14-0 lead when Loecher and Sernett connected again, this time for an 18-yard touchdown with 9:11 left until halftime.
Ankeny finally got its offense untracked on the ensuing drive. On third-and-3 from the Hawks' 45, Bauer scrambled out of the pocket and raced 55 yards for his first touchdown of the game.
"Everyone dropped back, and I had nothing underneath," Bauer said. "Jordan Kumm made a great block and I got to the outside, and that was it."
However, Albaugh fielded the ensuing kickoff at the Tigers' 15-yard line, found a hole and ran all the way to the end zone.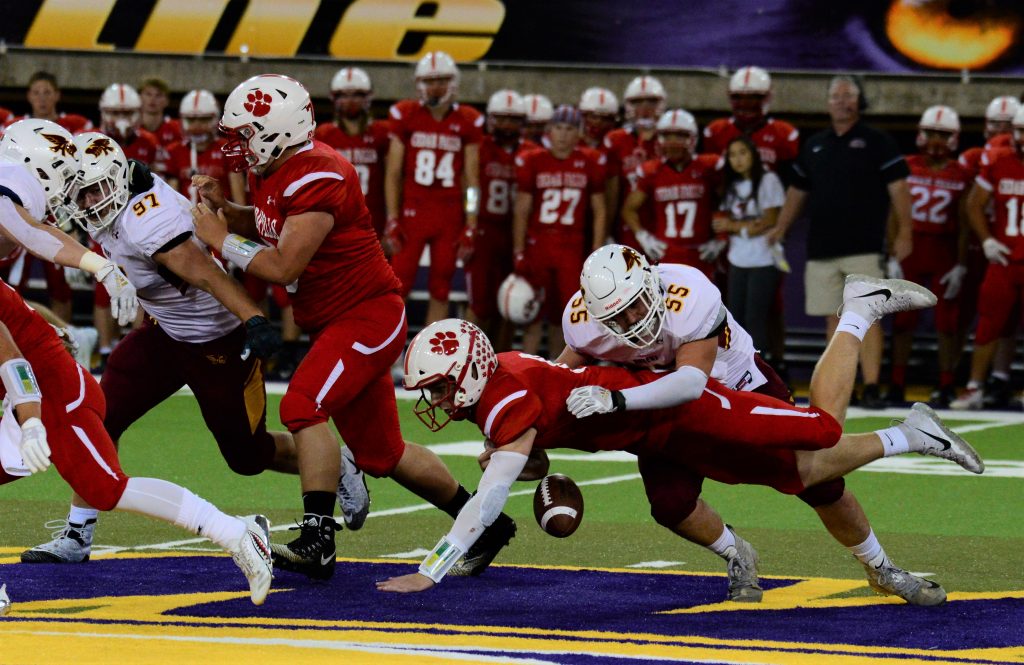 "I'm disappointed," Nelson said. "I just think there's some little things that we need to clean up if we want to beat these teams."
Ankeny pulled to within 21-13 at halftime with an 80-yard scoring drive. Bauer threw a 40-yard pass to Brecht to set up his own 3-yard touchdown run five plays later, but the Hawks missed the PAT attempt.
"Those extra points are kind of important," Nelson said.
The Hawks drove 77 yards in eight plays to close the gap to 21-19 midway through the third quarter. Kadolph capped the drive with a 5-yard touchdown run, but Bauer was tackled for a loss on the two-point try.
"We were just a couple of points away there. A couple of mistakes away," Bauer said. "If we clean those things up, I think we're right there in that game and I think we come out with the win."
Brecht picked off a pass to stop Cedar Falls' next possession. Ankeny later drove 80 yards for the go-ahead score, getting five carries for 31 yards from Kadolph on the drive.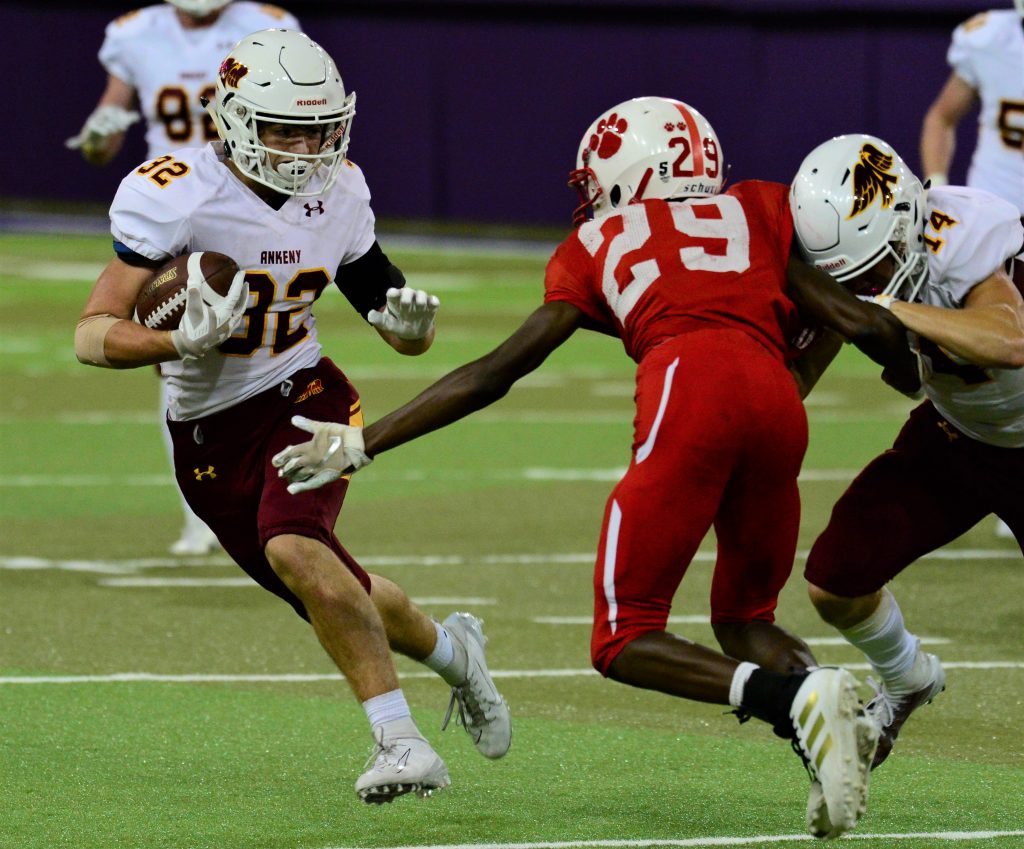 "I thought we actually ran the ball for the first time this year. I was encouraged by that," Nelson said. "Colin has had a little shoulder problem, but it must be getting better because he kind of stuck it in there pretty good tonight."
After Cedar Falls regained the lead, the Tigers forced Ankeny to punt with about 5 minutes left. The Hawks had no timeouts remaining and thus needed a defensive stop.
However, the Tigers got a pair of huge runs from Ryan Ostrich as he converted on third-and-7 and third-and-10 to run out the clock.
"Heck of a high school football game," Cedar Falls coach Brad Remmert told the Waterloo Courier. "We knew watching them on film they were a very, very tough team. You get behind, face some adversity and our kids responded big time."
Nelson is hoping that his team will get another chance to play at the UNI-Dome. The Class 4A semifinals will be held there on Nov. 15.
"We think we have a good enough team," he said. "We just can't make some of the silly mistakes that we're making."