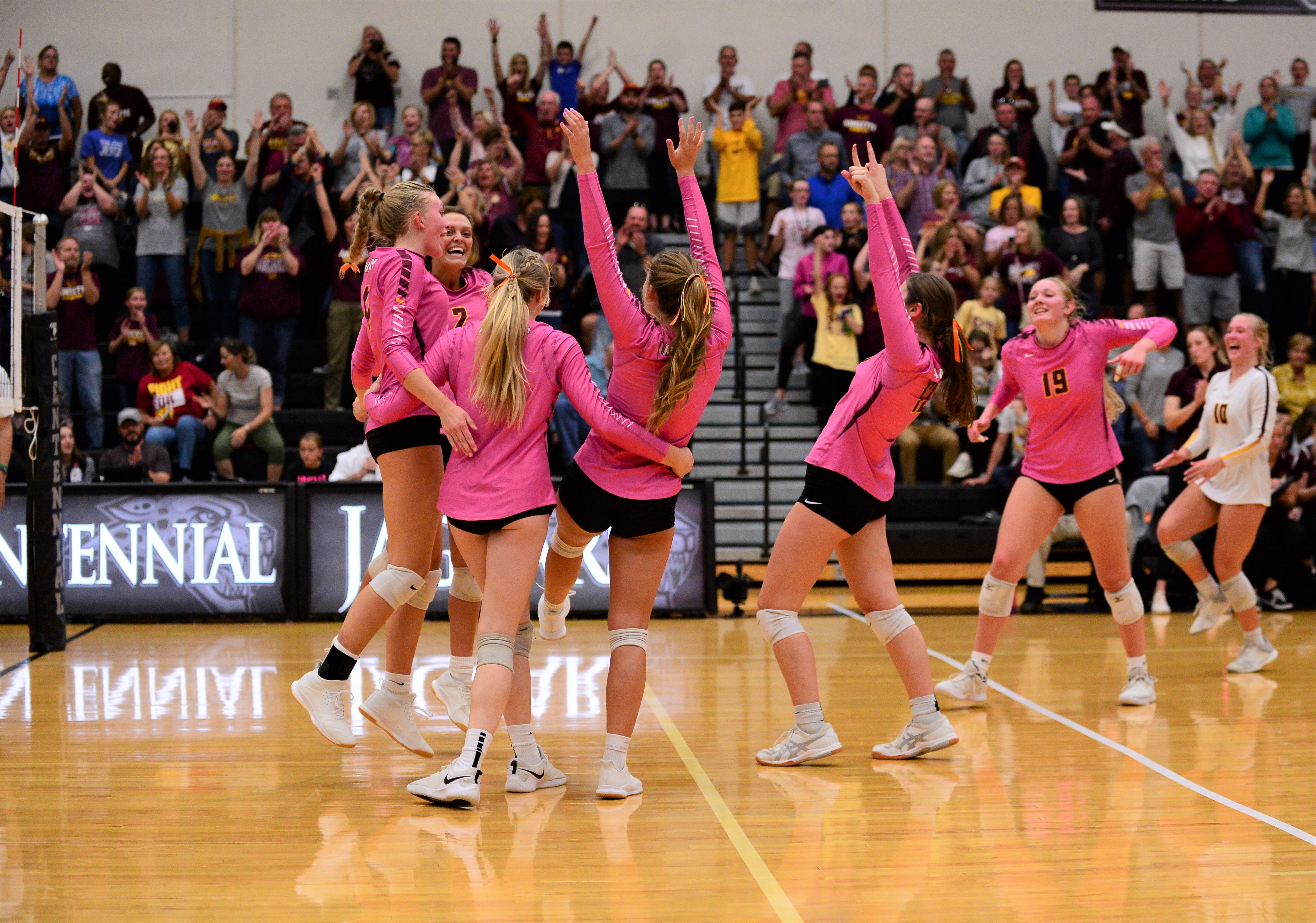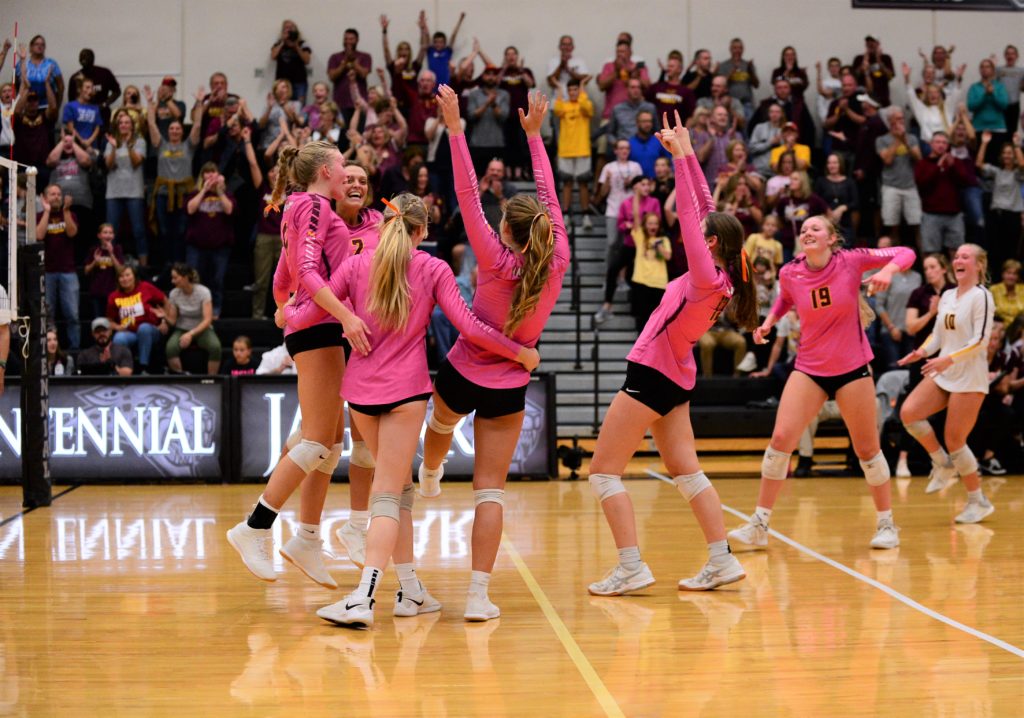 Whenever Ankeny Centennial's Devyn Robinson pounded a kill on Tuesday night, the Ankeny volleyball team usually responded with one or two of its own.
The fourth-ranked Hawkettes overcame Robinson's match-high 17 kills to post a 25-14, 25-20, 25-14 victory at No. 9 Centennial. It was Ankeny's first win over the Jaguars since 2016.
"Whenever Devyn got a kill, we just thought about brushing it off and getting the next one," said Ankeny setter Phyona Schrader.
Schrader had 10 kills and 22 assists as Ankeny won its eighth consecutive match. She also completed 24-of-25 serves as the Hawkettes improved to 3-1 in the CIML Central Conference and 28-5 overall.
"We passed the ball well, we served the ball tough and Phyona kind of took control of the game for us as far as her serving, her setting and her choices," said Ankeny coach Dave Whims. "The kids had kind of marked this game for this season. They played really hard, and we were able to overcome some adversity at our school this week (with the death of Jordan Leon). But they were able to set that aside and came out really strong."
Centennial now leads the all-time series by a 5-3 margin. All three of Ankeny's wins have come on the road.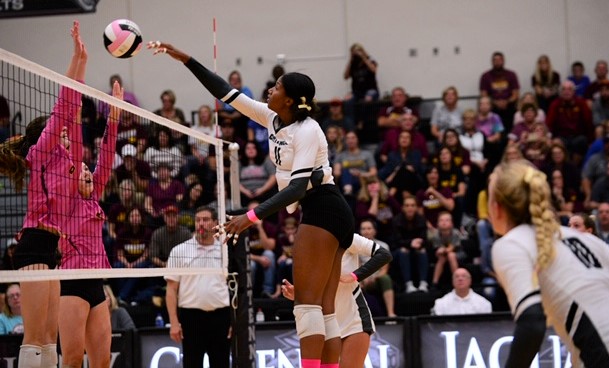 The Jaguars were swept for the fourth straight match, dropping their records to 2-2 in the league and 10-12 overall.
"It's just lack of energy," Robinson said. "We need more go, like more force…more passion. It's just lacking. We just have to work on it, I guess."
Ankeny opened the match by jumping out to a 10-0 lead and never looked back. Robinson had eight of her kills in the first set, but it wasn't nearly enough.
"Sometimes we're a little apprehensive, but I think they're getting over that nervousness of starting a game and coming out aggressive and that's important," Whims said.
The Hawkettes closed out the set when a spike attempt by Robinson sailed out of bounds.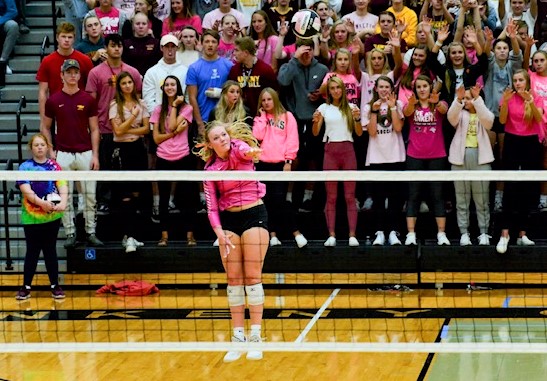 "The slow starts never help," said Centennial coach Jessica Rinehart. "They make you play tentatively versus the opposite, and it's kind of been an issue for us this season. That wasn't what we wanted."
Centennial took an 11-9 lead in the second set before Ankeny rallied. The Hawkettes used a 10-2 run to move ahead, 19-13.
The Jaguars later closed the gap to 22-20 before Ankeny scored the next three points to close out the set, capped off by Kaci Behrens' second ace of the match.
"We just knew that we had to play our game and focus on our side of the net and then it would all take care of itself," said Behrens, who had nine digs and also completed all 12 of her serves.
In the third set, Ankeny raced out to an early 10-2 lead. Isabelle Vacek gave the Hawkettes some momentum when she leaped high to block a spike attempt by Robinson, then celebrated with a ferocious scream.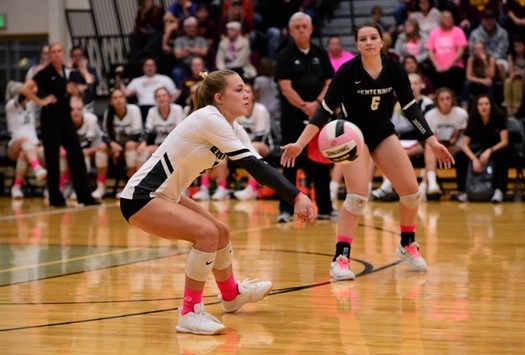 "I just kind of go up and press," said Vacek, who finished with seven blocks. "I have my right sides that do a phenomenal job of setting up my block, and everyone talks and it just helps me get up and press. I feel like for every one that (Robinson) didn't kill, we got a dig up and then we responded with a great kill from one of our outsides, middles and rights."
Ankeny also got a spark in the third set from the return of McKenna Scheib, who had been out of the lineup since Sept. 24 due to a sprained ankle. She contributed two kills and a block.
"She kept telling me her ankle was pretty good, and tonight she proved that it was," Whims said. "We've got to figure out how to get her back in the lineup, and we will. That's a good problem to have. Somebody's going to have to watch, but these girls are willing to sacrifice their playing time for other people to play."
The Hawkettes eventually closed out the match on a kill by Ava Reynolds, who finished with a team-high 11 kills. Malea Daugherty had seven kills, while Reilly Johnson added six kills and six blocks.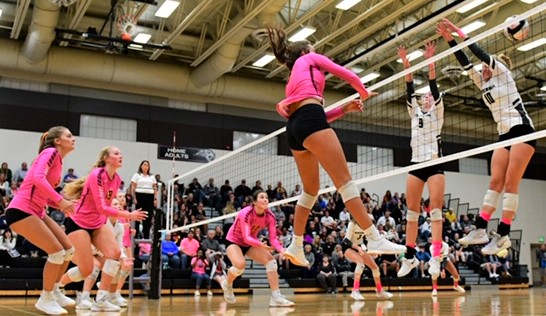 Marissa Faber dished out 13 assists as Ankeny hit .326 on the night.
"We were pretty confident," Schrader said. "I think we had a good plan."
The Jaguars, meanwhile, struggled to build any momentum. Their longest run of the match was a four-point rally early in the second set.
"We didn't serve super tough, and when you don't, the other team just gets to run whatever they want," Rinehart said. "We let them be real comfortable all night, as opposed to putting pressure on them and making them break."
Centennial will compete in the Westside Invitational on Saturday at Cedar Rapids Jefferson. The Jaguars will try to regroup before the start of postseason play later this month.
"We just have to really want it," Robinson said. "Everybody has to want it–it can't be a couple people."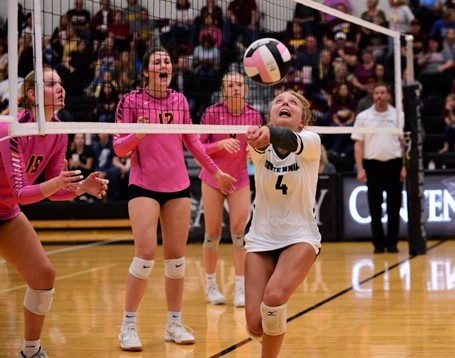 Rinehart said the Jaguars are still searching for their best lineup.
"We were trying different things," she said. "We tried Devyn in the middle and on the outside, and she actually produced more kills in the middle–at least at a higher percentage–and it was good for us to see her in both roles against a good team. But you don't win games by yourself, and sometimes maybe she tries to carry too much. We need to get everyone stepping up for us to do what we want to do, which is to make it back to state.
"We need more people with positive hitting percentages doing good things," she added.
The Hawkettes will be back in action at the Bettendorf Invitational on Saturday.
"I think we're in a good position to go into the postseason," Schrader said.