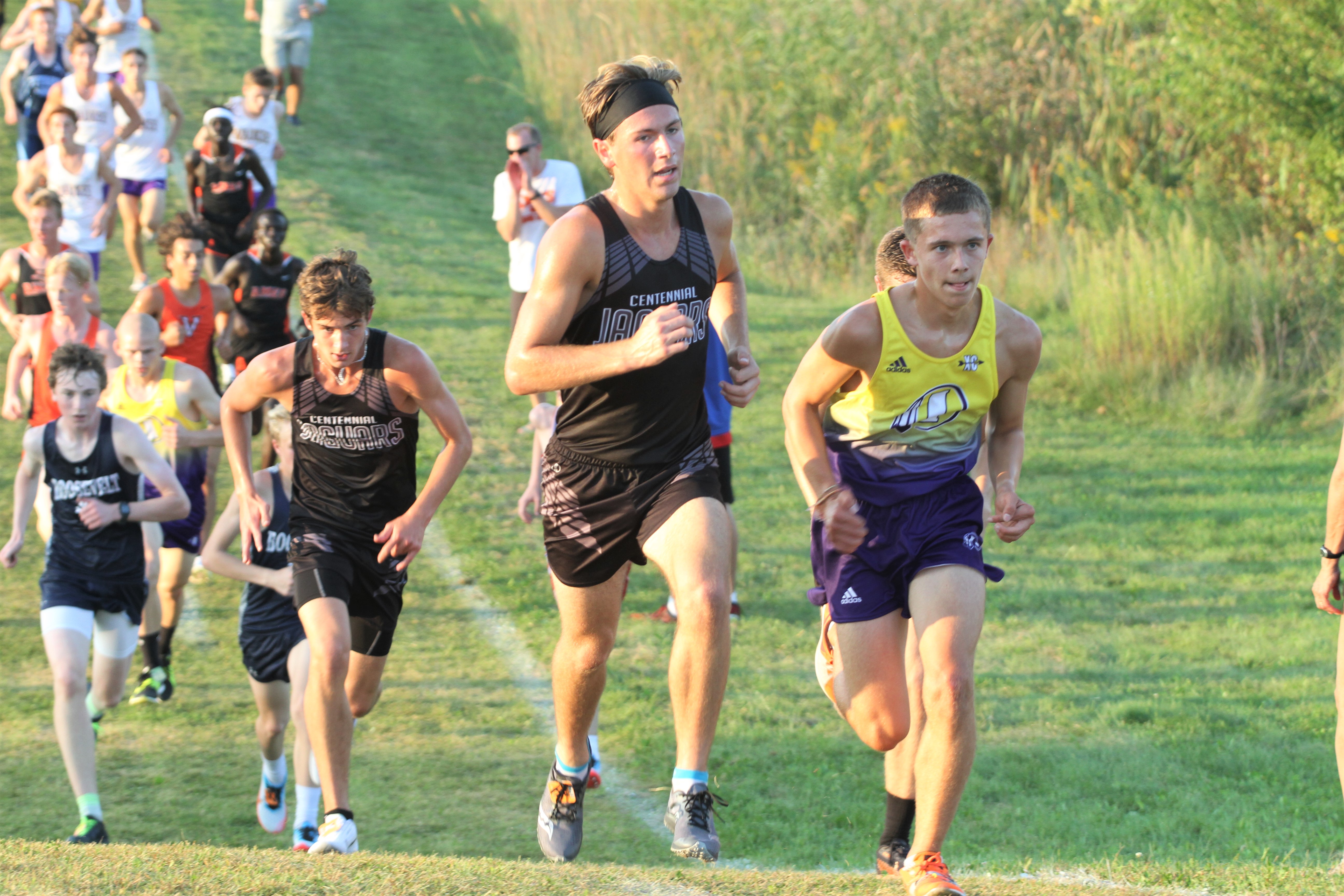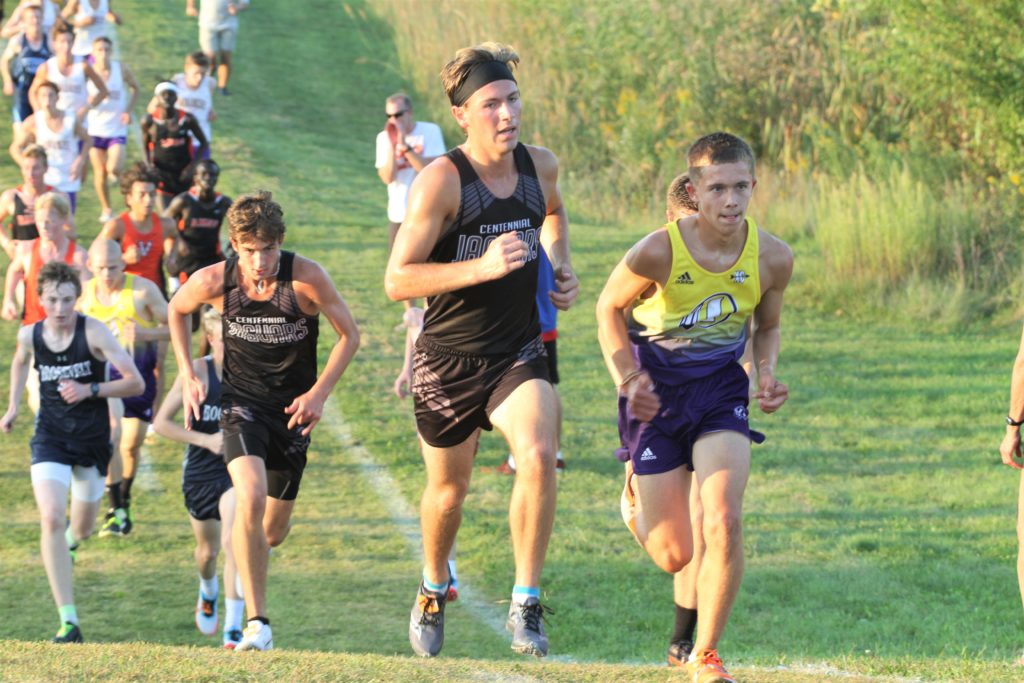 The Ankeny and Ankeny Centennial cross country teams badly needed to find a race after Thursday's Fort Dodge Invitational was cancelled due to bad weather.
Fortunately, they were able to quickly find one.
All four squads competed in the Atlantic Invitational on Saturday. The meet was contested in cold and windy conditions on a muddy course.
"With missing so many meets, we were fortunate to have the opportunity to compete," said Ankeny boys' coach Jon Lindaman. "As a complete unit, it was our best meet of the season. You have to throw times out the window on a day like this and just compete. Our guys did just that."
Centennial won the boys' title with 95 points. Ankeny placed second in the 17-team field with 123.
The ninth-ranked Centennial girls' squad was the runner-up among 12 teams with 71 points. Harlan, the No. 4 team in Class 3A, won the girls' crown with 46 points.
"We made the decision to run our top JV kids in the varsity race," said Centennial girls' coach Eric Cogdill. "At the Valley, Indianola and Iowa City West meets our JV put nine, seven and seven girls in the top 10 en route to JV victories. Those races became de facto time trials for our top JV team, as they primarily raced each other. Those girls deserved the opportunity to get pushed as competition against faster girls would help them improve and assist us in developing future varsity regulars."
Ankeny, meanwhile, placed fifth in the girls' division. The Hawkettes finished with 146 points.
"For an impromptu meet, we felt our racing was consistent," said Ankeny girls' coach Eric Klingensmith. "In addition, we ran without our full varsity lineup, and yet we performed well."
Gabriel Vicker led the Centennial boys' squad to its first team title since last year's Indianola Invitational. He placed second in the 5k race with a time of 17:30, finishing 9 seconds behind Joshua Baudler of Nodaway Valley.
The Hawks were paced by Tyler Hentzel, who placed seventh in a time of 17:43.
"Tyler is realizing that he can run with some of the top runners in the state, so it is great to see his confidence grow," Lindaman said. "I am confident our team will be ready to peak and run their best races at the conference and district meets."
Nate Jones placed 12th for the Jaguars in 18:03. Kade Christensen took 19th in 18:16, Connor Cunningham was 27th in 18:41, Ryan Bybee placed 35th in 18:51, Cooper Majors was 45th in 19:08, and Nate Burns finished 66th in 19:40.
Andrew Poock placed 21st for Ankeny in 18:22. Christian Rathje was 24th in 18:27, Marc Medici took 30th in 18:42, Cael Cox placed 42nd in 19:05, Cole Buffington was 49th in 19:12, and Truman Patterson finished 50th in 19:13.
"It was a cold, windy and muddy mess, but our kids showed up ready to race," Lindaman said.
Peyton Pogge of Tri-Center won the girls' race in a time of 20:11, staying undefeated on the season. Centennial's Kendall Jorgensen was seventh in 21:28.
"Kendall had an amazing race, running a season-best time," Cogdill said. "She finished ahead of the ninth-ranked Class 3A runner, an Iowa Hawkeye track and cross country recruit, as well as numerous state qualifiers including a 4A individual from a year ago."
Jenna Pitz was Ankeny's top finisher. She placed 13th in 21:50.
"Our ladies are working hard in training and in meets, which will allow us to continue our growth this season," Klingensmith said. "We are looking forward to our next two meets, pushing our limits with no regrets."
Grace Meador placed 15th for the Jaguars in 21:51. Kate Hoogensen took 17th in 21:59, Jennifer Jordan was 19th in 22:10, Camden Hershberger placed 20th in 22:10, Macie Langstraat was 24th in 22:19, and Hannah Nelson finished 30th in 22:51.
"Ultimately, the course ended up being a fun, sloppy mess and it was paired with 15-20 mph winds and cool temps," Cogdill said. "It was not a day conducive for fast times, but the girls competed fabulously and executed our race plan to perfection. I can't say enough good things about the grit of these girls who raced without leggings, hats and gloves in 35-degree wind chills and their mindset to prove they could race with some outstanding runners."
Marika Kisgen placed 28th for the Hawkettes in 22:37. Eva van de Mortel took 34th in 23:07, Paige Beason was 36th in 23:09, Anna Schmitz was 44th in 23:42, and Lydia Hill finished 58th in 24:20.