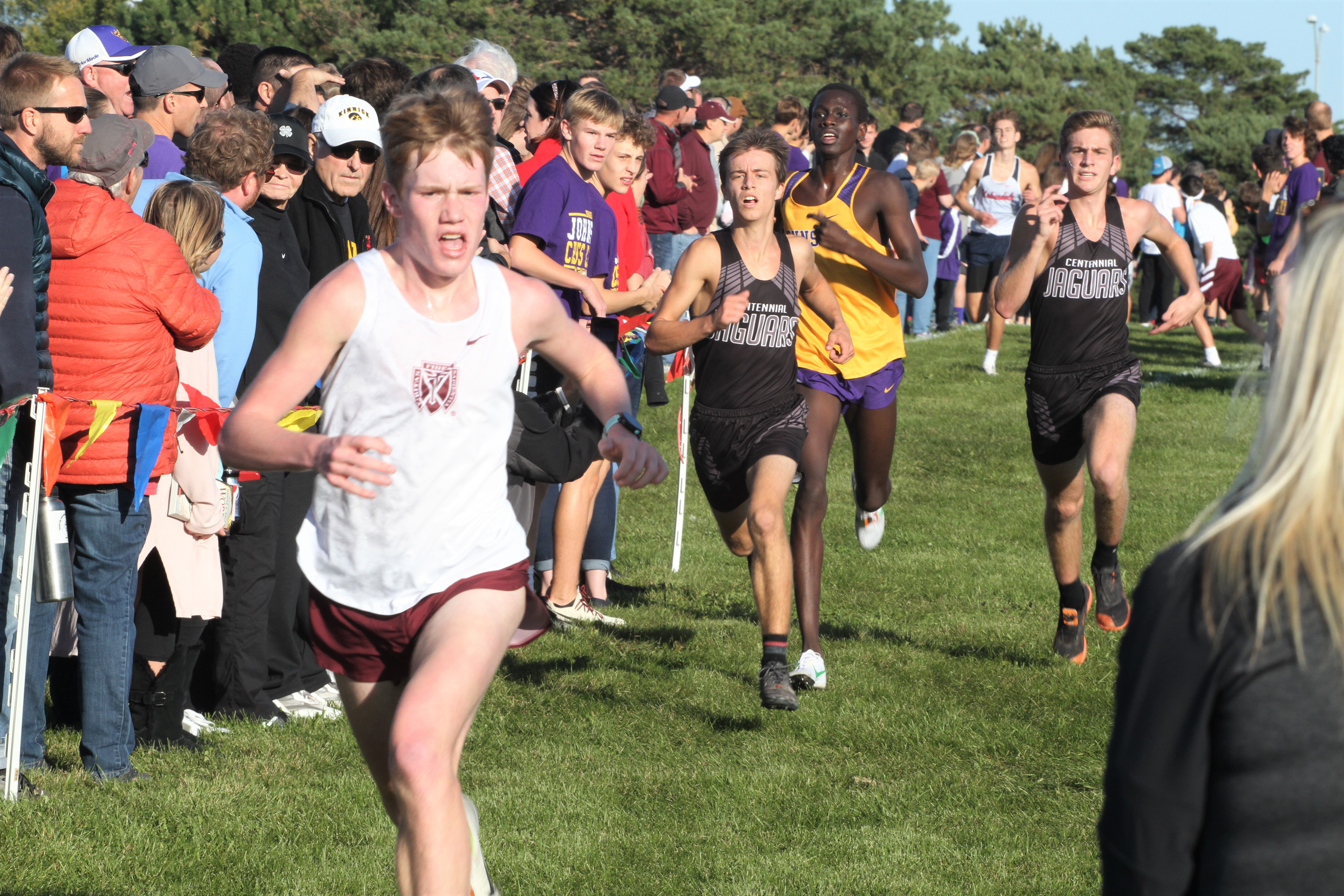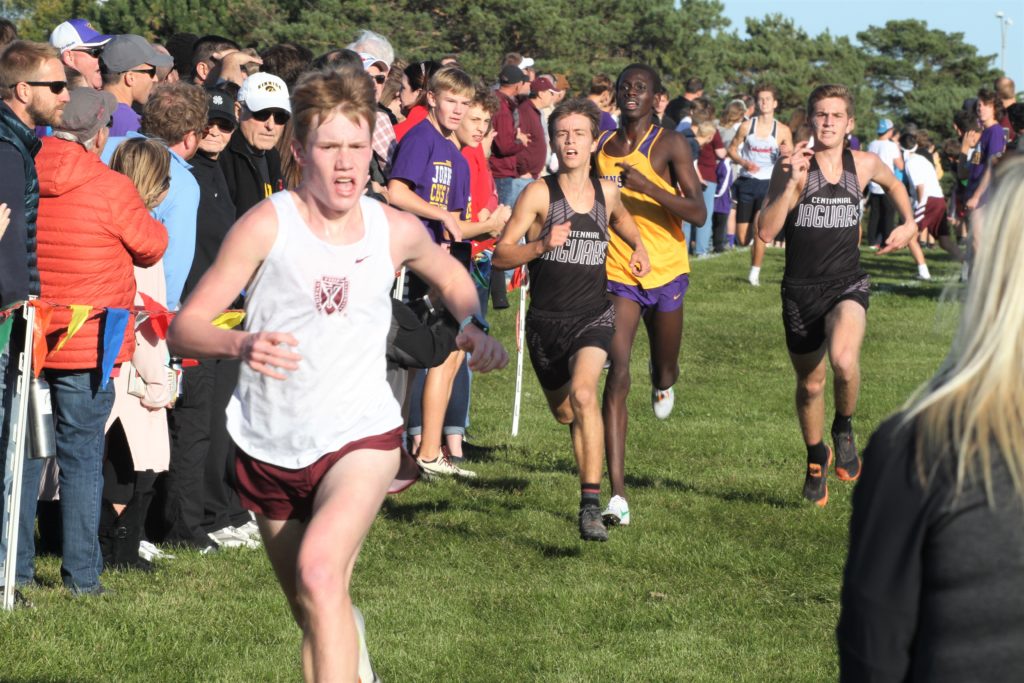 Thursday's CIML Central Conference meet provided one last tune-up before next week's district meet for the Ankeny and Ankeny Centennial boys' cross country teams.
The Jaguars placed fifth in the six-team field at DMACC with 117 points. They finished 12 points behind 11th-ranked Urbandale, one of the teams they'll compete against at the Council Bluffs district.
"It was great competition tonight," said Centennial coach Chad Fickbohm. "We raced well as a team."
The Hawks finished sixth with 143 points, but Ankeny coach Jon Lindaman was more than happy with his squad's performance.
"From top to bottom our entire team had a great night," Lindaman said. "We had guys throughout our roster dropping 30 seconds to 2 minutes from their previous best. As a coach it is exciting to see kids cross the finish line with a big smile on their faces knowing they PR'd."
No. 2 Dowling Catholic easily defended its title, finishing with 34 points. No. 10 Ames took second with 63 points, edging No. 3 Johnston by two points.
Dowling's Sam Hall won the 5k race in a time of 15:46. He finished 13 seconds ahead of Ames' Noah Kohut-Jackson.
Ankeny senior Tyler Hentzel earned a top-10 finish. He placed ninth in 16:34.
"I was very happy with my race," Hentzel said. "It was a really nice course today, and my goal was to place competitively. It's been awhile since we've been able to run a really nice, fast course. We kind of threw times out the window at the beginning and just said to go out there and find the guys you want to race with and just kind of beat them at the end."
The unranked Hentzel defeated several ranked runners, including Gabriel Vicker of Centennial, who is ranked 15th in the state.
"Of the six teams all are top-20 programs, so all 42 runners are running at a very high level, making Tyler's ninth-place finish even more impressive," Lindaman said. "He was pretty excited about beating several ranked kids in the race. I love seeing him gain confidence and getting better each time he races."
Vicker placed 13th for the Jaguars in 16:40. He finished just ahead of teammate Connor Cunningham, who took 14th in 16:41.
"I wish I would have beat him," Cunningham said. "He made a move on me, so I made another move on him. But I guess it was too early because he caught up."
Cunningham posted the same time that he did at the Centennial Invitational on Aug. 27. However, the DMACC course was a little bit short for the earlier race.
"I'd say that's some pretty good progress," Cunningham said.
Centennial's Nate Jones placed 23rd in 17:11. Kade Christensen took 31st in 17:34, Cooper Majors was 36th in 17:43, Ryan Bybee placed 37th in 17:44, and Nate Burns finished 39th in 17:55.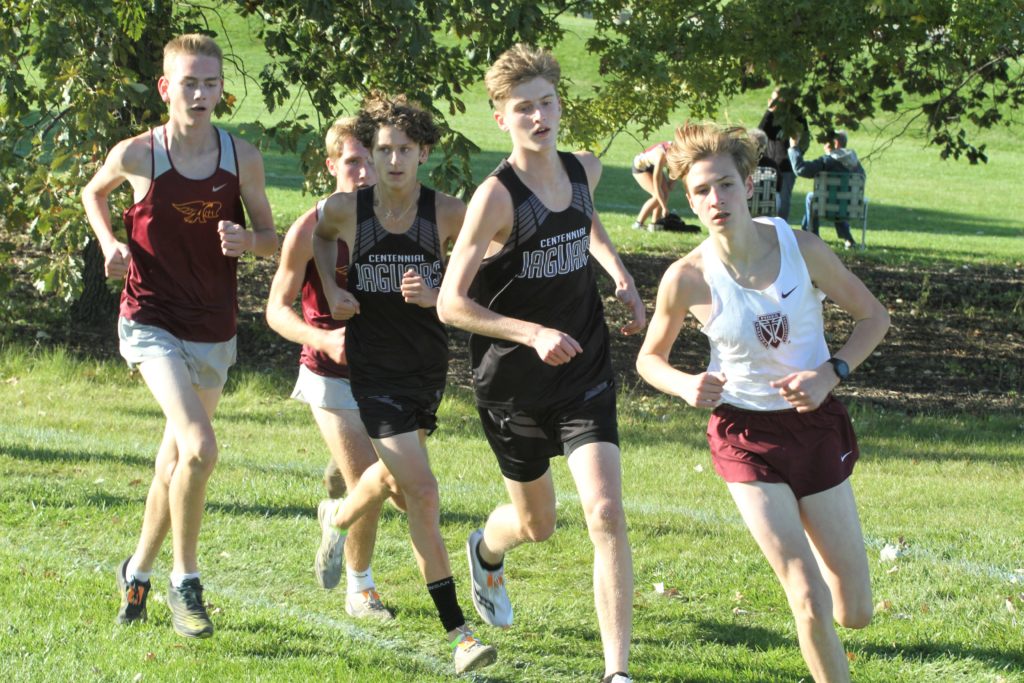 "Gabe was a little off, but Connor and Nate (Jones) had great races," Fickbohm said. "Kade, Cooper and Ryan are racing strong, and Nate Burns ran his best (time) of the season."
The Jaguars focused on trying to beat Urbandale.
"Our coach said if we saw a blue and white jersey to go and catch them–'I don't care what it takes,'" Cunningham said. "This gave us some good insight as to where we want to be next week."
Andrew Poock placed 28th for the Hawks in 17:27. Cael Cox took 32nd in 17:37, Cole Buffington was 34th in 17:40, Christian Rathje placed 40th in 17:59, Marc Medici was 41st in 18:25, and Truman Patterson finished 42nd in 18:55.
"We knew it would be a battle, especially running without one of our key contributors–Paul Erredge," said Lindaman, whose team will run in the Marshalltown district next week. "But we had a very strong race from Cole, and Cael is getting back to where he would like to be."
With four of the top 11 teams in Class 4A in the field, the Hawks weren't concerned about where they placed.
"We had a lot of really good teams (going) against us," Hentzel said. "One big thing was we wanted to work as a team, especially during the end of our races. We wanted to finish strong."