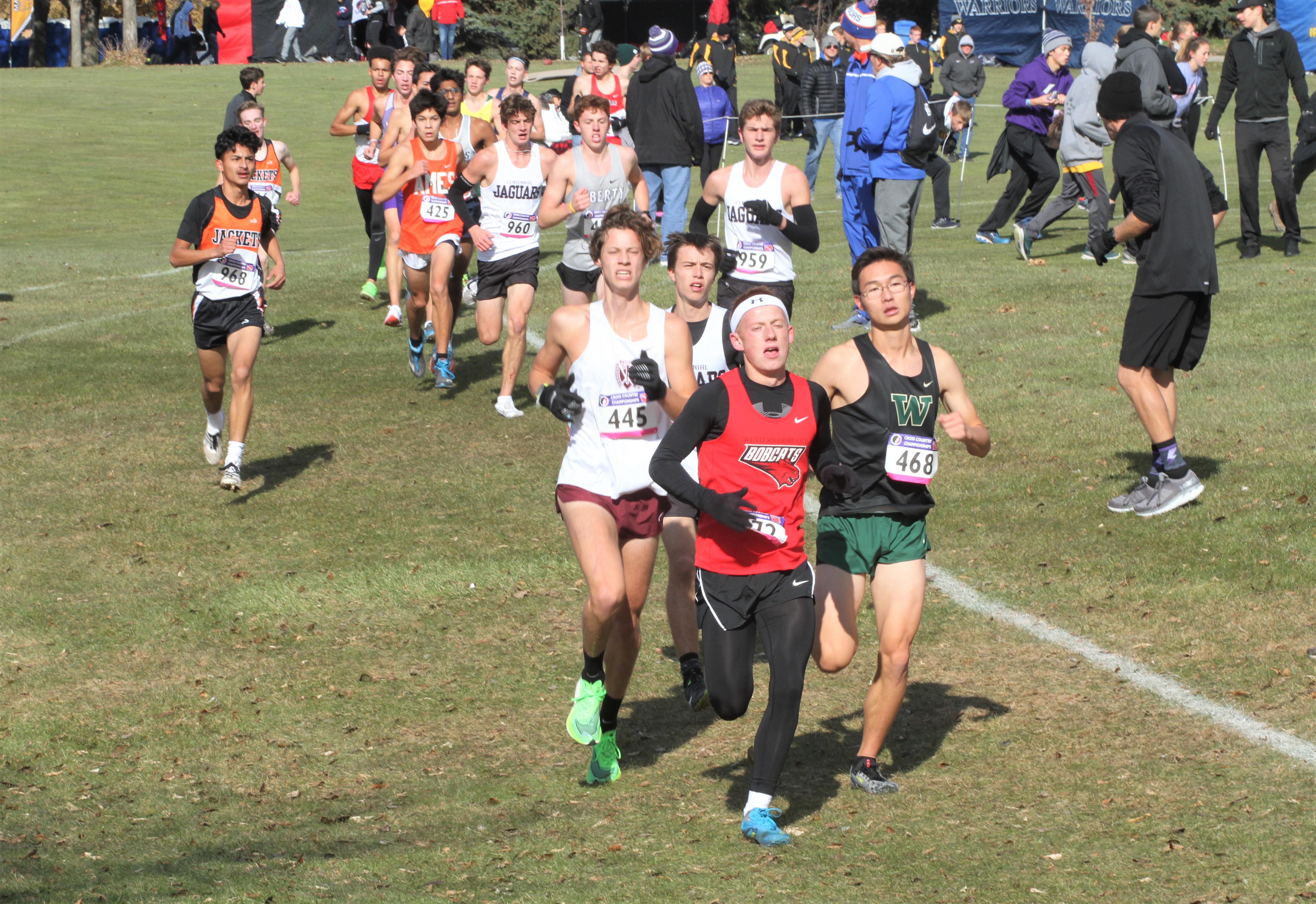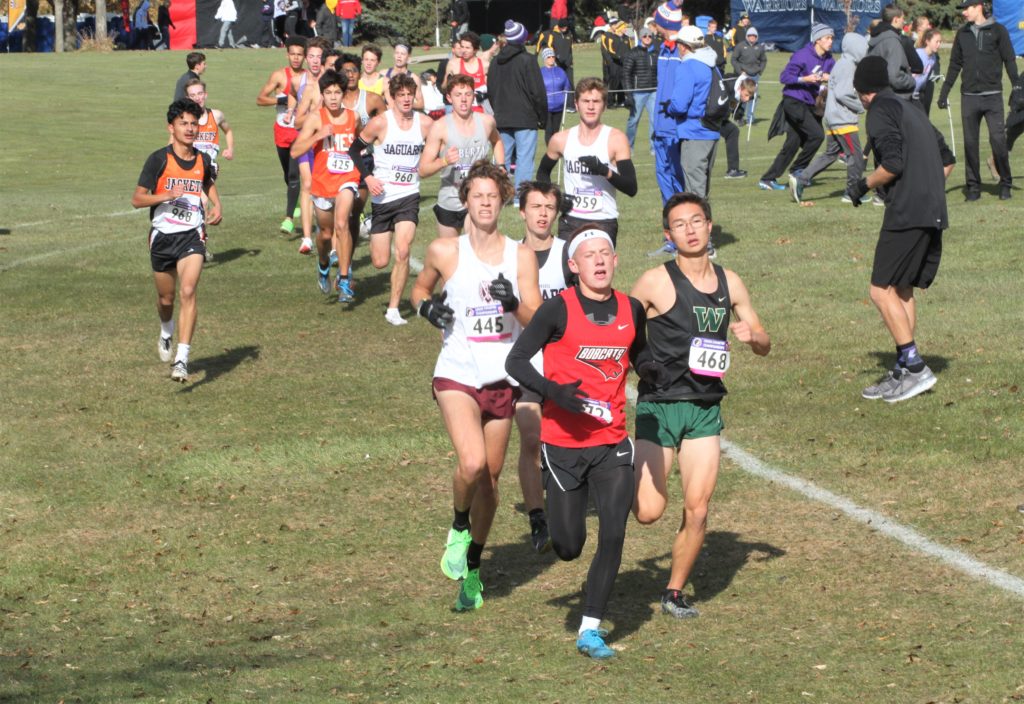 A few weeks ago, Ankeny Centennial's Gabriel Vicker made a friendly wager with Ankeny's Tyler Hentzel on which of the two runners would finish higher at the boys' Class 4A state cross country meet. The winner of the bet would receive some ice cream courtesy of his crosstown rival.
Unfortunately, neither of them were at their best during Saturday's race in Fort Dodge.
Vicker, a junior, got off to an uncharacteristic slow start due to an illness. He dropped into last place in the field of 124 runners before rallying for a 74th-place finish, posting a time of 16 minutes 56 seconds on the 5k course at Kennedy Park.
"I went out strong the first quarter mile, but then due to some stomach issues, I ended up in last place by the half mile mark," said Vicker. "I told myself I could either complain about it and give up, or make a move. The rest of the race I fought and gave it my all."
Hentzel, meanwhile, was unable to finish the race. The senior tried to run despite an IT band injury, but the pain was just too much to bear.
"I knew that I wouldn't finish the race before I started, but I wanted to give it my best shot," said Hentzel. "This is a sport where you don't give up before you tried your best. I didn't get quite far in the end–I didn't even make it to the first mile marker."
Both Hentzel and Vicker qualified for the state meet as individuals along with Centennial's Connor Cunningham and Nate Jones. All four runners earned top-15 finishes at last week's district meets.
Pleasant Valley's Max Murphy outdueled Sam Hall of Dowling Catholic to win the race in 15:29.3, edging Hall by two-tenths of a second. However, Hall led the third-ranked Maroons to a nine-point victory over No. 1 Pleasant Valley for the team title–their fourth crown in the last five years.
Vicker was making his second state-meet appearance. He placed 57th as a freshman two years ago.
"It wasn't the best way to end the season, but I am proud of my effort despite the results," Vicker said. "I was hoping to get top 15 or even top 10. I knew I could compete with those guys and my last two miles were right on pace with the top runners. I may not have hit my goal of top 15, but I definitely left it all out there."
Centennial coach Chad Fickbohm said he was proud of Vicker's effort.
"He didn't have a good first half due to sickness, but was able to fight and have a good second half," Fickbohm said. "It certainly didn't go as planned."
Cunningham, a junior, placed 84th in a time of 17:04. He was making his state-meet debut along with Jones and Hentzel.
"I felt all right," Cunningham said. "It wasn't what I thought it was, but it's good to get some experience since this is my first year coming here."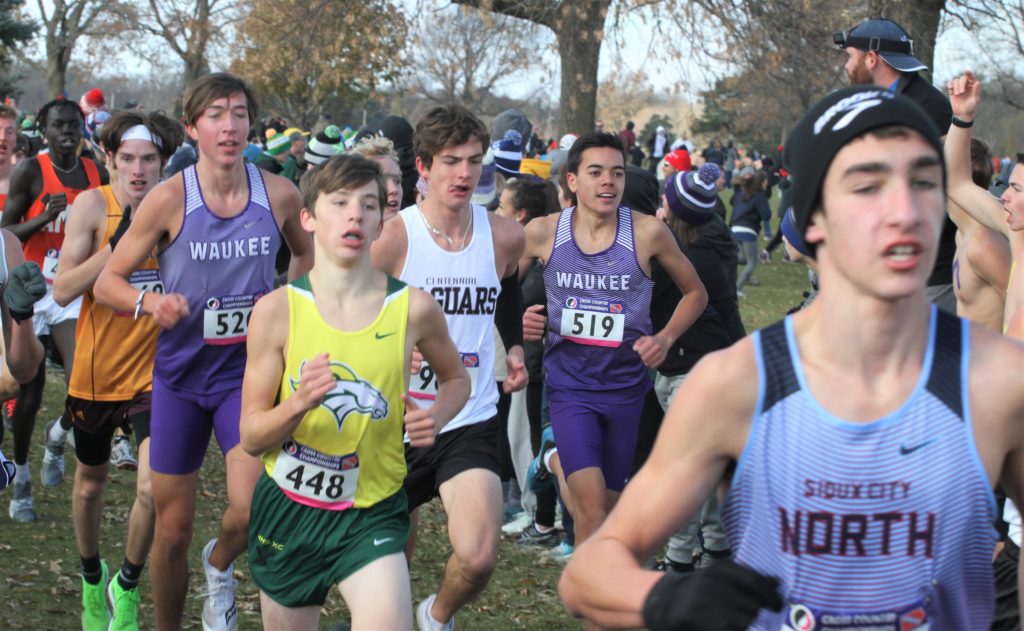 Cunningham finished just ahead of Jones, who ended up in 92nd place. He was clocked in 17:09.
"It wasn't the greatest race," Jones said. "I took it out a bit faster than I was expecting, but the wind was a factor."
Jones, a junior, tried to keep up with his teammates early on.
"I saw Gabe and Connor together the first 800 so I was like, 'All right. We'll try and stay in a pack,'" Jones said. "And then Gabe kind of fell off, so I just tried to stay with Connor."
Cunningham said the start of the race provided a challenge for all of the runners.
"There isn't a lot of room, especially at the start," he said. "It cuts in real quick and you've just got to get out fast. I think I did a pretty good job with that. There were a couple corners later on where I had to stop because somebody cut me off and I didn't want to fall."
The combination of a crowded field and a narrow course made it difficult for the runners to pass other competitors.
"There's a lot of turns and a lot of people, so it's hard to make moves," Jones said. "You have to battle for your position."
Cunningham said his goal was to place in the top 50.
"But even though I didn't do that, it was just good to get some experience in the most important meet in the state," he said.
Fickbohm said he's already looking forward to next year.
"The experience will definitely help us not being intimidated by the best in the state," he said. "And this will help our leadership tremendously for next year."
Unfortunately, Hentzel won't get another chance to run for the Hawks at the state meet. He will graduate in the spring.
"I would've liked to place well in my final race of the season, but I'm still very happy with my season as a whole with the improvements that I made through the season and the time I spent with my teammates," Hentzel said.
Ankeny coach Jon Lindaman said he'll remember the entirety of Hentzel's senior season, and not just his final race.
"Tyler was battling an IT band injury that came on pretty aggressively after districts," Lindaman said. "He stayed positive and did everything he could to try and get ready for the state meet. I feel terrible for him, but he knows that one race does not define him and the great things he accomplished this season."