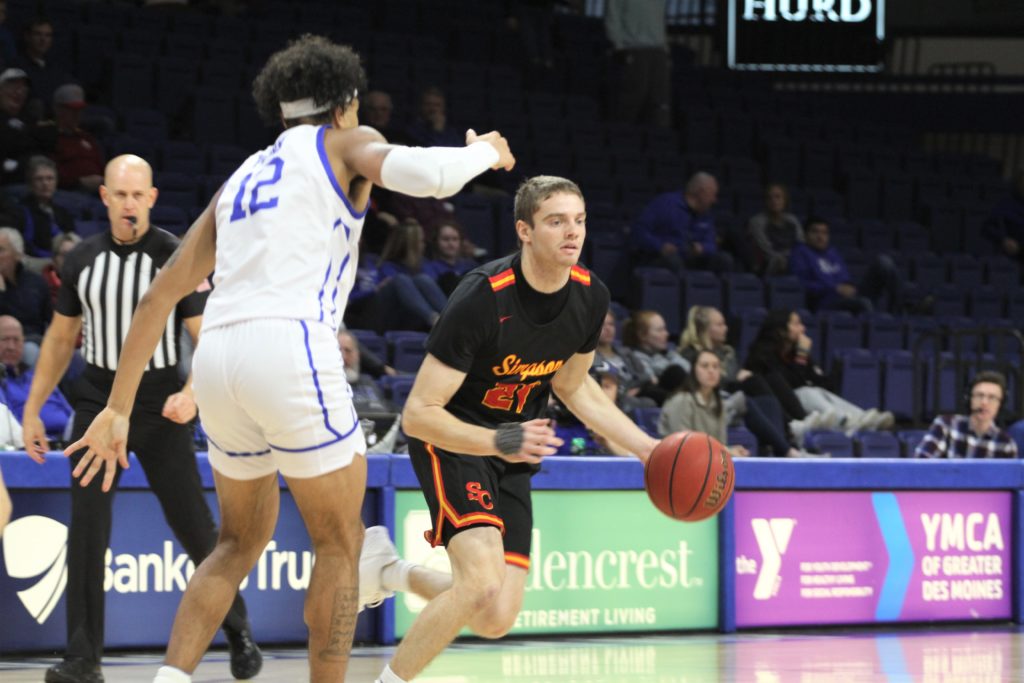 There was no way Conor Riordan was going to sit out Sunday's exhibition men's basketball game at Drake.
The Simpson College point guard from Ankeny injured his right hand during Saturday's win over Westminster (Mo.) at Storm Lake, but he was back on the court less than 24 hours later as the Storm dropped a 98-53 decision at the Knapp Center.
"I'm going to get it checked out a little more (Monday), but I wanted to play in this game," said Riordan. "It was an awesome opportunity playing against a Division I school on ESPN3. It's just cool to be out here."
Riordan suffered the injury during the Storm's 99-65 victory on the final day of the A-R-C-SLIAC Classic. He fell awkwardly to the floor after being fouled on a fast break.
"I just landed on it when I braced myself," said Riordan, a senior. "They don't think it's broken, but we'll see. It's a little tough to shoot right now."
Riordan started Sunday's game with a brace on his right hand, but he quickly discarded it. He went on to play 18 minutes and scored six points for the Storm, going 2-for-6 from 3-point range.
Fellow Ankeny alum Adam Reiter also started for Simpson and went scoreless in 14 minutes of action. The 6-foot-8 senior center went 0-for-6 from the field but had two rebounds, an assist, a steal and a block for the Storm.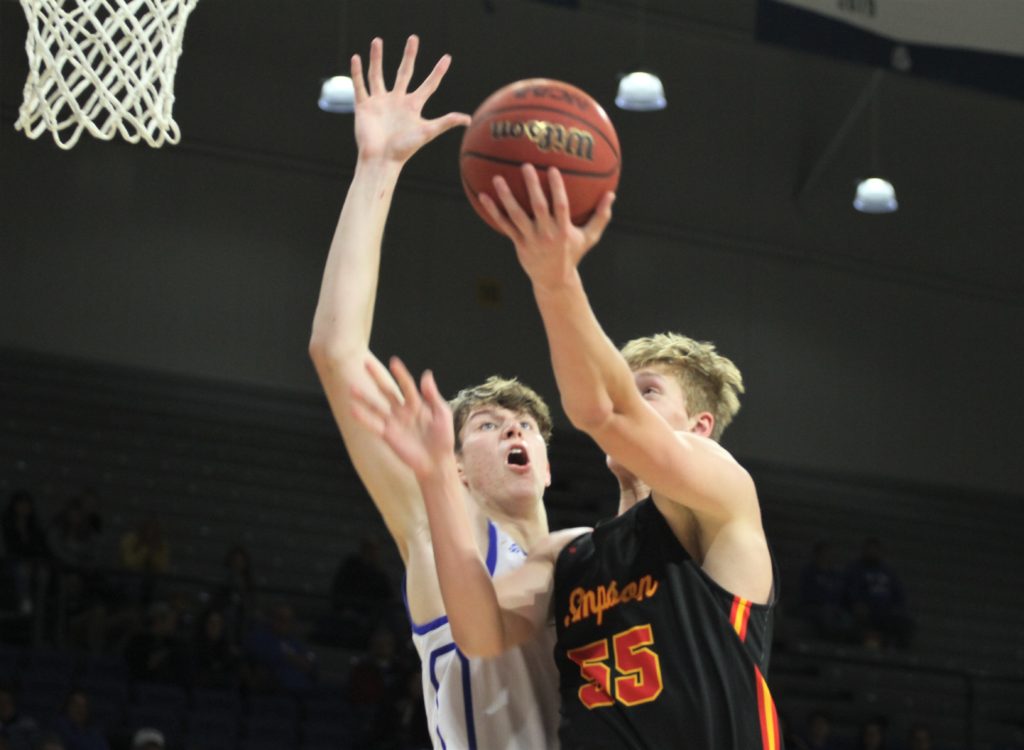 "It was a tough one, but it was great experience for us, too," Reiter said.
Riordan made a 3-pointer to give Simpson an early 3-2 lead before Drake answered with a 19-0 run. Roman Penn scored 10 of his 13 points during the Bulldogs' flurry.
"Their athleticism, physicality and speed (was the biggest difference)," Riordan said. "It's a lot tougher to (drive) by guys, and they're a very disciplined team, too. They're just bigger and stronger than us."
Drake held a 53-35 lead at halftime. The Bulldogs then pulled away as Simpson shot just 7-for-29 from the field (24.1 percent) in the second half, when it was outscored, 45-18.
"They're a really big team and very athletic," Reiter said of the Bulldogs. "And they're very well-coached as well. I think that's the most important thing they had. They didn't take the first shot they saw. They ran around pretty well."
Simpson was outrebounded, 42-27, and committed 18 turnovers. The Storm went 11-of-28 from behind the arc to account for 33 of their 53 points, but they went just 0-for-2 from the free-throw line.
"We couldn't penetrate that much obviously, but we do shoot a lot of 3s, too," said Riordan, who also had two rebounds and a steal. "I know last year we broke the school record for the amount of 3-pointers shot. So we like to get them up."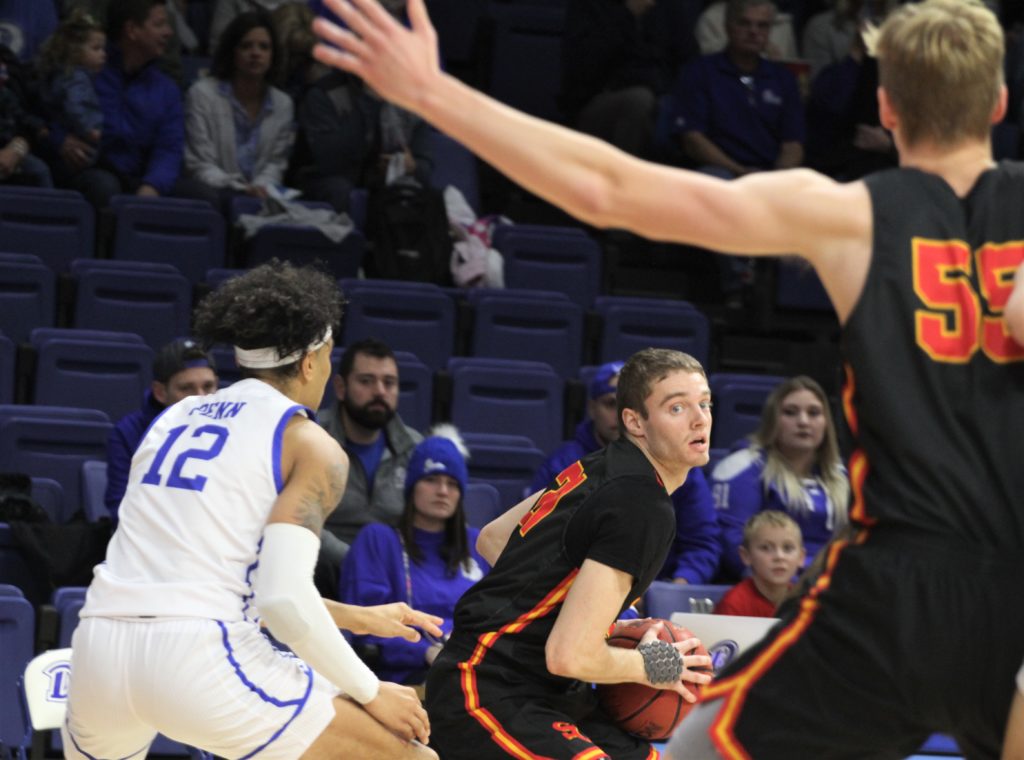 Drake had a 50-14 edge in points in the paint. Six different Bulldogs scored in double figures, including guard Joseph Yesufu, who came off the bench and contributed 16 points, six rebounds and four steals.
Drake also got 12 points and seven rebounds from 7-foot center Liam Robbins, who tangled with Reiter for most of the first half.
"Usually I'm the biggest guy, so it was kind of nice to see a bigger guy. He taught me a lot of things that I'm willing to improve and learn from," Reiter said. "It was tough to see the rim with Robbins out there, but I love our offense. We move the ball and get the ball inside a lot–move it in and out. I think we just play good, pure basketball."
Simpson is off to a 3-1 start this season. Riordan, a two-time, first-team all-conference selection, surpassed the 1,000-point career mark in a season-opening loss at Bethany Lutheran (Minn.).
"We've got three all-conference guys back, and I think we've got enough role pieces, too, to contend for the conference title," Riordan said.
Reiter was a second-team all-conference pick as a junior, when he led the American Rivers Conference in rebounding while helping the Storm to a 16-10 record.
"We're projected for second (place) in our conference this year," Reiter said. "I like our team a lot. We're still figuring out some role players and other things, but if we keep hustling and working hard, it's going to be tough to stop us."