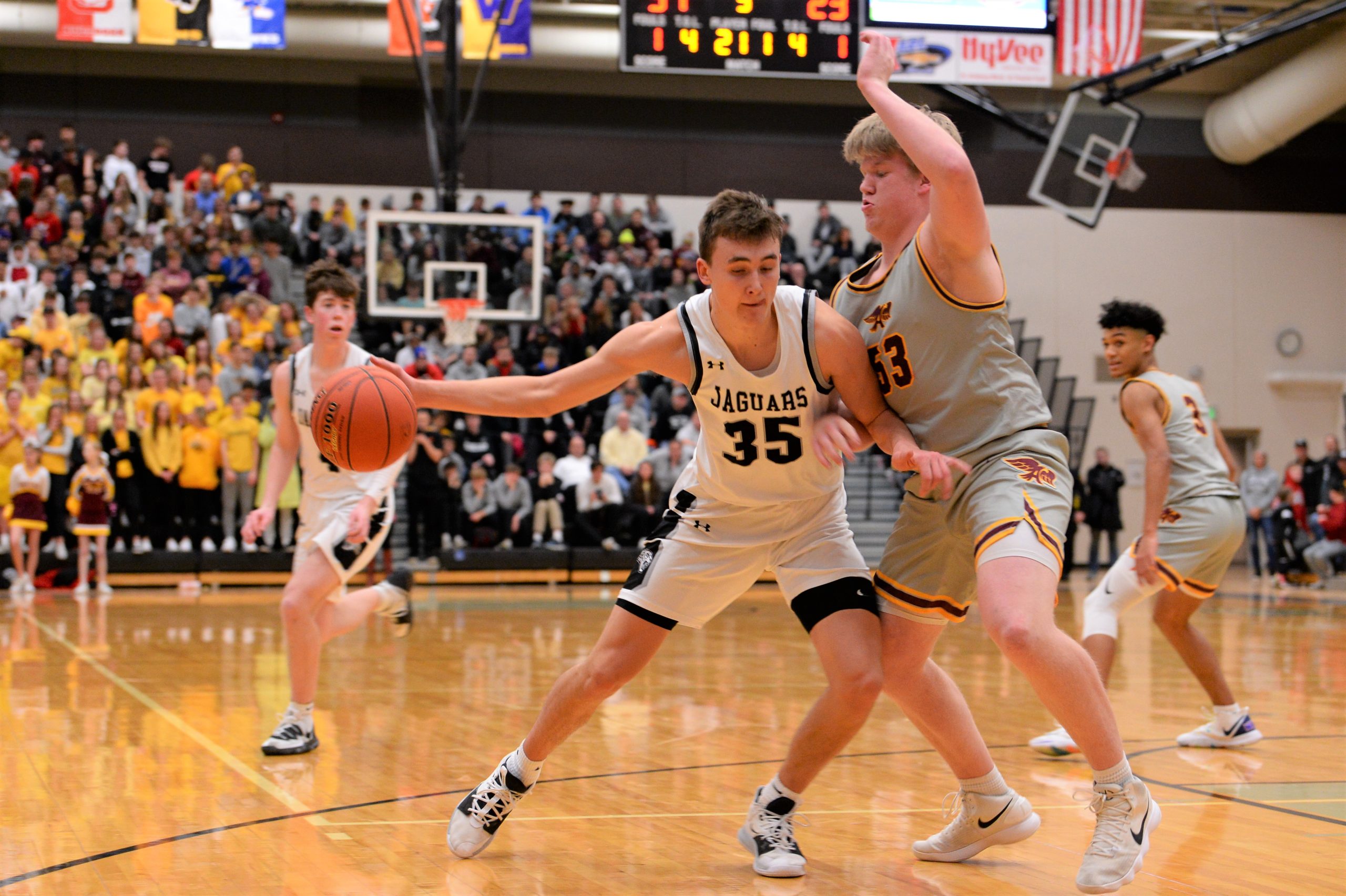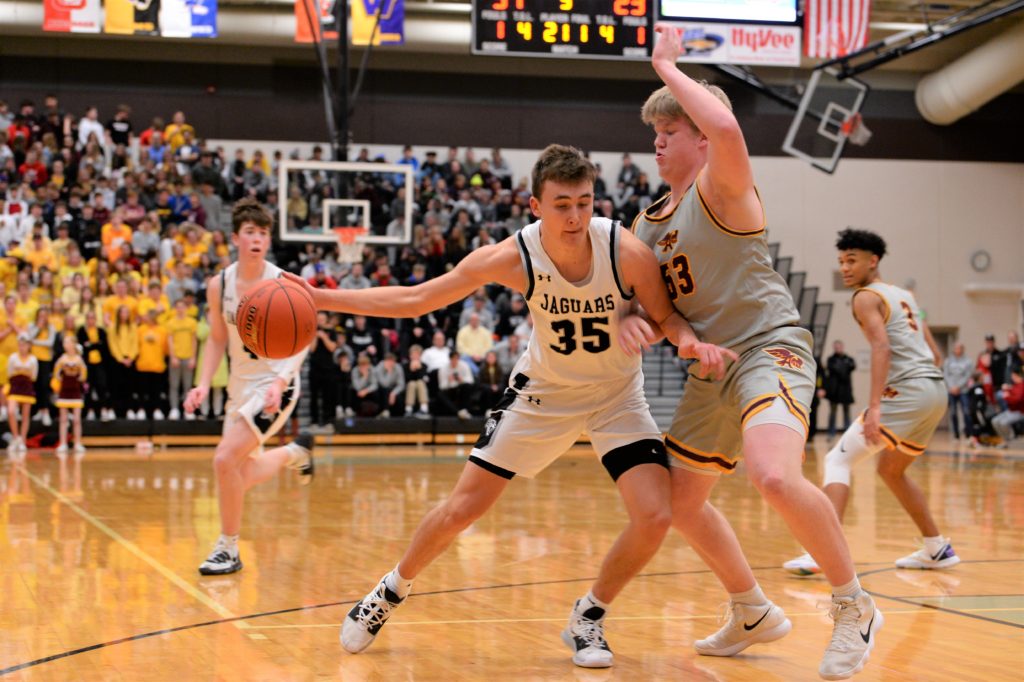 A dynamic duo emerged for the Ankeny boys' basketball team on Monday.
Ankeny Centennial's twin towers were just a little bit better.
Post players Cody McCullough and Micah Johnson combined for 46 points and 33 rebounds against Ankeny's undersized squad to lead the sixth-ranked Jaguars to a 69-61 victory at Centennial. The No. 9 Hawks had won the last three meetings in the crosstown rivalry.
"It's a great feeling," said McCullough. "We haven't (beat) them in a while, so that was a big one for us."
McCullough enjoyed a monster game, scoring a career-high 29 points and grabbing 20 rebounds. He also had six blocks and two steals.
McCullough spent much of the night at the free-throw line, where he connected on 18-of-25 attempts.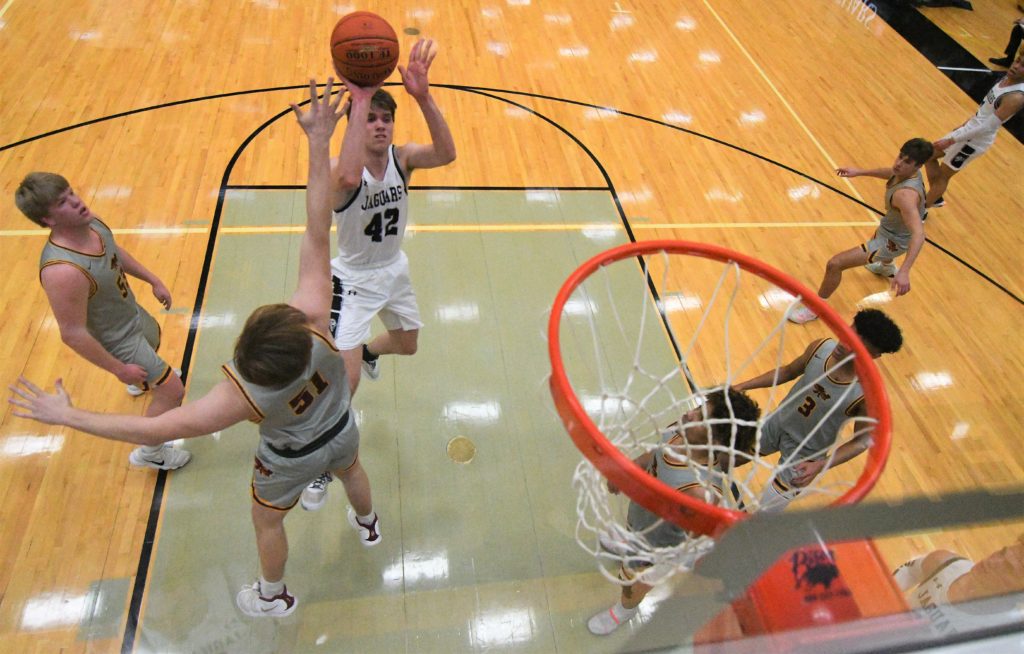 "They were big time," Ankeny coach Brandt Carlson said of the Jaguars. "It was tough sledding. They kind of stuck us–I think it's pretty evident. They played great. I thought we were trying–we were really competing. But it just wasn't to be tonight. You've got to give them a lot of credit."
Johnson had 17 points and 13 rebounds for the Jaguars, who improved to 5-1 in the CIML Central Conference and 11-1 overall. Jaron Crews added 16 points in his first game against his former team.
"Cody had a big night, and so did Micah," Crews said. "It's fun to play with them."
Centennial's dominance around the basket allowed the Jaguars to overcome a huge night by Ankeny guards Braxton Bayless and Jaxon Smith. Bayless scored 29 points–24 of them in the second half–while Smith made four 3-point goals and had 20 points.
"Their size was the difference," said Bayless, whose team dropped to 4-2 in the league and 9-2 overall. "The offensive rebounds killed us. We have got to box out more and just battle in the paint more."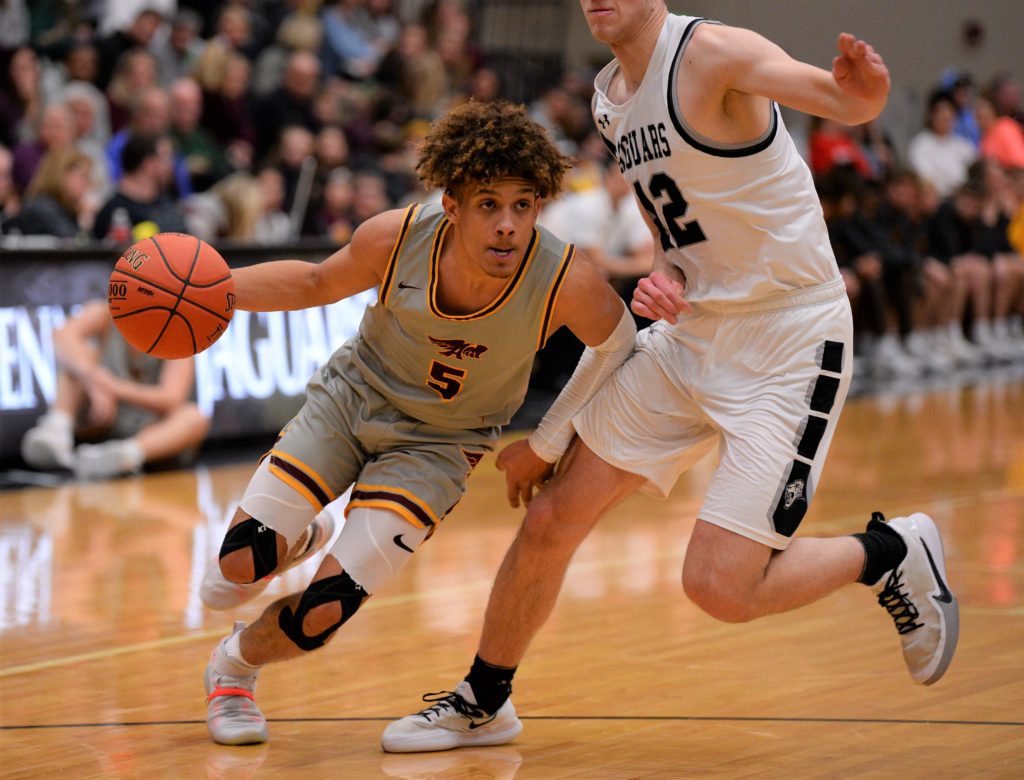 Three technical fouls were called in the game. Carlson received one late in the first half, then McCullough made the second of two free throws to give the Jaguars their largest lead of the game at 31-13.
"Whether it was between me and the refs or the players, it was feisty," Carlson said. "But it's still friendly, too. These guys know each other. Our goal was not to make this a personal battle. It was just about the team, and they were the better team tonight. Hats off to them and their coaches. They did a great job."
Ankeny scored the final seven points of the first half, capped off by a Smith 3-pointer, to pull within 31-20. But the Hawks were dealt a damaging blow early in the second half when center Nolan Otten picked up his fourth foul, then was immediately called for a technical that sent him to the bench for good.
"Obviously, we weren't expecting that," Carlson said. "We'll get some things corrected. I love these guys, and their minds are in the right places. We'll just keep grinding."
About a minute later, Crews drilled a 3-pointer to give Centennial a 36-23 advantage. He then picked up a technical for an excessive celebration.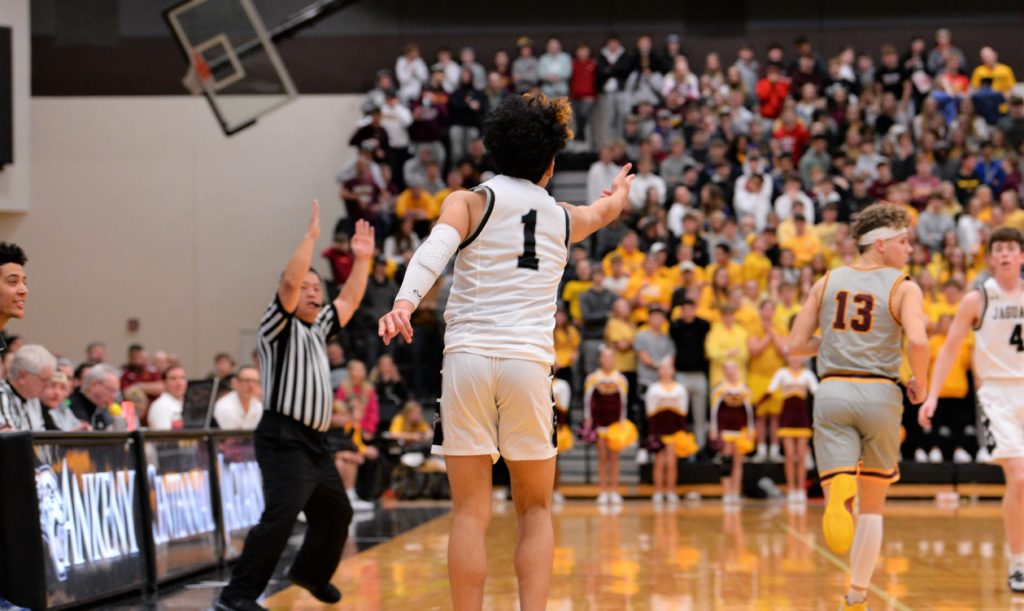 "That's just going to come when you're playing your rival," Crews said.
Centennial coach Bob Fontana had just warned his players to keep their composure.
"I told our kids that the ref said they were looking for stuff, and then one of our guys gets one right away," Fontana said. "I know both teams were emotionally-charged, but you've got to stay calm and cool as best as possible. A game like that, you've got to play possession by possession at each end of the floor."
Centennial appeared to be firmly in control when Preston Kelling scored on a nifty eurostep move to make it 56-42 with about 4 minutes left. But the Hawks refused to go away.
Smith hit back-to-back 3-pointers to close the gap to 64-56 with 55 seconds left.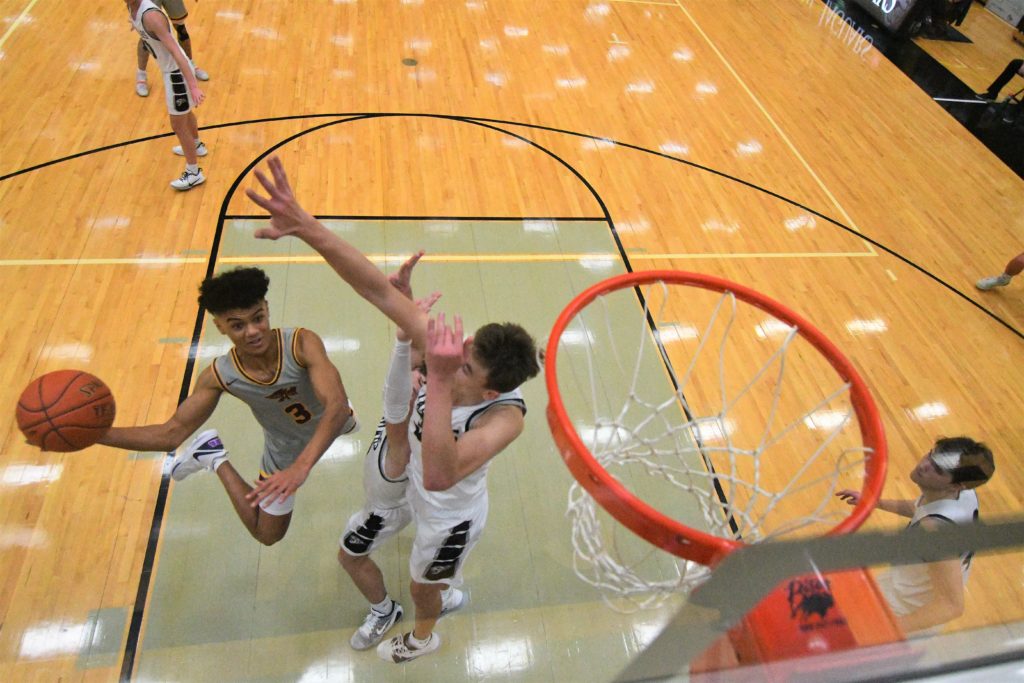 "We had to fight back, and we couldn't get them this time," Bayless said. "But we'll be ready next time."
Bayless later scored on a drive, then Ryan Crandall added another basket off a turnover to cut Centennial's lead to 65-60. It took two free throws by Crews and two more from McCullough to seal the victory.
"We've got to handle that end-of-the-game situation a little better than we did," Fontana said. "But hey, they're a damn good team, and so are we. I just hope the state is smart enough not to put us in the same substate. I told Brandt that before the game, too."
Both teams will hit the court again on Tuesday. The Jaguars will host Des Moines North (6-4), while the Hawks will host Valley (7-4).
"We'll learn from this, and I think it'll be really good for us down the road," Carlson said. "We get a chance to play (Centennial) again. We've got a tough schedule, and now we've got to get ready for Valley."