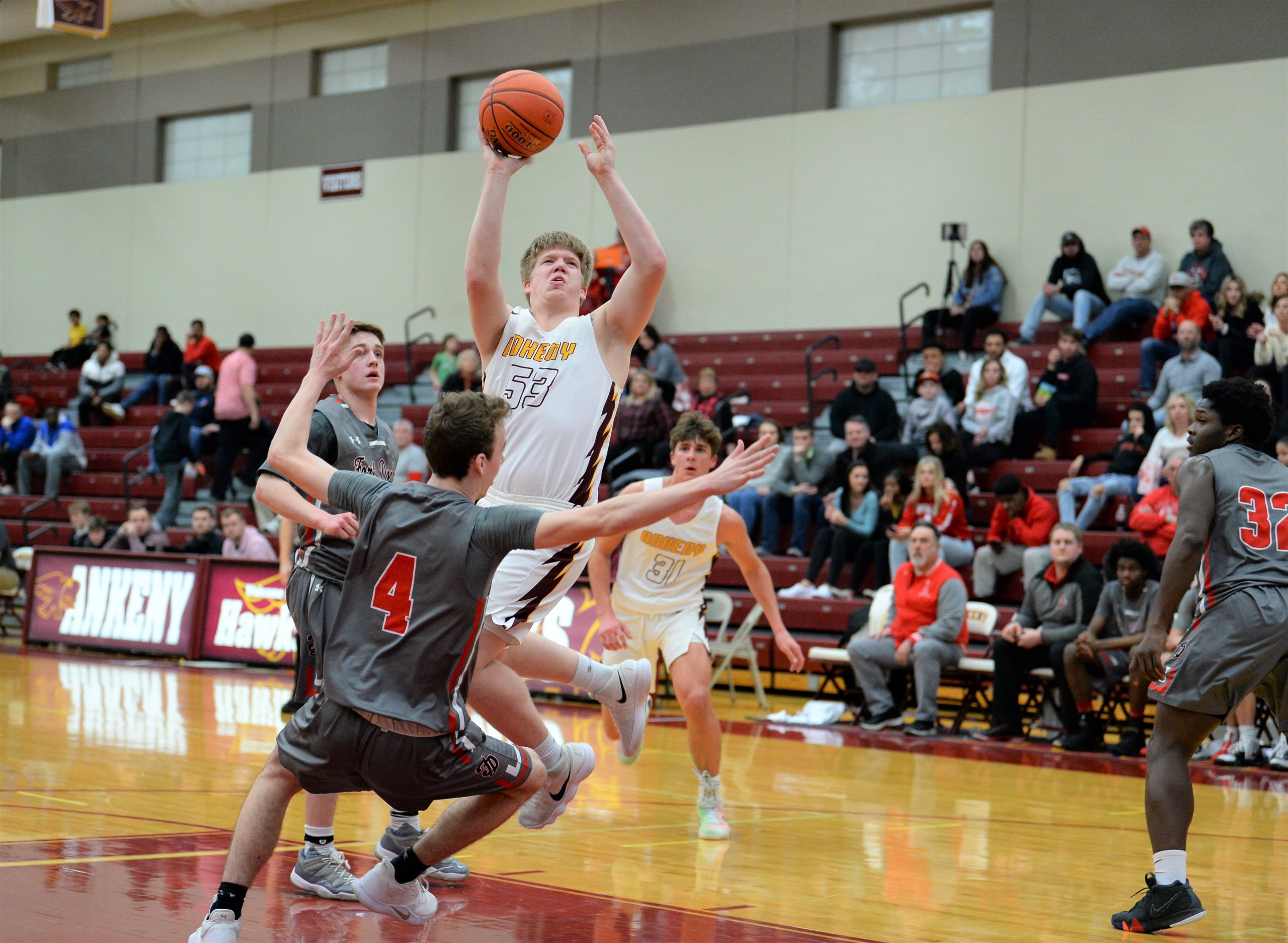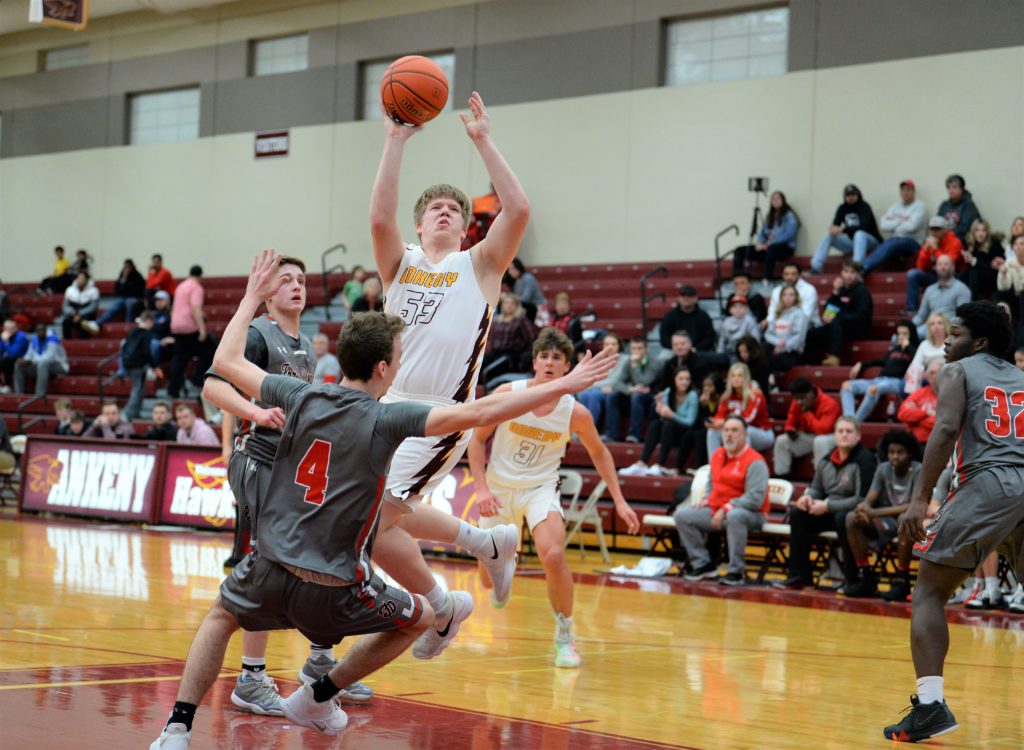 Senior center Nolan Otten helped the Ankeny boys' basketball team advance to the Class 4A state tournament for the first time since 2012. He had eight points, three rebounds and two steals in the Hawks' 73-67 victory over Sioux City East in a substate final on Tuesday at Fort Dodge.
Otten is averaging 5.6 points and 3.5 rebounds per game. He leads the team with 16 blocks.
Here is some inside info on Otten:
Congratulations on making it to state. How does it feel to be heading to the Well?
It's crazy. After the first time being so close (when I was a freshman)–we lost to North (in a substate final)–it was tough the next season when we weren't as good. This feels great.
Your team will play third-seeded Iowa City West in the Class 4A quarterfinals on Wednesday morning. What have you learned about the Trojans from your scouting report?
We understand that their offense is mainly centered around Even (Brauns) and that we need to take away any easy looks for him. Each individual person on our team does an amazing job of understanding their matchup, but together as a team we know they want it to be a slow-paced game. Their defense does not allow 50+ points a game and that tells us a lot about their defensive pressure and offensive pace.
Brauns is a 6-foot-9 center and a Belmont recruit who is averaging 15.1 points and 7.3 rebounds. As Ankeny's tallest starter, I'm guessing that you'll be defending Brauns quite a bit, even though you're giving up six inches to him. How will you try to defend him?
Establishing my physicality early on. My main focus is to not let him get easy touches and when he does touch the ball for it to be as far from the basket as possible. I have a lot of experience guarding people much taller than me, being one of the shortest (centers) in the state, and I don't really see a problem. Matching his physicality is going to be the biggest key and boxing out to hopefully get some early fouls on him.
Brauns is shooting nearly 70 percent from the field, so obviously when he gets the ball in the post, he's usually going to score. Will it be important to deny him the ball then?
Limiting his touches will be important but I feel as long as I can make him catch the ball outside the paint, I'll be in a good position to stop him. My teammates are also great help defenders which takes some of that stress off of me.
Coach Brandt Carlson told me that Brauns is kind of a combination of Ankeny Centennial's two post players, Cody McCullough and Micah Johnson. Does he remind you of anyone else that you've played against this season?
No, I think he's unlike anyone I've guarded because he's the most pure post player I've had to guard. He's much stronger as well, but I've never had a problem with kids bigger than me.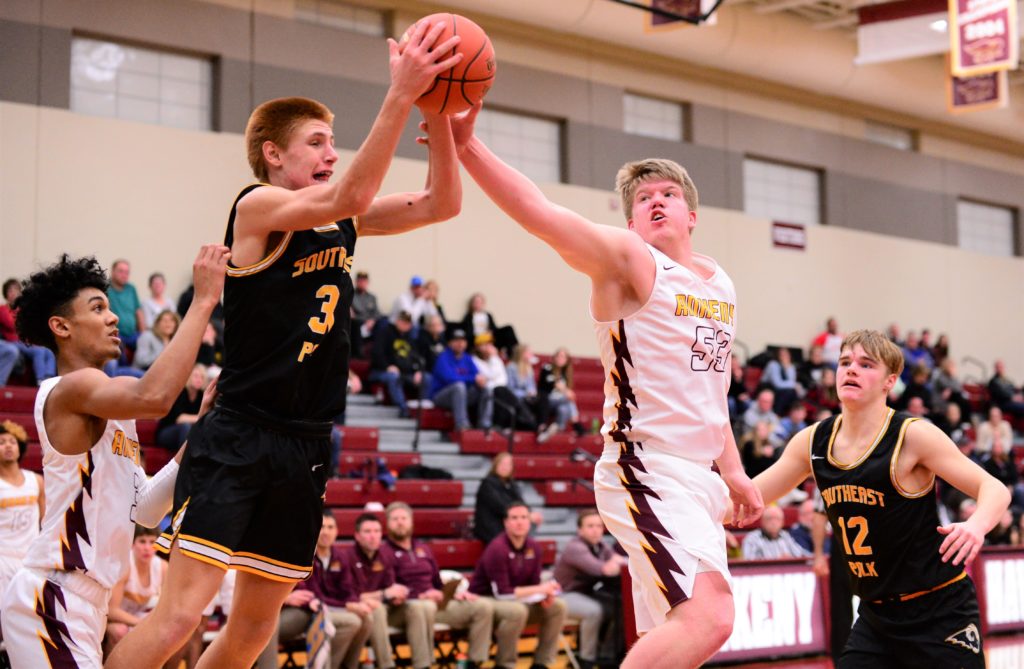 Your team had a chance to play a regular-season game at Wells Fargo Arena last year, and you scored four points in a 68-33 victory over Ottumwa. Do you think that experience will be helpful when you get on the court Wednesday?
Yeah, every little thing helps. Shooting in the Well is for sure different than a normal gym, but at the end of the day if we play as a team we're for sure a top team in the state. It also helps having seniors because of the experience we all have, most of us playing for three years and myself playing for four.
Did you find it difficult to shoot there with the different background?
Yeah, it's a weird thing to adjust to, but like I said after our substate final coach has told us to shoot the ball and not worry about the outcome. We have all put so much work into shooting and we need to trust each other with the ball and ourselves with our shots.
You've been one of the team's best 3-point shooters this season, making 21-of-59 attempts (35.6 percent). You seem to get a lot of your 3-point looks from the corners. Is that your favorite spot to shoot from?
For sure, it's the spot most of us like and it's the perfect kick-out spot for a rhythm shot.
If your team is fortunate enough to advance, you would then be guaranteed to play three games in three days, regardless of the outcome in Thursday's semifinals. Do you think your body would be up for that challenge?
Undoubtedly, this is what all of us have trained for and worked in the offseason in the weight room for. I'm 100 percent going into the game and I know I can handle it.
Your team could potentially meet Centennial in either the championship or third-place game. How badly would you like another shot at the Jaguars?
It would be amazing to beat them at state, but I truly don't care who we play–I just want to win. Every team we play from here on out is just a team that's in the way of what we want to accomplish. I'll take any matchup we get.
Plans for next year? Would you like to play basketball somewhere?
No, I love the game so much and my teammates and coaches have for sure shown me how much this game means to me. However, I'm going to focus my attention on pursuing the career that I'm passionate about. I'll be attending DMACC for a year, then Iowa State for a degree in kinesiology to hopefully go to Iowa College of Dentistry to become a dentist.