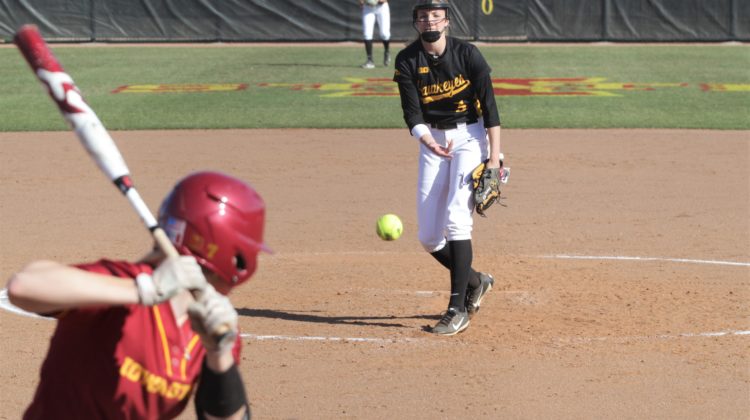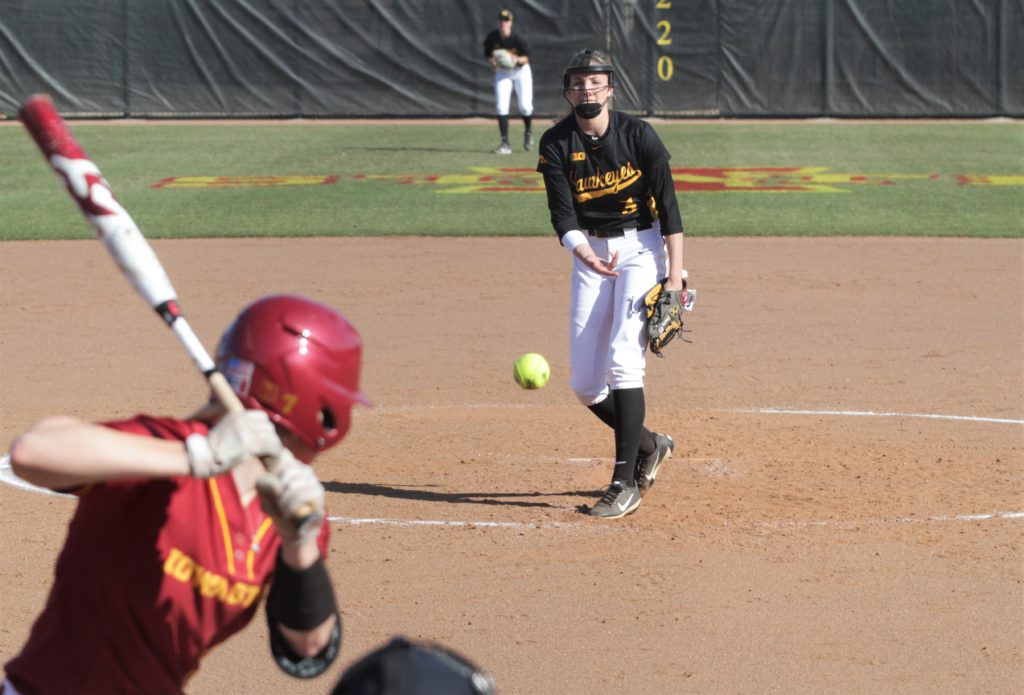 March 12 was a day that Allison Doocy will never forget.
Kendyl Lindaman likely won't, either.
Both former Ankeny softball stars were in the state of Florida on that Thursday when they found out that their season had been cancelled by the NCAA due to the coronavirus. Lindaman and her Florida teammates were preparing for a weekend series against Baylor when practice was abruptly halted in Gainesville.
"I had just got done hitting so I was just taking a break before practice started and coach (Tim Walton) told us that our series for that weekend was cancelled," said Lindaman, a senior first baseman. "Then he told us we could have the weekend (off), so we all left practice and then a couple hours later we saw the tweet from the NCAA that the season was cancelled. It was a shock to all of us."
About 130 miles away in Tampa, Doocy and her Iowa teammates had arrived earlier that day for the South Florida Tournament that was slated to begin on March 13. The Hawkeyes ended up spending only about three hours in The Big Guava.
"There had been some talk that the tournament might be cancelled that weekend, but we had a 6 a.m. flight and we got down there," said Doocy, a senior pitcher. "We had also heard that MLB was talking about suspending spring training or cancelling its season, so that's when we knew that our season was probably in trouble if MLB was taking those measures. We found out later that afternoon that the season would be cancelled, so we found a flight to come straight back that night. The Big Ten ordered us to get back as soon as possible.
"I think we had four flights in one day so that was a very long day. I reflected back the next day and those 24 hours felt like a week or two. It was a really crazy experience–a very emotional day. I just didn't know what my future would look like at that point," she added.
Because Doocy and Lindaman are both seniors, the cancellation of the season could have ended their collegiate careers. But on Monday, the NCAA's Division I Council voted to allow schools to provide spring-sport student-athletes an additional season of competition and an extension of their period of eligibility due to COVID-19.
Both players are planning to return for the 2021 season.
"I was just talking with our other seniors about it and what all the logistics will be, because we've never seen anything like this before," Lindaman said. "But I think our team is going to be pretty good next year, and I'm happy to have the opportunity to come back. I'm going to be graduating in May, and I had already applied for graduate school at Florida. I was going to be a graduate student assistant, so I had already planned on staying with the team for another two years anyway. It kind of worked out well for me. I'm just waiting on my approval for grad school."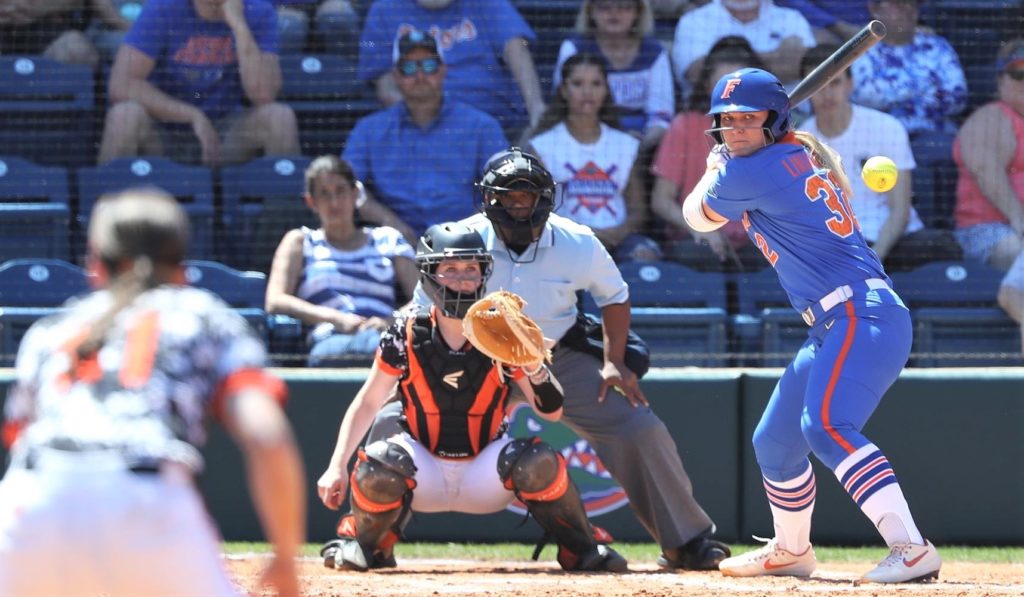 Doocy is in a similar situation with the Hawkeyes. She was relieved by the NCAA's ruling.
"I had accepted a position in my Master's program two days before the season was cancelled, so I was going to be a part-time student and part-time employee at the university," Doocy said. "We are working through a way to make it all work. It has been challenging, but it's also rewarding. I'm hoping to come back, but there are still some details to work out with funding and working with my program to make it all work."
Both Doocy and Lindaman were enjoying outstanding seasons in 2020. And so were the Hawkeyes and Gators.
Doocy, who turns 22 years old on Monday, had compiled a 7-2 record with a 1.54 ERA while racking up 102 strikeouts in 68 1/3 innings. She had limited opposing batters to a .193 average.
Doocy threw a three-hit shutout in the Hawkeyes' final game–a 1-0 victory over Ohio in the Spring Games on March 7 at Madeira Beach, Fla.
"We had all of our pitching in line, and the hitting was going really well," Doocy said. "There were a lot of instances where we were really attacking at the plate and just letting the pitchers and the defense do their jobs. It was really exciting. We were hoping to have more of a season, but obviously we didn't get that."
Iowa was off to a 17-5 start under second-year coach Renee Gillispie, who had guided the Hawkeyes to a 19-32 mark in her first season. The team was on pace to have its best season since 2009, when Iowa won 42 games.
Doocy was sharing most of the pitching duties with junior Lauren Shaw. The duo ranked second and fourth, respectively, in the Big Ten in ERA.
"(Shaw) got injured and had to take last year off, but I knew with her back it was going to be a pretty good situation," Doocy said. "We knew each of us was going to get a game each day, and we each had the support of the other one to come on in relief. We had a really good thing going."
Lindaman, meanwhile, was on a hitting tear for the seventh-ranked Gators. She was batting .410 with seven home runs, four doubles and 22 RBIs.
Lindaman earned SEC Co-Player of the Week honors after going 4-for-4 with a pair of homers in her final two games. She extended her hitting streak to 10 games with a go-ahead homer in Florida's 5-2 win over No. 12 Florida State in the Sunshine Showdown on March 11–the day before the season was cancelled.
"I was very confident with where I was at," Lindaman said. "It just seemed like everything was coming together. I had that hitting streak going and some other big hits in some other games, so I was very proud of what I was doing."
Lindaman had hit safely in 25 of her team's 27 games, helping the Gators to a 23-4 record. She had also reached base safely in every game.
All four of Florida's losses came to ranked opponents, including a 5-4 decision against No. 1 UCLA in eight innings on Feb. 22 at Palm Springs, Calif. The Gators had won their last six games.
"We were very confident in our season," Lindaman said. "We actually ended on a good note, beating Florida State at home. We were really confident going into the SEC season, but unfortunately then we got the news that our season was over."
Lindaman was an all-state catcher in high school, when she played on Ankeny's state championship team as an eighth grader in 2012. She later moved across town to Ankeny Centennial for her final three prep seasons, eventually becoming Iowa's all-time leader in home runs with 71.
Lindaman played her first two college seasons at Minnesota, where she was the Big Ten Freshman of the Year in 2017 and the Big Ten Player of the Year in 2018. She hit 20 home runs in both seasons and was a second-team all-American as a sophomore.
After undergoing ACL surgery in the fall of 2018, Lindaman entered the transfer portal and ended up in Gainesville, where she played in all 67 games for the Gators as a junior at either catcher or the designated player. She batted .330 with 15 homers and 54 RBIs as Florida went 49-18 and advanced to the Women's College World Series.
Lindaman, who was on the USA Softball Player of the Year Top 50 Watch List in both 2018 and 2019, then made a seamless transition to first base this season.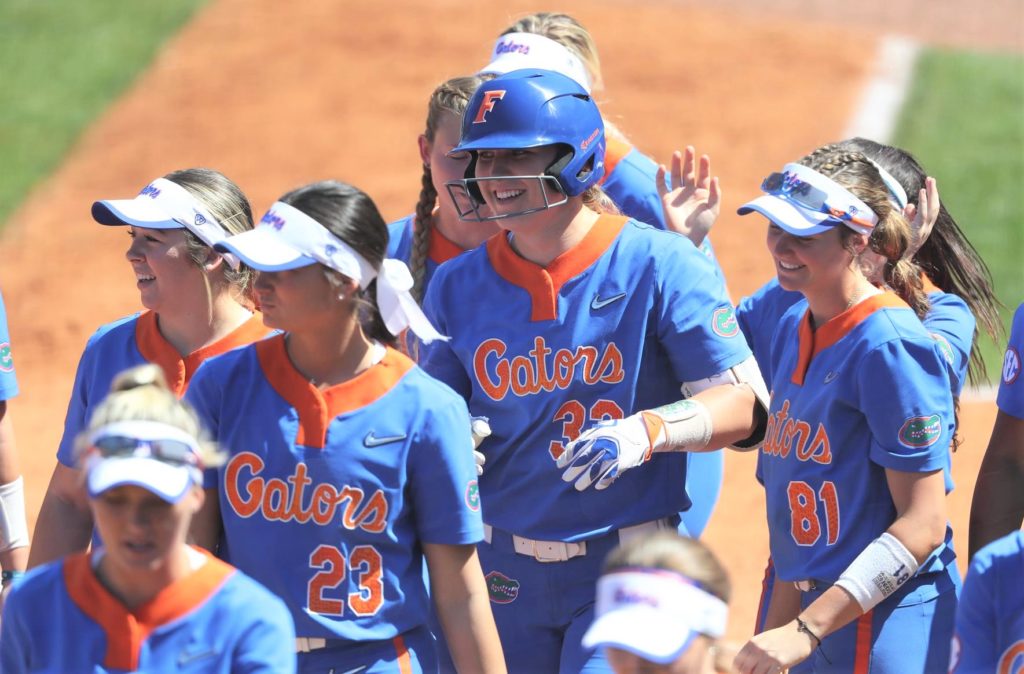 "We have two really good catchers that can be behind the plate," she said. "I have the ability to play first as well, so I'm actually glad that I was able to learn this new position. It really does help me with my knee. It's fun to learn a new position, and it really helps my body out in the long run. Even looking into the future, it's always good to be able to play multiple positions."
Now, Lindaman will have to wait another year to add to her collegiate total of 62 home runs.
"We kind of saw (the cancellation) coming, especially when we heard that we weren't going to have any fans at the games unless they were on our pass list," Lindaman said. "We knew it was getting serious. We just didn't know it was going to happen that quickly."
Like Lindaman, Doocy is making her mark on the national level. She finished the season with 621 career strikeouts, which ranks seventh on the Division I active career leaderboard.
Doocy, who was a second-team all-Big Ten selection as a junior, has now won 42 games as a Hawkeye.
"I was talking to my dad (Craig) the weekend before everything got shut down, about how much I'd been through with my arm and I actually had a concussion this year," said Doocy, who led Ankeny to a seventh-place finish in the Class 3A state tournament as a junior in 2015. "I was thinking that when (my career) was over, I was ready (for it). I was talking to him about playing every game like it's my last, and I didn't know that that could have actually been my last game. So yes, I thought I was ready for it to be over. But when it comes down to it, I think I would like that closure–just to close out this part of my life that I've been working at for so long.
"I think I would like that closure. I guess we'll just have to see how it all pans out," she added.
Both players have left campus and returned to Ankeny. Lindaman drove home last week with her mother and her grandparents.
"We didn't fly–we drove back before they closed off the borders," she said. "I'm not planning on going back anytime soon. Hopefully, I can go back in the fall."
Doocy said the global pandemic has been a learning experience for her. She's in the Master's program for higher education in student affairs.
"I want to work with student-athletes as an advisor, hopefully at a Division I institution," she said. "I want to help them to work through this situation we're in right now."