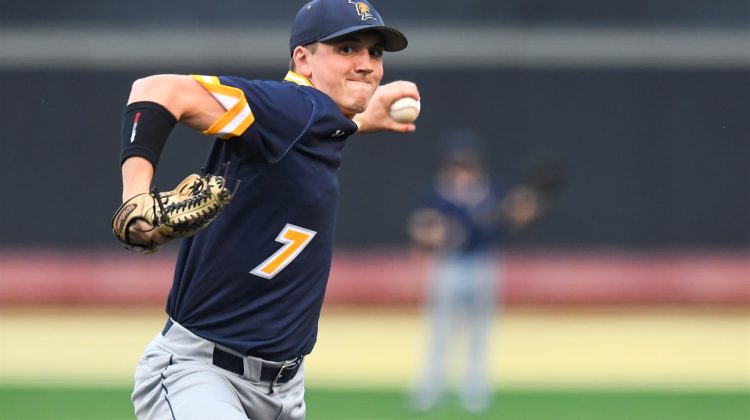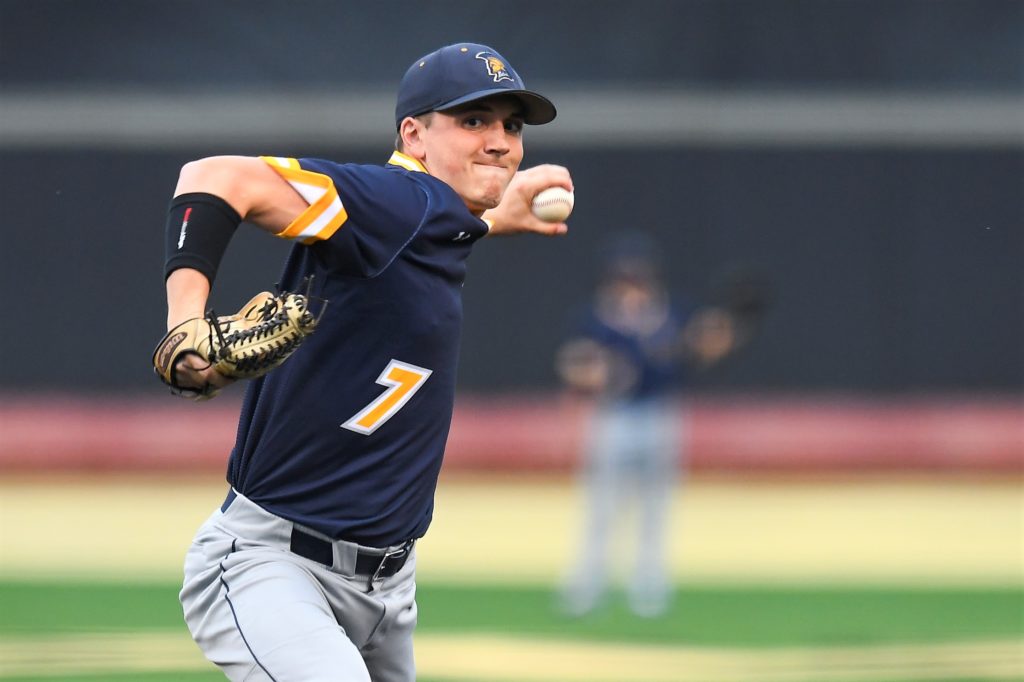 Greg Anderberg wears No. 7 on his George Washington University baseball uniform.
His former Ankeny teammate, Jack Voigt, wears the same number for his squad at the University of North Carolina Greensboro.
That isn't the only thing that the duo has in common.
Both Anderberg and Voigt played two seasons of junior college baseball before moving on to the Division I level. And now, both players are planning to take advantage of another year of eligibility after the NCAA cancelled the 2020 season last month due to the ongoing threat of the coronavirus.
"I was originally going to go to Drake," said Voigt, a senior pitcher. "I was going to be done with ball and move on to my Master's and whatever was next, but then once all this happened, I talked to my coach and kind of switched gears. I think I'll be able to do my Master's at Greensboro and play another year."
Anderberg, a senior catcher, has also changed his plans. However, he'll be playing for a different baseball program in 2021.
"My school informed me that they couldn't have me back because they have another big incoming class with a bunch of catchers," said Anderberg. "So I won't be going back there, but I've built some pretty good relationships with the coaches out there, and they're working really hard to find me a new school that I'll enjoy and thrive at. I'm just in the process right now of trying to find the right program to fit my academic needs and where I'd fit best baseball-wise as well."
Anderberg and Voigt were the leaders of the 2016 Ankeny team that knocked off Ankeny Centennial, 7-6, in eight innings in a Class 4A substate quarterfinal. Voigt pitched seven innings in that game to earn his final high school victory on the mound, while Anderberg went 3-for-4 and drove in a run for the Hawks.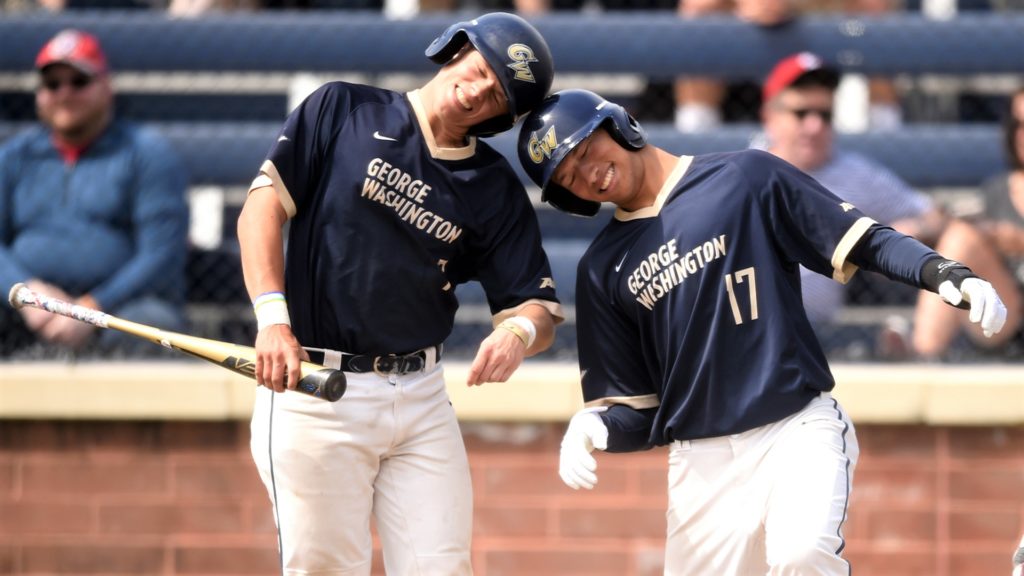 Anderberg went on to play for Ellsworth Community College, where he batted .313 with 11 doubles, two home runs and 24 RBIs as a sophomore in 2018. He then picked George Washington over South Dakota State.
Voigt, meanwhile, started his college career at Century College in White Bear Lake, Minn., where he went 5-2 and racked up 53 strikeouts in 36 1/3 innings as a sophomore. He caught the attention of the UNCG pitching coach at a showcase in Springfield, Ill.
"It was really cold there that weekend," Voigt said. "Their pitching coach–coach Edwards–saw me there, and he was actually the only coach that reached out to me after the showcase. There were probably 100 coaches there, so I was super thankful for that. Obviously, that was a goal of mine when I was at Century to go to a school that competes at a high level. So that was really special."
Voigt was used mostly as a starter at Century, but then moved to the bullpen once he arrived at Greensboro. The lefthander made 27 relief appearances for the Spartans as a junior, compiling a 2-1 record with a 3.97 ERA.
"It was a really good year," Voigt said. "I got some good experience. I pitched in some big games, so I was really happy with it. It was a big adjustment, though, on the baseball field and in a lot of other aspects. I had to really buckle down with academics, but they had a lot of really good resources there to help me with that."
Anderberg also enjoyed some success in his first season at the Division I level. He appeared in 31 games and started 25 for the Colonials while splitting the catching duties.
Anderberg batted .250 with two doubles and 15 RBIs, but saw his playing time decrease in the second half of the season.
"I kind of dug myself a hole last year," Anderberg said. "I started out playing a lot and then I saw that (playing time) quickly diminish, and how I handled that I guess you could say was immature. This summer I knew going in that I probably wasn't going to be the starter because I had some developing to do–more mentally than physically. And I got back to campus and I showed my coaches and my team that I was a different guy–that I was going to work hard for it and no matter what happened I was there to give my all."
George Washington was off to an 8-8 start before the season was cancelled. Anderberg had played in seven games with three starts and was batting .143.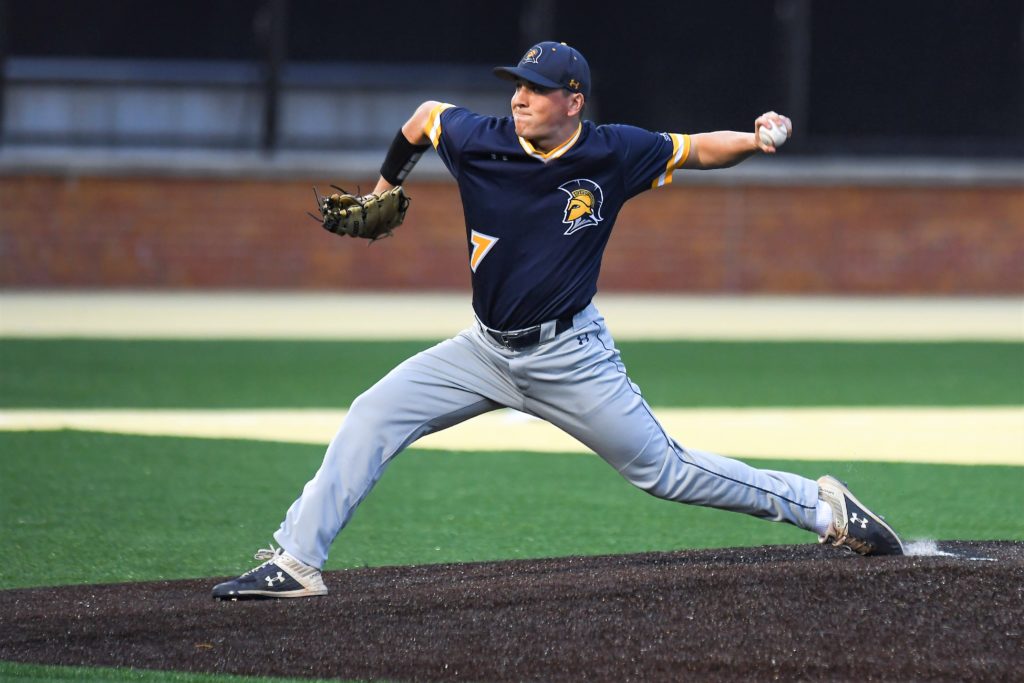 About 300 miles away, Voigt had helped the Spartans to a 12-5 record. He had appeared in seven games, posting a 4.66 ERA with 10 strikeouts over 9 2/3 innings.
"I was being used in a few different spots but mostly I'm a setup guy and I come in to face lefties," Voigt said. "It was hard at first to get adjusted to the relief pitching, but now I actually prefer that. I like it a lot. You have to be ready all the time, and that was probably the biggest adjustment I had to make."
The UNCG players were getting ready to leave for a weekend series at Jacksonville on March 12 when the COVID-19 pandemic suddenly hit close to home.
"I never really thought our season would be cancelled, but as we saw more and more other leagues getting cancelled, that reality kind of pops up in your head as time goes on," Voigt said. "We were packing up to leave on our trip when our coach came in and told us that the season was over and we were all like, 'What now?' We couldn't believe that it was going to end so suddenly like that without getting to play another game. It was kind of sad for a few days because we had to say our goodbyes and all go our separate ways."
Anderberg said he and his teammates didn't initially take the coronavirus seriously.
"We all just thought it was the flu–it'll go away," he said. "And then later that week things started going a little crazy and people were saying that it was going to affect all of us. When the Ivy League cancelled their games–and that's pretty close to us–I knew it could get to us, especially when the NBA cancelled. That Thursday, I found out at practice and I was like, 'Wow, it actually happened.' It took us completely by surprise."
The timing was especially bad for Anderberg, who had worked his way back into the starting rotation. He had been told that he would start the Colonials' next game.
"I'm happy with the fact that I did earn my spot back," Anderberg said. "I did improve myself and showed that I could overcome some adversity. I know good things would have happened (if the season had continued). Right now it sucks, but I think I'm better for it."
Both players eventually returned to Ankeny and are finishing up their spring semester classes online. Anderberg, a psychology major, did not originally plan to go to graduate school.
"I've never really known what to do with my life outside of baseball. For me it was just a four-year plan," Anderberg said. "I was going to get a degree and then face the real world, but now with this fifth year option, I'm looking into grad schools and what I really want to do. I feel like sports psychology is what I want to do, so I'm looking into clinical psych programs."
Anderberg is trying to find a new home when it is difficult, if not impossible, to visit any schools.
"I know wherever I end up I'll compete for a starting spot," he said. "I want to enjoy this last year of baseball, and I want it to be a good fit. I want to take it all in."
Voigt, an economics major, said he thinks the UNCG squad has a lot of potential for next season.
"We had a lot of older guys so hopefully we can get most of them back," he said. "We had a lot of experience going into this season, so it was disappointing to have the year end the way that it did. I'd really like to play again next year, and hopefully I can make the most of it."