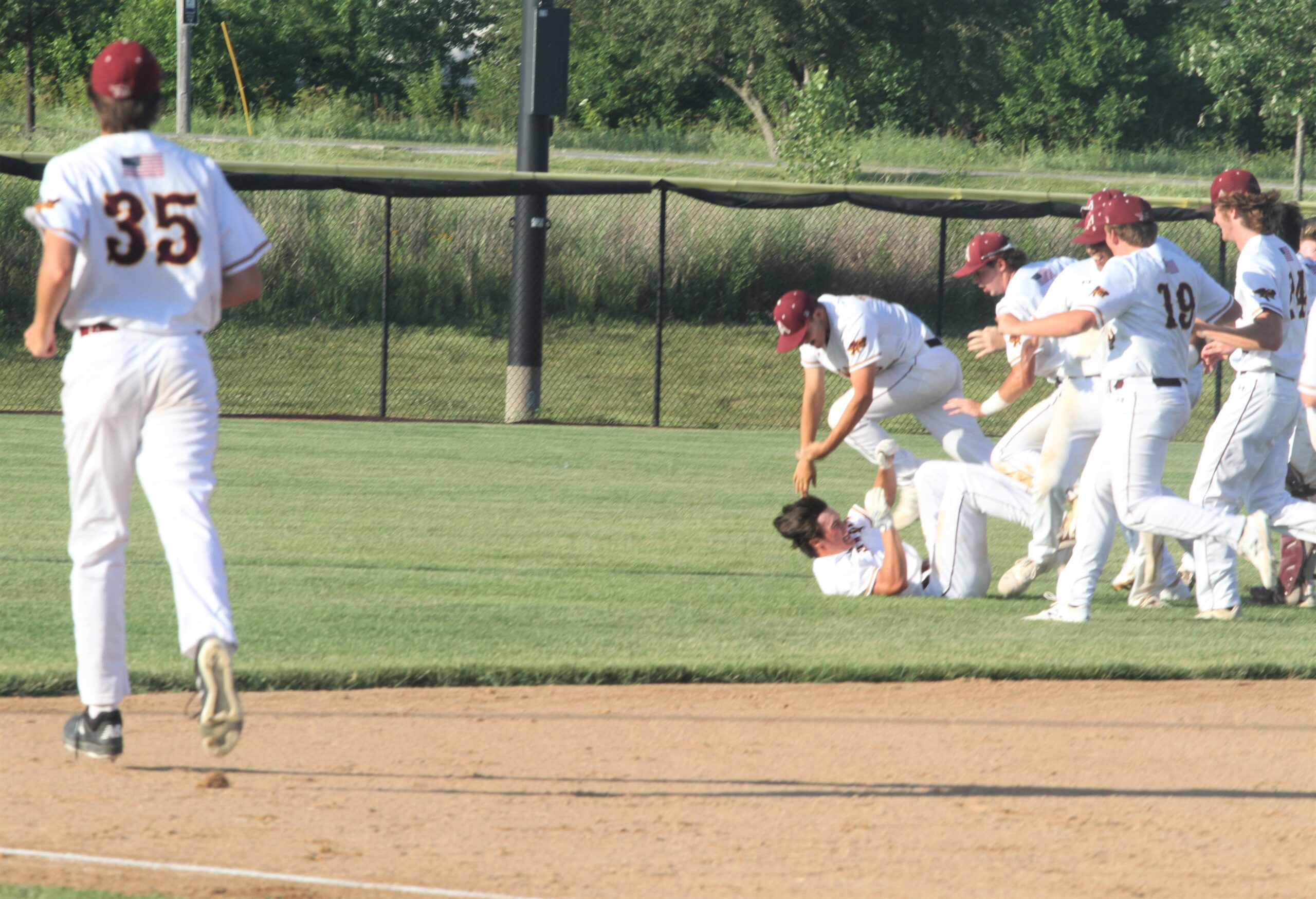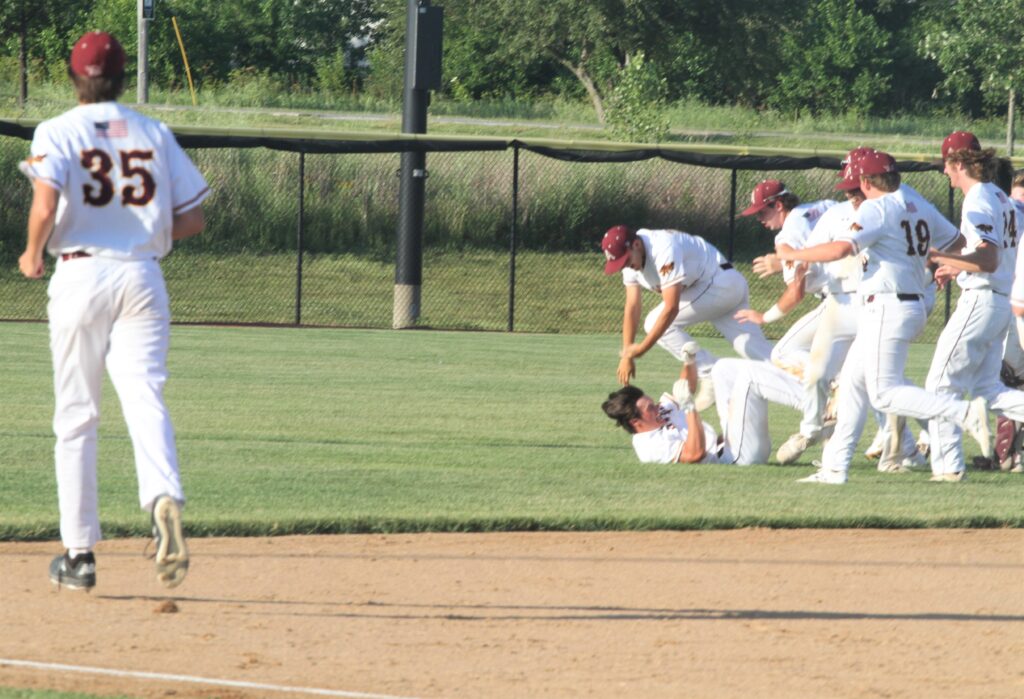 The Ankeny baseball players may have violated one of the social distancing guidelines on Friday.
But in the Hawks' defense, they had a good reason to do so.
Kade Somers hit a walk-off single in the bottom of the seventh inning to give second-ranked Ankeny a 2-1 victory over No. 5 Waukee in the first game of a CIML doubleheader. The host Hawks then completed a sweep of the twinbill with an 8-3 win in the nightcap–a game that was shortened to five innings due to lightning.
Somers, a junior, raised his right arm as he rounded first base after driving a pitch up the middle to score Colin Riggs from third. He was then chased around the infield by his teammates, who finally tackled Somers in a pile in shallow left field.
"With two strikes, I was just looking for anything," said Somers. "I just tried to take the ball right back where it came from. Go the other way or back toward the pitcher, and that's what I did."
Somers and Tamden Webb-Tate each went 2-for-3 in the win. Webb-Tate doubled to start Ankeny's seventh-inning rally, then was replaced by Riggs, who advanced to third on a wild pitch.
That set the stage for Somers' heroics.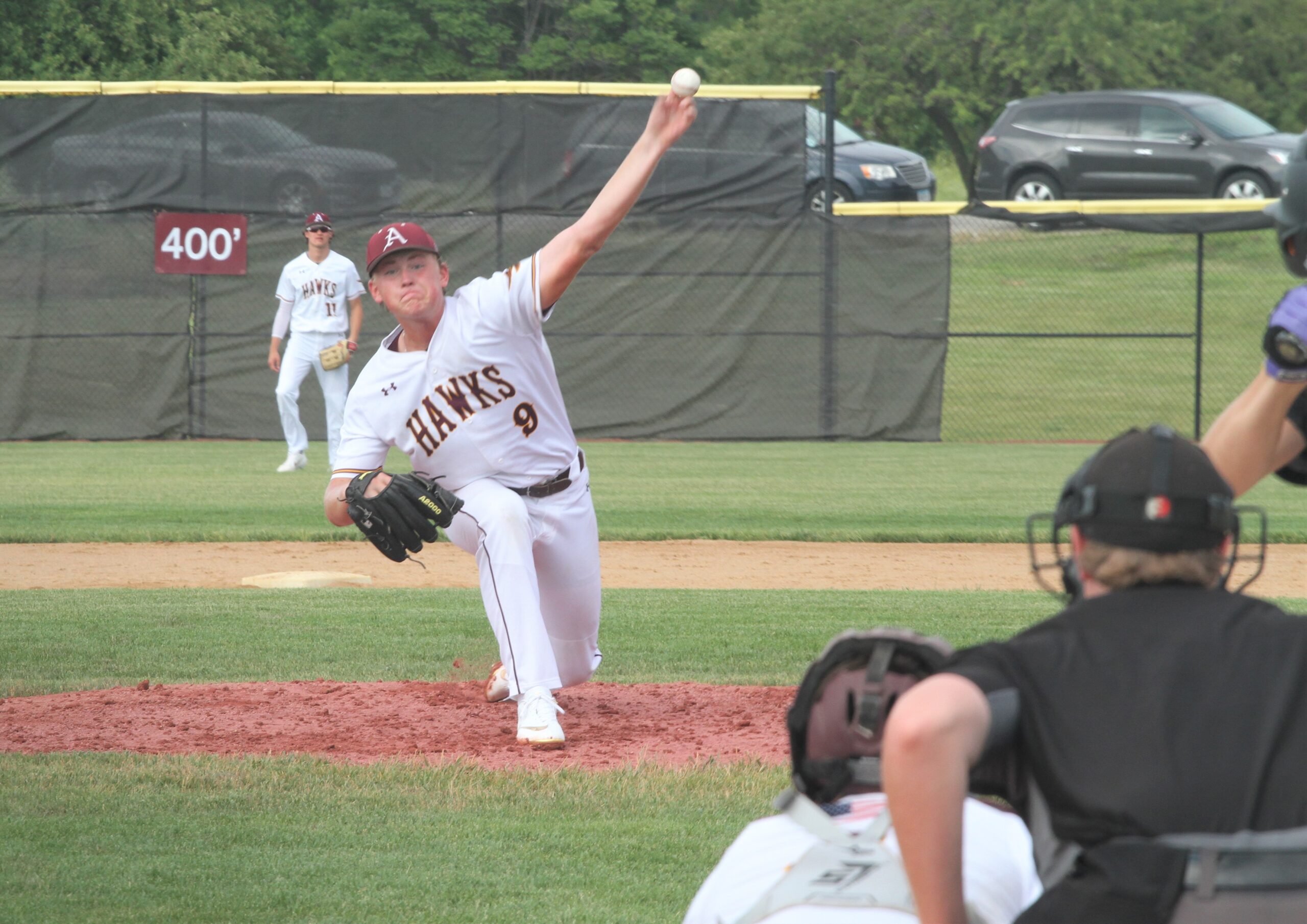 "It was good to see Kade come through in that spot," said Ankeny coach Joe Balvanz. "He's one of our most consistent players in practice, and he's just a tremendous teammate. It was nice to see his hard work pay off."
Winning pitcher Cooper Cox was confident that Somers would get the job done.
"I've got faith in all my teammates," said Cox. "We've been working hard all week. It's just something that we do. Honestly, I'm not surprised. (He's) a hell of a player."
Weston Fulk started on the mound for the Hawks and threw five strong innings, allowing just one unearned run on three hits. He walked three and had five strikeouts.
"He battled," Balvanz said. "He did a great job of continuing to attack that lineup with multiple pitches."
Waukee took a 1-0 lead on an RBI double by Jackson Wentworth in the third inning. After Somers scored the tying run in the bottom of the fifth, Cox replaced Fulk and pitched two scoreless innings, allowing just one hit.
"I had a rough outing at Valley (on Wednesday) so I decided to get out on the mound and show people what I can do," said Cox, who raised his record to 2-1.
In the nightcap, the Warriors jumped out to a 3-0 lead before Ankeny answered with four runs in the third inning and three more in the fourth. The Hawks improved to 8-4 on the season, while Waukee fell to 7-5.
"I don't know if we've swept Waukee since the split (into two high schools)," Balvanz said. "Those were certainly two much-needed wins for the program and puts us in a good spot going into next week with some tough games coming up. The guys are playing with a lot of confidence right now."
Jase Bauer went 2-for-3 with a double and two RBIs in the second game. Riggs doubled and drove in two runs, while Webb-Tate also had two RBIs.
"We got rolling after that last game at Valley," Somers said. "I think we're going to keep rolling now."
Bryce Rinderknecht (2-1) earned the win for the Hawks. He allowed three runs on six hits and had three strikeouts.
"Bryce did a great job of keeping the ball down and staying in the strike zone and keeping them off-balance," Balvanz said.
Ankeny will host a doubleheader against No. 4 Johnston (10-2) on Monday.