The Ankeny baseball team appeared to be on its way to a doubleheader loss on Monday that would have stifled the Hawks' momentum heading into postseason play.
Visiting Valley was three outs away from completing a sweep before second-ranked Ankeny rallied for five runs in the bottom of the seventh inning to post a dramatic 7-6 victory.
"That was a big-time comeback," said Brody Brecht, who scored the winning run for the Hawks. "That's not the last time we're going to be down, so that gives us confidence that we can come back."
Carter Smith ignited Ankeny's rally with an infield single. He later drew a bases-loaded walk to force in Brecht with the winning run.
"I wasn't thinking that far ahead," Smith said of a potential second at-bat in the rally. "I just wanted to hit the ball and get on and start the inning."
Ankeny (18-8) loaded the bases with no outs before Jase Bauer drew a walk to force in Smith. Mo Watson then hit a dribbler in front of the plate that Valley reliever Owen Baxter could not handle, allowing another run to score.
The Tigers (9-14) brought in Ethan Whitham from the bullpen, and he promptly hit Brecht with a pitch to make it 6-5. Weston Fulk followed with an RBI single to tie the game, but courtesy runner Colin Riggs also tried to score on the hit and was gunned down at the plate.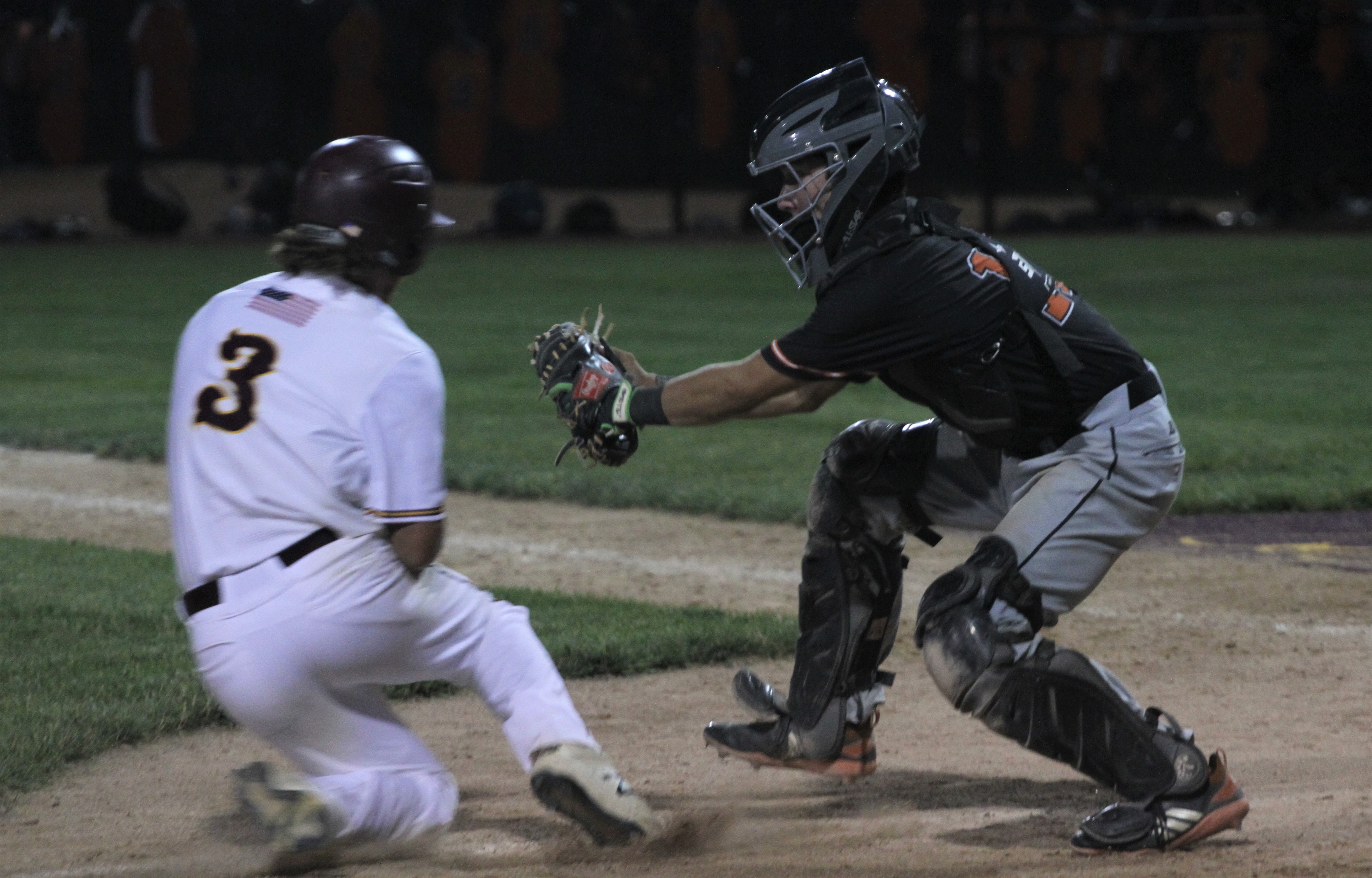 After Whitham fanned Kade Somers for the second out, Valley elected to intentionally walk Tamden Webb-Tate to load the bases for Smith.
"(Webb-Tate) looks a little more intimidating than I do," Smith said. "The pitcher was really just trying to throw fastballs in the zone. I wasn't too worried about it. I'm going to take (a walk) if he gives it to me. That's a sure-fire way to get on. I'm just glad it worked out the way it did."
Smith worked a full count before Whitham threw a low pitch that was out of the strike zone.
"That was a great at-bat at the end. That's a tough pitch to take in that situation," said Ankeny coach Joe Balvanz. "We gave ourselves a chance to win with some good at-bats and help from our opponents. I really liked the way we were able to overcome some adversity, even though much of that adversity was self-imposed. It worked out at the end."
Dylan Schlee (2-1) earned the victory with one inning of relief. He came in after Brecht and Fulk combined for 13 strikeouts over the first six innings.
Brecht struck out the first three batters that he faced, but Oliver Parizek reached on a dropped third strike. Nick Buttolph then hit a two-run blast for his second home run of the night.
"There's nothing you can do about it. I left one over the plate for him," said Brecht, who then fanned Casey Stalzer for his fourth strikeout of the inning. "I don't get as much velo(city) out of the stretch as I do the windup. The kid got a good piece of it and the wind was blowing out, so that thing took off."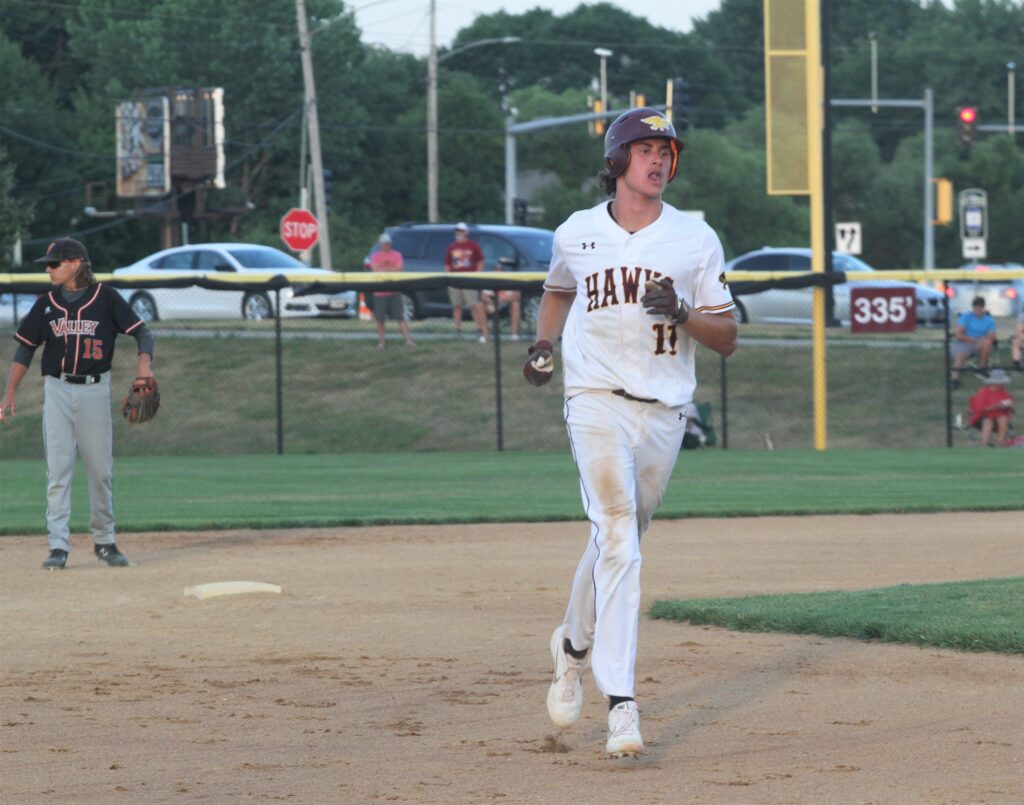 That was the only hit allowed by Brecht in four innings of work. He walked four and racked up 10 strikeouts.
"Brody needed 87 pitches to get through four innings," Balvanz said. "But when you're a high strikeout guy, your pitch count is going to get up there. That means you have to work ahead in the count and just pound the strike zone if you have swing-and-miss stuff to keep the pitch count down."
Brecht helped his own cause with a leadoff homer in the fourth. He jumped all over the first pitch from Jake Auer for his third home run of the season.
"That was the only fastball I got all night," Brecht said. "It was there, so I swung at it and it just went."
Watson hit an RBI single in the fifth to tie the game. Valley then scored two runs in the sixth and two more in the seventh to build a 6-2 lead.
All but one of the Tigers' runs was unearned.
"We also gave up 13 walks in the doubleheader," Balvanz said. "We were lucky to get out of there with a split."
Cael Boyd went 3-for-4 and scored two runs in the win. Smith went 2-for-3.
"It's definitely nice to get some momentum going," Smith said. "We are a momentum team. Last year in substate we caught some, and it was hard to beat us. Hopefully, this starts it and we can end it."
Valley used a seven-run third inning to win the opener, 11-1, in five innings. Buttolph and winning pitcher Alex Ling each homered for the Tigers.
Bryce Rinderknecht (4-2) took the loss. He retired only one batter before being replaced by Samuel Andrews, who could not get out of the third inning.
"You can script it all you want, but sometimes high school kids are high school kids and they don't have their best stuff," Balvanz said. "We kind of got punched in the mouth in that first game."
Ankeny will now have eight days off before hosting a substate final on July 22.
"We can't be rusty just because we have two byes," Balvanz said. "We're going to have to have some scrimmages to try to keep our guys ready to go."