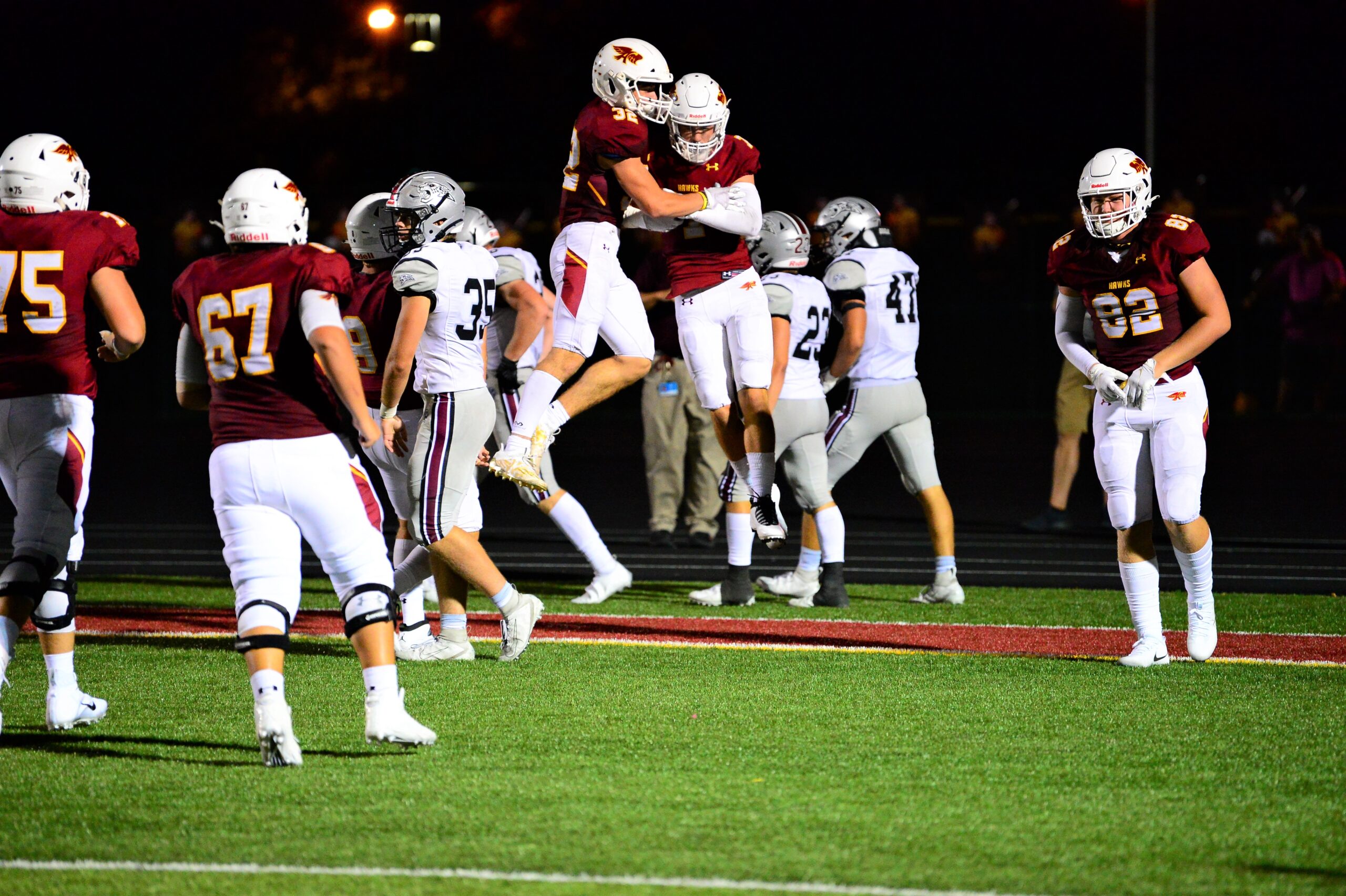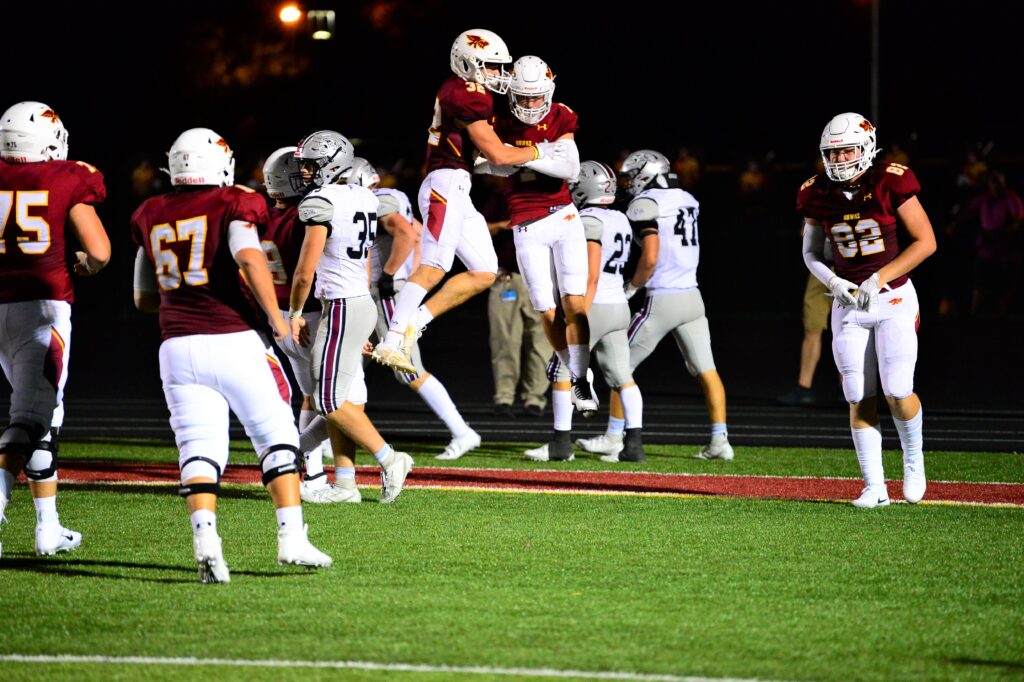 You can believe the hype.
The Ankeny football team is for real.
Jase Bauer passed for four touchdowns and Colin Kadolph ran for three more as the second-ranked Hawks romped to a 48-6 victory over No. 7 Ankeny Centennial on Friday at Ankeny Stadium, defeating the Jaguars for the first time since 2015.
"We all thought it was going to happen," Kadolph said of his team's dominant performance.
The Hawks outgained Centennial by a 432-167 margin in the season opener for both teams. Bauer completed 11-of-14 passes for 213 yards, while Kadolph rushed for 160 yards on 16 carries.
"They're a great team," Centennial co-head coach Ryan Pezzetti said of the Hawks. "Those skill kids are phenomenal, and they play great defense. We couldn't match their speed. They overwhelmed us. We had some chances early, but you can't turn the ball over and give them a short field. Once they got on top of us, that was it for us."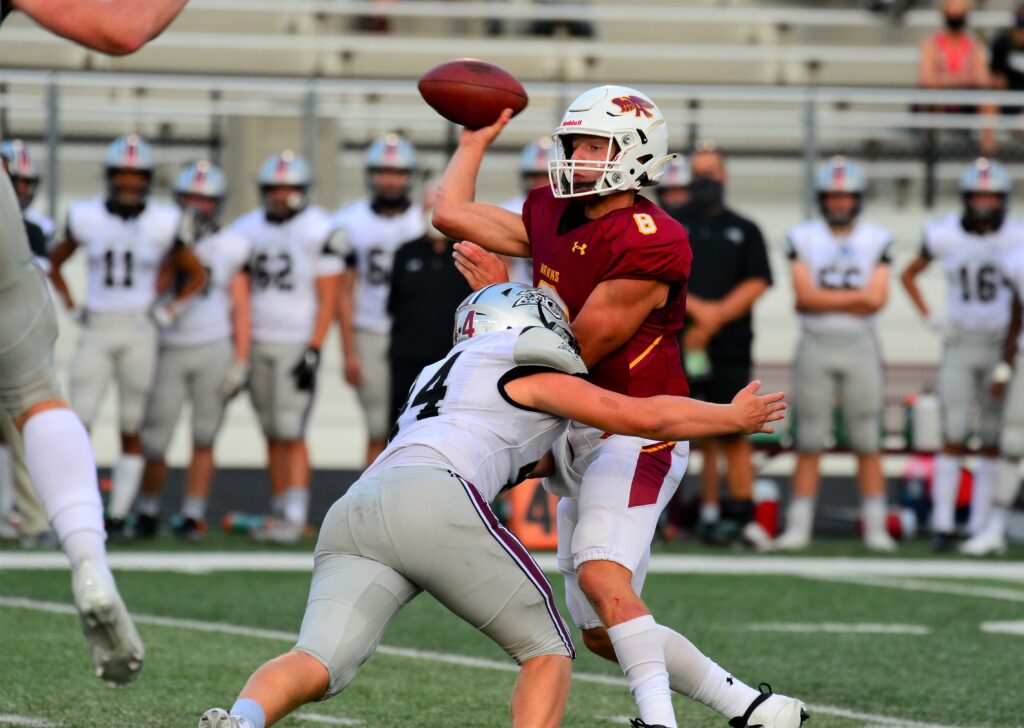 Brody Brecht and Kade Somers each had a pair of touchdown catches for Ankeny, which overcame an early 6-0 deficit by scoring 48 unanswered points.
"We were 0-for-3 (against Centennial) so it feels really good to get them back," said Brecht. "They beat us five straight (times) and I think this is the second time we've beaten them, so it feels really good–especially with the big win it feels extra special."
The Hawks suffered a blow earlier in the day when heralded transfer Arland Bruce IV was ruled ineligible by the Iowa High School Athletic Association. Bruce watched from the sidelines as Ankeny posted the most lopsided win in the history of the Jag-Hawk series.
"They played lights out," Bruce said. "They haven't beaten Centennial for five years, and it makes me happy to see how excited they were to beat them."
Ankeny coach Rick Nelson had been planning all week for Bruce to carry the ball on the Hawks' first play from scrimmage. He elected to run the same play without Bruce, but it resulted in a disaster.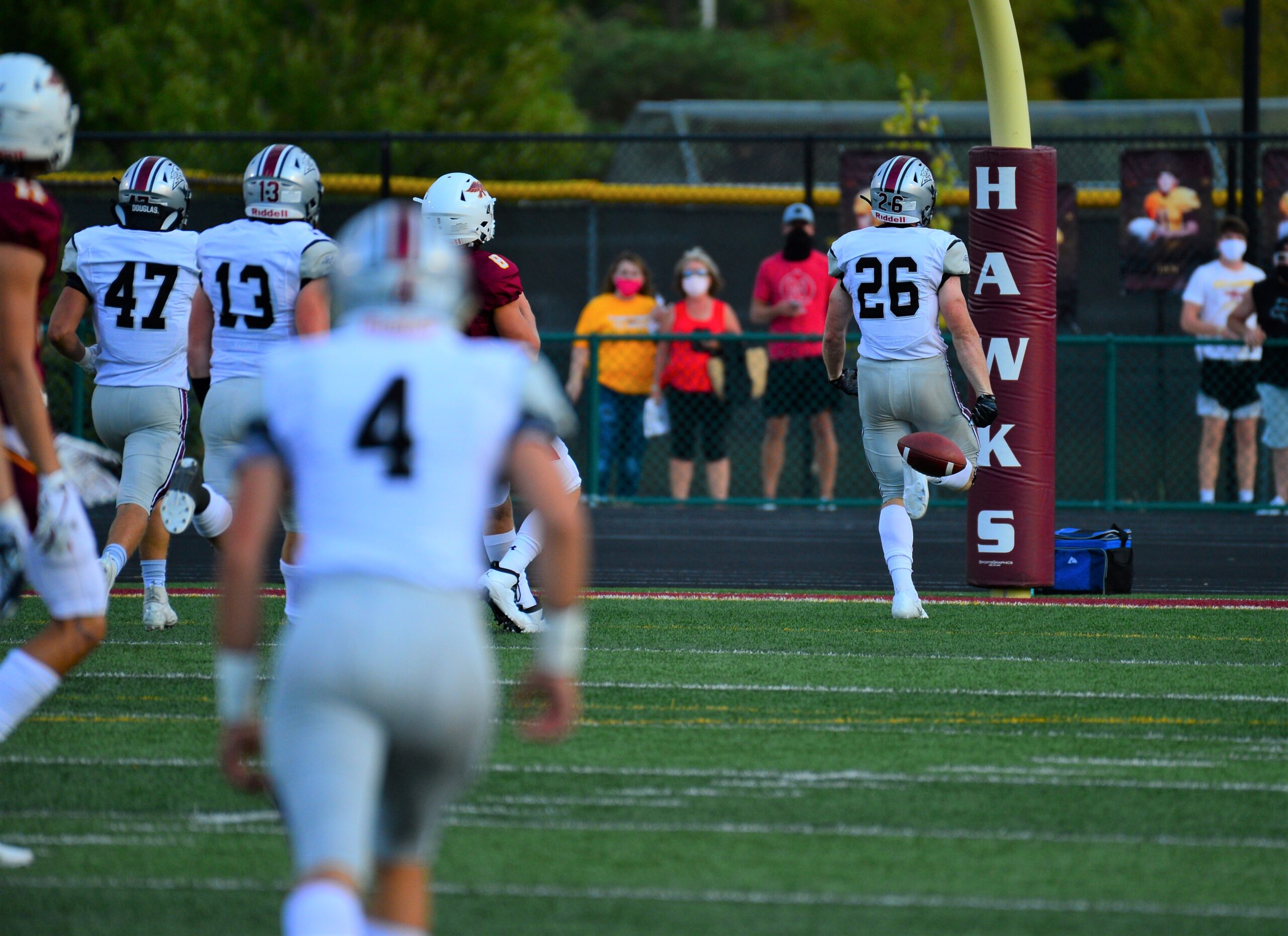 The ball popped loose when Bauer and Brecht miscommunicated on the handoff. Centennial's Tyler Johnson picked up the fumble and raced 26 yards to the end zone.
"We watched the film from last year and their ends kind of pressed down, but they didn't really do that the first play," Bauer said. "We were just a little unsure. I'll take the blame for that–it was my bad. I tried to pull it from Brody, and it wasn't the way we wanted to start. But we came back and I couldn't be more proud of our O-line and our skill guys and how we came back."
After Ankeny was forced to punt on its next possession, the Hawks got the ball back when Brecken Manus recovered a Centennial fumble at the Jaguars' 28-yard line.
"We believe we have the best defense in the state," Manus said. "We were ready for these guys. We've been preparing the whole summer, mostly for this game. We came out and proved it."
Ankeny took the lead for good when Bauer found Brecht in the back of the end zone for a 9-yard touchdown pass on fourth-and-5 with 3 minutes 23 seconds left in the first quarter. Brecht caught three passes for 55 yards.
"We knew the safety was overplaying me outside, so I went inside," Brecht said.
Brecht scored again on a 37-yard reception later in the period. Ankeny's Caleb Rathjen set up the touchdown by stripping the ball away from Centennial's Austin Jones.
"Our offense is really explosive, but our defense is crazy, too," Brecht said. "They really (had) a shutout. We gave them six points, but our defense is really good."
Kadolph scored on a 20-yard run midway through the second quarter. He then added a 2-yard scoring run to give the Hawks a 28-6 lead at halftime.
"Jerry (Pezzetti) and I were talking (before the game)," Nelson said. "Neither one of us had a scrimmage so we didn't know if we could tackle; we just didn't know. I knew our skill kids were good–I just didn't know about our kids up front. But I was really pleased with them. They saw a lot of different things that Centennial really hadn't done to us on defense, but I was really proud of our kids."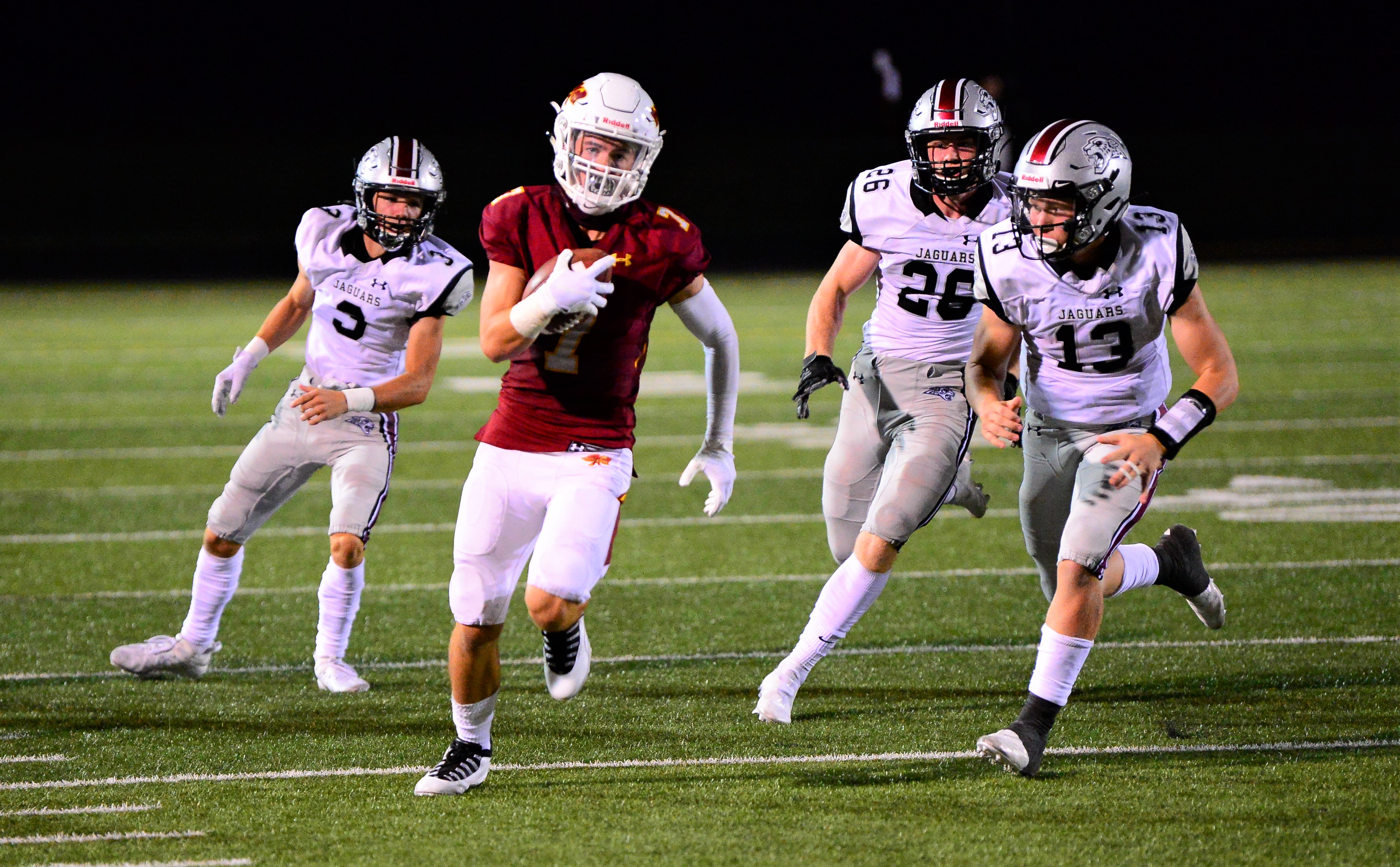 Bauer connected with Somers for a 55-yard touchdown pass on the Hawks' first play from scrimmage in the second half. That duo later teamed up for a 22-yard scoring toss.
Somers had three catches for 119 yards.
"I can't say enough about our quarterback, our running back and our receivers," Nelson said. "They just did great. Somers had some great catches and runs."
Kadolph later completed the scoring with a 3-yard run midway through the fourth quarter.
"We knew it was one of those years where we didn't have a lot of experience," Ryan Pezzetti said. "We're trying to put the best product out there for our community. We played some seniors, juniors, sophomores. But you know what, it was a learning experience for us. We'll definitely look at the film, get better and come back next week."
Carter Cahill ran six times for 42 yards and caught four passes for 25 yards for the Jaguars, who will visit No. 4 Southeast Polk (1-0) on Friday. Ankeny, meanwhile, will travel to No. 6 Waukee (0-1).
Bruce said he found out early Friday morning that he wouldn't be able to play.
"It's been pretty crazy," he said. "I woke for a 6:45 a.m. lift and I was pretty pumped up. As soon as I got home, my mom let me know about the information. I've been pretty sad all day."
Bruce is planning to file an emergency appeal in an effort to get back onto the field.
"I think the court will clearly see that we have all the documentation we need," he said. "We clearly followed the handbook."