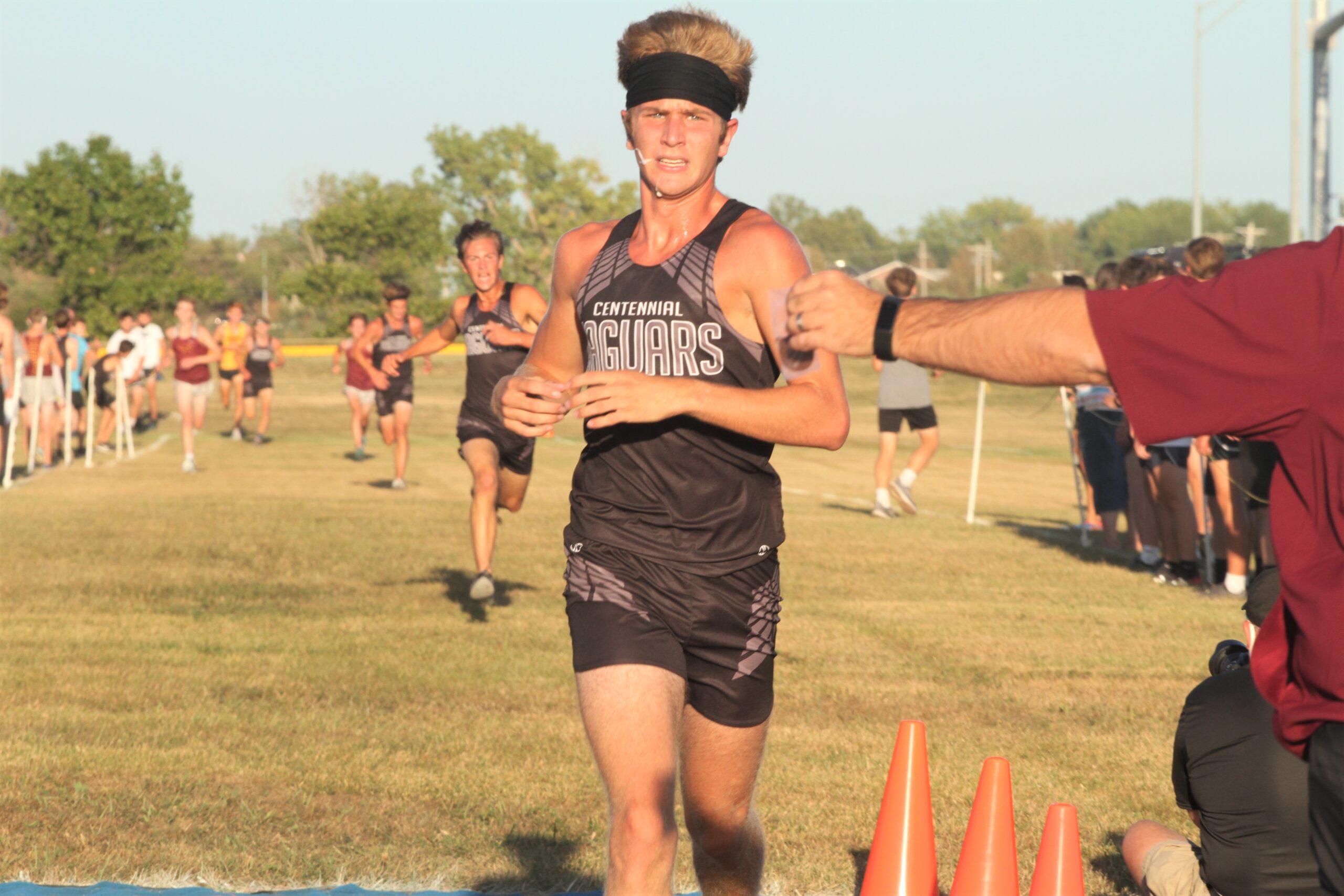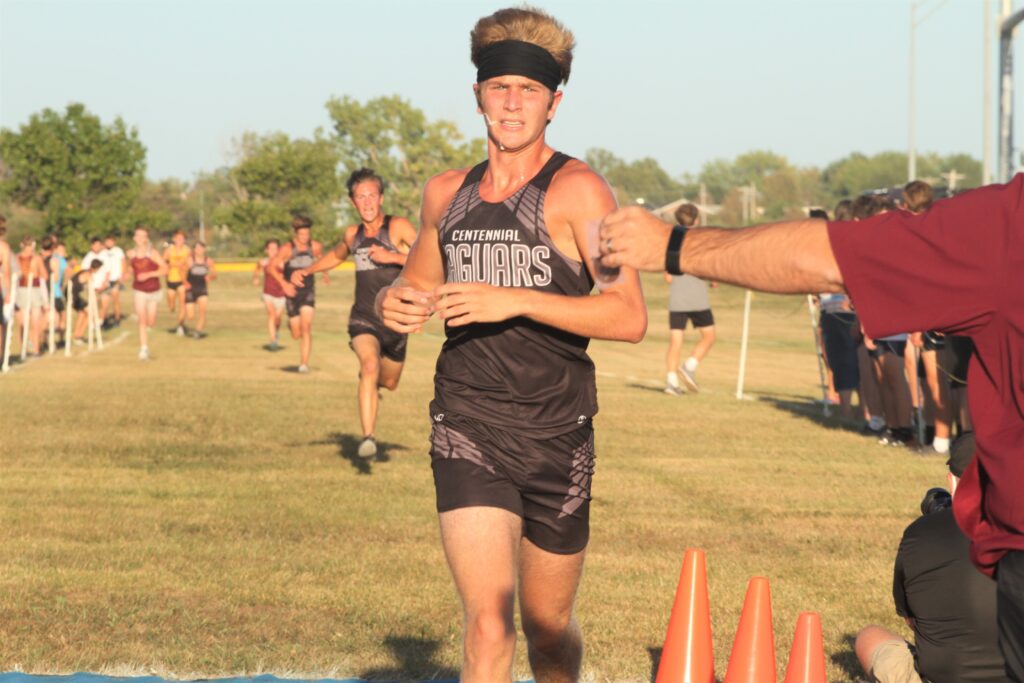 Thursday's Bobcat Invitational at Marshalltown Community College provided a huge challenge for the Ankeny Centennial boys' cross country team.
The Jaguars passed with flying colors.
After moving up to 11th in the latest Class 4A rankings, Centennial posted its second victory in two weeks by winning the nine-team Red Division with 40 points. The Jaguars finished seven points ahead of No. 6 Johnston.
"It was another confidence-booster for us," said Centennial coach Chad Fickbohm. "We had great races all around."
Ankeny, meanwhile, finished with 127 points. The Hawks edged Southeast Polk by one point for third place.
"Marshalltown is traditionally one of the top races in the state each year," said Ankeny coach Jon Lindaman. "Even though the race looked a little different with two pods, we were fortunate we had the opportunity to race against some really great teams. Our guys took a step in the right direction, but I think there is still a lot of room to grow, and we will continue to shed seconds throughout the year. Our team needs to utilize pack running a little more, and that will come with race experience."
Centennial's Gabriel Vicker earned his second straight victory. He posted a time of 16 minutes 22 seconds in the 5k race, finishing about 10 seconds ahead of Johnston's Yohana Yual.
"It was really wet and muddy, which made for a tough course," said Vicker, who is ranked 11th in Class 4A as an individual, five spots behind Yual. "There were several muddy patches that our team tried to take advantage of throughout the race. Though I didn't lead the whole time, I controlled what I could in the race and ended up pulling away from Yohana about the 2-mile mark. The final mile was mostly uphill and I knew I could lose him if I mentally challenged him by surging up the hill."
The Jaguars placed three runners in the top five and four in the top 10. Connor Cunningham took fourth in 16:40, Kade Christensen was fifth in 16:46, and Nate Jones finished 10th in 16:54.
"Gabe is racing relaxed and having fun," Fickbohm said. "Connor and Kade had very impressive races with Nate gaining confidence with his finish."
Centennial's Tyler Schermerhorn placed 20th in 17:21. Karsten Peters was 24th in 17:25, and Ryan Bybee finished 38th in 17:52.
"Karsten didn't have his best race, but Tyler stepped up with an outstanding race," Fickbohm said. "This is a fun group. They put in the work and it is really showing. I really think the best part is they are having fun and really do want everyone to succeed."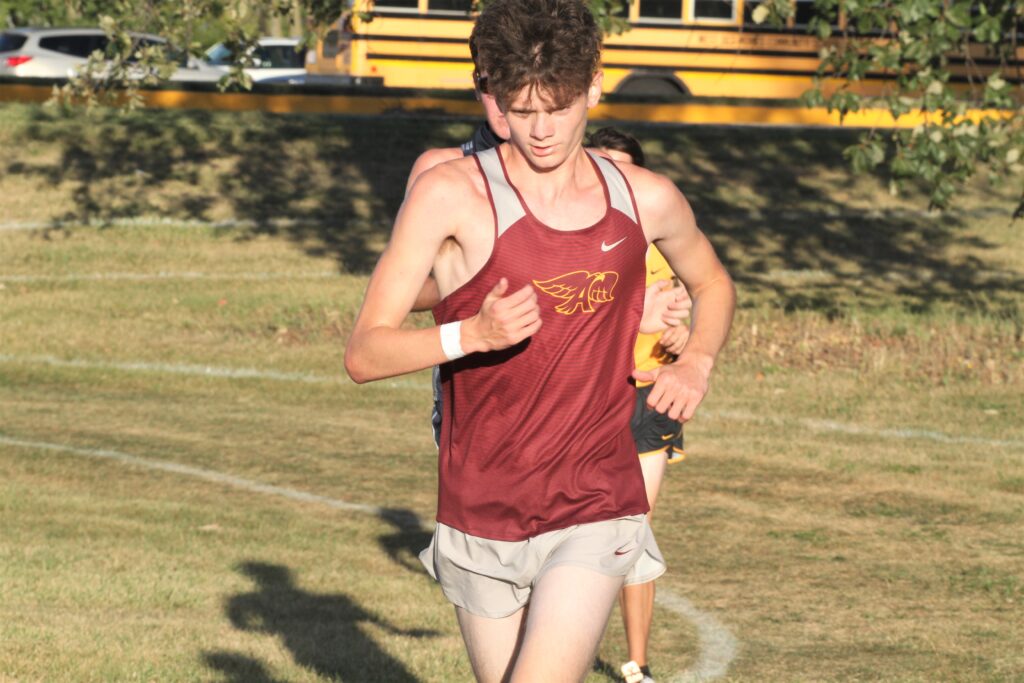 Ankeny was again led by the senior duo of Cael Cox and Andrew Poock. Cox placed 16th in a time of 17:04, while Poock took 18th in 17:13.
"I ran a PR again so I was happy about that, especially with the weather," Poock said.
Truman Patterson placed 29th in 17:40. Also scoring for the Hawks were Jake Bosch, who was 32nd in 17:45, and Christian Rathje, who placed 34th in 17:47.
"Cael and Andrew were very solid, and we had an outstanding performance from Jake on a wet, sloppy course," Lindaman said. "He turned in one of the best times I have seen from an Ankeny freshman."
Paul Erredge placed 39th for the Hawks in 17:53. Levi Hill was 43rd in 18:00.
"I think that some guys weren't satisfied with what they did today, but we definitely made some progress from last week," Poock said. "I think all of our guys–especially me–are capable of more, which is part of our training to be our best at the end of the season, but also having confidence and some more attitude going into races. It is really cool seeing the younger guys step up, especially Jake, and I think that Levi and Alex (Cox) have a lot of potential, so I'm excited to see what we can do going forward."
Centennial will compete in the Tom Karpen Invitational on Tuesday at Valley Southwoods Freshman High School. The Hawks will travel to Cedar Falls on Thursday for the Rich Engel Classic.