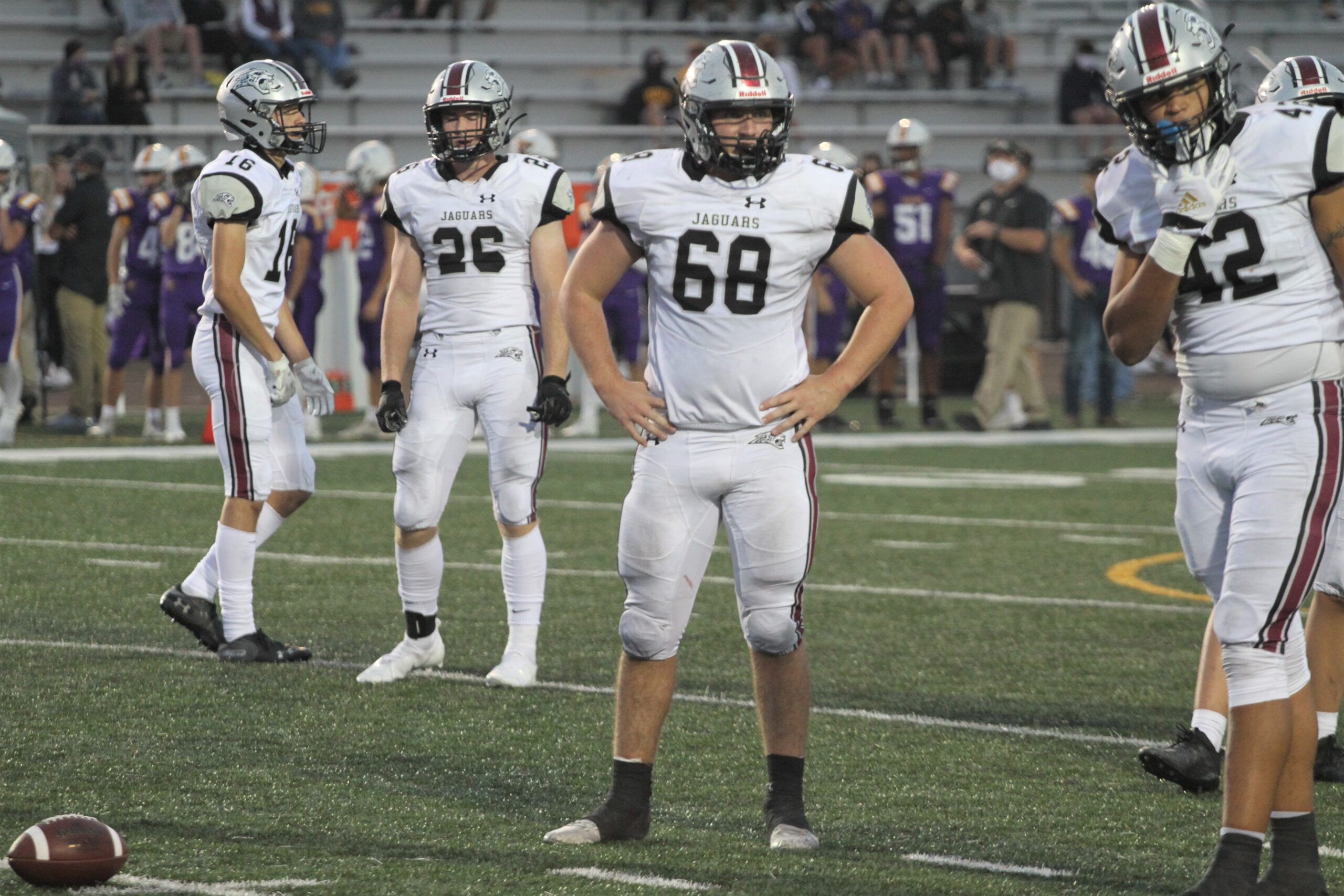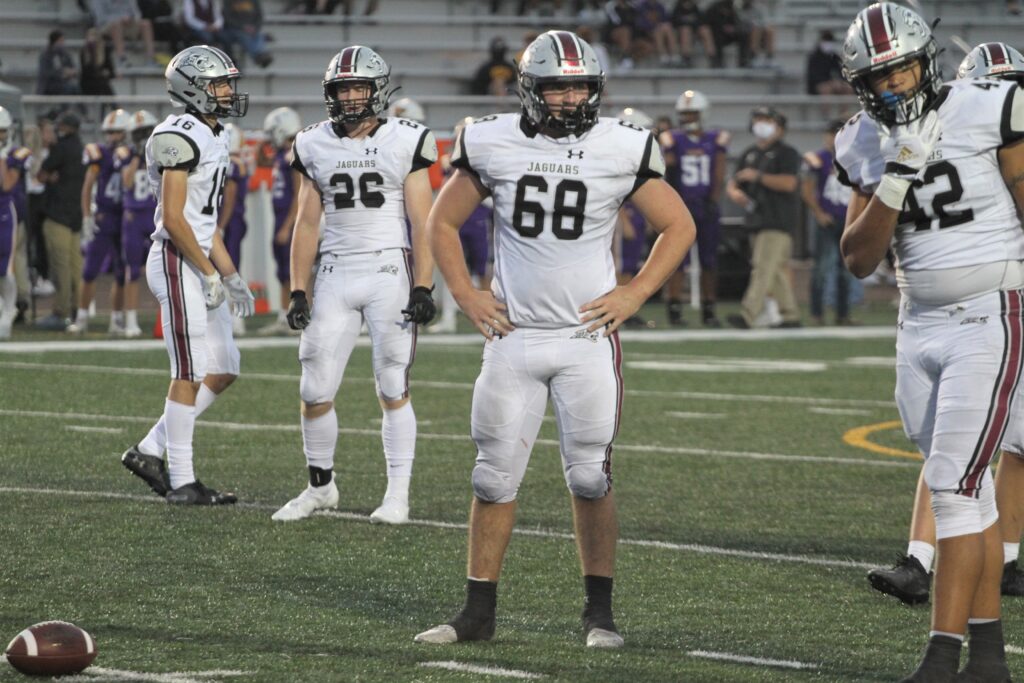 Senior nose guard Griffin Neal is a member of the Ankeny Centennial football team. He made 2.5 tackles, including a sack, and also recovered a fumble in the Jaguars' 14-7 loss at ninth-ranked Johnston on Friday.
Neal has racked up 11 tackles on the season. Nine of them have been solo stops.
Here is some inside info on Neal:
I know your team doesn't have the record (0-4) that you'd like to have right now, but do you feel like your squad is making some progress?
I definitely believe that the team is making progress on both sides of the ball. Looking at our game against Ankeny compared to our game against Johnston, our offense is starting to come together well–making big plays and driving down the field more consistently than in that first game. As for our defense, we noticed in the Ankeny game that our communication in every position was poor and we gave up a lot of big plays which led to touchdowns. But since then we've been working hard at practice and in games making sure everyone on the field knows their assignments, and it is working out very well for us. Even though we don't have the best record, we've been working hard every week and I believe soon it will all come together and we will look like a completely different team at the end of the year.
I thought your defensive unit did a nice job of slowing down Johnston's offense. What was the key to containing the Dragons?
A big key to containing them was definitely stopping the run game and also containing their quarterback well when he would scramble to the outside. I feel as a defense we did well stopping the run game and putting more pressure on the quarterback while also preventing him from running the ball a lot. There were times where they had big drives on us, but we held strong and never gave up. From start to finish we swarmed the ball carrier, and I feel as if we never slowed down no matter how we felt.
You came up with a big block of a Johnston field-goal attempt in the third quarter to keep it a one-score game. Was that just an effort play?
Before the field goal block, I noticed that they were not putting a lot of pressure on me and I came very close to getting a hand on both of their PATs. So as soon as they lined up in a field goal formation we all knew that if we blocked it as a defense that would help out our offense a ton. It would also be a great stop for our defense because that drive they drove down the field very well. So as soon as the ball was snapped, I did my assignment and just had a great get-off and was able to get right in front of the ball quickly and make the block.
You were one of the seniors who entered this season with some starting experience. Have you tried to be a leader for some of the younger players?
Yeah, as a senior class we all try to step up and work with the younger classes. There are definitely times where we have leadership opportunities during practices and in games. We really want to make sure the younger players feel comfortable playing in big situations and being confident at their positions. Aside from the coaches' help as players we really try to make sure we can answer questions they have on both sides of the ball to give them a better understanding.
Your team has already played four of the state's best squads in Ankeny, Southeast Polk, Waukee and Johnston. Which of those teams do you think was the best?
I definitely think Southeast Polk was one of the best. Although as a team we didn't play our best, it was a very good game and they definitely gave us more of a look than what Ankeny gave us. Both the defensive and offensive lines went against some very skilled athletes and it was for sure a challenge to play against them. Our skill guys had good matchups on both defense and offense. We played very hard against them, but also made a lot of mistakes. I feel like if we played them again later in the season it will be a lot closer game than what it was because in the second half of that game is where we noticed our defense and offense begin to come together.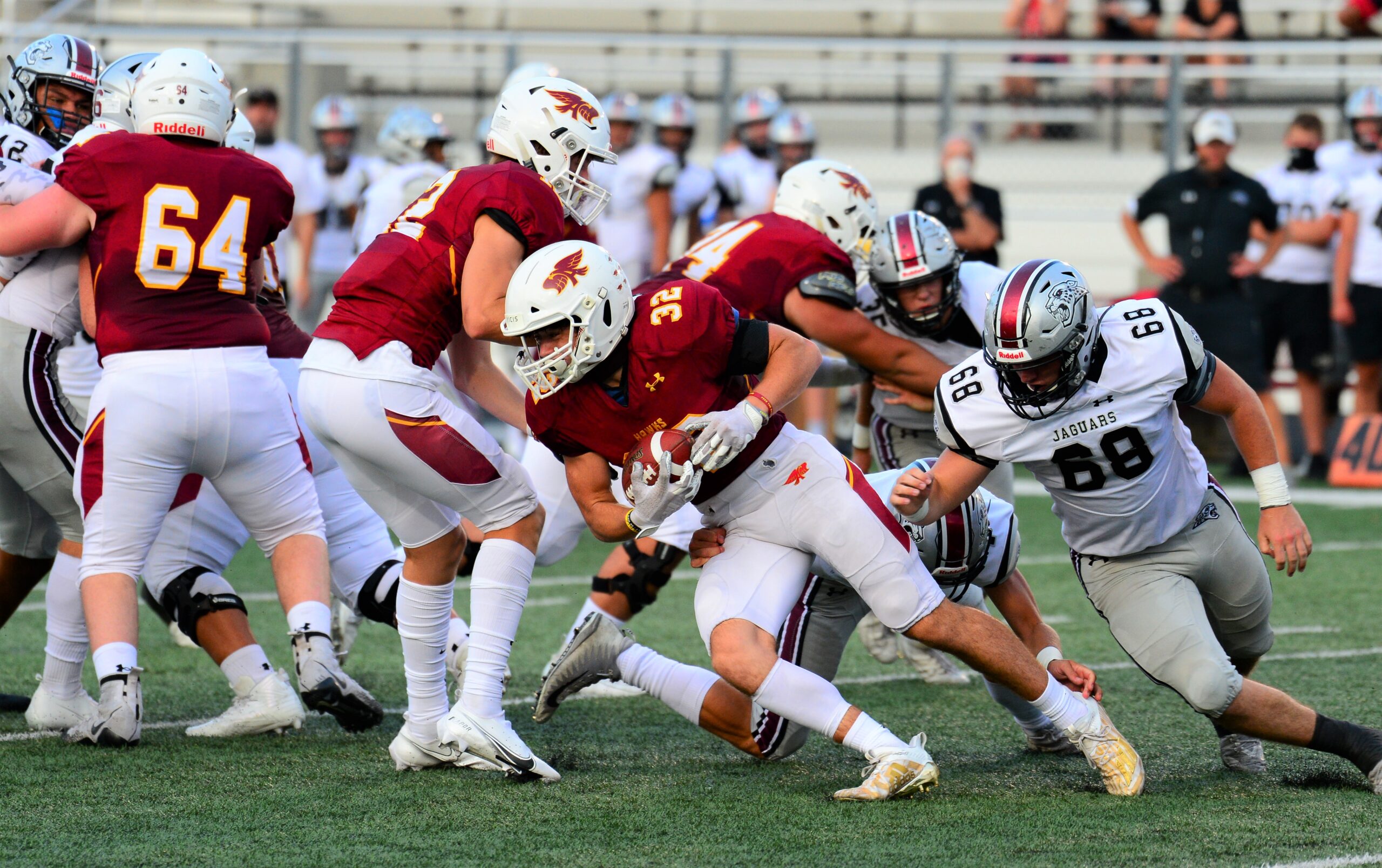 How important do you think it is for your team to get a win or two in the next three weeks to build some momentum for the playoffs?
It would be very nice to get a win or two before the playoffs, but I don't believe it's that important as long as we keep improving each week and get better every day. As a team we don't let the four losses define us. Each week at practice we do our best to improve and get ready for the opponent we play that week. I feel like even though we aren't winning games we still have a lot of momentum and at this pace we will have a lot of momentum going into the playoffs.
One of your coaches told me that you have an interesting taste in music. So who are your favorite bands?
Some of my favorite bands of all time are Slipknot, Five Finger Death Punch, Rob Zombie and Shinedown. I've grown up my whole life surrounded by heavy metal and I've been to many concerts in the past few years, and it's one of my favorite genres of music to get hyped for a game.
Have you watched any college or NFL games, and if so, does it seem strange to not have any fans?
I've watched a lot of the NFL season this year and it is definitely weird knowing that there are little to no fans at most games. But at the same time I think we all have a good understanding of what it's like to not have as many fans as last year. It's for sure a different atmosphere, but it seems like both us and the NFL teams have adjusted well to adversity.
Do you have a favorite NFL team?
My favorite team is the Chicago Bears. I became a Bears' fan recently when I watched their entire 2018 season, and I was fascinated by how well their defense played and how they just dominated that entire year up until the first round of the playoffs.
Plans for next year? Would you like to play football in college?
The plan right now is to just focus on football and try to get looked at by more schools so then I could go to college and hopefully get the chance to play college football.
What are you going to study?
I'd like to study something in the medical field. I'm very interested in the physical therapy route and would one day like to be working with athletes to make sure they can be the healthiest they can be and play at their best level.