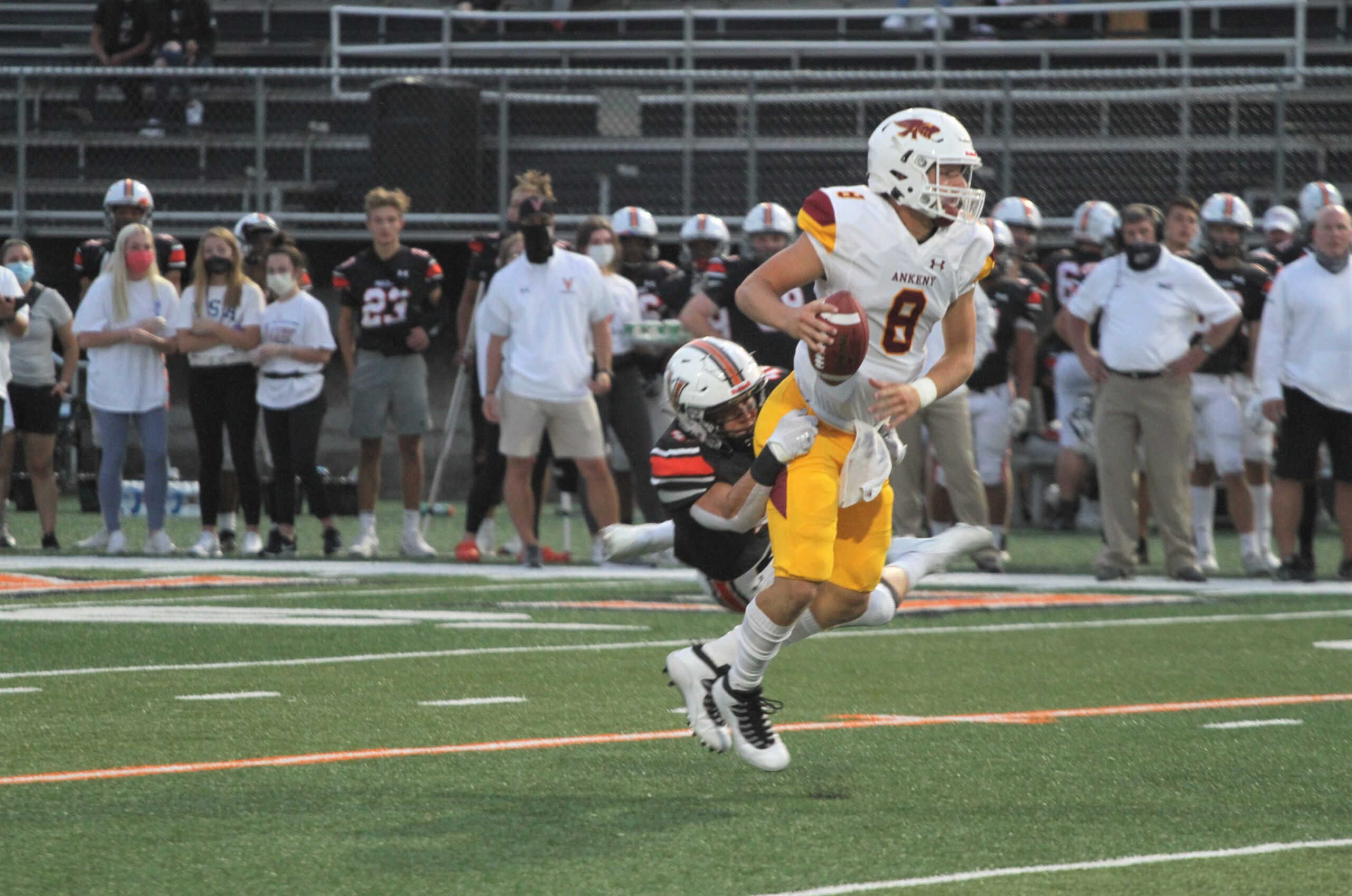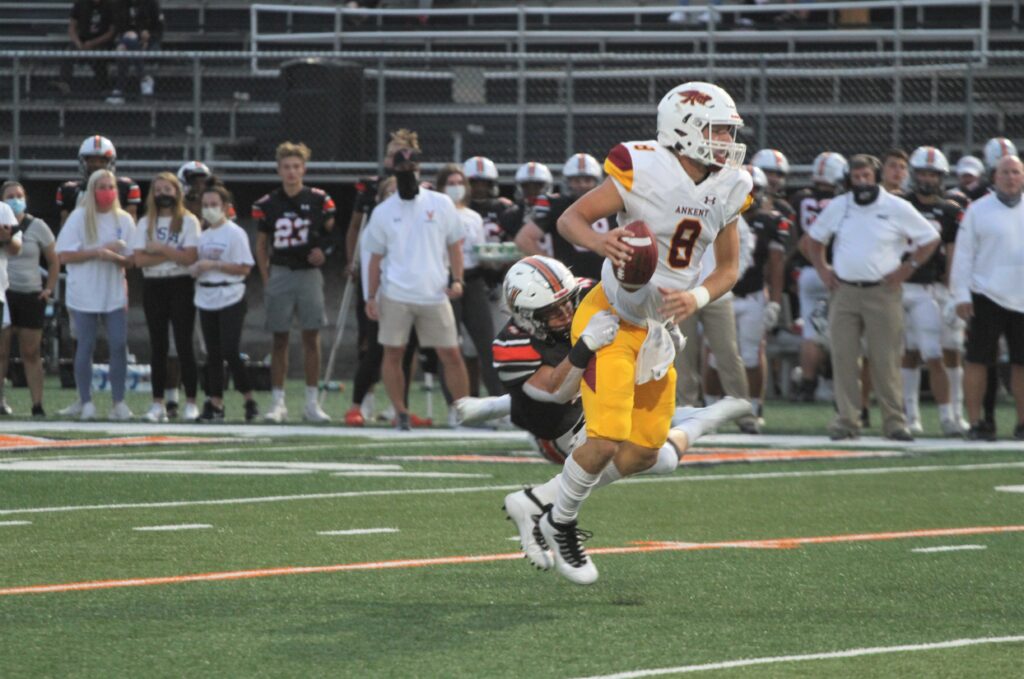 When the Ankeny football team lost a playoff game at Valley two years ago, the Hawks were a young squad that had yet to fully realize its potential.
On Friday, Ankeny returned to Valley Stadium with a veteran roster that was ready for the moment.
Jase Bauer passed for 250 yards and five touchdowns as the third-ranked Hawks rolled to a 35-10 victory over No. 8 Valley. The Tigers were dealt a third consecutive loss for the first time in decades.
"We've been wanting to play these guys for awhile," said Bauer. "We knew that the last time our team actually beat them was back when Ankeny won the state championship in 2012. So we wanted to come out and prove something."
Brody Brecht caught eight passes for 130 yards and two touchdowns. Bauer also threw scoring tosses to Kade Somers, Weston Fulk and Colin Kadolph.
"It feels amazing," Brecht said. "They beat us our sophomore year in the playoffs, so it feels good to get them back. I gave a speech at halftime. I said, 'We were up at halftime in that game, and they came back and won. So we've got to keep the foot on the pedal.'"
Ankeny (4-1) dominated the game from start to finish. Bauer threw a 47-yard pass to Brecht on the Hawks' first play from scrimmage, then connected with him again three plays later for a 13-yard scoring reception.
"We had a good game plan going into it," Bauer said. "We came and executed very well. I was proud of our guys. Our offensive line–they're awesome. (Valley) blitzed probably more than anybody we've played, and I thought they did a great job."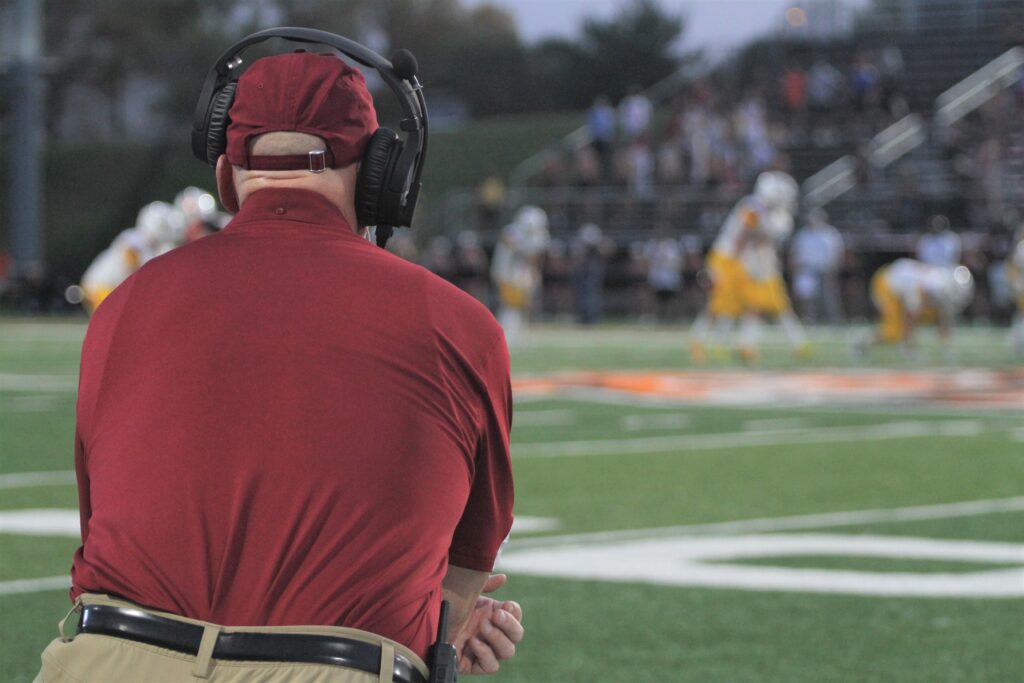 After Valley (1-3) converted a fake punt on the ensuing possession, the Tigers got on the scoreboard shortly thereafter when Lennox Krell booted a 33-yard field goal.
However, Ankeny answered right away, scoring just 65 seconds later when Bauer threw a 29-yard touchdown pass to Somers. Somers caught the ball in stride over the middle, bounced off a tackler and raced to the end zone.
The Hawks then surprised Valley with an onside kick, recovering the ball at the Tigers' 45-yard line. That led to an 8-yard scoring pass from Bauer to Fulk early in the second quarter.
"Jeff's been wanting to do (the onside kick) for about three years," said Ankeny coach Rick Nelson, referring to assistant coach Jeff Bauer. "He said, 'Hey, let's do it.' It's awesome when it works."
Valley had a chance to close the gap before halftime when the Tigers drove deep into Ankeny territory. But they were out of timeouts, and that proved to be costly.
After running back Jayden Williams was tackled at the Hawks' 6-yard line, Valley tried to hurry its field-goal unit onto the field. But time expired before they could snap the ball.
"We've been preparing for these guys all summer," said Ankeny linebacker Brice Peterson. "We just really wanted to come out and get the job done."
In the third quarter, Bauer threw a 47-yard pass to Kadolph, who made an acrobatic catch along the left sideline. That duo then teamed up for a 4-yard scoring pass a few plays later.
"Our kids played really well," Nelson said. "We haven't beaten Valley…ever. Sometimes we thought maybe we did in scrimmages, but we probably didn't."
Valley's offense struggled after losing heralded out-of-state transfer quarterback Jake Rubley earlier in the week. Rubley was declared ineligible by the Iowa High School Athletic Association on Wednesday.
Junior safety Mason Morrow took over at quarterback and completed 12-of-19 passes for 107 yards. He led a drive in the fourth quarter that resulted in a 6-yard scoring run by Williams, who rushed for 65 yards on 20 carries.
"We didn't know what to think," Peterson said. "We didn't know who was going to start. We thought maybe they'd run the same stuff, and maybe run Jayden a little more. He's a good running back, but I'm glad we stopped him."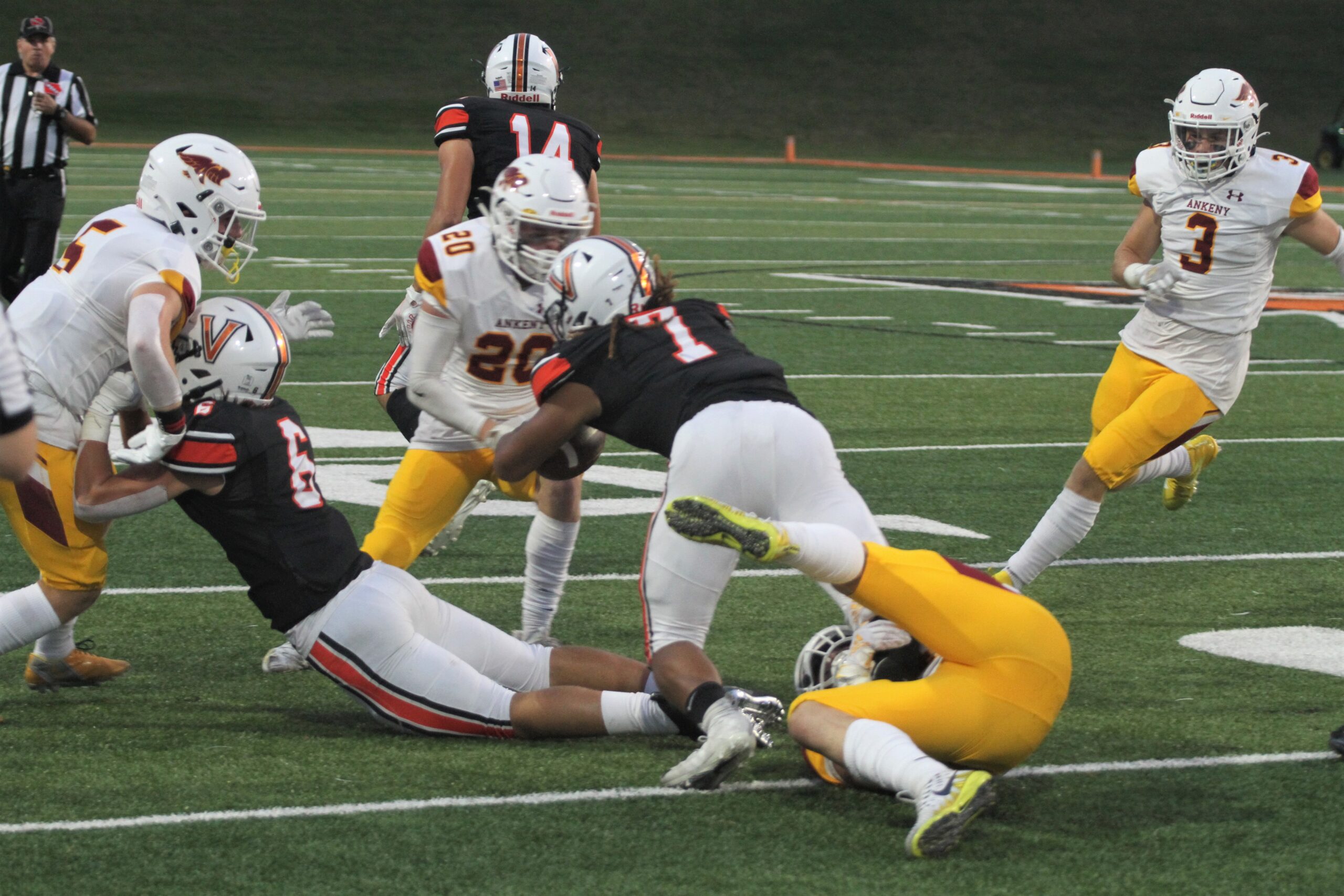 Ankeny put the game away on its ensuing drive. Bauer lofted a beautiful 34-yard touchdown pass to Brecht with 4:06 remaining.
"I'm telling you, Jase is the best quarterback in the state," Brecht said. "He's so good."
The Hawks will host Johnston (3-2) and Indianola (2-3) in their final two games of the regular season. The Class 4A playoffs begin on Oct. 16.
"Hopefully, this can show that we're nobody to mess around with going into the playoffs," Peterson said. "We want (a championship) bad. We've said it since our freshman year. We want it."