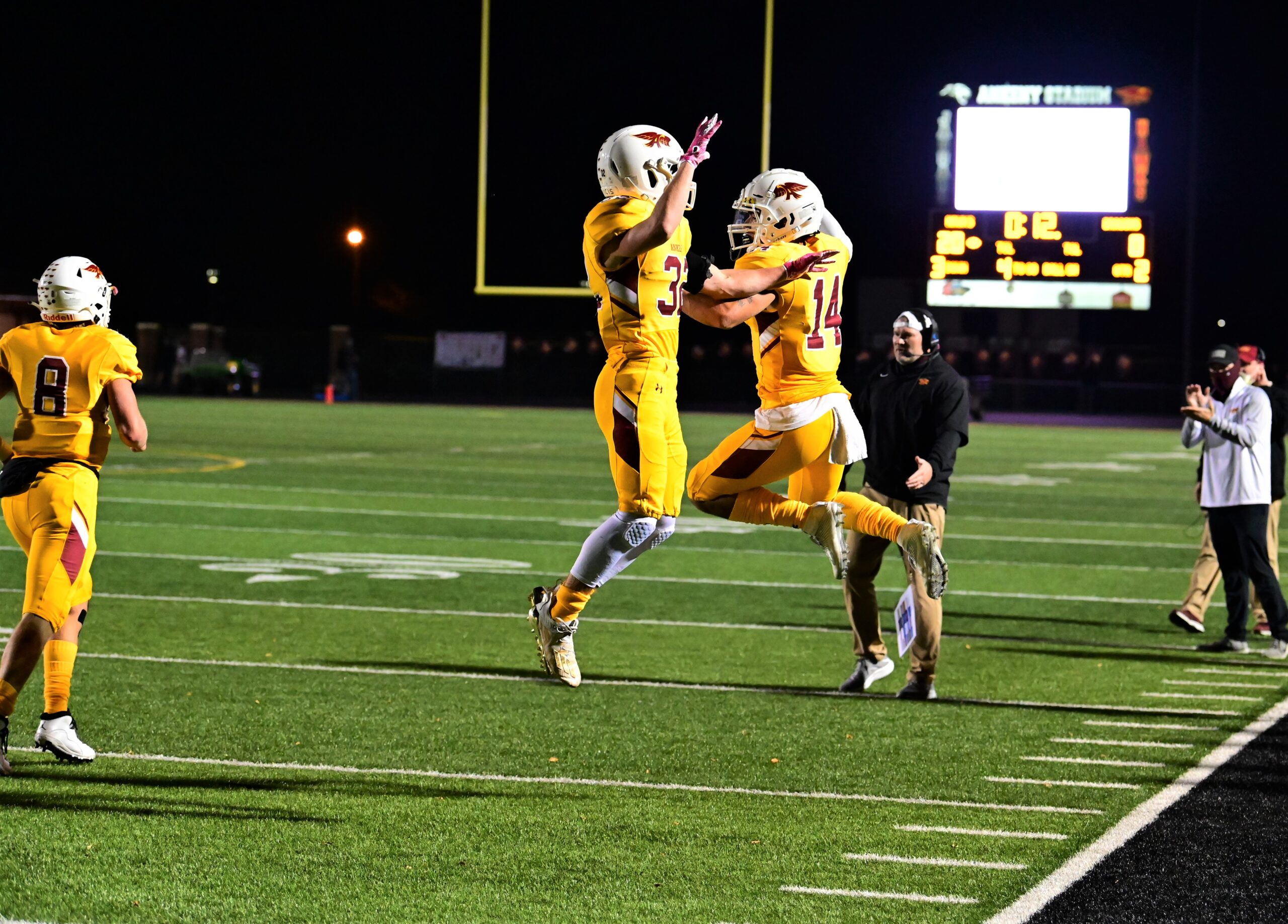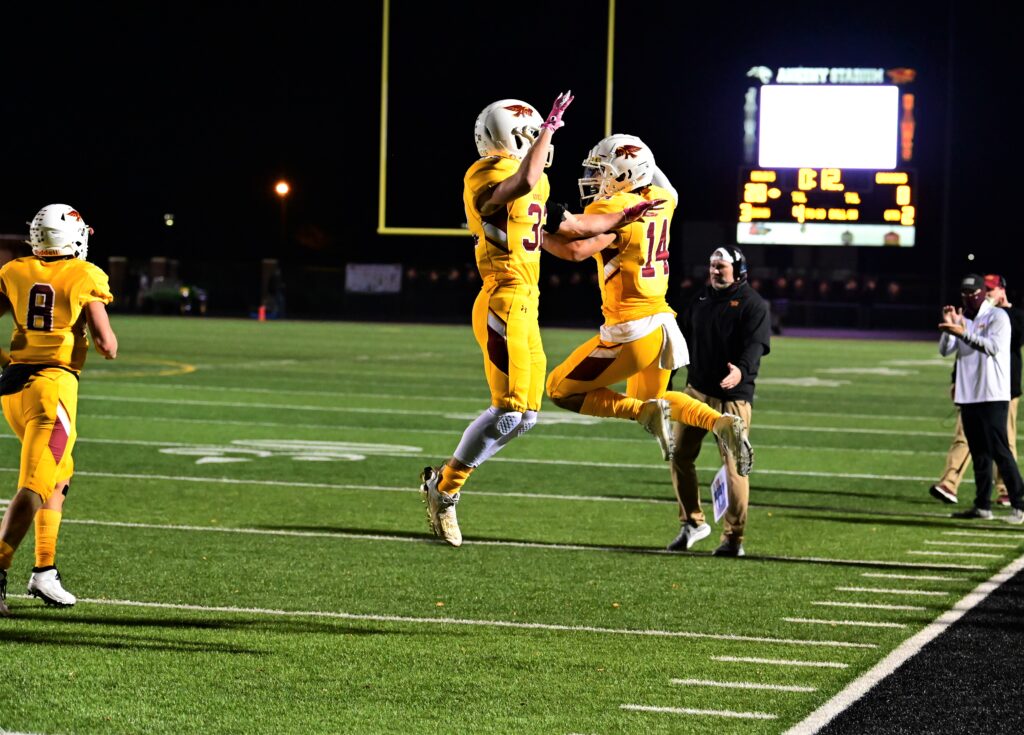 The Ankeny football team was already considered a threat to win the Class 4A state title.
Now, the Hawks may have emerged as the favorites.
The addition of heralded transfer Arland Bruce IV to a potent offense makes third-ranked Ankeny a scary opponent in the upcoming playoffs. On Friday, the Hawks demonstrated all of their weapons in a 49-0 dismantling of No. 9 Johnston at Ankeny Stadium.
Colin Kadolph ran for three touchdowns, Bruce scored two more, and quarterback Jase Bauer enjoyed a near-perfect night while passing for 156 yards as Ankeny (5-1) rolled to its fourth consecutive victory. The Hawks outgained Johnston (3-3) by a 391-97 margin.
"We just have so many weapons I just don't know how someone could contain us," said Bruce, who was declared eligible earlier in the week.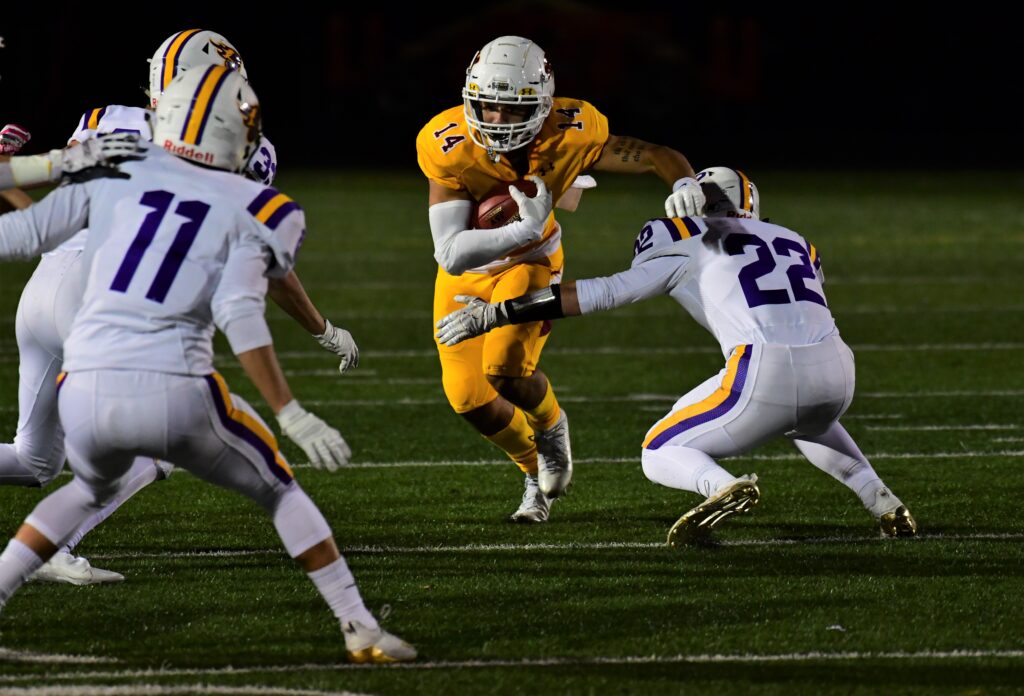 Bruce made his long-awaited debut after sitting out the first five games during an eligibility dispute with the Iowa High School Athletic Association. The Iowa recruit moved from the Kansas City area to Ankeny in an effort to play his senior season, but was not allowed on the field by the IHSAA.
Bruce was finally cleared to play in a ruling by an administrative law judge for the state Department of Inspections and Appeals.
"It feels great. I haven't felt this way since last year," Bruce said. "I questioned if I was really going to play. Ever since I found it, it didn't really feel real."
Bruce ran 11 times for 62 yards in Friday's game. He also caught three passes for 24 yards.
Bruce ran 3 yards around left end for his first touchdown as an Ankeny player in the third quarter. He later caught a 2-yard scoring pass from Bauer, who completed 17-of-18 attempts.
"That was neat to finally see him (in a game)," Ankeny coach Rick Nelson said of Bruce. "He practices hard. I think he got a little winded today, but he's such a neat kid and he runs hard and he made a really nice catch (in the first half). I couldn't be happier for him and his mom, Linda. It was awesome."
Bruce made a nice grab over the middle to set up the Hawks' first touchdown late in the opening period. On the next play, Bauer fired a 4-yard scoring strike to Brody Brecht, who caught seven passes for 71 yards.
Ankeny then got its running game going in the second quarter. Kadolph raced 43 yards for a score on the first play of the period, then later added a 4-yard touchdown run with 12 seconds left until halftime.
Kadolph, who ran for 71 yards on nine carries, said he didn't mind sharing some of the backfield duties with Bruce.
"It really helps when we switch off and our legs get refreshed before we go back in," Kadolph said.
Kadolph scored again on a 10-yard run midway through the third quarter, when he took a handoff up the middle and went untouched to the end zone.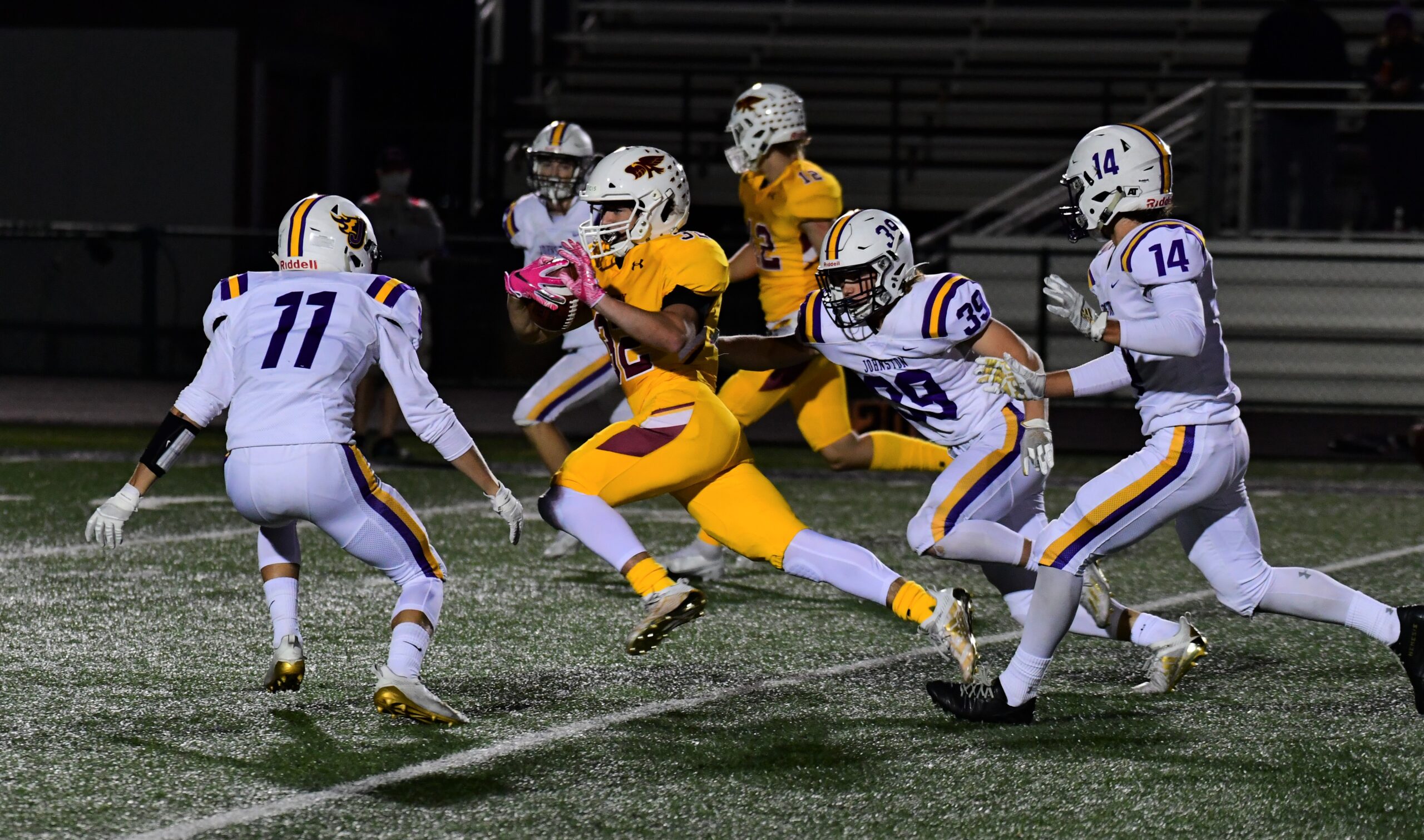 "The line made some really big holes, and that really helped," Kadolph said. "We were very confident that we could come out and do what we did."
Backup quarterback Colin Riggs later completed the scoring when he tossed a 74-yard pass to Kade Somers on his only attempt in the fourth quarter.
"I'm not lying, I was a little nervous–especially in the first quarter when we couldn't score," Nelson said. "(Dragons assistant coach Jeff) Helgeson has always done a good job against us when he was at Centennial and now at Johnston. And their tight end is so good, but our defense had a great game plan."
The Hawks limited Johnston tight end Tyler Moore, an Iowa State recruit and one of the state's top receivers, to just 23 yards on four catches. Dragons quarterback Jack Rutz was constantly under pressure and completed just 7-of-19 attempts for 51 yards.
Cooper Cox had an interception for Ankeny, which also held the Dragons to just 46 yards rushing on 30 attempts.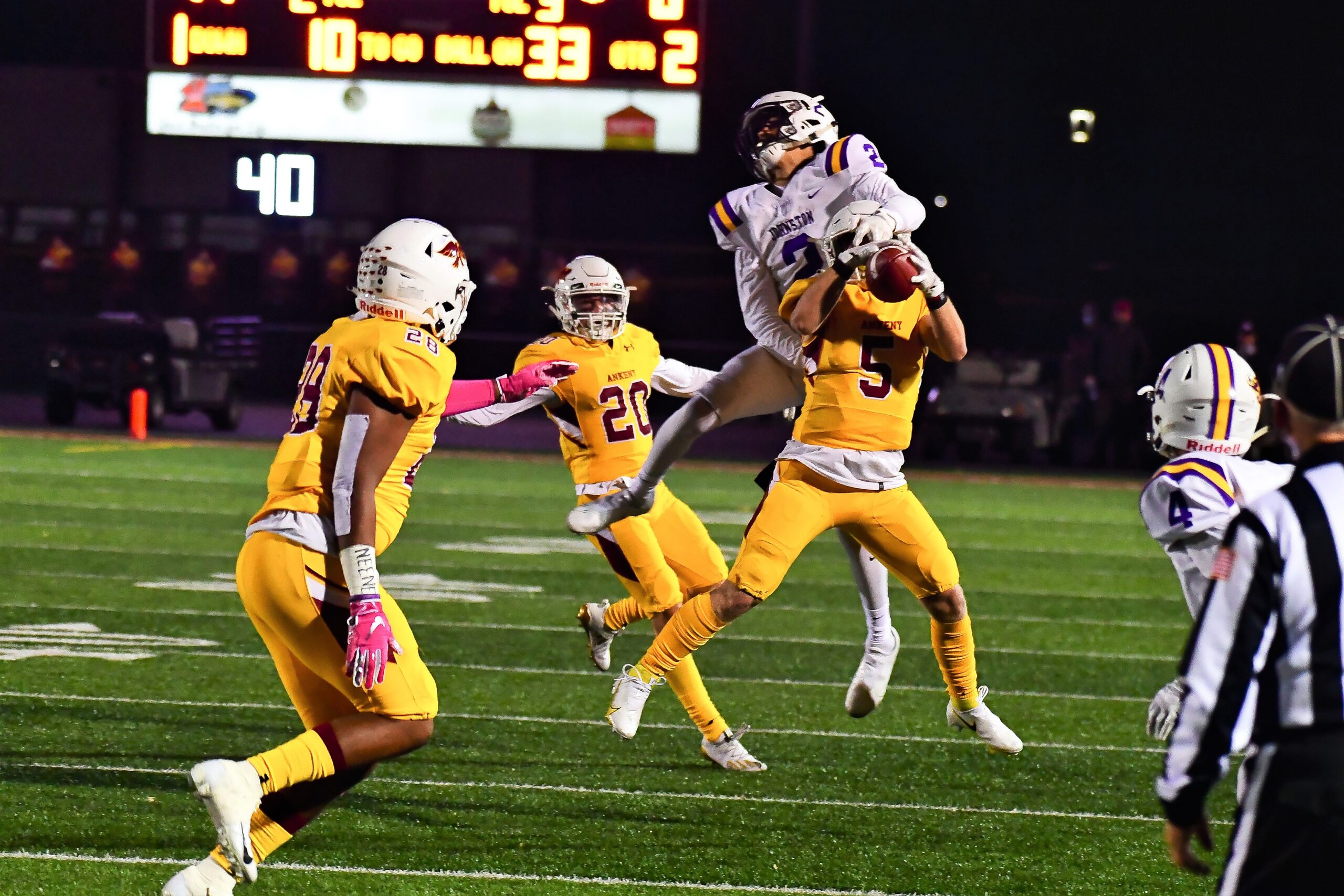 "We saw the game plan, and we were confident our defense could get it done," said Ankeny linebacker Tamden Webb-Tate. "We definitely had a game plan for (Moore). I thought we shut him down pretty well in the first half. He got a few (catches) on us, but we did a good job containing him."
The game turned into a rout in the second half after Johnston's punting unit twice turned the ball over inside its own 10-yard line. The Dragons' punter mishandled one snap and was tackled before he could kick the ball, then later touched the ground while receiving a low snap and was ruled down.
Ankeny's offense didn't need that much help.
"When you add Arland now and do some things with him, it finally opened up our run game a little bit," Nelson said. "I was very proud of our kids. I thought the coaches had a great game plan."
The Hawks will close out the regular season on Friday by hosting Indianola (3-3).