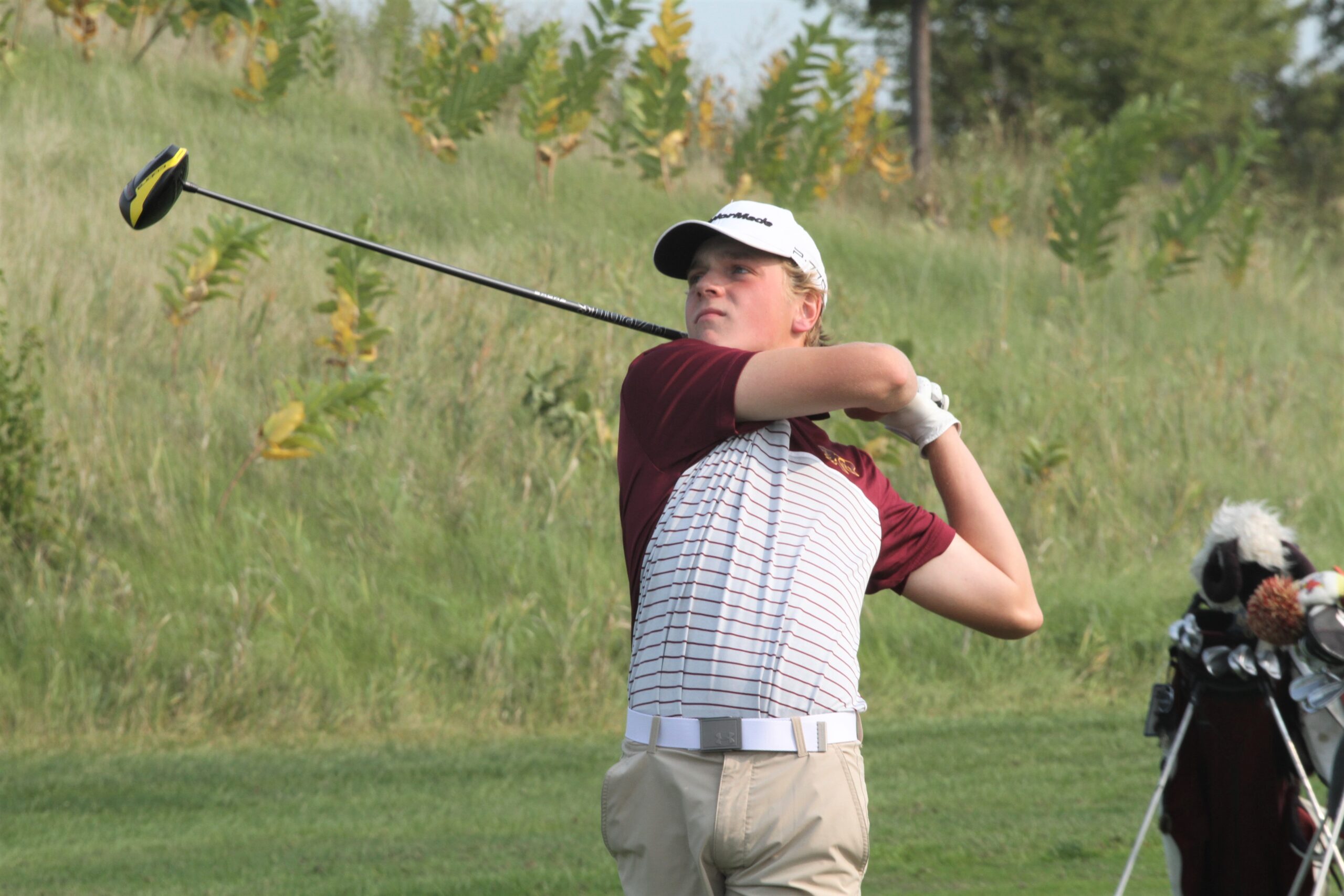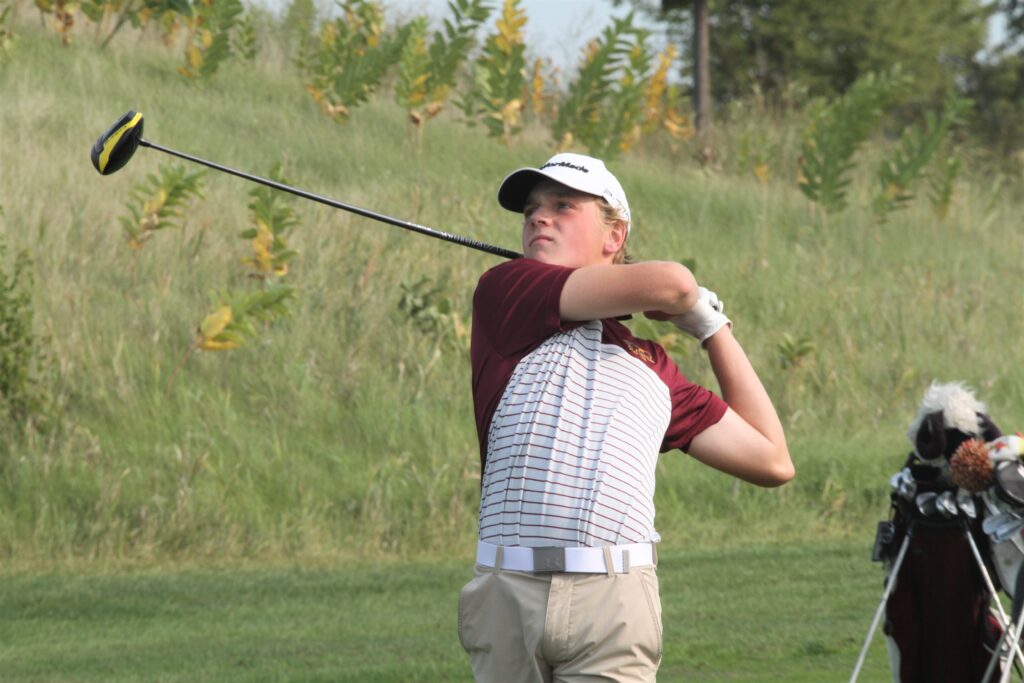 Golfers Dylan Taylor of Ankeny and Jonathan Saddoris of Ankeny Centennial are both enjoying standout senior seasons for their respective teams and will play in a Class 4A district meet on Monday.
Taylor carded a 78 to place seventh in the CIML Iowa Conference meet on Tuesday at Highland Park Golf Course in Mason City. He helped the undefeated and third-ranked Hawks to the team title.
Saddoris, meanwhile, shot an 82 to place 15th. He helped the No. 6 Jaguars to a runner-up finish.
Here is some inside info on the duo:
How did you feel about your round at the conference meet?
Saddoris: I wasn't very happy with the way I played. There was no driving range at Highland Park and the weather was also a bit cool so I knew I would have to try and prepare the best I could. I started off poorly; I was never able to really get anything going after that. My ball striking was not great that day. That seemed to be the theme for most of our team. Despite a second-place finish, we feel like we should have played a lot better.
Taylor: Going into the meet, I had high expectations due to the recent success I've had on that course. I started off fairly steady by making five consecutive pars to start my round. Then, I reached the eighth hole where I proceeded to make a 7 and then I followed it up with a bogey on the ninth hole. I tried to forget about the previous two holes as I started the back nine, and I played the next three holes 1-under-par. Unfortunately, I hit another errant tee shot on the 13th hole which led to a double bogey, putting me back to 5-over. At that point, I decided I was going to play the rest of my round more aggressively to put myself in better positions to make birdies. I did just that on the par-5 15th by reaching the green in two and giving myself a good look at eagle and ultimately a tap-in birdie. My aggressive play, however, did not benefit me for much longer. I bogeyed two of the next three holes putting me at 6-over which is where I would finish my round. Even though it went down as my second worst score of the year, I was able to learn from my mistakes and take away a couple of positives going into the last week of the season.
How were the conditions? Was it a little chilly up there?
Saddoris: The weather was a bit chilly so I knew I would have to be prepared for that. It's always different playing in the cooler weather because the ball won't travel as far. I feel like in cold weather you can beat out some of the guys mentally by fighting through the weather.
Taylor: When I first showed up it was pretty chilly. I was wrapped up in about five layers at first, but throughout my warm-up, I slowly began to take off some layers. By the time I reached the first tee, I was down to just a long-sleeve undershirt and my polo. Once we got through a couple of holes it started to heat up and it ended up being pretty decent golfing weather.
You both had a triple bogey–Jonathan on the No. 2 hole and Dylan on No. 8. What happened on that hole?
Saddoris: I had my triple on the second hole which contributed to my poor start. After that I really couldn't get those shots back. I pulled my tee shot and had to re-tee. It's always tough making a triple.
Taylor: The eighth hole is a super short par-4, but it has out of bounds on the right and trees on the left. I elected to play conservatively by hitting 4-iron off the tee and hopefully just putting a ball somewhere in the fairway. Unfortunately, I pushed the shot a little too much and it found the out of bounds on the right-hand side. I had to re-tee and play my third shot from the tee box. This time, I was able to put a ball in play and give myself a chance to save bogey. I hit a pretty poor wedge shot into the green which made me a little upset. Regrettably, I let my emotions get the best of me by proceeding to three-putt for a triple bogey. This is a hole that I am going to learn from by remembering to not let one bad shot dictate how I play out the rest of the hole and the rest of my round.
What did you think of your team's performance?
Saddoris: Besides Jack (Winkel), nobody on our team was too happy with how we played. We were hoping to compete with Ankeny, but we really just barely got second. Some tournaments we just don't play well. But I know our team didn't let any shots get to them, and still tried to play the best we could.
Taylor: We ended up shooting 292 as a team which is a pretty good score on any course. Hunter (Johnson) and Corbin (Walker) stepped up and carried the team by shooting 67 and 68, respectively. Any time you have your four scores in the top eight individually you are setting your team up for success, especially in the conference meet. I was also proud of Karson (Wehde) for placing 14th and medaling in his first-ever conference meet. Last year we did not play well as a team at our conference meet, so we definitely had more motivation to win it this year.
Dylan, did you expect your team to be undefeated at this point?
Taylor: We returned five varsity starters from last year, so I knew our team was going to be tough to beat this season. One thing that has surprised me has been some of our dominating wins this year. Most of the time throughout my high school career invitationals are usually decided by just a couple of strokes. This year in invitationals we've had wins by 12, 15, 16 and 17 strokes capped off by a 20-stroke victory at conference. Our goal coming into the season was to go undefeated, and so far we are doing a pretty good job.
Jonathan, how surprised are you by Ankeny's success? Did you think they would be this good this season?
Saddoris: I knew Ankeny was going to have some great talent coming into this season. I think their undefeated record so far is a great example of that talent. I have played with some of them throughout high school, and I know they are all passionate about the game. I'm impressed to see where they are at in this point of the season.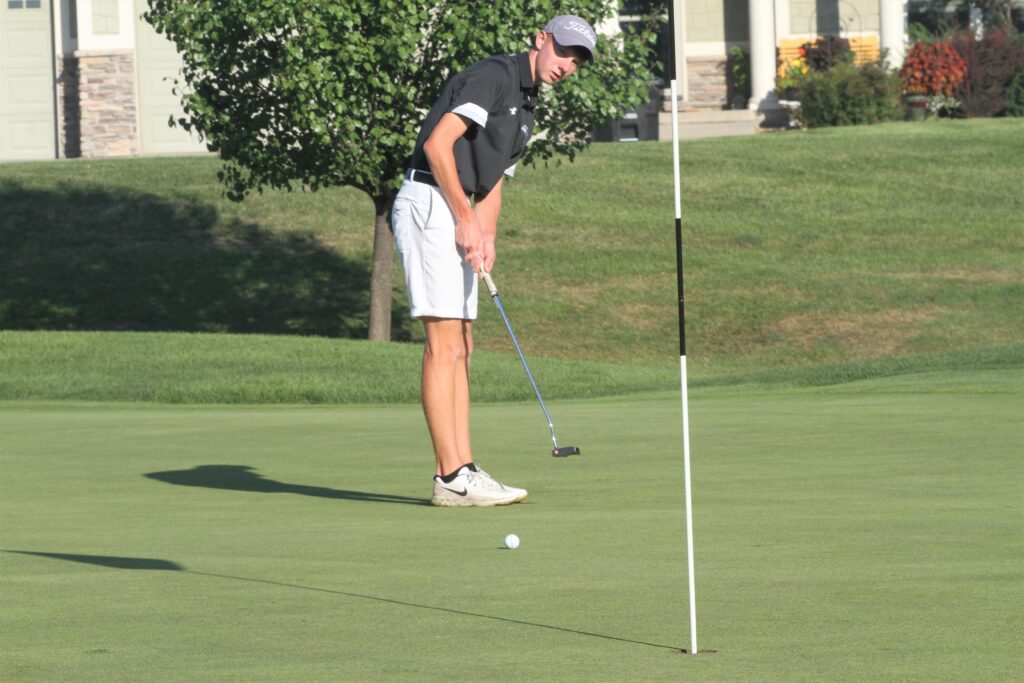 What has been the highlight of your season thus far?
Saddoris: So far the highlight of our season was winning our home invitational. It was nice for everyone to play well against a bunch of teams at a course we were comfortable with.
Taylor: I would have to say the highlight of my season was our team winning the Fort Dodge Invitational by 17 strokes. Up until that part of the season, we had only played duals. It was our biggest challenge yet because in the last couple of years we didn't play well there. There were also a couple of really good teams in that invite that we hadn't played this year. Once we finally put together a good team score there and came out on top, we knew that we could beat anyone anywhere. That meet gave us a ton of confidence going into the rest of the invitationals knowing that we had the talent to dominate.
Dylan, your team has been assigned to the district meet at Willow Creek. What did you think of your district draw, and what will be the key to having success on that course?
Taylor: I think we got a pretty good draw this year. I prefer to have districts in the Des Moines area because we can sleep in our own beds the night before and solely focus on golf and not traveling. Willow Creek is a fairly simple course; all of us can stay aggressive and continue to play like we have the whole season. Even though it's the district meet, our goal remains the same. We want to go out and dominate and continue our undefeated season.
Jonathan, your team will play in the district meet at Whispering Creek in Sioux City. What did you think of your draw, and do you like your team's chances to qualify for state?
Saddoris: I like the chances we have to go to state. I'm ready to go back to Whispering Creek; I really like the course. I think we got a good district draw.
Dylan, your team came up just short of qualifying for state a year ago. How much have you and your teammates been motivated by that in the last 12 months?
Taylor: Last year when we failed to qualify for the state tournament, it showed us that we would have to get a lot better in the offseason if we wanted to qualify this year. We were motivated more than ever to get to work and improve both individually and as a team. I think that motivation has shown this year because ever since that district meet last year we haven't lost.
Jonathan, your team is trying to reach state for the second straight year through a district meet at Whispering Creek. Do you think you will benefit from the experience of playing in last year's meet?
Saddoris: Playing the same course last year for districts will definitely be an advantage for me. I already feel comfortable with Whispering Creek. I hope we can find an even better result this year.
The state meet is slated for Friday and Saturday at Des Moines Golf and Country Club. Do you know that course very well, and what it will take to be successful there if your team can qualify?
Saddoris: I think DMGCC is a really nice course. I'm excited to have an opportunity to play there. I got a chance to play a practice round on the course, and I'm glad I was able to. The course really tests your whole game. There are some tight fairways, doglegs and tricky greens. The key at DMGCC, if we can make it, will be having an all-around strong game.
Taylor: I've played two practice rounds at Des Moines Golf so far. The first time I played there I was able to play with a member. He helped me a lot by showing me around the course and explaining to me how to play each and every hole. That definitely gave me a lot of confidence for my second practice round there just by knowing where my lines were for every tee shot. In order for our team to be successful, we need to not only play the course but also play the conditions. The weather in mid-October can be a challenge sometimes. If our team wants to be successful, we have to have a plan of attack for each hole based on the conditions. I think our team has as much talent as anyone in the state, and if we keep playing like we have all season we'll put ourselves in a position to win a state title.
Plans for next year? Are you planning to play golf somewhere?
Saddoris: I would like to play golf somewhere in college. I haven't yet made any decision on where I want to go.
Taylor: I'll be headed to Iowa State University in the spring and just be focusing on academics. Competitive golf just wasn't something I was ever overly passionate about, but I'm excited to finish my career with my teammates and hopefully bring home a state championship.
The Masters tournament will be held on Nov. 12-15 after being postponed in April due to COVID-19. How strange will it be for you to watch the Masters in November?
Saddoris: For me, the Masters is one of the best tournaments to watch. I think it will be kind of weird watching it in November. Almost opposite of when it's usually played in April. It will for sure be exciting to be watching a major that late in the year.
Taylor: It will definitely be weird watching the Masters be played in November. I'm curious to see what type of condition Augusta National will be in during the tournament. Another thing that will be strange is watching the tournament without any fans. The fans are such a major factor during a big tournament like the Masters, and they create an atmosphere that no other golf tournament can provide. Nevertheless, it will be fun to watch this year and see who will take home the green jacket.