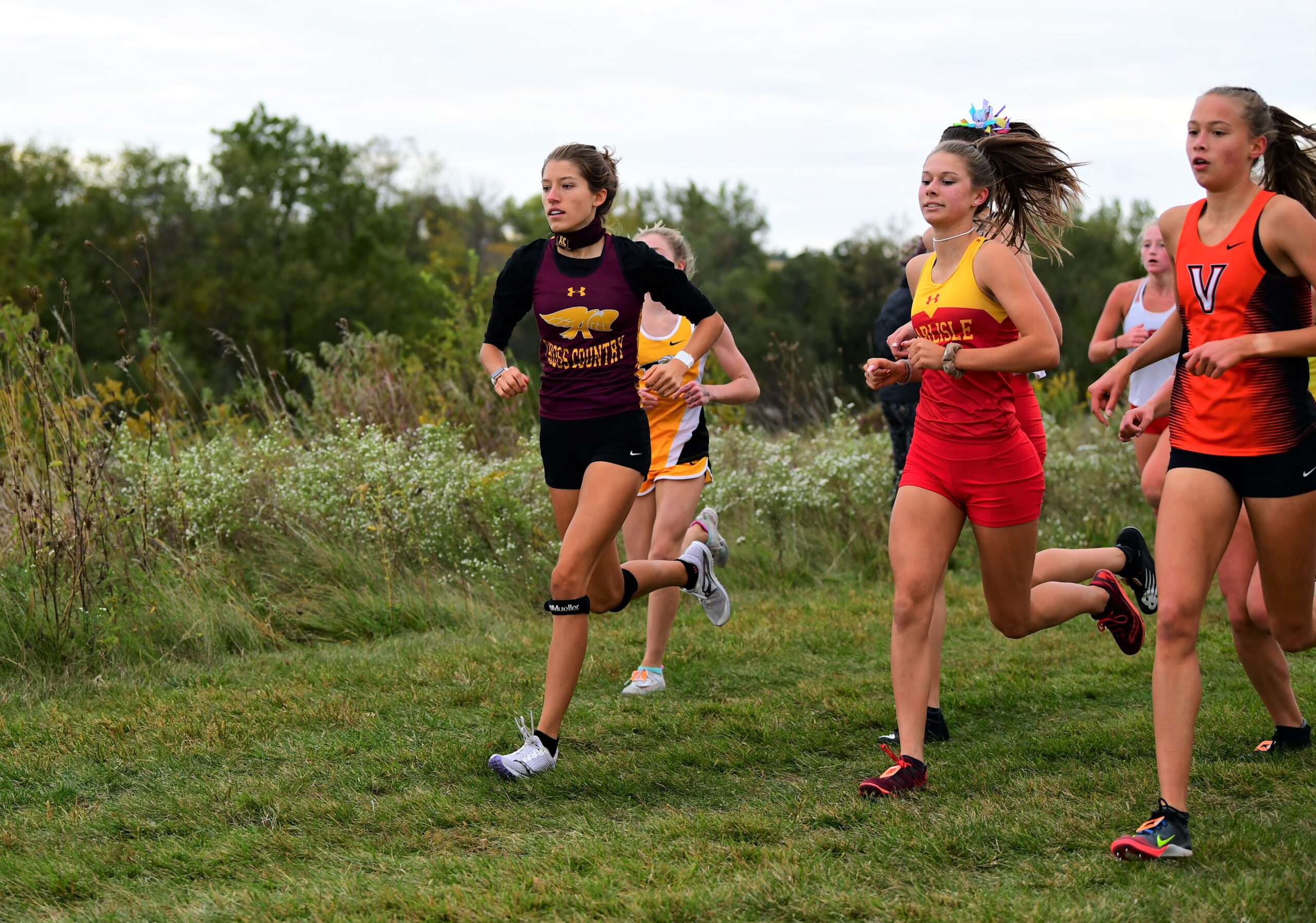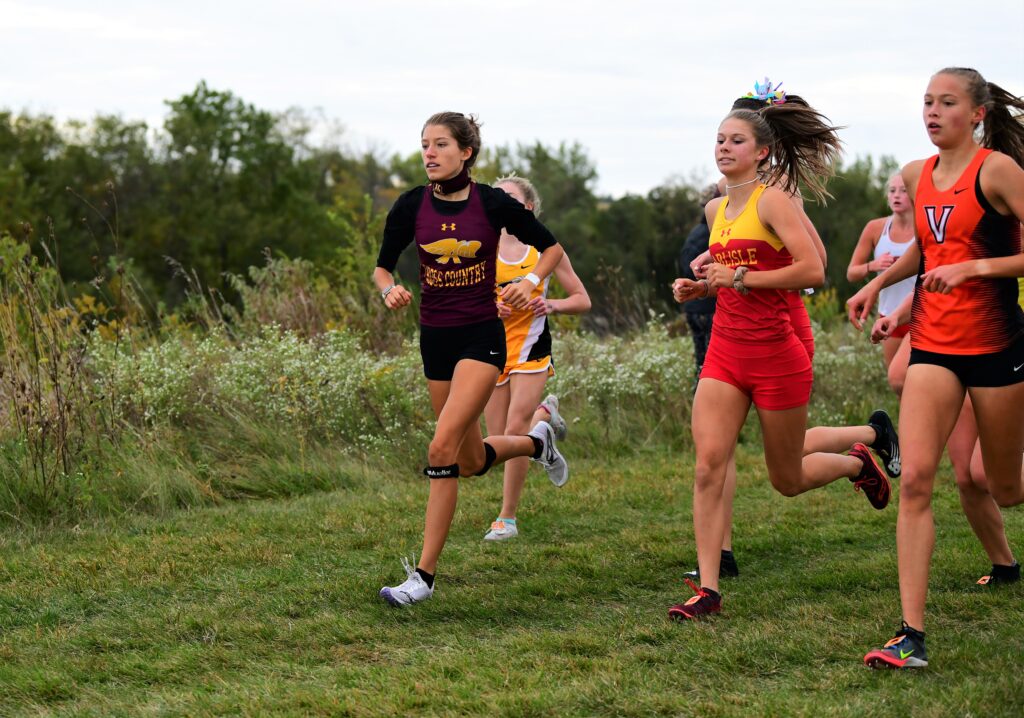 Thursday was a good night for Lauren McMahon and the Ankeny girls' cross country team.
The Ankeny boys' squad, and both Ankeny Centennial teams, also had some good performances at the Fort Dodge Invitational. The meet consisted of two separate pods so Ankeny's crosstown rivals did not race against each other.
The top-ranked McMahon avenged her only loss of the season by winning the B Division race in 18:31. She was battling for the lead late in the race when Ainsley Erzen of Carlisle, who had defeated McMahon at the Southeast Polk Invitational a week ago, fell after a mishap between the two runners.
"Today it is important to look beyond just the final results of the meet," said McMahon, who led the Hawkettes to a third-place finish. "Around the last 400 meters, Ainsley and I were running close together and our feet got tangled up. She fell and I ended up keeping my balance but slowing down for 2 or 3 seconds. The race would have been neck and neck at the final stretch if it wasn't for that, and I know we both would have been competing for first place."
The Ankeny boys' team captured the B Division title with 62 points. The Hawks, who finished 10 points ahead of Southeast Polk, won their first crown since claiming the Centennial Invitational title in 2018.
"The guys showed up and did what they needed to tonight," said Ankeny boys' coach Jon Lindaman. "We had to beat (15th-ranked) Valley and Southeast Polk to earn a spot in the rankings, and we were able to accomplish that. This race should help our district placement significantly.
"We would have loved to race some teams in the other division, but we feel great coming away from Fort Dodge with a team victory in our race. This is the time of year when our guys run their best races," he added.
The No. 11 Centennial boys' team placed fourth in the loaded A Division with 75 points. No. 1 Dowling Catholic won the meet with 33 points.
Centennial boys' coach Chad Fickbohm was in Marshalltown with the junior varsity team, but his assistants filled in for him.
"The coaches told me that the back-end guys proved themselves tonight," Fickbohm said. "When Kade (Christensen) was off, they stepped up and covered for him."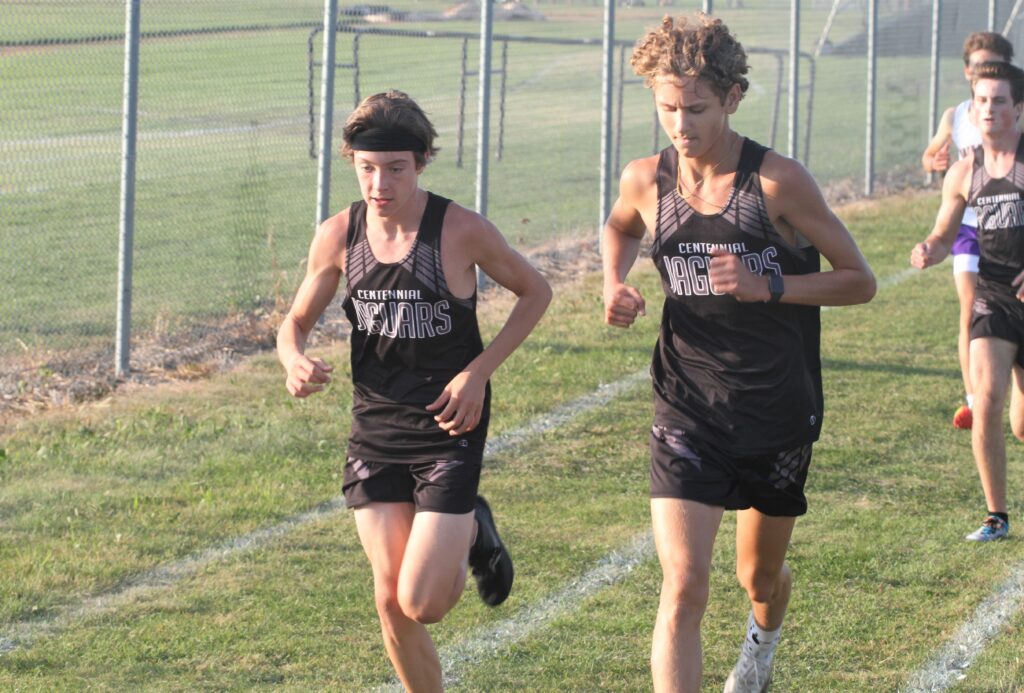 The No. 8 Centennial girls' squad took second in the A Division with 73 points, edging No. 4 Waukee by eight points. No. 1 Johnston easily won the title with 26 points.
"Our word of the week this week was 'team' and for the first time all season we had what we believed was our full varsity team available to race in the same meet," said Centennial girls' coach Eric Cogdill. "Through a great team effort, we had one of our best performances of the season. My biggest takeaway was many of the girls found another gear late in the race. Coming into the final turn, we trailed Waukee by several points but key passes by almost every squad member pushed us past them. Another takeaway is that we are just starting an upward trajectory."
Johnston's Aleah Tenpas won the race in 19:13. Her teammate, Olivia Verde, was second in 19:28.
Rondi Quass led the Jaguars with a third-place finish. She was clocked in 19:30.
"Rondi faced her biggest test of the season, racing against six girls ranked in the top 16 of the state and she beat four of them," Cogdill said.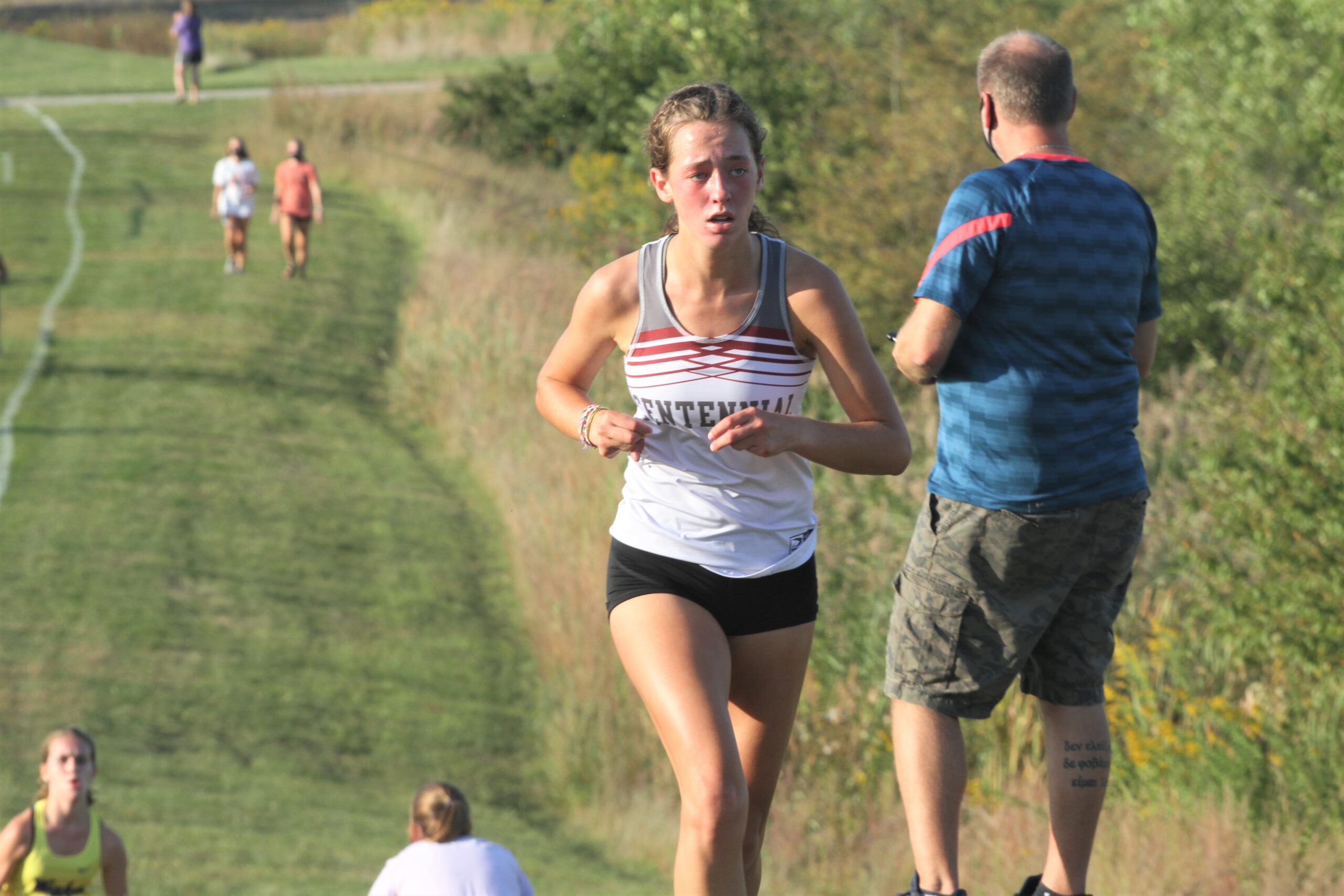 Centennial's Katie Jensen took 13th in 20:14. Alayna Wallace placed 15th in 20:17, Kathryn Vortherms was 18th in 20:30, Kendall Jorgensen took 26th in 21:06, Camden Hershberger was 33rd in 21:28, and Anja Peck finished 34th in 21:29.
"Katie, Alayna and Kathryn were terrific in the middle for us," Cogdill said. "I also really thought Kendall's performance in the five spot was huge. I believe we have room for improvement in several areas. Alayna and Kathryn hadn't finished a race since mid-September and raced conservatively, so they will take another step forward next week with this race under their belt and then our freshmen had an atypical day in the wind and heat."
No. 3 Valley won the B Division with 40 points. No. 5 Southeast Polk was second with 76, followed by No. 15 Ankeny with 86.
"Tonight our girls raced tough," said Ankeny girls' coach Eric Klingensmith. "Each of our top five ladies knew this was going to be a fast race and they'd have to dig deep, not letting up once. Lauren and Erzen took off together with about 600 meters left, leading Lauren to the victory."
McMahon finished 18 seconds ahead of Valley's Lauren Schulze. Erzen faded to a third-place finish in 19:09.
"My strategy going into the race was to stay up with (Erzen) and the top pack, and whenever someone made a move, I would go with them," McMahon said. "I was hoping for a really good competition between Ainsley and me at the end of the race, but due to the event that happened we did not get that opportunity."
Ankeny's Marika Kisgen placed 15th in 20:24. Talia Dosh took 18th in 20:31, Paige Beason was 27th in 21:00, Jenna Pitz placed 29th in 21:14, Megan Bosch was 35th in 21:48, and Alex Gloviak finished 45th in 22:39.
"The high winds were brutal at times, yet we positioned ourselves well enough to beat several teams ranked above us," Klingensmith said. "In the combined race results, we beat Dowling and Indianola and tied with Waukee, the No. 4 team in our class. While the tiebreaker went to them, our girls showed just how gritty and resilient they are. Marika, Talia and Paige all stepped up tonight to place themselves in perfect spots to help us with our overall team placing. It was a great night to be a Hawkette!"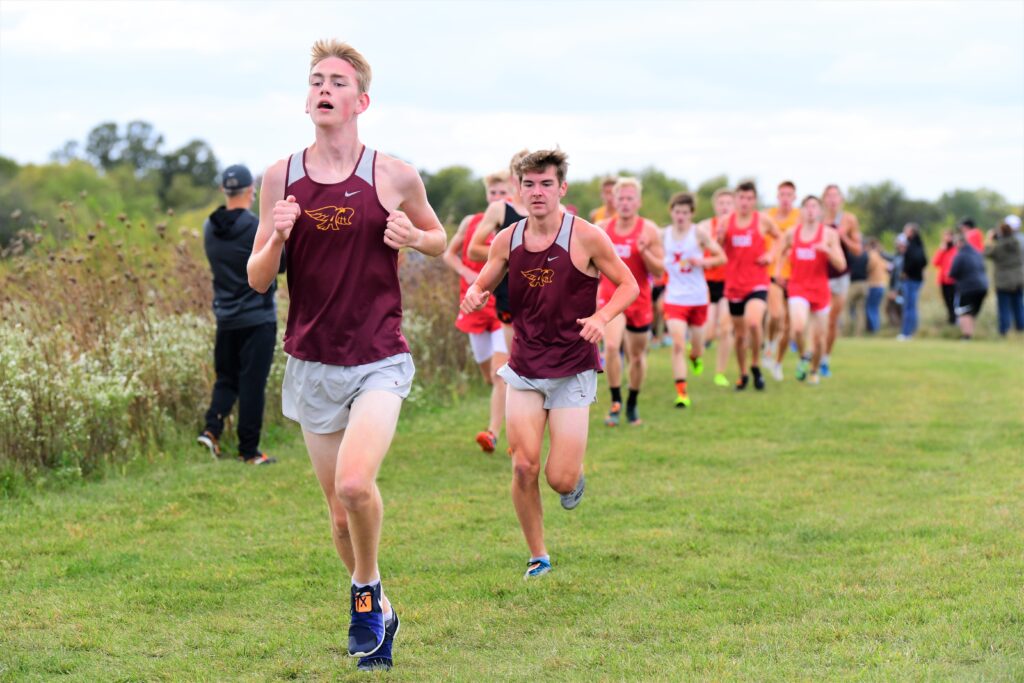 Cael Cox led the Ankeny boys' team to the B Division title. He placed fourth in 16:56.
Andrew Poock took ninth for the Hawks in 17:28. Christian Rathje was 12th in 17:33, Jake Bosch placed 15th in 17:42, London Schuchart took 22nd in 17:51, Levi Hill was 25th in 17:53, and Paul Erredge finished 32nd in 17:59.
"The team was very coachable, prepared well all week, and executed their race plans just how they needed to," Lindaman said. "They were patient the first kilometer, and made the moves they needed to in the second and third kilometers. We are excited for what the next three weeks have in store for us."
Aidan Booton of Council Bluffs Jefferson won the B race in 16:47. Quinton Orr of Humboldt captured the A race in 15:48.
Gabriel Vicker was Centennial's top finisher. He placed seventh in 16:38.
Connor Cunningham took 12th for the Jaguars in 16:55. Karsten Peters was 16th in 17:03, Nate Jones placed 19th in 17:10, Tyler Schermerhorn was 27th in 17:27, Christensen placed 39th in 17:43, and Cooper Majors finished 40th in 17:44.
"It was pretty windy so to see as many PRs as we did is pretty encouraging to me," Fickbohm said. "I think as we peak at the end of the season, we're going to be able to beat some really good programs."
Both Ankeny and Centennial will compete in the CIML Iowa Conference meet on Thursday at the Iowa State cross country course in Ames.
"Comparing the two races from today, we should see quite the shootout next week at conference between us and Ankeny," Cogdill said. "The two teams will have a chance to sweep all but one of the top 10 spots."