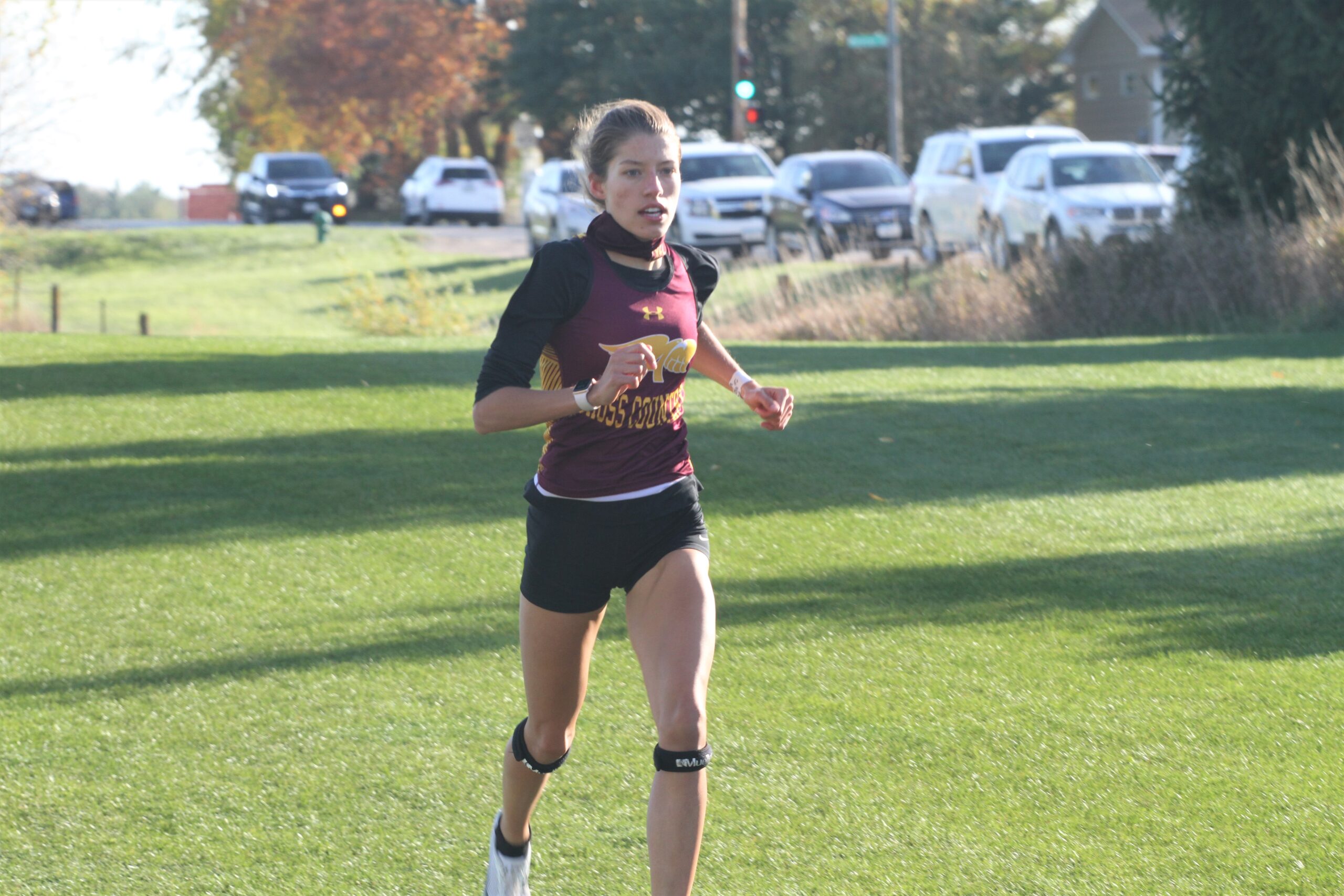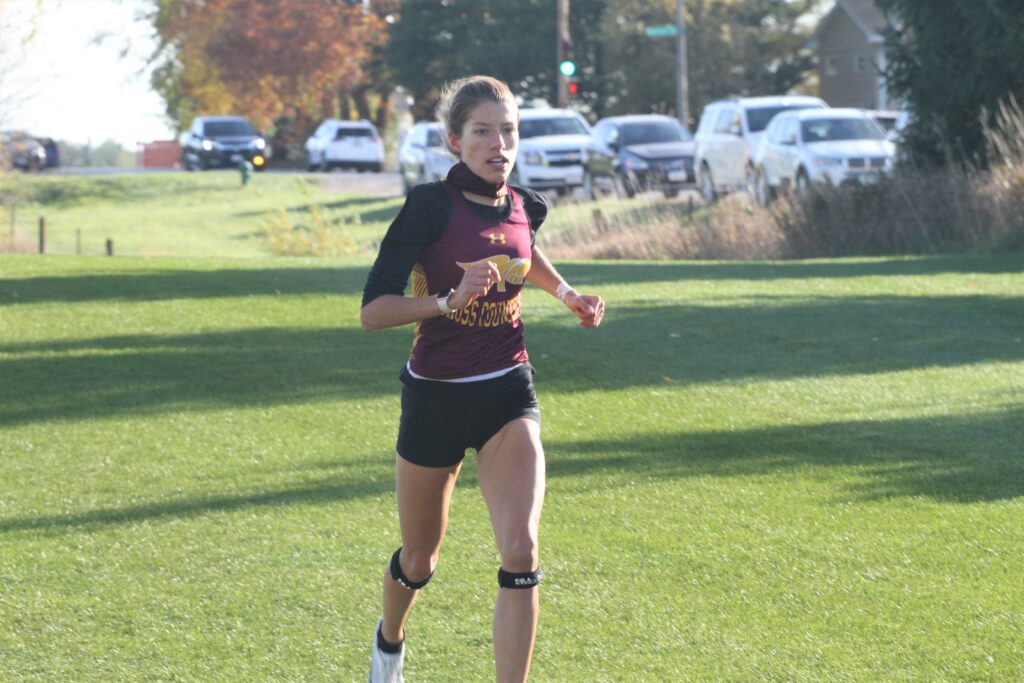 Ankeny senior Lauren McMahon raced to a conference title on Thursday.
The Ankeny Centennial girls' cross country team did as well.
The fourth-ranked Jaguars overcame McMahon's victory and a strong performance by No. 11 Ankeny to win the CIML Iowa Conference crown at the Iowa State cross country course in Ames. It was the first league title since 2016 for Centennial, which scored 28 points to finish five points ahead of the Hawkettes.
"It was a terrific night of racing from top to bottom–23 girls ran lifetime bests, including five on the varsity," said Centennial coach Eric Cogdill. "Our varsity pulled out a conference championship in what we expected to be a very close race with the Hawkettes. They certainly had a great game plan for the day and had us on the ropes. Our girls executed our race plans phenomenally as well. I have no reservations that we'll see each other again in 15 days (at the state meet)."
All five of Ankeny and Centennial's scoring runners placed among the top 11 finishers. The only non-Ankeny runner to place in the top 10 was Meghan Coulter of Ottumwa, who took fifth and was only in the race because the CIML Metro Conference meet was cancelled following the suspension of high school activities by Des Moines Public Schools.
"Our Hawkettes ran with a mission, and they nearly executed it as planned," said Ankeny coach Eric Klingensmith. "We knew Lauren would easily take the lead and finish with a great time on this flat course. Her racing strategy allowed her to PR by 17 seconds with a strong headwind."
McMahon pulled away from the field early in the 5k race and went on to post a time of 18 minutes 14 seconds. She won for the fifth time in six meets this season.
"It was an exciting race, and I'm happy with the results," said McMahon. "Especially with the strong winds, it was a little harder running by myself. I really had to focus on pacing and pushing myself at the right points, and knowing when to hold back. It was a great experience for me."
Centennial's Rondi Quass also ran by herself for much of the race. She placed second in a time of 18:52, which set a school record.
"I am definitely excited about this race," Quass said. "My strategy going into it was to stay conservative, around 6-6:10 pace, for the first mile, then the last two miles I just went for it. The wind definitely hurt going around the second and third time, but I just tried to stay focused and relaxed. Having the whole team there cheering definitely helped me push through it."
Centennial's Katie Jensen placed third in 19:26, and Alayna Wallace was fourth in 19:39. Anja Peck took ninth for the Jaguars in 19:55, and Kathryn Vortherms finished 10th in 19:57.
"The team broke the school record for fastest team time on any course," Cogdill said. "And I can't say enough great things about all our seniors, 14 of whom ran their final race for us. They went out with a bang–13 season bests and an unheard of seven seniors ran lifetime bests in their final race."
A pack of Ankeny runners finished right behind Ottumwa's Coulter and just ahead of Centennial's Peck and Vortherms. Marika Kisgen placed sixth in 19:50, Jenna Pitz was seventh in 19:52, and Talia Dosh finished eighth in 19:54.
"A lot of girls on the team got a PR as well," McMahon said. "For some of the seniors, this was their last meet so it was a great day for our team to go out and have fun."
Paige Beason added an 11th-place finish, posting a time of 20:03.
"The real racing came with our 2, 3 and 4 runners," Klingensmith said. "For the majority of the race Marika and Talia ran close together and mixed in with Centennial's 2 and 3 runners, which is what we needed to do to break up their scoring positions. Jenna came on strong late in the race. Those three along with Paige all ran well and all of them ran a new season PR tonight."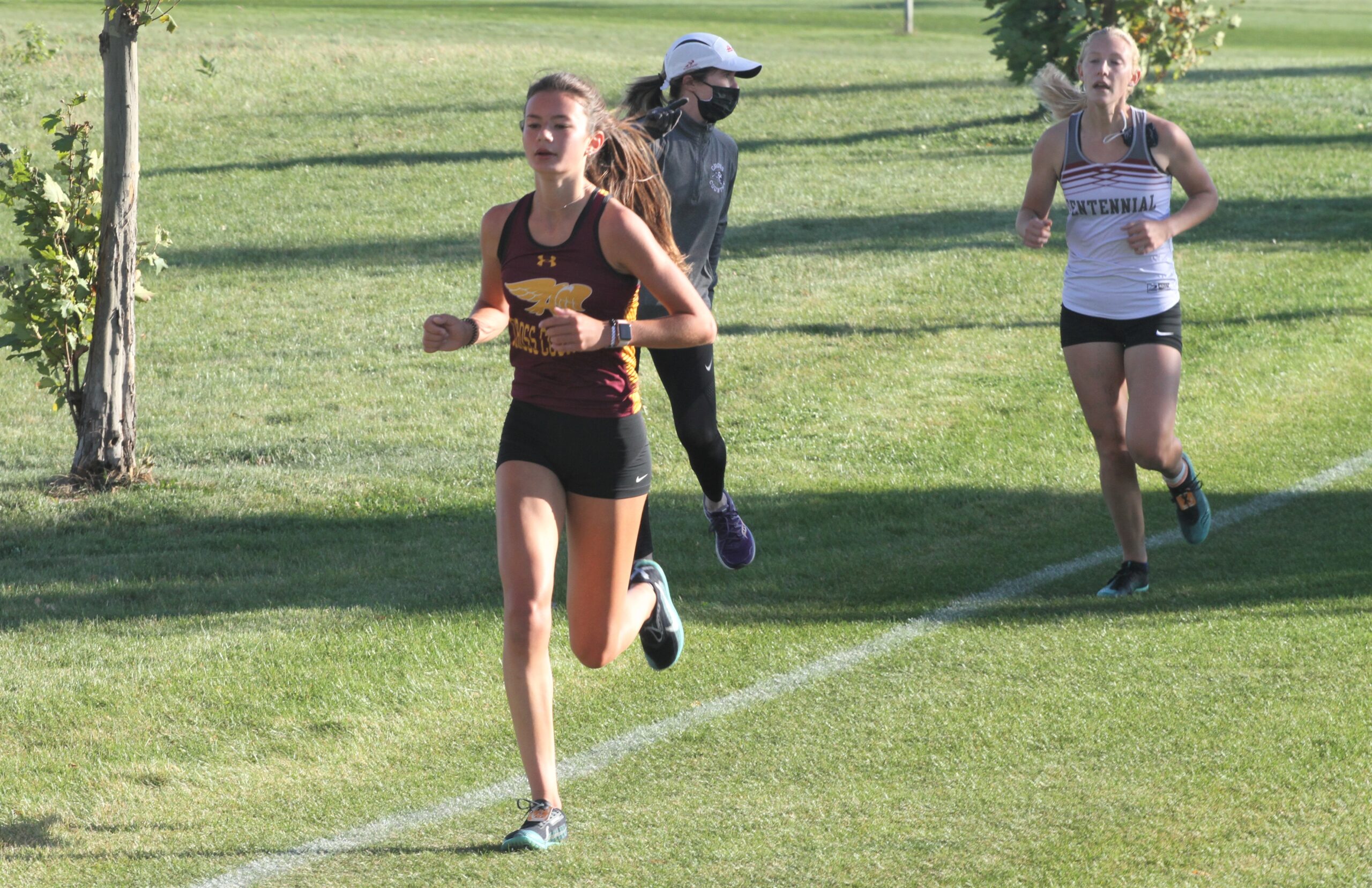 Kendall Jorgensen placed 14th for the Jaguars in 20:23. Lauren Reimer finished 15th in 20:33.
"All seven finishers earned all-conference honors," Cogdill said.
Megan Bosch took 19th for the Hawkettes in 21:03. Alex Gloviak placed 32nd in 22:41.
"While we didn't quite divide Centennial like we wanted, we still raced hard and came within five points of taking down the No. 4 team in the state," Klingensmith said. "These ladies keep running better and are ready for next Wednesday's state qualifier meet."
Ankeny will head to Marshalltown for the state qualifier meet, while Centennial will travel to Council Bluffs.