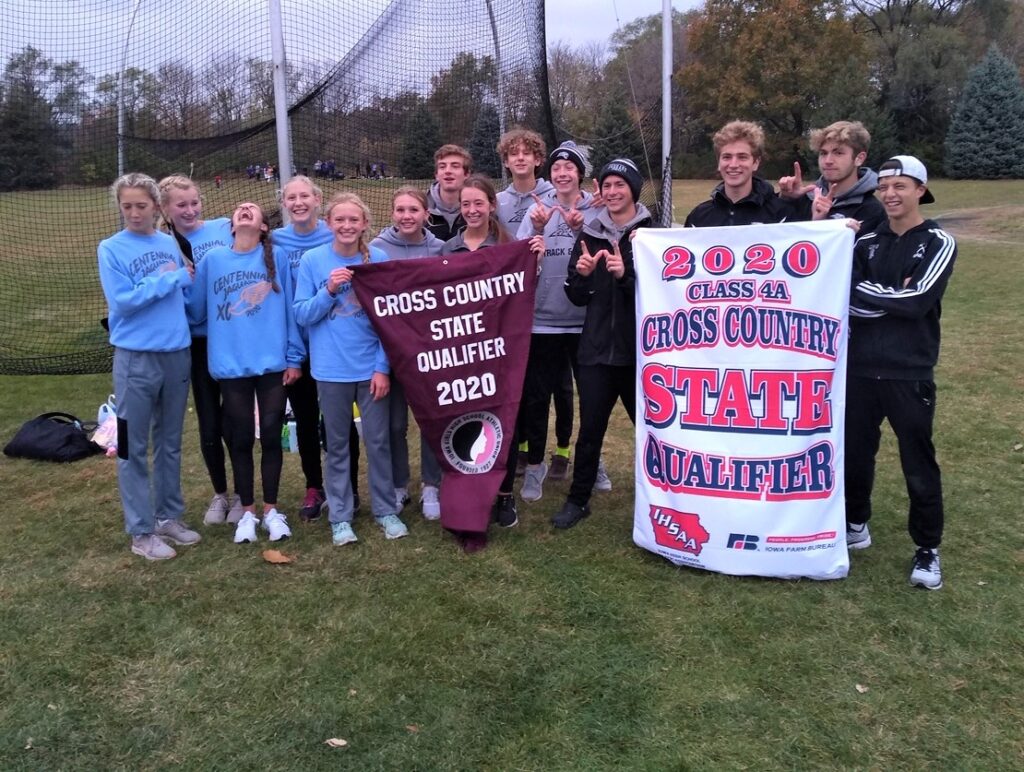 Ankeny Centennial will be well represented at next week's state cross country meet in Fort Dodge.
The Jaguars qualified for both the boys' and girls' races with strong performances in a Class 4A state qualifying meet on Wednesday at Council Bluffs. While the girls' team qualified for the seventh time in eight years, the boys' squad advanced for the first time since 2015.
"It was a great day to be a Jaguar," said Centennial girls' coach Eric Cogdill. "We are so excited for our boys' and girls' teams to compete at the state meet."
The Centennial girls' team qualified with a runner-up finish. The boys' squad advanced by placing third.
"To be honest, I wasn't sure we would even have this season," said Centennial boys' coach Chad Fickbohm. "So to have these guys work together all summer and believe in each other to reach this part of the team goal is just a tremendous testament to their dedication, and we are excited to race again next week!"
Third-ranked Johnston captured the girls' title with 33 points. No. 4 Centennial scored 57 points, defeating No. 11 Indianola by 17 points.
"We came into this meet with a message of 'I can and I will', and it wasn't so much about qualifying but more about running a strong race throughout and taming the hills at Council Bluffs," Cogdill said. "The girls' trust and execution allowed them to do exactly that. They emerge from this race well-positioned for a great performance at state in Fort Dodge."
Kaia Downs of Sioux City East won the 5k race in a time of 19 minutes. Rondi Quass was Centennial's top finisher, placing fifth in 19:31.
"I was very happy with the race tonight," Quass said. "I think I stuck to my race in a field of very talented athletes, and that helped me make a lot of passes in the second half of the race. The weather conditions were great, but what made this course hard was all of the rough footing through the woods and on gravel for parts of the race."
Kathryn Vortherms placed 10th in 20:15. She joined former Centennial standout Ashley Arends as the only girls in school history to be four-time state qualifiers in a Jaguar uniform.
"Kathryn was our runner of the meet," Cogdill said. "On the bus ride over, I encouraged her to run up with Katie (Jensen) telling her that she was going to be ready to do that in nine days, so she needed to try it today to give her confidence when it was safe to take a risk. Kathryn not only stuck with her, but she ran the course faster than she did a year ago setting her up nicely for the state meet."
Centennial's Alayna Wallace placed 12th in 20:18. Jensen took 14th in 20:27, Anja Peck was 16th in 20:51, Kendall Jorgensen placed 18th in 20:58, and Lauren Reimer finished 21st in 21:30.
"When qualifying assignments came out, our site had eight of the top 25 girls so we knew we were in a loaded site for individuals," Cogdill said. "We felt Rondi would mix it up with that crew; and she did by taking fifth. Then we talked about our pack finishing right outside of those top eight. Our three seniors ended up taking 10th, 12th and 14th to close out our individual qualifiers. Anja, Kendall and Lauren completed our strong pack. Outside of Johnston and Valley, who are both top-three teams, our No. 6 and 7 finishers were the highest placing in the state."
No. 3 Sioux City North won the boys' crown with 26 points. No. 6 Johnston took second with 70 points, followed by No. 10 Centennial with 84.
"We're happy," Fickbohm said. "We ran well and feel like we are coming along at the right time and building confidence going into state next week."
Jaysen Bouwers of Sioux City North won the race in a time of 16:09. He finished 16 seconds ahead of teammate Will Lohr.
Gabriel Vicker led the way for Centennial, placing 12th in 17:05. Connor Cunningham took 13th in 17:08, Karsten Peters was 17th in 17:22, Nate Jones placed 19th in 17:26, and Kade Christensen finished 23rd in 17:52.
"I'm really happy with how the team performed–having four people in the top 20 was amazing," Cunningham said. "Gabriel and Kade did not have the best races, but Nate, Karsten and I had solid races to make up for it, which is what makes this team so special. I think if we all bring our 'A' game to state we can really make some noise."
Tyler Schermerhorn placed 24th for the Jaguars in 18:01. Cooper Majors finished 26th in 18:07.
"I was very confident that the team could (qualify)," Cunningham said. "However, that did not mean our team would let up in any sort of way during the meet. I told the team anything can happen on a certain day; teams can get hot, or find a spark they didn't know they had. So, we treated it like any other meet: we went in there, ran our absolute hardest, took care of business, and now we're beginning to look on to the next meet, which is the biggest meet ever for most of us."
The state meet will be held on Oct. 30 at Lakeside Golf Course. The Centennial girls' team will be ready to go, too.
"I am excited to run with my entire team at state because we've all worked so hard to get to where we are now," Quass said.