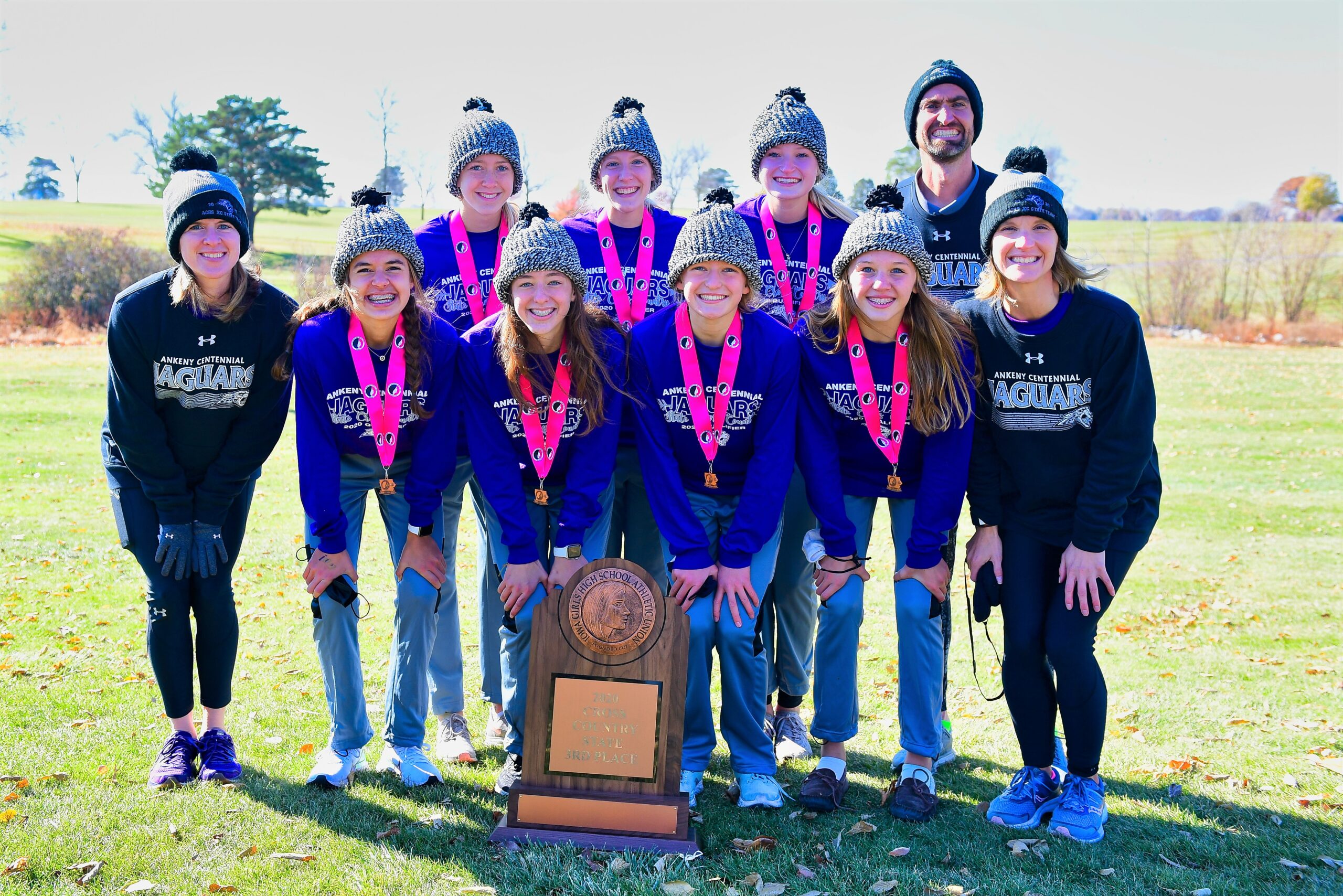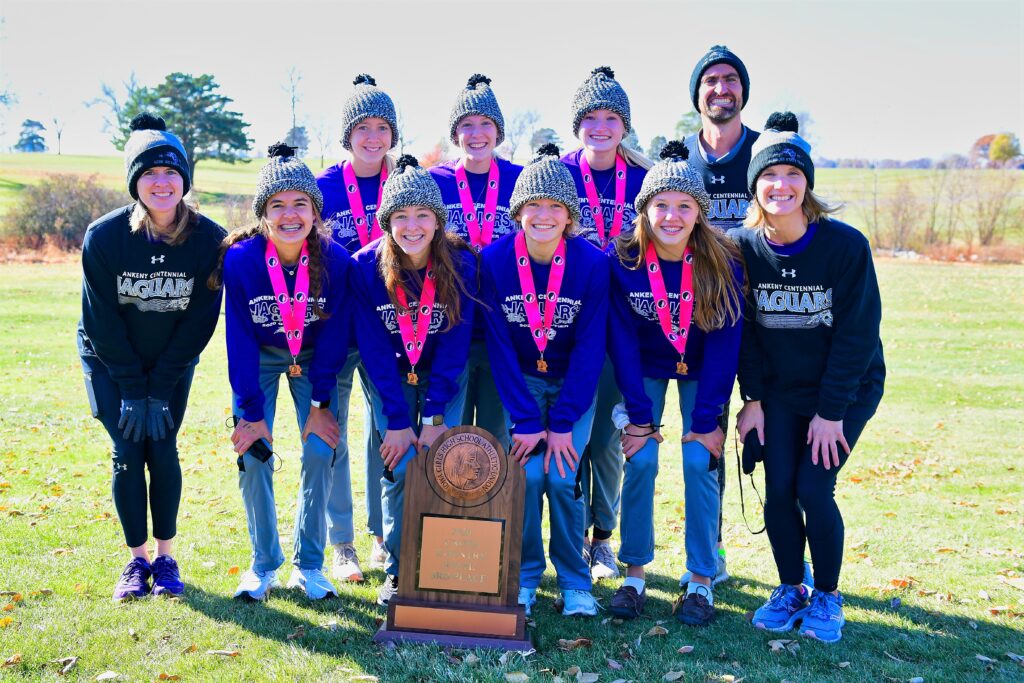 As she crossed the finish line at the girls' Class 4A state cross country meet on Friday, Ankeny Centennial sophomore Rondi Quass knew that she had earned a spot on the awards podium.
Quass later discovered that she would get to make two appearances on the clubhouse deck at Lakeside Golf Course in Fort Dodge.
She not only placed 14th as an individual, but she led the seventh-ranked Jaguars to a third-place finish in the 15-team field. It's the highest finish in school history.
"I have no clue (where we finished), but I know we did well," Quass said before the team results were announced. "Every girl had a phenomenal race today."
Second-ranked Johnston captured the team title with 64 points, claiming its fourth crown in five years. No. 1 Valley finished second with 87.
Centennial scored 141 points to defeat No. 3 Linn-Mar (Marion) by 17 points for the third-place trophy.
"We definitely knew that we could do it," said Centennial's Katie Jensen. "We didn't really have any expectations. We just kind of wanted to go out and run our races and just have a really good time, and the outcome was just amazing."
When the results were revealed, Centennial coach Eric Cogdill jumped for joy at his team's accomplishment. The Jaguars, whose previous best was an eighth-place finish in 2016, failed to qualify for state last year for the only time in school history.
"If we qualify last year, then we don't do this," Cogdill said. "Our seniors came back very determined this year to have a different ending."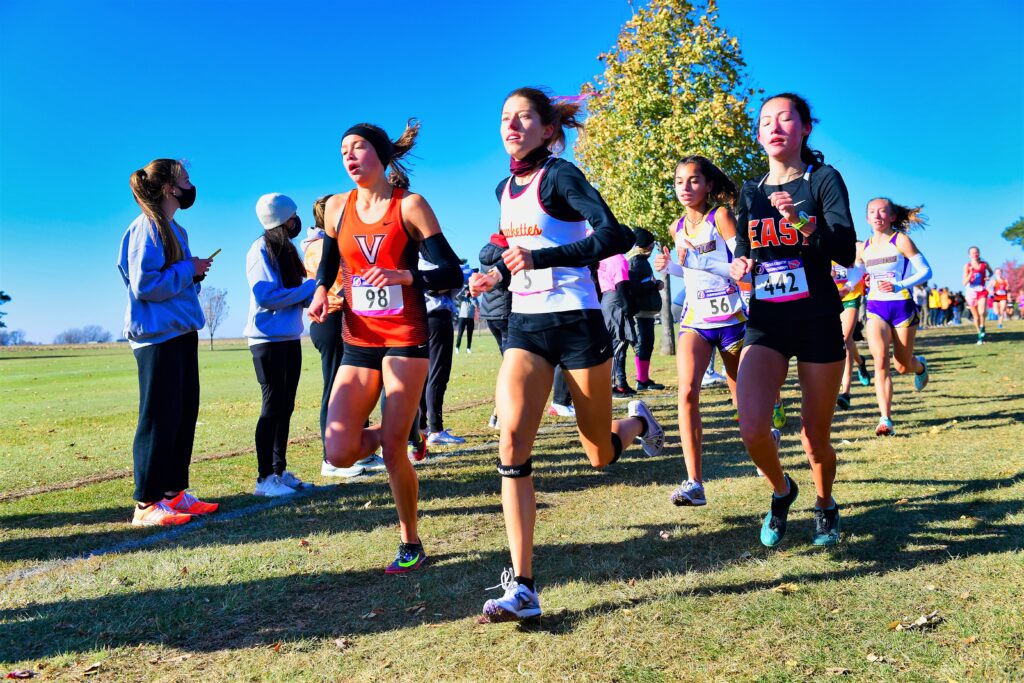 Quass was joined on the awards podium by Ankeny senior Lauren McMahon, who capped off an outstanding season with a sixth-place finish. She posted a time of 18:28 in the 5k race.
The top-ranked McMahon was one of the favorites to win the individual title, but freshman Keelee Leitzen of Dubuque Hempstead pulled away late in the race to capture the crown in 18:08. Valley's Lauren Schulze was the runner-up in 18:18.
"It was a really fast race and there were so many really good girls," said McMahon, who earned the highest finish by an Ankeny girl since Jill Nelson placed fourth in 1993. "We all gave it all that we had. It was a great race."
Ankeny finished in 12th place with 243 points. The Hawkettes were making their first state-meet appearance since 2016.
"We are so proud of our Hawkettes," said Ankeny coach Eric Klingensmith. "While 12th is not where we wanted to place, we ran the best race we could today. There were many nerves and pre-race jitters, but we reminded these ladies that the hard part was just getting to this point in the season. For us, the state meet was icing on top of an already sweet cake."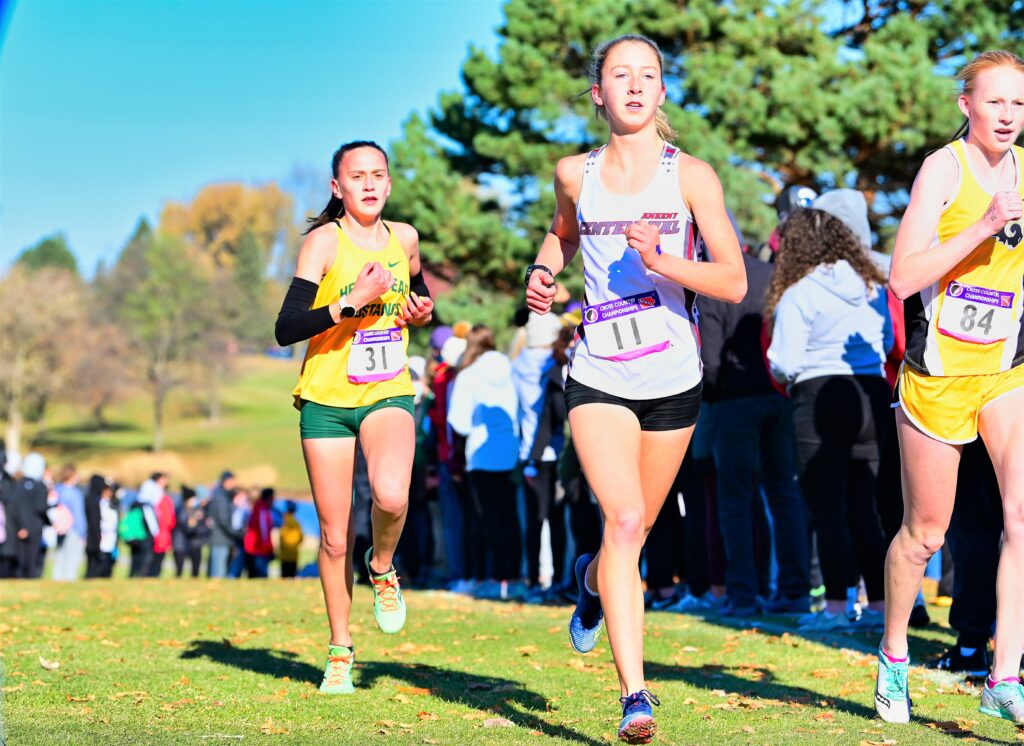 Quass used a strong finish to solidify her spot as an individual medalist. She was clocked in 18:54, nearly matching her own school record.
"I felt amazing about it," Quass said. "I knew it would be close getting into the top 15, so that was my goal coming into the race. But when I came around the turn for the last 300 meters, I just had to go."
Two other Jaguars earned top-30 finishes. Jensen placed 22nd in 19:28, while fellow senior Alayna Wallace took 27th in 19:33.
"I was right outside the top 30 (rankings) all season, so I knew it was something I could definitely do," Jensen said. "(But) I think I surprised myself, too."
Centennial's Anja Peck placed 42nd in 19:49. Kathryn Vortherms, competing at state for the fourth time, finished 58th in 20:03.
"Honestly, we just wanted to do our thing," said Vortherms. "We all had individual goals, and as a team we wanted to get back the ranking we had before state qualifying because we dropped (from fourth to seventh)–and we don't know why. We wanted to prove that that was our spot."
Lauren Reimer placed 82nd for the Jaguars in 20:30. Kendall Jorgensen finished 84th in 20:38.
"We talked about how we could do this and the main idea was you just come in and you run your race and you just try to match what you've done all season long. You don't have to do anything magical," Cogdill said. "We had real good game plans where we had girls where I wanted them at the half-mile, where I wanted them at a mile and a half, and then just keep moving if you can, and if you can't just hang on and fight. We matched our conference time. We ran a team average of 19:33.9 (on Oct. 15) and we ran 19:33.6 today, and so if you run clean you just let somebody in front of you mess up, and that's what happened (with Linn-Mar)."
After the race, the Jaguars posed for photos with their trophy under the sunny skies.
"The weather is really nice," Vortherms said. "There's no wind. It was perfect (for running)."
Ankeny got a 56th-place finish from Talia Dosh. She posted a time of 20:00.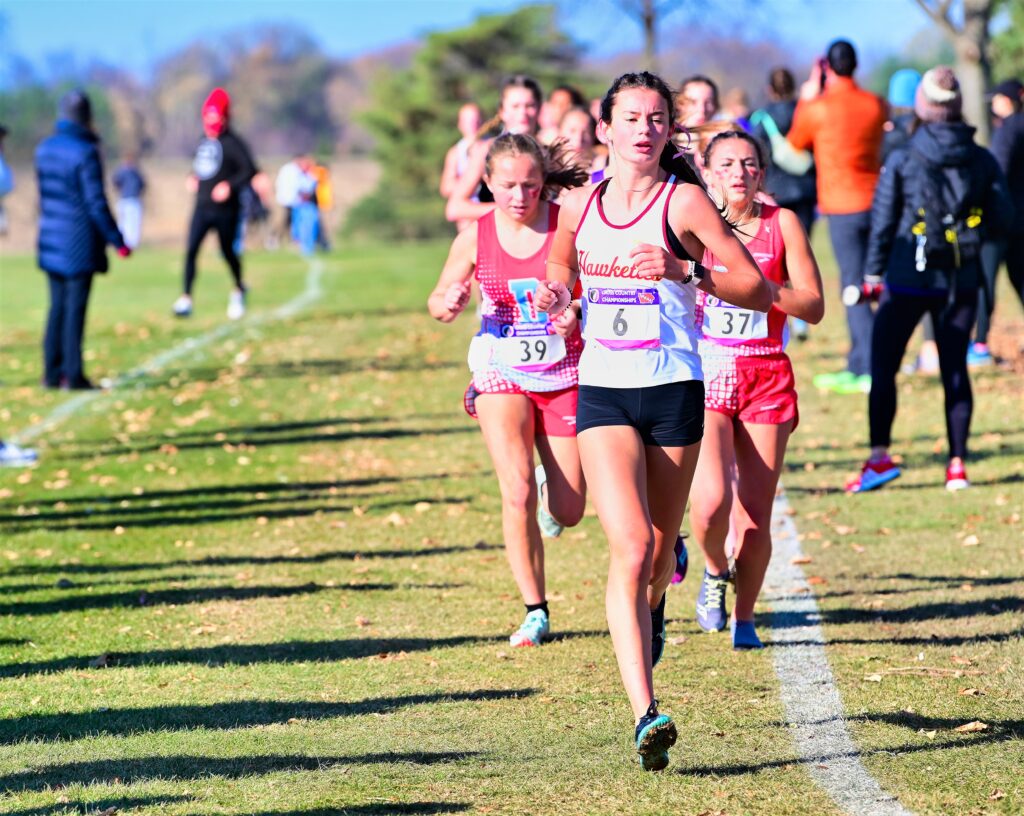 Jenna Pitz took 62nd in 20:09, and Paige Beason was 69th in 20:14.
"Talia had a fantastic race and looked strong through it entirely," Klingensmith said. "And Jenna and Paige ran tough through the finish to help keep us ahead of teams like Dowling Catholic and Urbandale. Experience will definitely be our best teacher this season, and we have high hopes for building upon it for years to come."
Elizabeth Proctor will be back next year along with Dosh, Pitz and Beason. Proctor placed 101st in 21:00.
McMahon will graduate along with Marika Kisgen and Megan Bosch. Kisgen took 111th in 21:19, while Bosch finished 116th in 21:26.