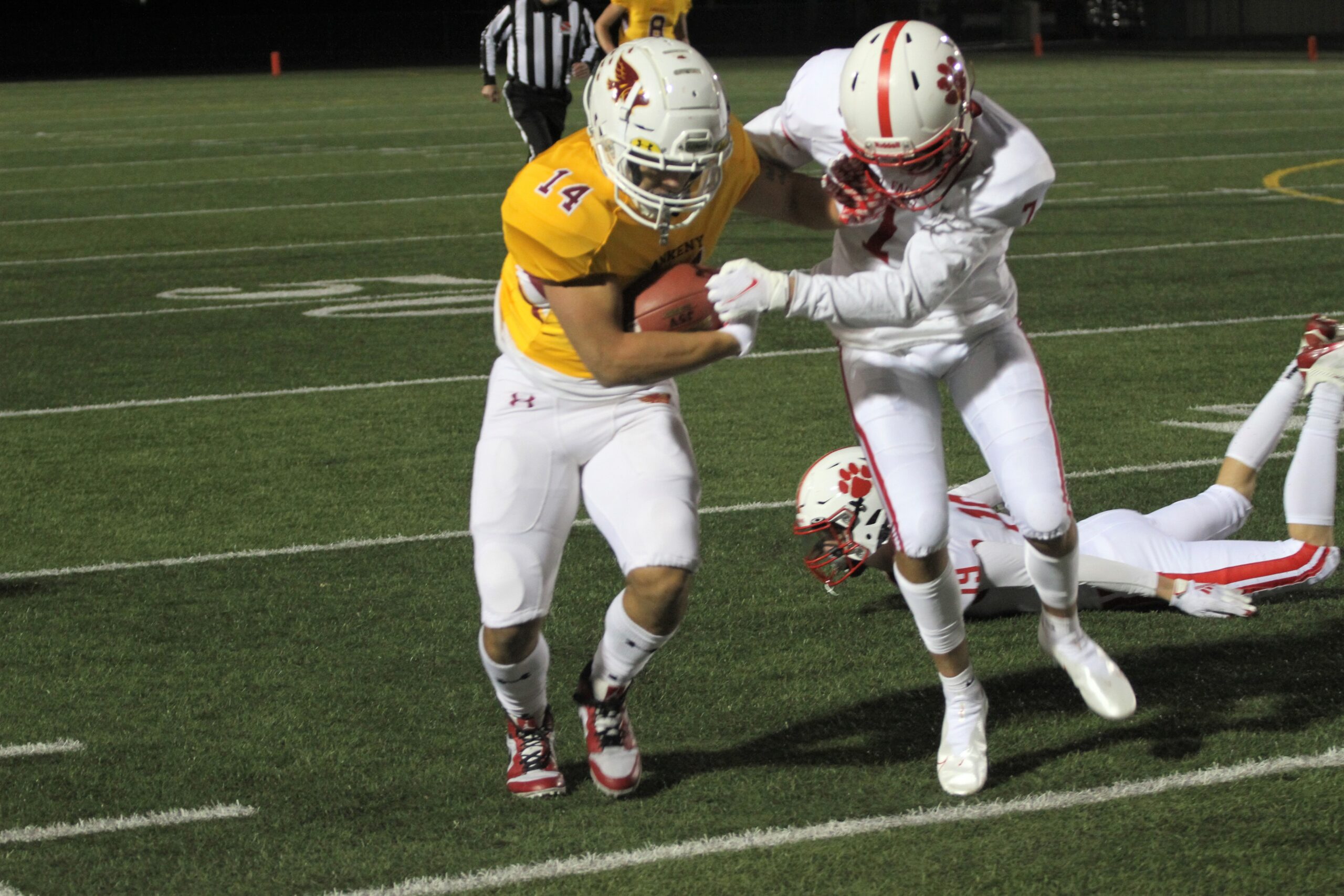 A trip to the UNI-Dome is now just one win away for the Ankeny football team.
The second-ranked Hawks advanced to the Class 4A quarterfinals for the second straight year with a 37-16 victory over visiting Cedar Falls on Friday. They scored the final 29 points of the game to erase a 16-8 deficit.
"We've been anxious these last couple of weeks," said Ankeny defensive back Caleb Rathjen. "We haven't played a tough game since probably Valley or Waukee. We're getting close now and we're playing some tough games, and it's fun. We can definitely smell (a semifinal berth)."
Ankeny (8-1) overcame four turnovers as quarterback Jase Bauer ran for two touchdowns and passed for two more. Arland Bruce IV rushed for 147 yards and scored twice after taking over for injured running back Colin Kadolph, who left the game in the first half with a high ankle sprain.
"I got my boy Colin. Hopefully, he'll be good," Bruce said. "He wanted to come back in, but I was like, 'I got this man. We need you for next week.' I think he'll be good."
The Hawks will play at No. 4 Waukee (7-2) on Friday. The Warriors get to host the game by virtue of their 21-17 win over Ankeny on Sept. 4.
"I'm just so proud of our kids," said Ankeny coach Rick Nelson. "That was a tough, physical game, and now we're going to have another one."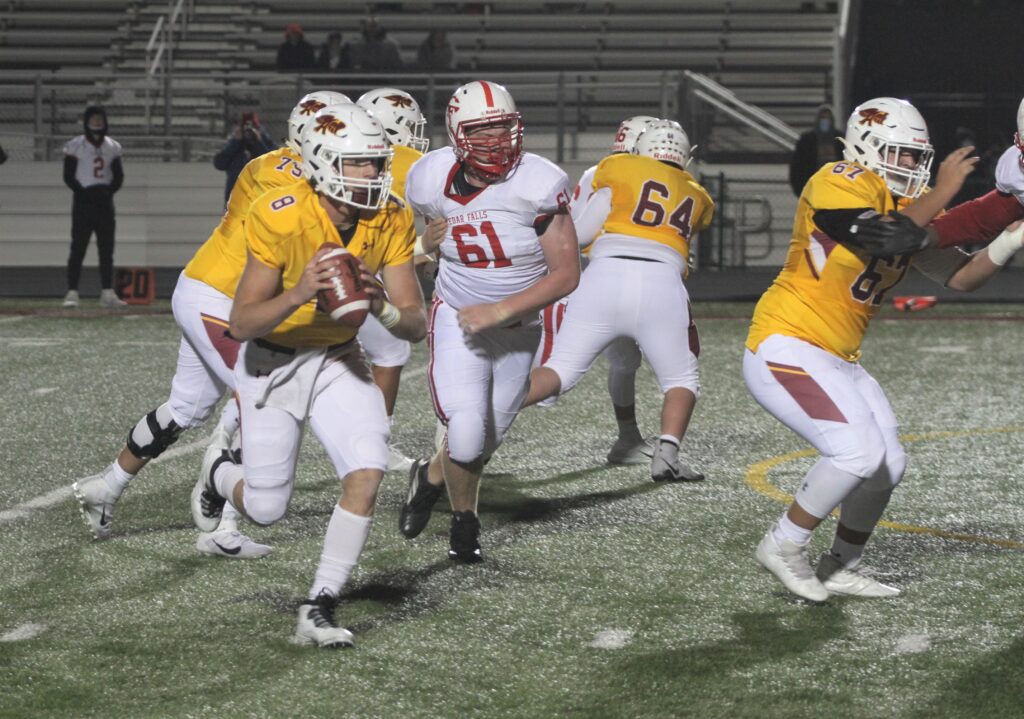 Cedar Falls (5-3) took an early 3-0 lead on a 40-yard field goal by Stratton Ferson. The Tigers recovered a fumble by Ankeny's Kade Somers on the opening kickoff to set up the kick.
The Hawks struggled on offense in the opening period. They turned the ball over on downs and were forced to punt on their first two possessions.
Ankeny's first points came when Rathjen blocked a punt out of the end zone for a safety.
"That wasn't even our pressure," Rathjen said. "We were only rushing two guys and a couple guys up the middle. That was just an effort play."
The Hawks took an 8-3 lead when Bauer scrambled and then found a wide-open Bruce for a 44-yard touchdown pass with 1 minute 20 seconds left in the first quarter. A two-point try failed.
"I think when they saw Jase scrambling they know how dangerous of a threat he is so I think they came up and left me wide open behind them," Bruce said.
Cedar Falls answered with an 8-yard touchdown pass from Hunter Jacobson to Trey Campbell with 9:47 left in the half. Campbell also caught a 25-yard pass to set up the score.
After Ankeny was forced to punt, the Tigers scored again when Jacobson fired a 19-yard strike to Caeden Janssen midway through the second quarter. The drive also featured a heavy dose of running back Ryan Ostrich, who ran for 120 yards on 30 carries.
"I was so impressed with that kid," Nelson said of Ostrich. "Man, he was good."
The Hawks responded with a 62-yard touchdown run by Bruce along the right sideline about 2 minutes later. Bauer then ran for a two-point conversion, tying the game at 16-16 at the half.
"I think we had a lot of nerves running," Bruce said. "We started off slow on offense, and the defense was keeping us in the game. I'm glad we came out and finally fired things up."
Ankeny took the lead for good on its first possession of the third quarter. Bauer threw a 52-yard pass to Brody Brecht to set up a 23-yard scoring toss to tight end Weston Fulk on third-and-goal.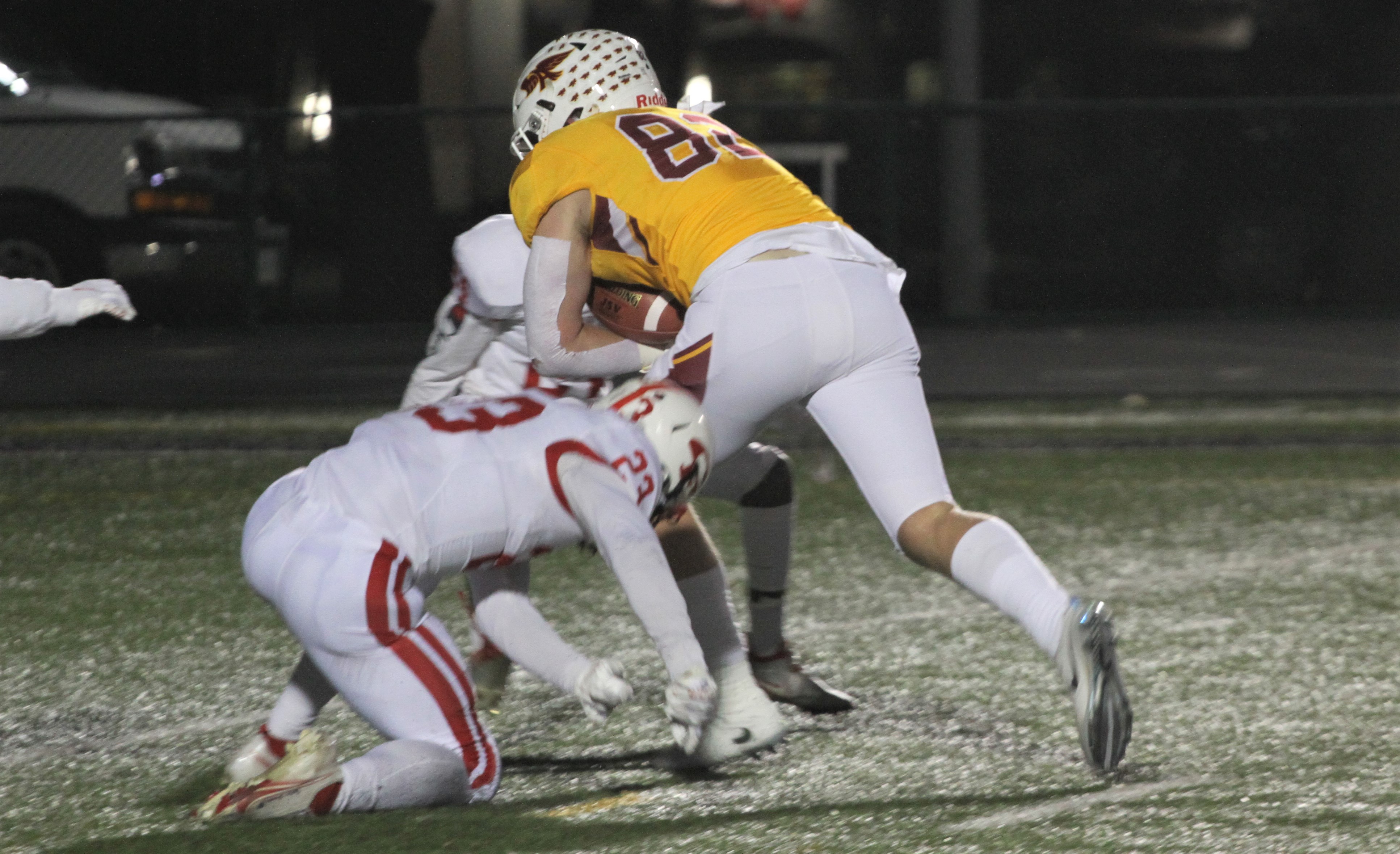 "It was a designed play," Fulk said. "It was a two-man safety concept, just to read the safety. Jase found me and I was open and I took it right down the seam for a touchdown. It felt really good. It was a big momentum swing for the team."
Cedar Falls' next possession ended in disaster when Ferson took a bad snap on a punt attempt and was then tackled inside the Tigers' 1-yard line. Bauer sneaked in on the next play to make it 30-16.
Brecken Manus made 10 tackles to lead Ankeny's defensive effort. He also recovered a fumble, setting up Bauer's 4-yard scoring run early in the fourth quarter.
"We really started to dial it in after the second quarter," Fulk said. "The defense helped us out a lot. Kudos to them, and it was just a great win."
Bauer completed 10-of-21 passes for 221 yards. He also ran for 67 yards on nine carries.
Brecht had four catches for 86 yards.
"We got them settled down and the kids played a lot better the second half," Nelson said.