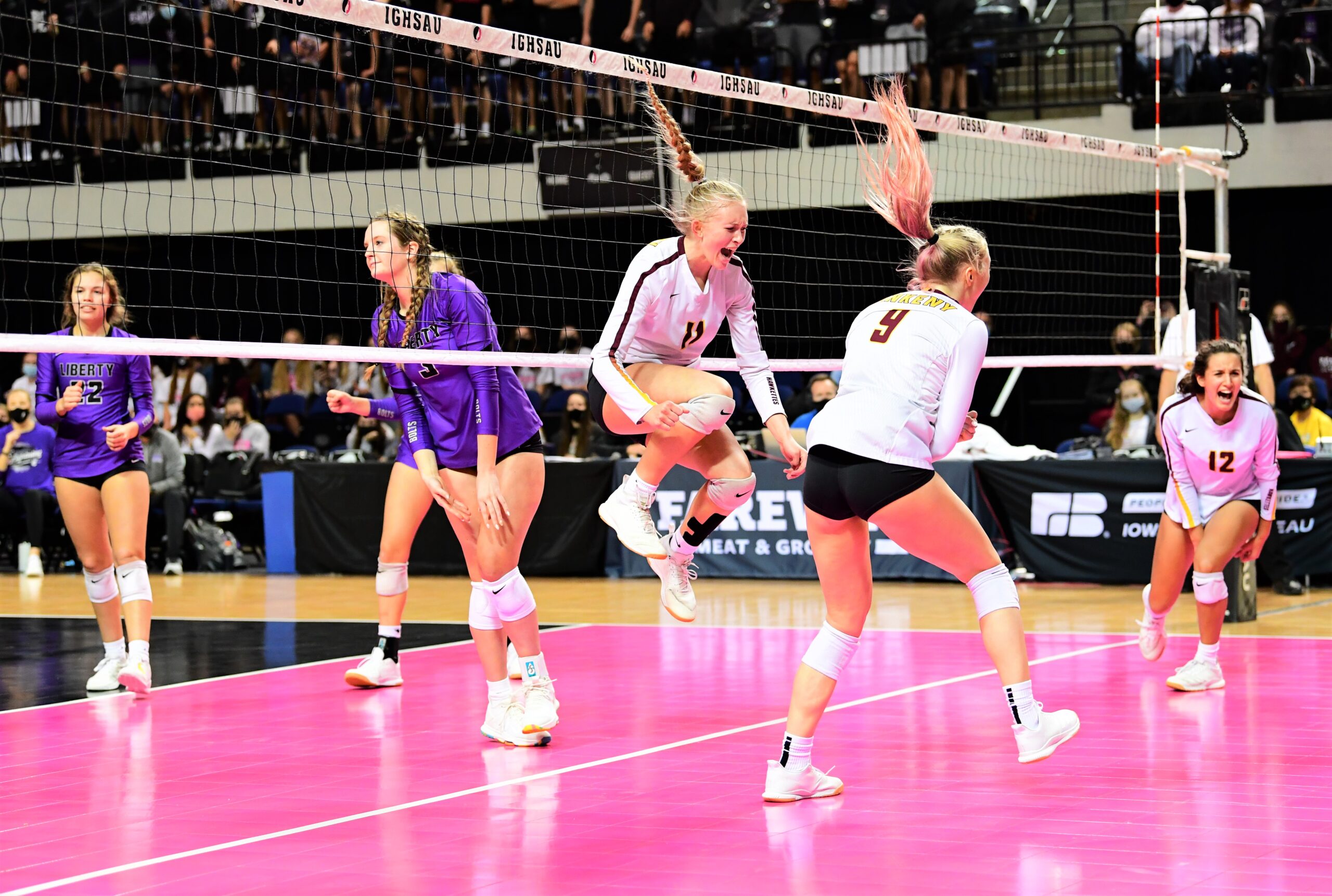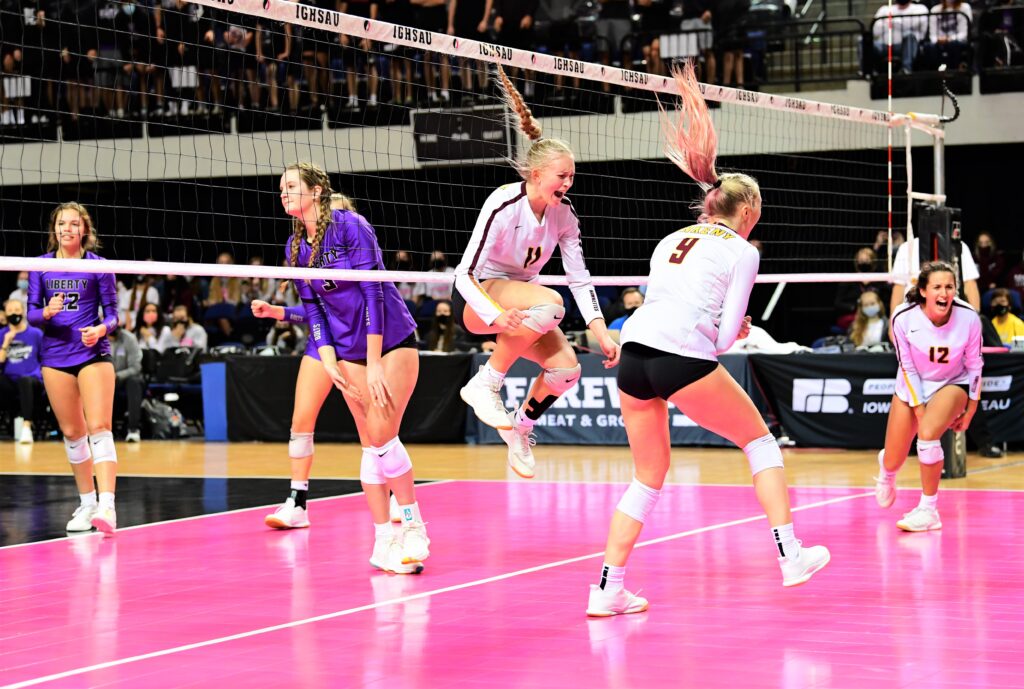 When Dave Whims came out of retirement in 2019 to coach the Ankeny volleyball team once again, he thought the Hawkettes had the potential to eventually win another state championship.
It happened faster than he expected.
Second-ranked Ankeny defeated No. 5 Iowa City Liberty in four sets to capture the Class 5A title on Thursday at the Alliant Energy Power House in Cedar Rapids. The Hawkettes won the match by scores of 25-21, 25-17, 21-25, 25-19.
"I thought it would take a couple of years," Whims said. "I told the girls as a whole group–freshmen through (seniors)–I said in the next four or five years there will be a state championship in this school, just looking at the talent that we have right now."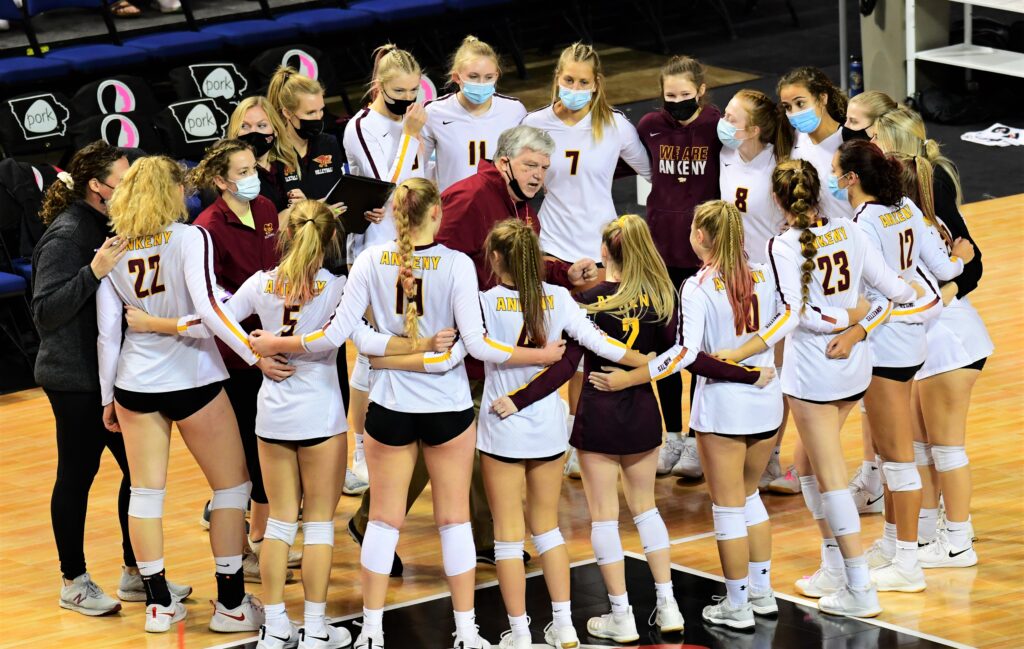 Ankeny is now tied with Janesville and Unity Christian for fifth place all-time with five state titles. Whims is tied for seventh all-time among coaches with his five crowns.
The Hawkettes previously won titles in 2004, 2005, 2008 and 2009. Whims retired after the 2014 season, but then decided to return to coaching a year ago.
"This one's fun because I'm retired (from teaching)," Whims said. "So coming back to work at Ankeny again with the volleyball girls is just a pure delight for me, because I'm not a golfer or those kind of things. This gives me something to do and something to work on at home. I try to work with kids and still touch their lives. I'm just happy for the players responding to what I'm trying to teach them."
Ankeny (22-2) closed out the season on a 19-match winning streak. Iowa City Liberty, which opened its doors in 2017, finished with a 24-3 record.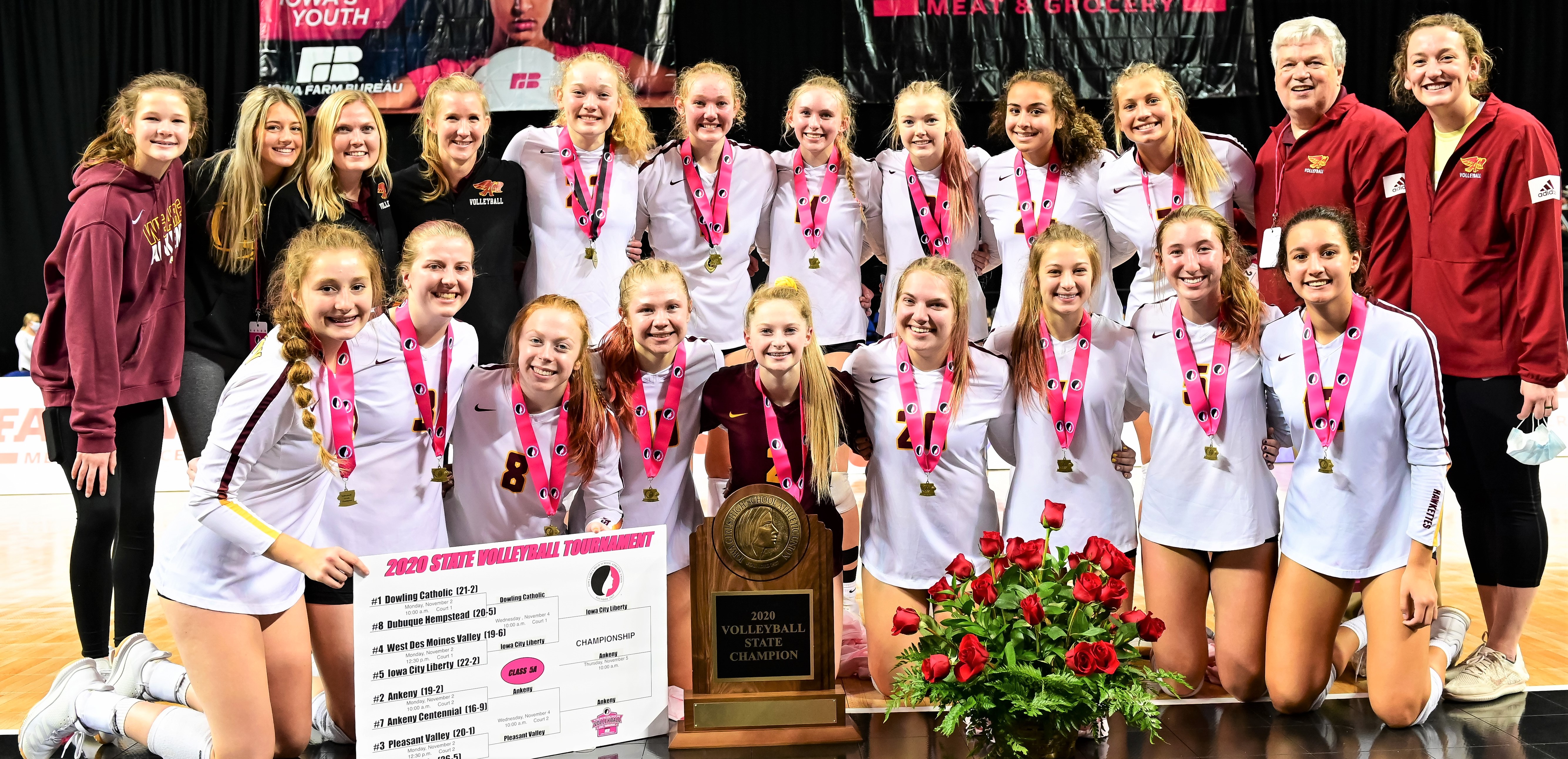 Liberty coach Randy Dolson lived in Ankeny from 2001-07. His daughter, Molly, played for the Hawkettes.
"I know Dave Whims real well," Dolson said. "I can't believe he's back. He retired, then he came back and now he's got another title–that son of a gun."
The Hawkettes were led to the crown by setter Phyona Schrader, who was named captain of the all-tournament team. She finished with nine kills, 40 assists, 23 digs, five blocks and three aces.
"This was the year that I've been looking forward to–to play with my sister," said Schrader. "It's the best season I've ever had in my life."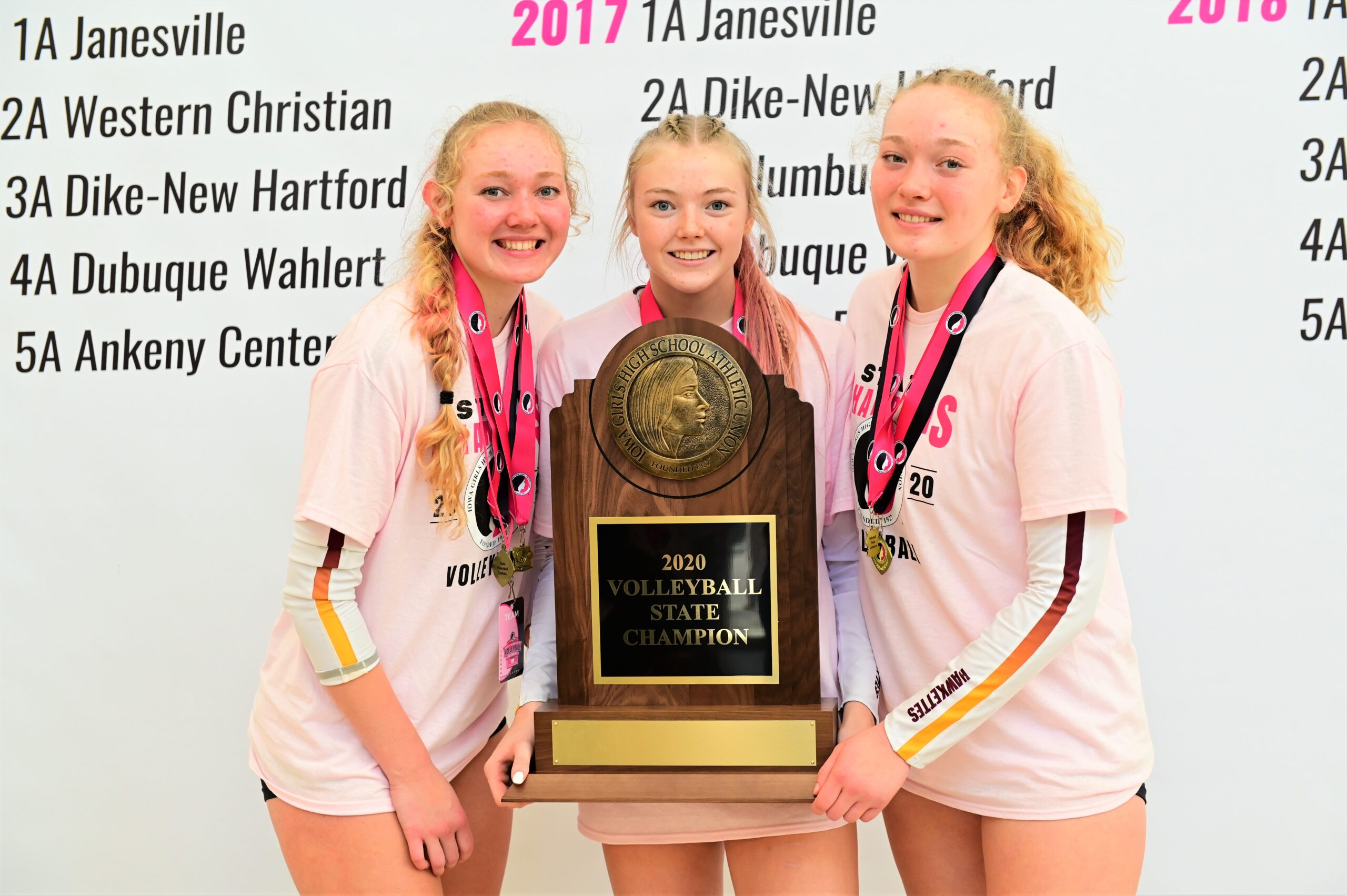 Schrader's sister, Aowyn, was also selected to the all-tournament team along with Ankeny's Ava Reynolds. Aowyn, a freshman, pounded 11 kills.
"It's awesome," said Aowyn. "This is my first time ever going to state actually and my first time playing with my sister so I love it. It's so much fun."
Reynolds had 17 kills for the second straight match. She smashed kills to close out each of the first two sets on Thursday.
"It feels great," said Reynolds. "It feels so good."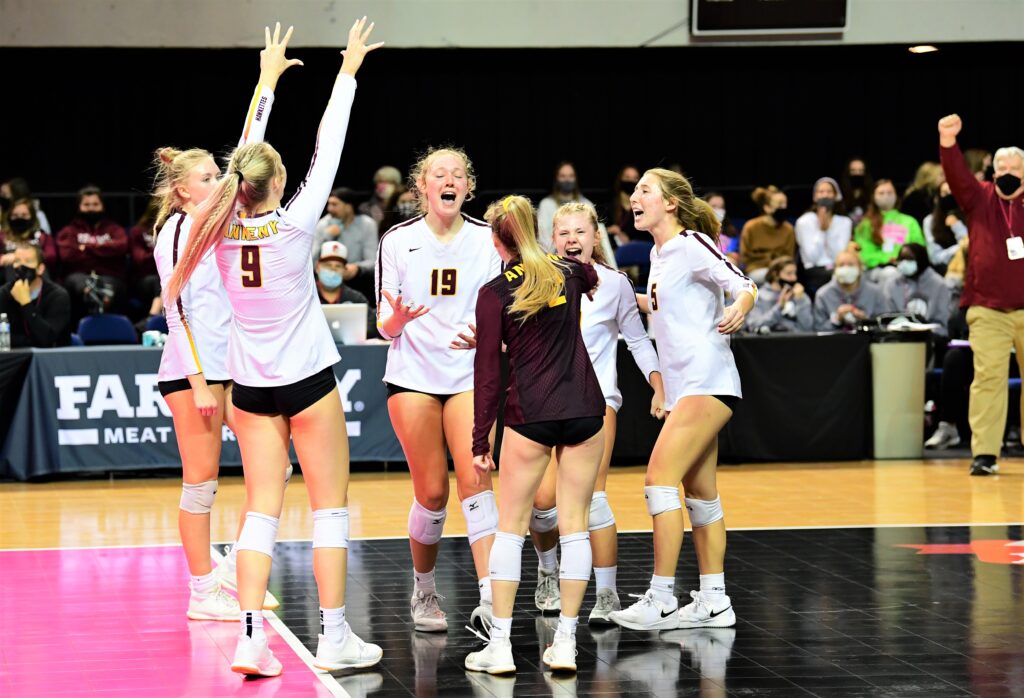 There were six ties and three lead changes in the first set of Thursday's match. Ankeny broke away from a 16-16 tie by scoring six of the next eight points.
The Hawkettes then jumped out to a 12-3 lead in the second set behind Aowyn Schrader, who had four of her kills during that stretch.
"She's just so amazing," Reynolds said. "I can't imagine that. Going out and starting as a freshman and doing as well as she did. She had great blocks, great hits…just great all-around."
Liberty later closed the gap to 18-12 before Aowyn pounded back-to-back kills, allowing Ankeny to hold off the Lightning's rally.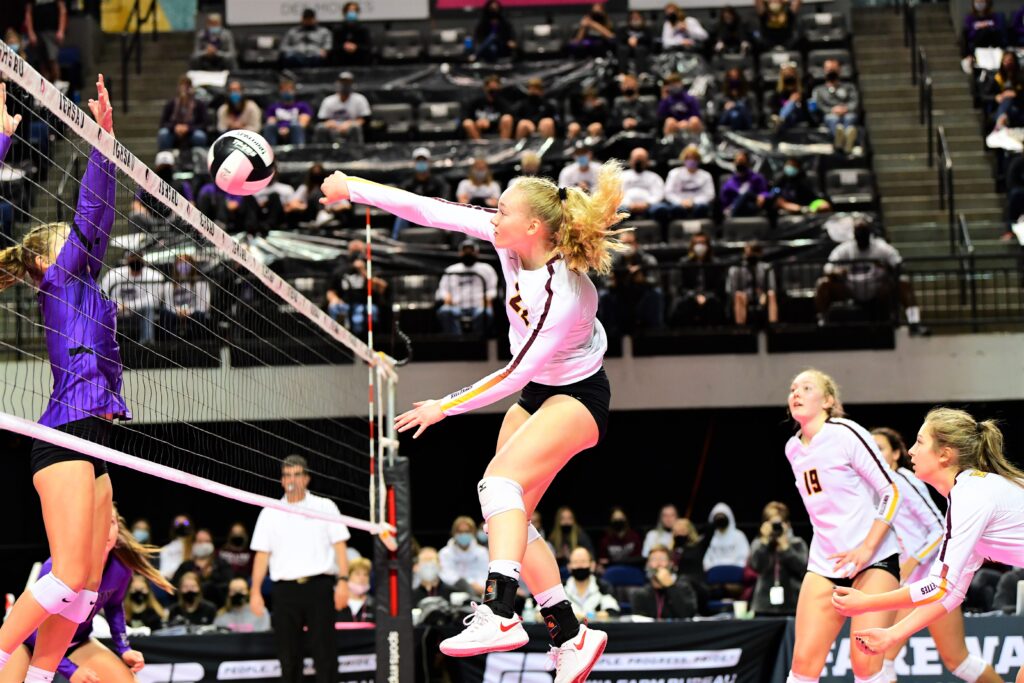 "We basically wanted to get in their heads and just know like where to block them," Aowyn said. "Just know where the weakest passer is. Just know all their weaknesses."
Liberty rebounded to win the third set. The Lightning closed it out with a 9-5 run, getting a kill from Sam Harvey to extend the match.
"I was a little concerned when they started to get points, but I just knew that we could come back and no matter what they did we could come back and be strong," Reynolds said.
In the fourth set, Liberty took a 13-11 lead before Ankeny responded with a 14-6 run. Senior McKenna Scheib closed out her career in style, smashing a kill for the final point.
"Ankeny kept the pressure on us all match, whether it was their serving and their attacking. They stayed in system a lot," Dolson said. "They're a very good team–they're tall, and big. I mean, that made a big difference. And obviously, they have a great setter. Every tight ball she'd make available to the hitters, and I think that was the big difference. We knew where she was, but she made some unbelievable saves at the net and allowed their hitters to swing. That kept us out of our system, and we just played too much defense. But that's a credit to them."
Ankeny outhit Liberty by a .294 to .234 margin. Reynolds hit .517 for the match.
"(The key was) just like believing in ourselves and focusing on our side of the court, and I think blocking was a huge thing," Reynolds said. "All of our blockers stepped up and so did our defense. Our defense was amazing today."
Scheib had five blocks, and Aowyn Schrader added four more. Lexi Stephens contributed 17 digs, and Halle Ouellette chipped in nine.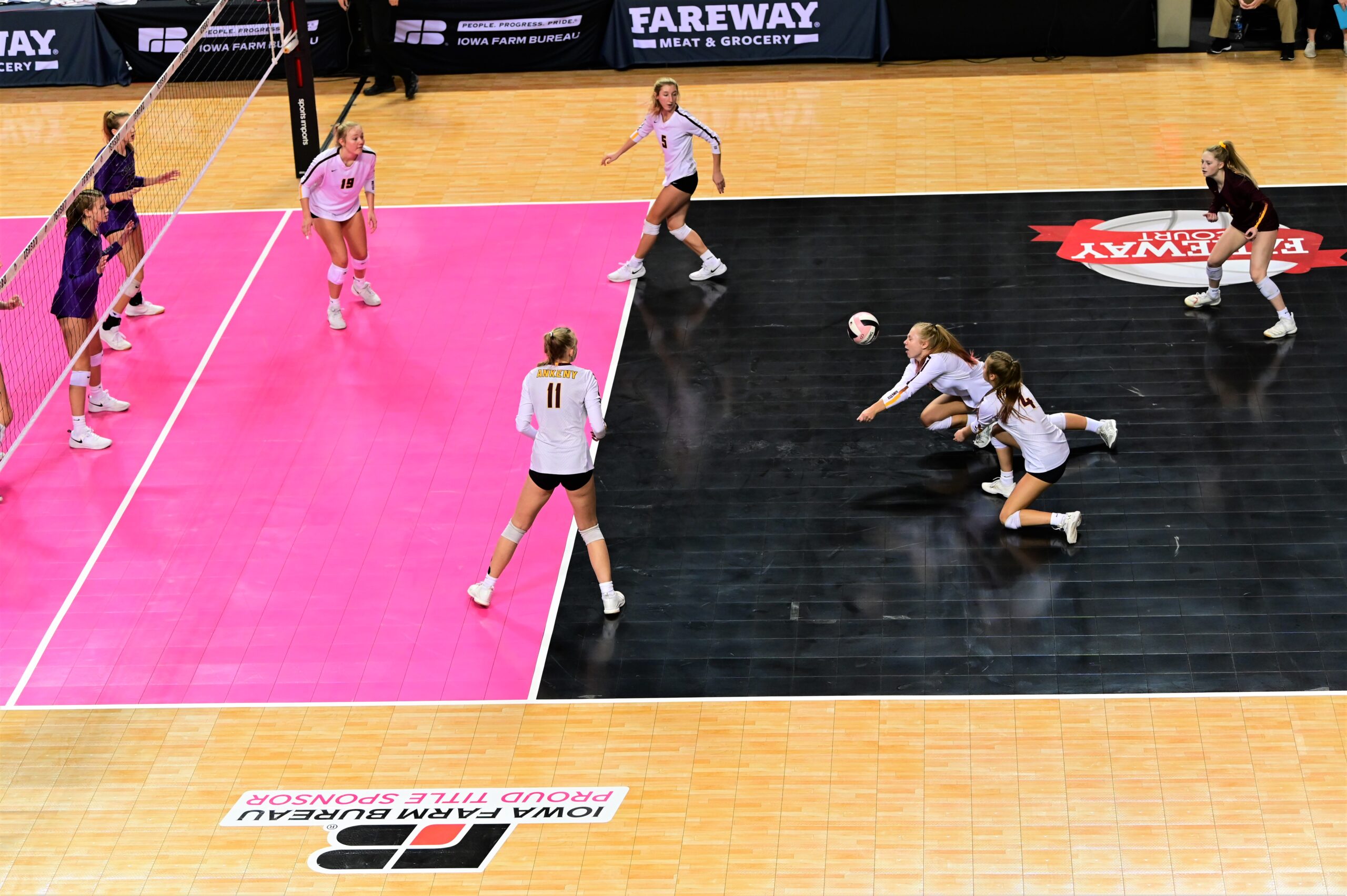 Ouellette also had three of the Hawkettes' eight aces. Hannah Baier had 11 kills.
"They have a really strong block, and they have hitters all over the place," said Liberty sophomore Cassidy Hartman, who led the Lightning with 18 kills. "They did a really good job coming out in this game."
Both teams survived five-set marathons in the semifinals on Wednesday. Hartman pounded 35 kills as Liberty upset No. 1 Dowling Catholic.
"I was pretty sore, but I knew I had to be there for my team," Hartman said. "We started pretty slow, but I think toward the end of that game we got a little bit better."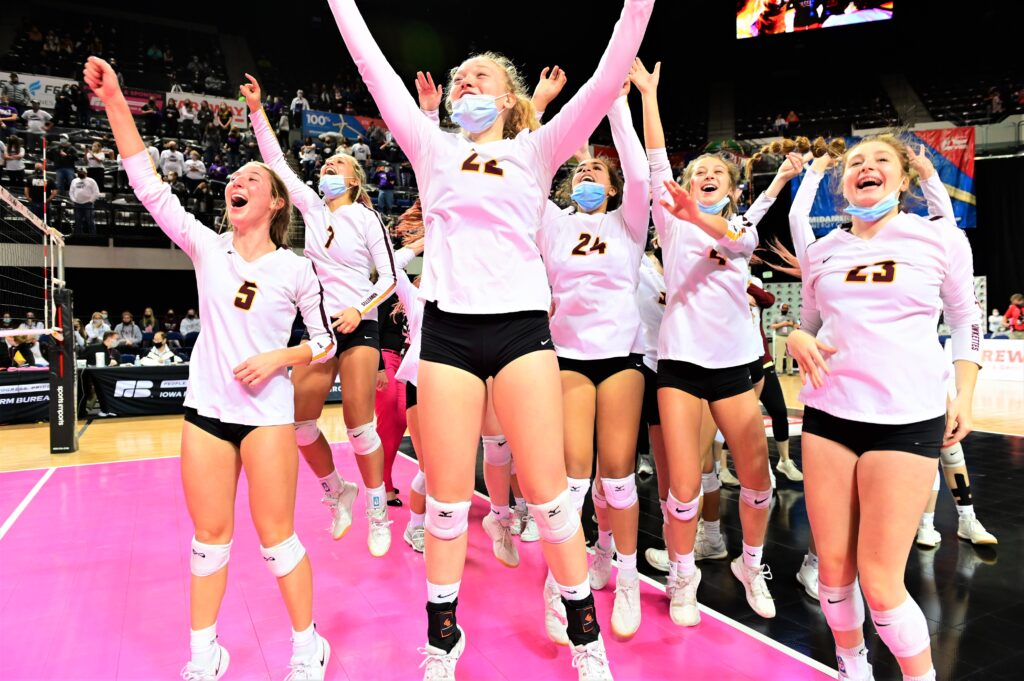 Ankeny had less than 24 hours to prepare for the Lightning, but that was more than enough time for a Hall of Fame coach like Whims.
"I didn't really see any video until (Wednesday) night after the game. I wanted the newest stuff," Whims said. "We kind of knew what we had to do. We brought the girls together (Wednesday) night and went over some stuff, and then we brought them together (Thursday) morning and practiced another hour. We put all that together. They really stepped up and matured. Their volleyball IQ went way up, and it was really demonstrated out there today."
The Hawkettes posed for photos with the championship trophy afterwards.
"It's very exciting," Phyona Schrader said. "Everybody's ready to celebrate."