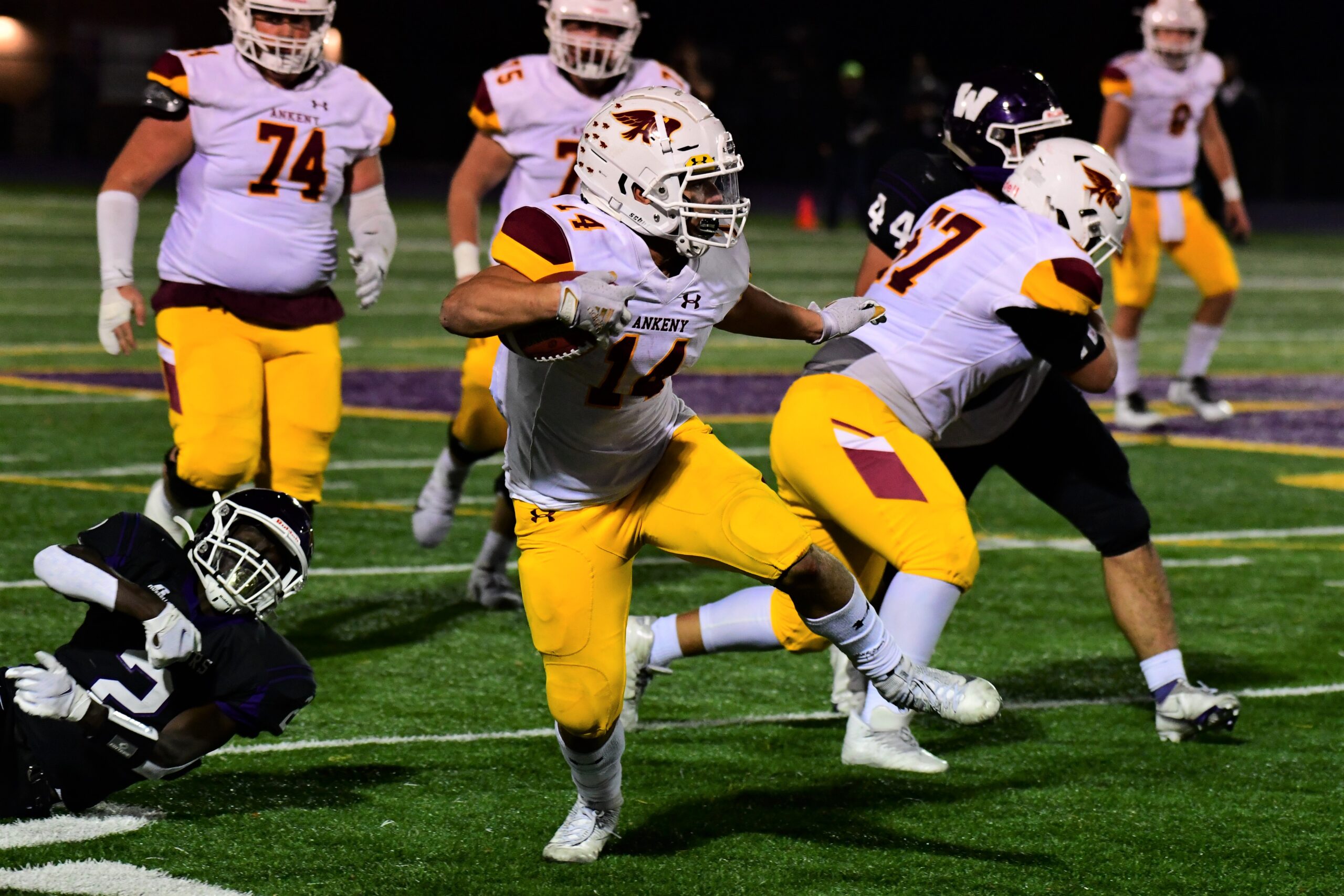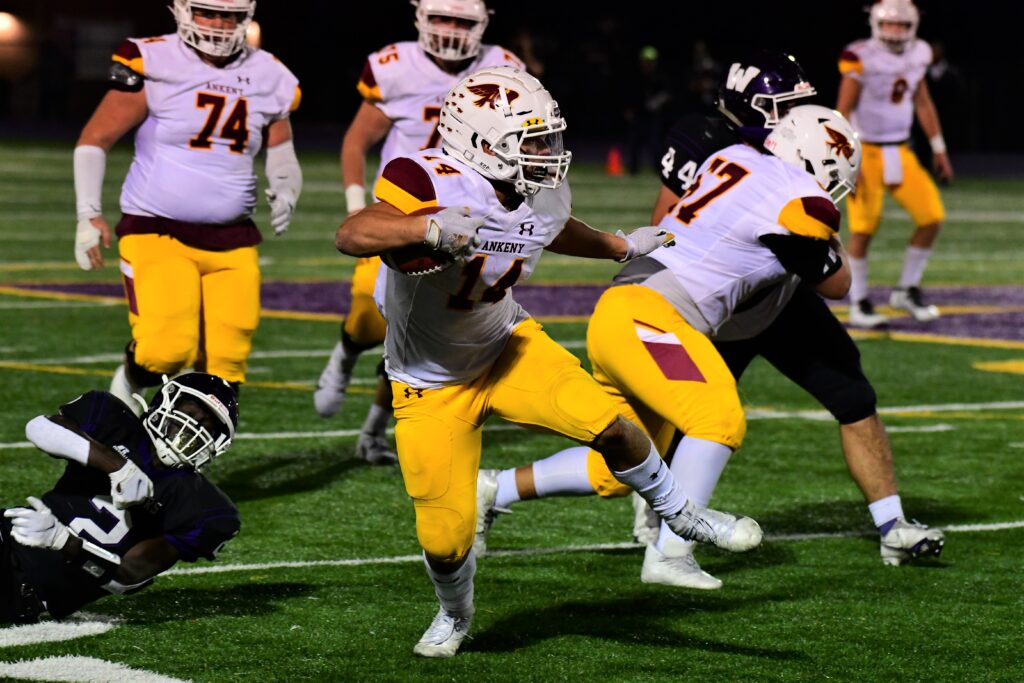 Ankeny quarterback Jase Bauer has played with and against a lot of great athletes during his high school football career.
He isn't sure if he's seen anyone like Arland Bruce IV.
"He's just a dude," Bauer said of the Iowa recruit. "I mean, he's one of the best players I've ever seen. The dude can just flat-out play. When the play is not there, he's going to make something happen. I told him, 'Is your back a little tired from carrying our team?', because he was very big in our victory tonight."
Bruce rushed for 202 yards and scored all four of Ankeny's touchdowns to lead the second-ranked Hawks to a 28-7 victory at No. 4 Waukee in the Class 4A quarterfinals on Friday. The Hawks (9-1) advanced to the semifinals for the first time since 2012.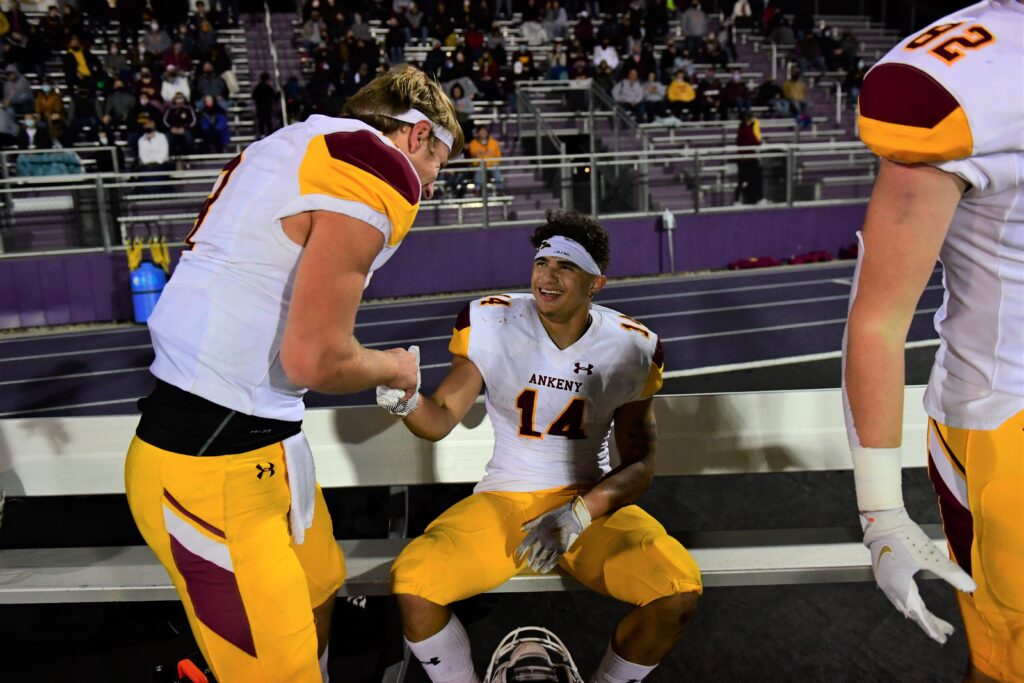 "We have a lot of momentum going forward, and I like our chances," Bruce said of his team, which will play No. 3 Dowling Catholic on Friday at 7:30 p.m. at the UNI-Dome in Cedar Falls.
For the second straight game, Bruce filled in at running back for junior Colin Kadolph. Kadolph, who is nursing an ankle injury, had one carry for 6 yards on Friday.
"Kadolph probably could have (played)," said Ankeny coach Rick Nelson. "He'll be fine next week."
Kadolph's only rushing attempt came in the third quarter when he briefly replaced Bruce, who was helped off the field after being tackled. But Bruce returned on Ankeny's next possession and was a key part of a 97-yard drive that helped seal the win.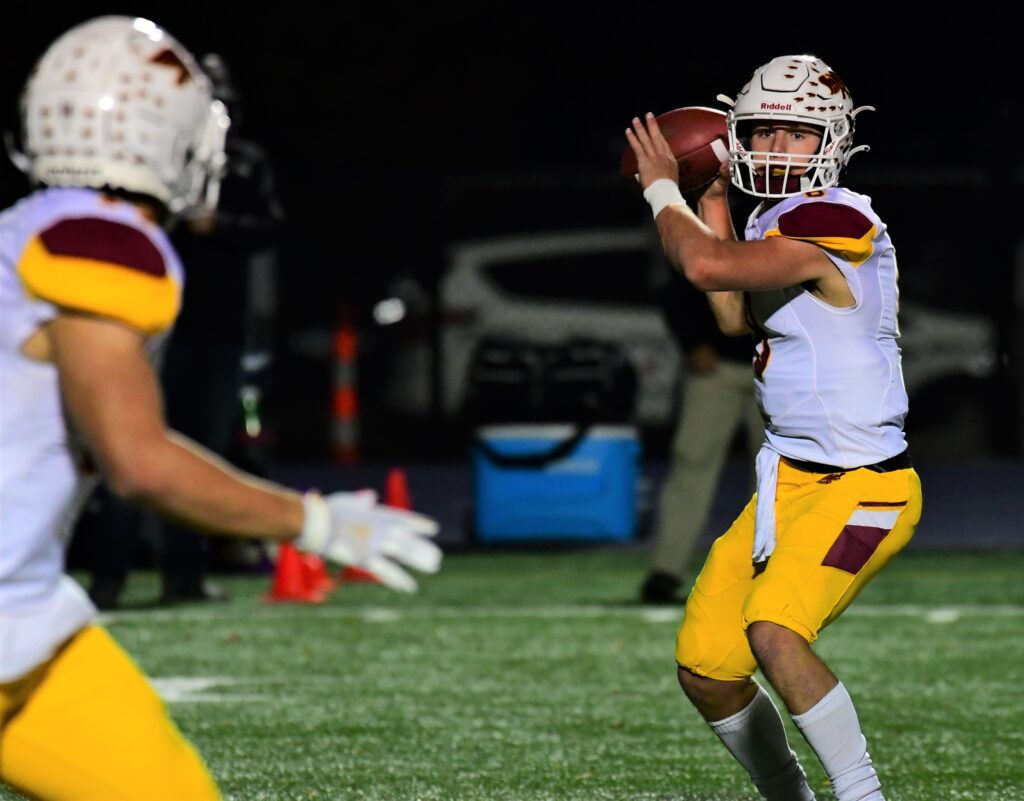 On the fifth play of the fourth quarter, Bruce came out of the backfield and was left all alone along the right sideline. He caught a 63-yard touchdown pass from Bauer to give the Hawks a 21-7 lead with 10 minutes 44 seconds remaining.
"We watched a lot of film," Bruce said. "We kind of told coach what Indianola did (against Waukee in the third round of the playoffs). They ran that same exact play and they were wide open, so we just did the same thing."
Bruce had four catches for 87 yards and finished with 289 total yards. He added a 4-yard touchdown run with 2:06 left to complete the scoring.
"I had to step up for my guy Colin," Bruce said.
The Hawks outgained Waukee by a 442-199 advantage. The explosive Bruce accounted for 90 more yards than the Warriors (7-3) all by himself.
"He's so good. I can't even describe it," Ankeny linebacker Brecken Manus said of Bruce. "He's fast and can move all over the place. He's crazy."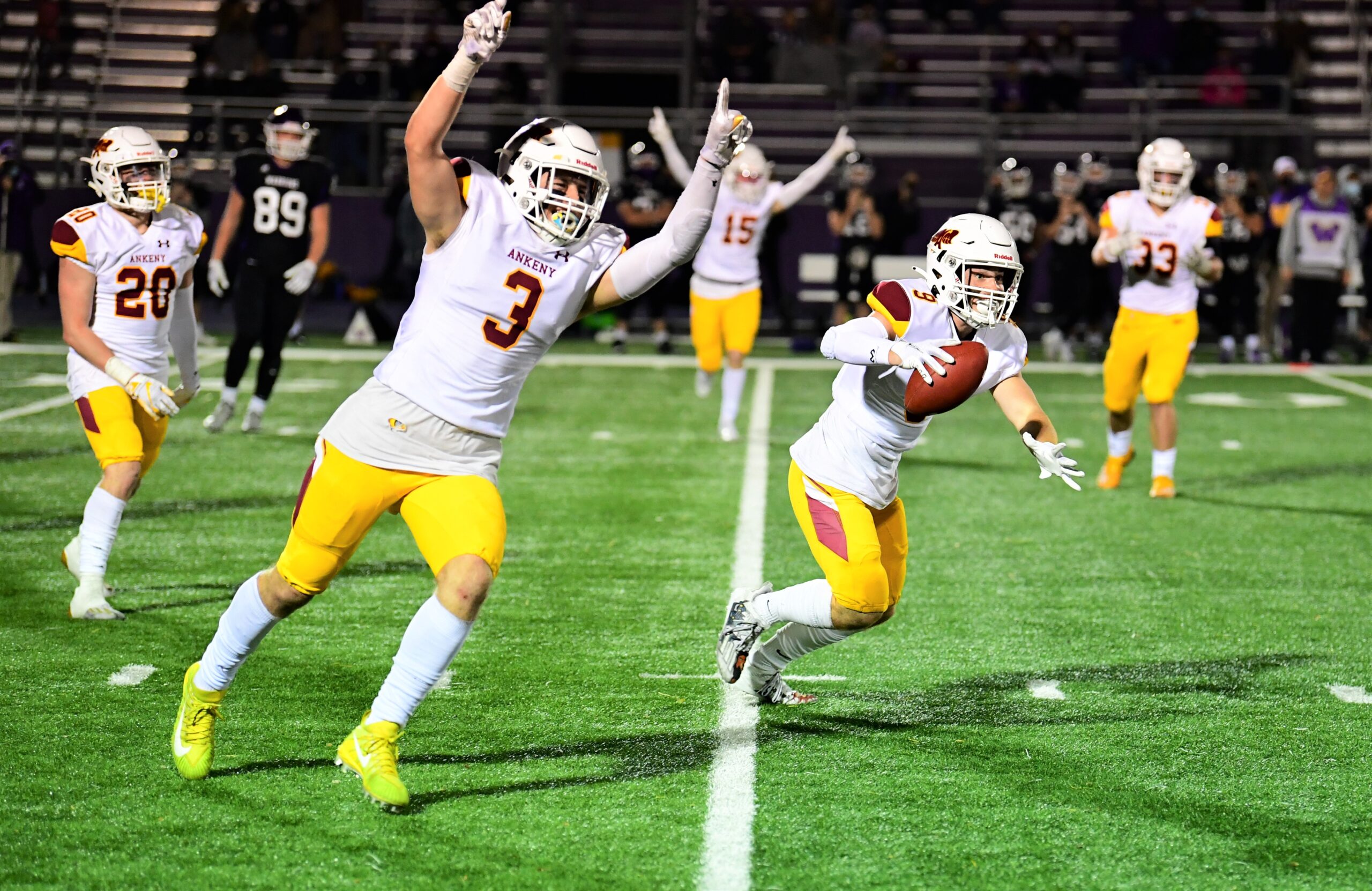 Ankeny's defense isn't bad, either. The Hawks limited Waukee star Aaron Smith to just 29 total yards.
The speedy Smith had played a big part in the Warriors' 21-17 win over Ankeny on Sept. 4.
"We were really confident," Manus said. "We believed that our first performance against them was not our best, especially on defense. We just wanted to come make a statement."
Manus did exactly that on the second play from scrimmage, when Smith caught a pass from Waukee quarterback Jakob Holcomb but was tackled for an 8-yard loss on a huge hit by the Ankeny senior.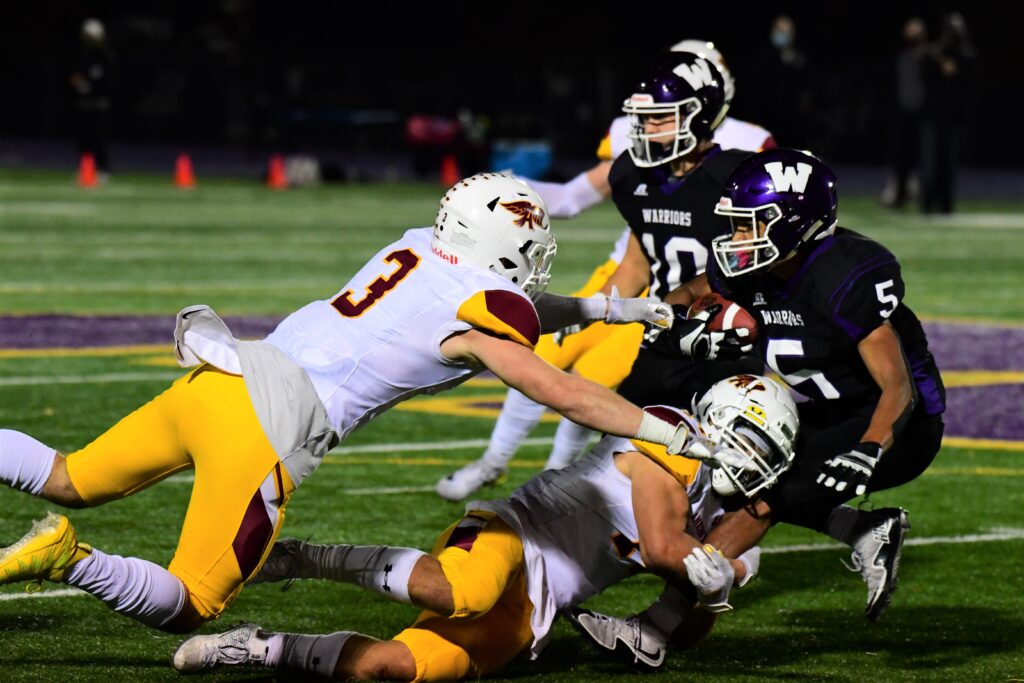 "That felt really good," Manus said. "It really set the tone on defense, and we just went from there."
The Hawks needed less than 4 minutes to take the lead. Bruce dashed 31 yards to the end zone the first time he touched the ball.
After another Waukee punt, Bruce set up his second touchdown with a 39-yard sprint to the Warriors' 1-yard line. Bauer was stopped short of the goal line on two consecutive sneaks, then Bruce took the next snap from center and bulled his way into the end zone.
Ankeny's offense got a lift from junior defensive end Braden Simonsen, who replaced senior tight end Weston Fulk after Fulk left the game with an injury in the first half.
"Simonsen played his tail off," Nelson said. "He came in and played both ways, and he hadn't really practiced much at tight end. I can't say enough about him and Arland. Our offense was great."
Waukee's only points came on an 11-yard touchdown run by Alex Linquist midway through the third quarter. But that was one of the few times when the Warriors paved a hole for Linquist, who was held to just 56 yards on 18 carries.
"They've been good all year," Nelson said of the Hawks' defense.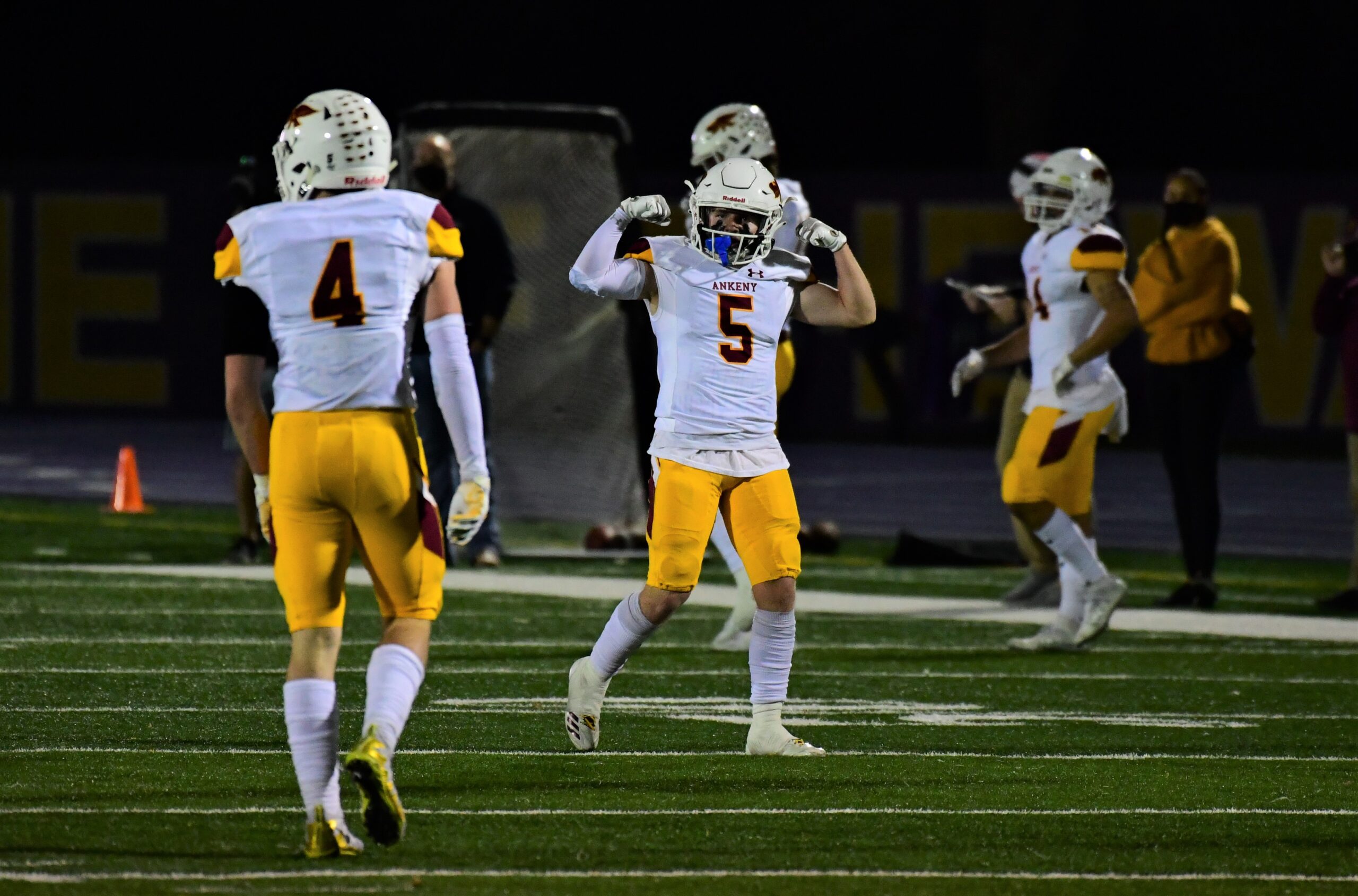 Bauer completed 11-of-22 passes for 173 yards in the win. He also ran for 61 yards.
Brice Peterson had 6.5 tackles to lead Ankeny's defensive effort, while Ryan Crandall chipped in six and Manus added five. Will Cornwell intercepted a pass to end the Warriors' final drive.
Now, the Hawks will look to knock off the seven-time defending state champions.
"This is what we've wanted since our freshman year," Manus said. "We're going for that ring."