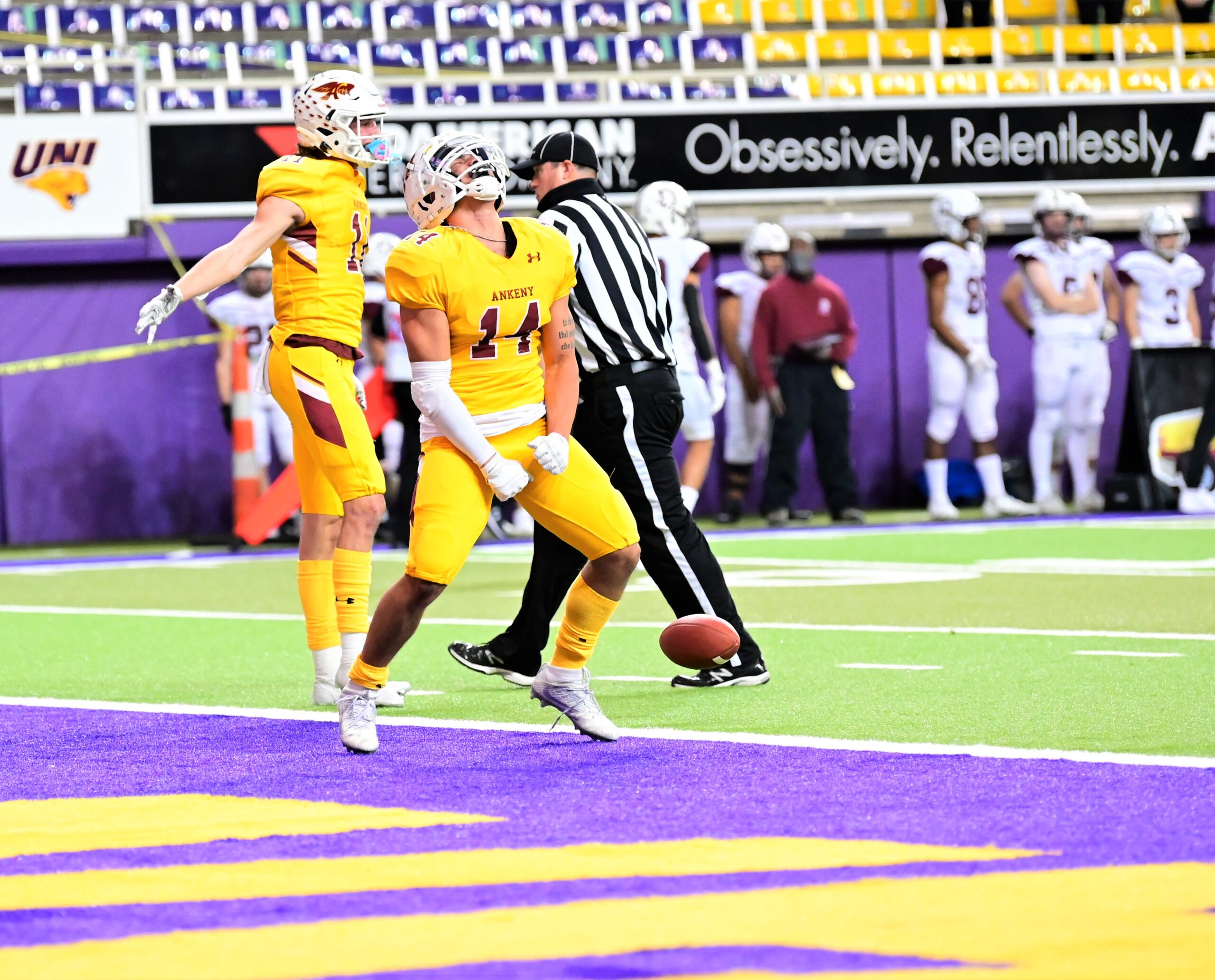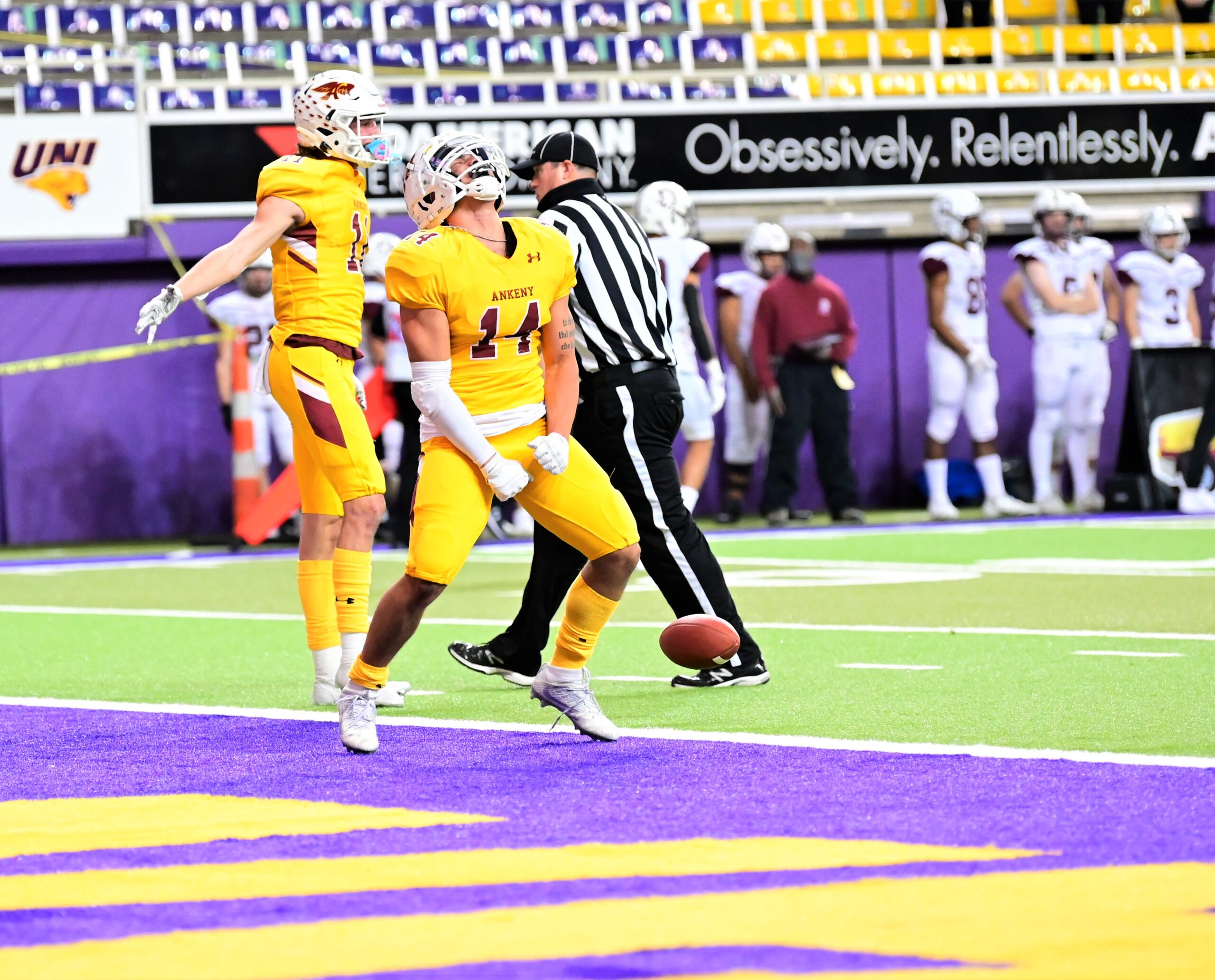 Dowling Catholic's stranglehold on the Class 4A championship trophy had to come to an end sometime.
It finally did on Friday the 13th.
Jase Bauer ran for the go-ahead touchdown in the second overtime, then Arland Bruce IV sealed the victory with an interception as the second-ranked Ankeny football team outlasted No. 3 Dowling, 31-24, in the Class 4A semifinals on Friday night at the UNI-Dome in Cedar Falls. The Maroons had won the last seven state titles.
"Oh my gosh, I can't express how it feels," said Bauer, who also passed for two scores as the Hawks overcame a 14-3 halftime deficit. "We've been waiting for this ever since we started playing varsity football. Everyone was just, 'Who's going to be the one to knock off Dowling?' And we've been wanting to get a shot at them to knock them off."
Ankeny (10-1) advanced to the championship game for the first time since 2012, when the Hawks won their second crown under coach Jerry Pezzetti in their final season as one program. Dowling's historic run of titles started the following year.
Friday's loss ended a 32-game playoff winning streak for the Maroons (7-2).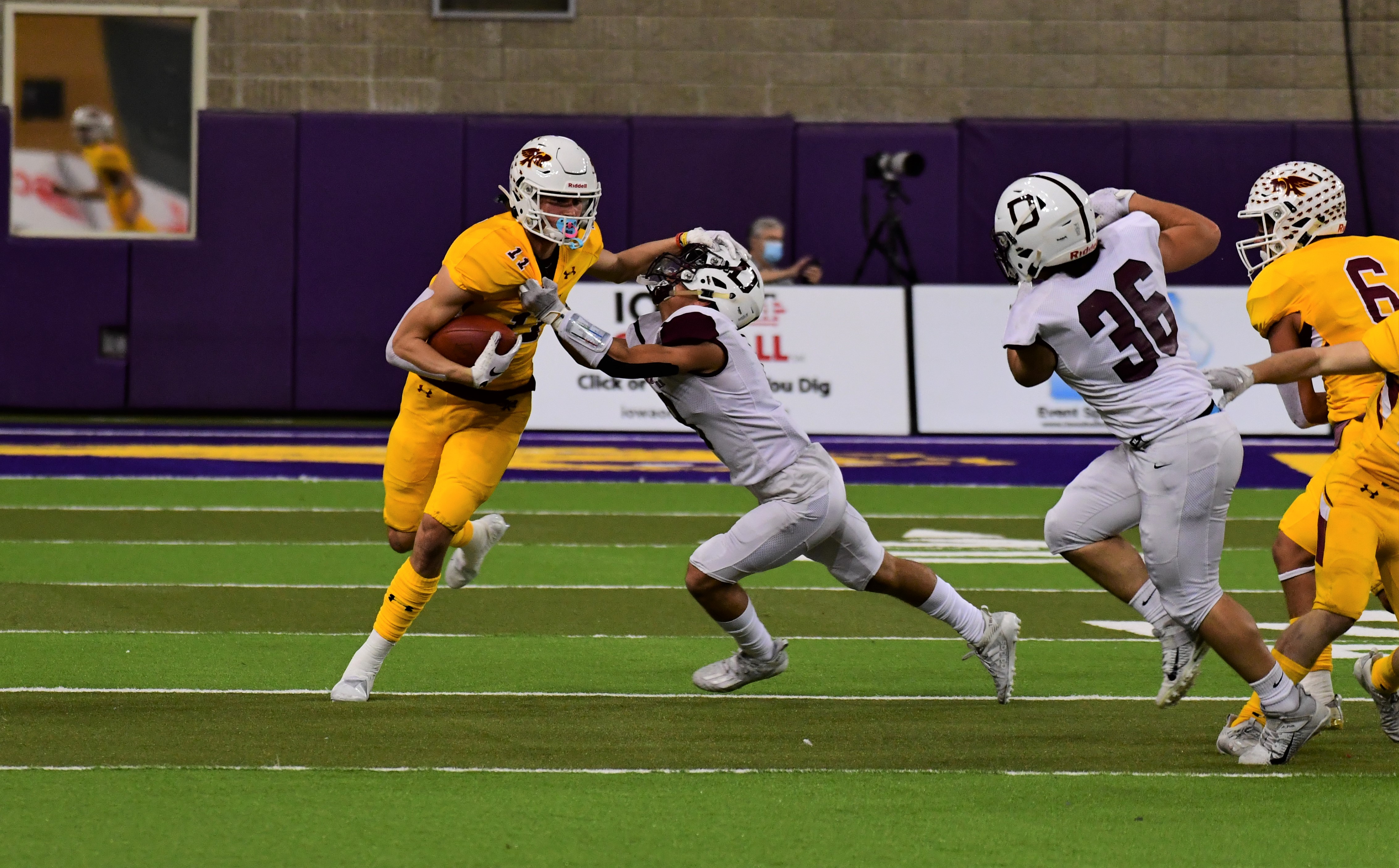 "It's an amazing feeling," said Ankeny receiver Brody Brecht, who scored a pair of touchdowns in the win. "Hats off to (Dowling)–it was a great game, a great game on both sides of the ball. I'm just so blessed. God put us in this position and we executed, so all glory to Him."
The Hawks had lost twice to Dowling last season, including a 42-14 decision in the Class 4A quarterfinals. Ankeny coach Rick Nelson, who took over the program in 2015, had never defeated the Maroons.
"Dowling's a program that has dominated," said Nelson, whose team will play No. 1 Southeast Polk (10-0) for the Class 4A crown on Friday at 7 p.m. "They've beat us I think six times in a row, and not just by a little bit. I'm excited for the kids, and I'm glad that we fought back. Our kids made some great plays. And defensively, we finally slowed them down a little bit."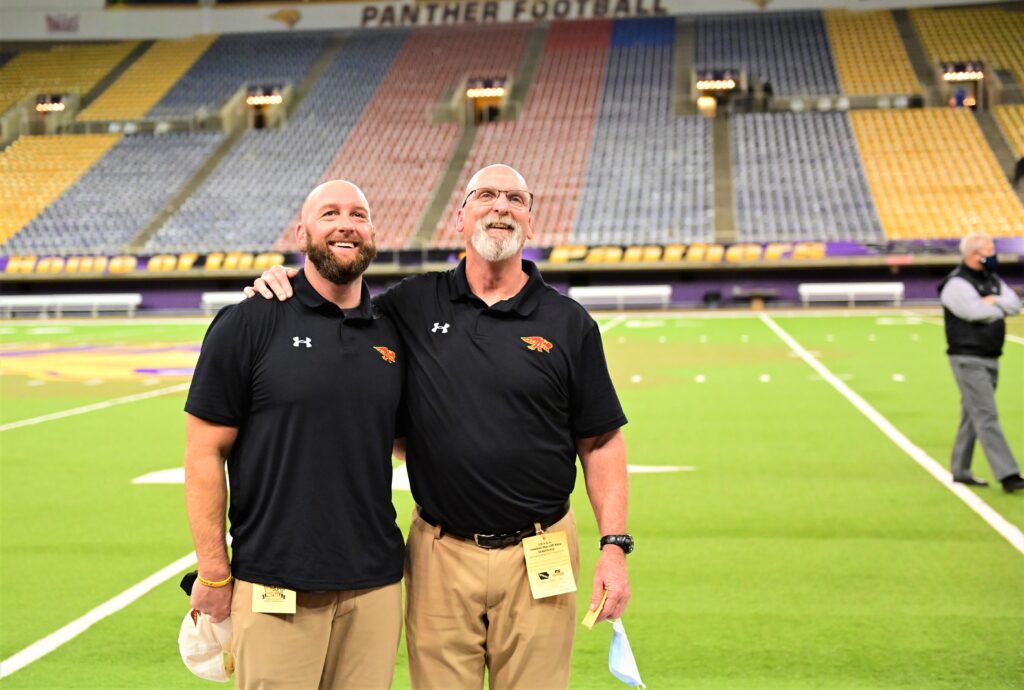 There were four lead changes and two ties in the hard-fought battle. Dowling's Jake Calvert booted a 23-yard field goal with 1 minute 39 seconds left to tie the game at 17-17.
After Ankeny's Max Pelham missed a 44-yard field goal in the final seconds of regulation, the Maroons took a 24-17 lead when Jaxon Smolik fired a 10-yard touchdown pass to Andrew Lentsch on the second play of the first overtime.
The Hawks then answered with a 1-yard scoring pass from Bauer to Brecht two plays later.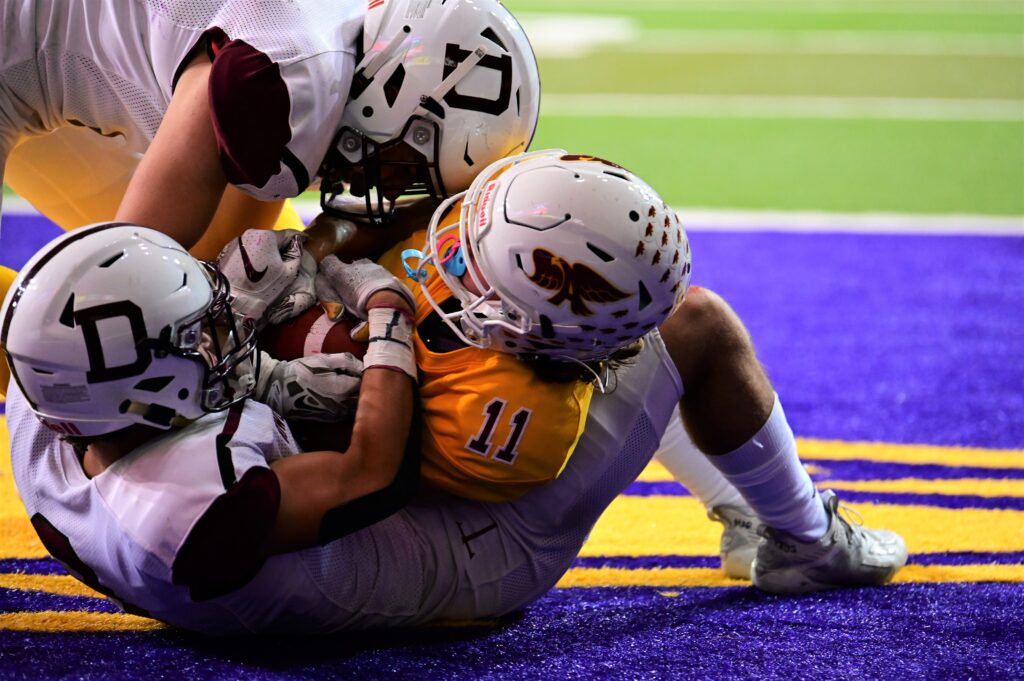 "The first half we were playing a little sloppy on the offensive side of the ball, but we came out as a team and just executed very well," said Bauer, who completed 9-of-15 passes for 123 yards. "You saw what happened down the stretch. I think we had a little more conditioning than them at the end, and we came out with the 'W'. It's awesome."
In the second overtime, Bauer bulled his way into the end zone from 3 yards out on third down to put Ankeny ahead for good. He finished with 90 yards on the ground.
"It was a read-(option)," Bauer said. "I could either pitch it to Arland or take it in. I saw (the defenders) on the outside, so I decided I had enough gusto to get in there. So it worked out perfect."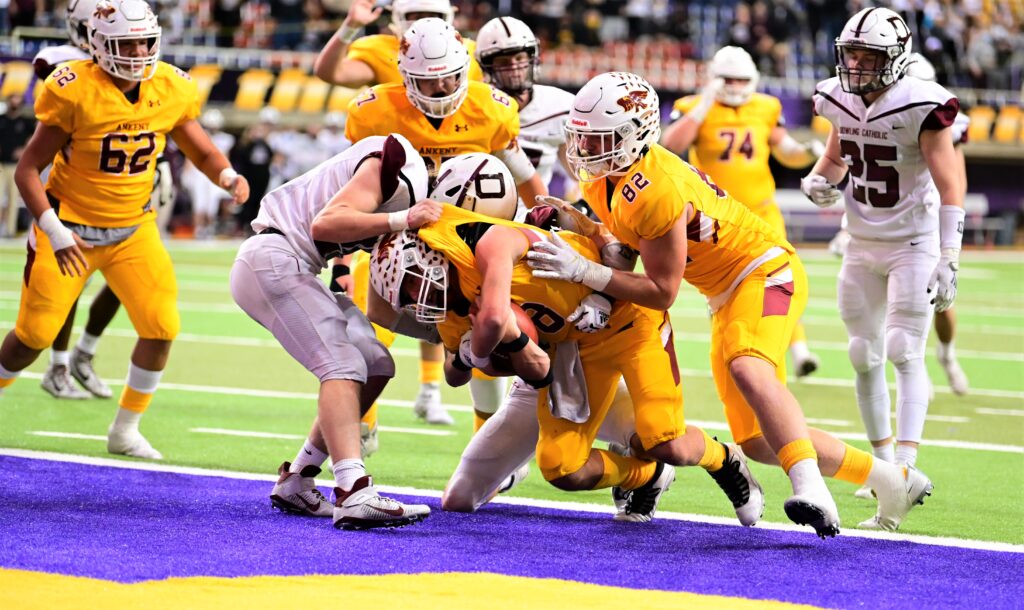 The ball ended up in Bruce's hands on the very next play. Smolik tried to hit Louis Brooks in the right corner of the end zone, but Bruce went up and snagged the ball out of the air–punching the Hawks' ticket to the championship game.
"I watched a lot of film on No. 2," Bruce said. "It was one of his favorite routes, and I could tell by his alignment that he was running the fade right there."
Bruce, who transferred to Ankeny from the Kansas City area earlier this fall, was a factor on both sides of the ball. He ran for 87 yards and caught two passes for 46 yards before hauling in the game-winning interception.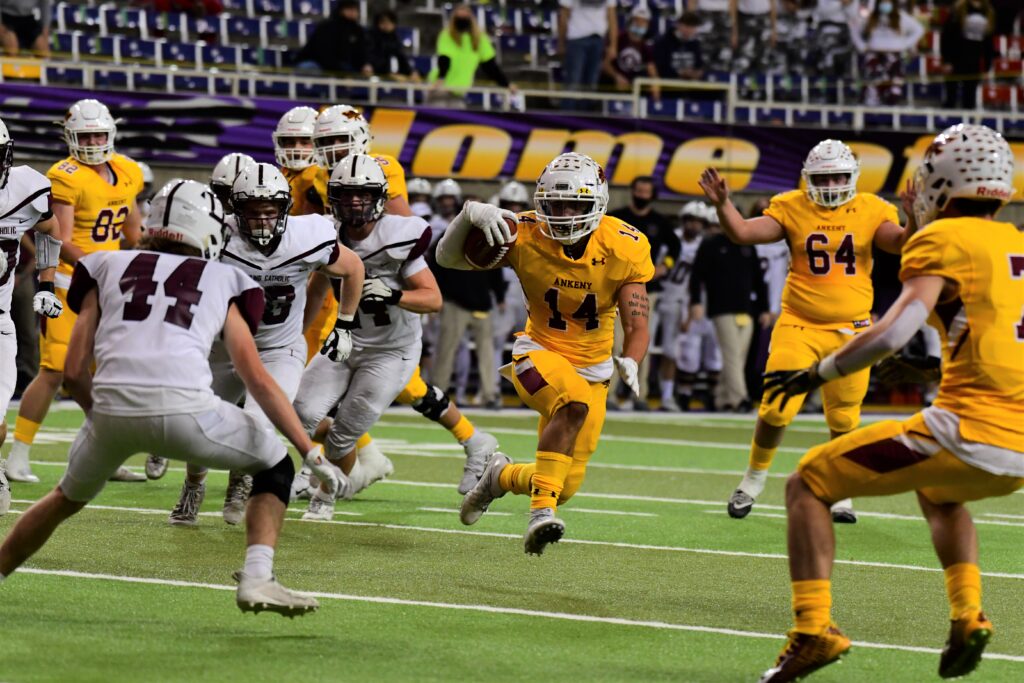 "Bruce is a difference-maker," said Dowling coach Tom Wilson. "He hits the cutback very well. He has enough speed that you try to get the angle on him, and then he sticks his foot in the ground and cuts. It's tough. He's a great player, and there's a reason he's going to the University of Iowa."
Ankeny outgained the Maroons, 319 yards to 240.
"They're really good," Dowling defensive lineman Russell Pearson said of the Hawks. "We played with everything we had. We just came up a little bit short."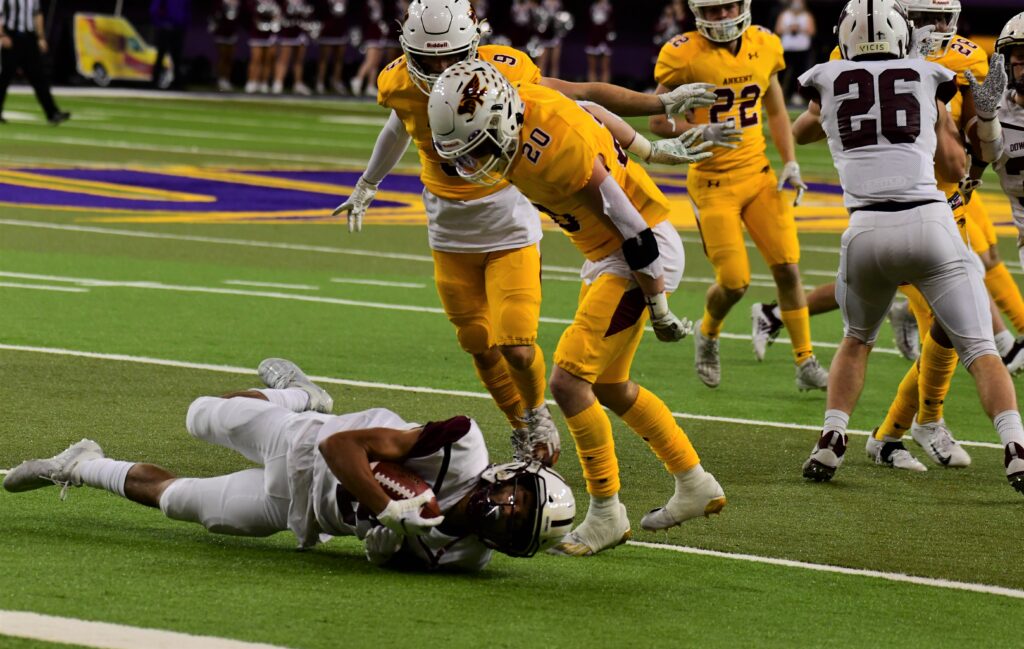 A 38-yard pass from Bauer to Bruce set up the first points of the game. Pelham kicked a 31-yard field goal to give Ankeny a 3-0 lead with 11:50 left until halftime.
Dowling then responded with a four-play, 57-yard drive to take the lead. After Smolik connected with Brooks on a 36-yard pass, Zach Schwager burst through a huge hole up the middle and dashed 20 yards to the end zone.
Ankeny's next possession ended with an interception as Bauer was picked off by Blake Anderson at the Hawks' 47-yard line. That led to a 4-yard touchdown pass from Smolik to Lentsch with 3:24 remaining in the second quarter.
"The first half was on me–I wasn't making the best decisions," Bauer said. "We rallied together as a group, and I couldn't be more happy with the way our team performed. I love these guys. I love every single person in that locker room."
Dowling opened the second half with a long drive, but came away with no points when Calvert missed a 40-yard field goal.
The Hawks then drove 80 yards in seven plays to pull within 14-10, getting back-to-back runs of 19 and 26 yards from Bruce on the drive. Brecht scored the touchdown on a 6-yard reverse after taking a pitch from Bruce, who had received a direct snap from center.
"We've had (that play ready) for a couple of weeks–I'm not going to lie," Bauer said. "We didn't want to use it if we didn't need it. And obviously, we needed it tonight. It worked as a touchdown so it was perfect."
After forcing a punt, Ankeny then took a 17-14 lead when Bauer fired a 25-yard strike to Brady McCullough with 10:20 left in the game. It was his only catch of the night.
"There were some things we were going to give up, and we did that," Wilson said. "I felt we were trying to give as much help as we could to Bruce and Brecht, and Bauer makes enough plays with his feet that it makes it pretty difficult. They're explosive. You're not going to hold them down for four quarters, that's for sure."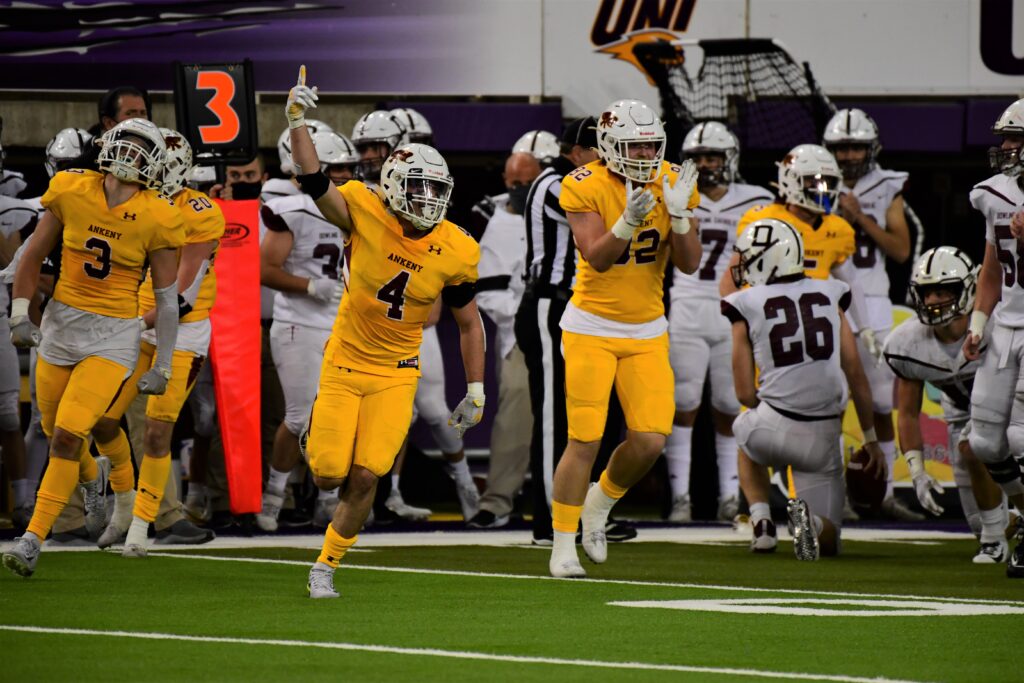 Dowling took nearly 9 minutes off the clock with an 18-play drive that resulted in Calvert's tying field goal. Smolik converted a fourth-down pass to Brooks to keep the drive alive.
On the next play, Ankeny linebacker Brice Peterson appeared to have stripped the ball away from Dowling's Adam Townsend at the Hawks' 10-yard line. But the play was ruled dead, forcing the Hawks to delay their celebration for a little while.
"It feels great man," Bruce said. "They've won state the past seven years and obviously everyone knows that. It's just awesome to take Ankeny back (to the title game)."