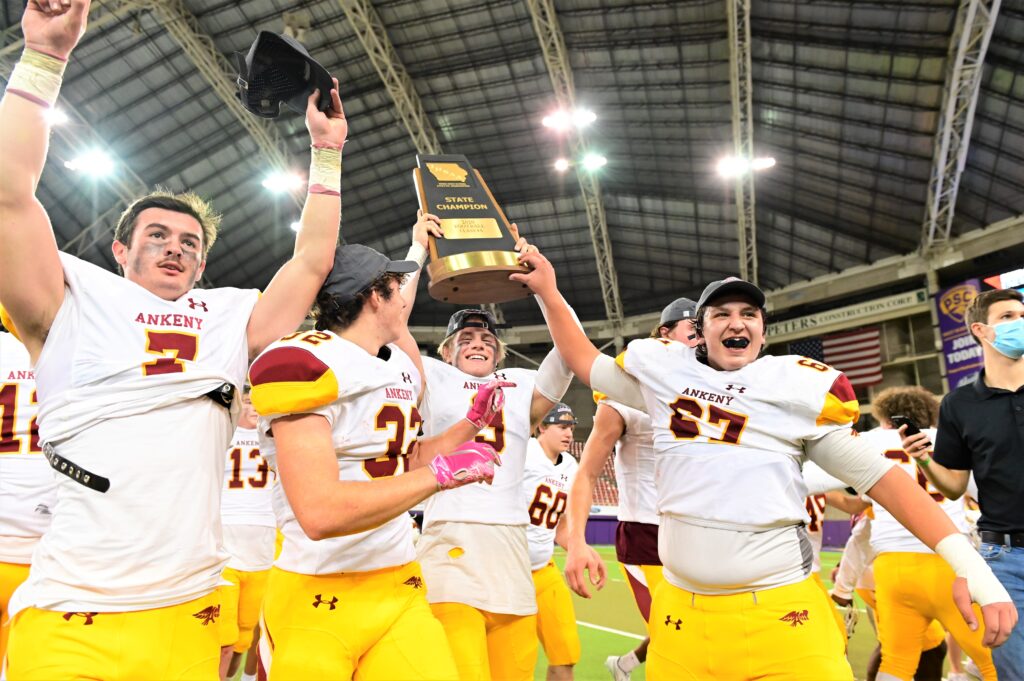 When Arland Bruce IV transferred to Ankeny earlier this fall, the Iowa recruit didn't know he was joining a state championship football squad.
"I knew the talent we had was pretty scary," Bruce said. "But I really didn't look too far into it. I was just worried about trying to get onto the field with the guys."
Bruce sat out the first five games of the season while sorting out his eligibility issues, but once he was allowed to play, he proved to be a difference-maker for the second-ranked Hawks.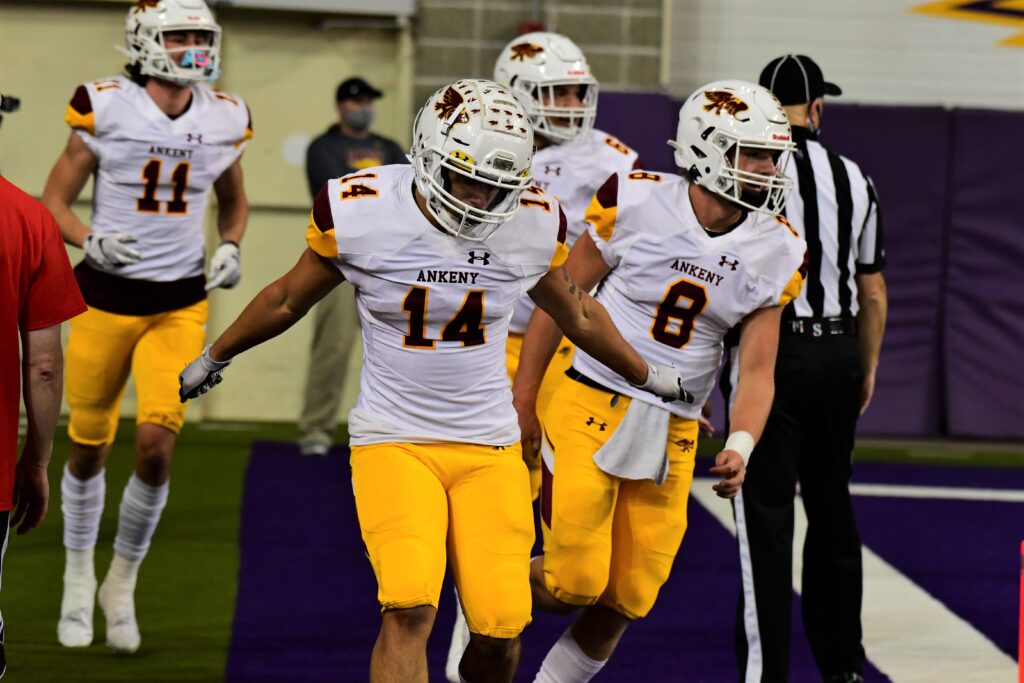 On Friday, Bruce accounted for 184 total yards and three touchdowns as Ankeny romped to a 42-14 victory over No. 1 Southeast Polk in the Class 4A championship game at the UNI-Dome in Cedar Falls. He helped the Hawks to their third state title.
"It feels great," Bruce said. "I can't even describe how I'm feeling right now."
Ankeny quarterback Jase Bauer ran for 158 yards and two touchdowns in the win. He also passed for 101 yards, including a 24-yard scoring strike to Bruce that put the Hawks ahead for good late in the first quarter.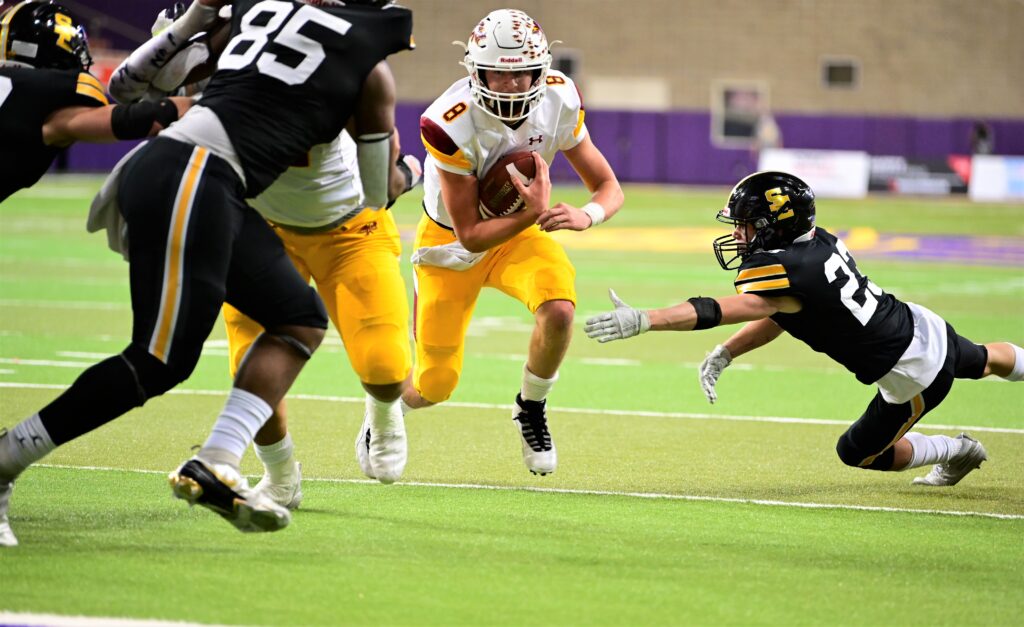 "I'll do whatever coach needs me to do," Bauer said. "When they gave us man looks early on, we were able to pass the ball. But after that, they backed off and weren't going to let us throw deep–kind of like Dowling (Catholic) did last week. I knew it was another game that I was going to have to use my legs to get it done."
Ankeny (11-1) also got a dominant performance from its defense, which held Southeast Polk (10-1) scoreless in the final two quarters after giving up 229 total yards in the first half. The Hawks forced four turnovers, including three interceptions.
The Rams' biggest turnover came midway through the first quarter, when Xavier Nwankpa muffed a punt and Ankeny's Caleb Rathjen made the recovery. Bauer scored on a 15-yard run three plays later to tie the game.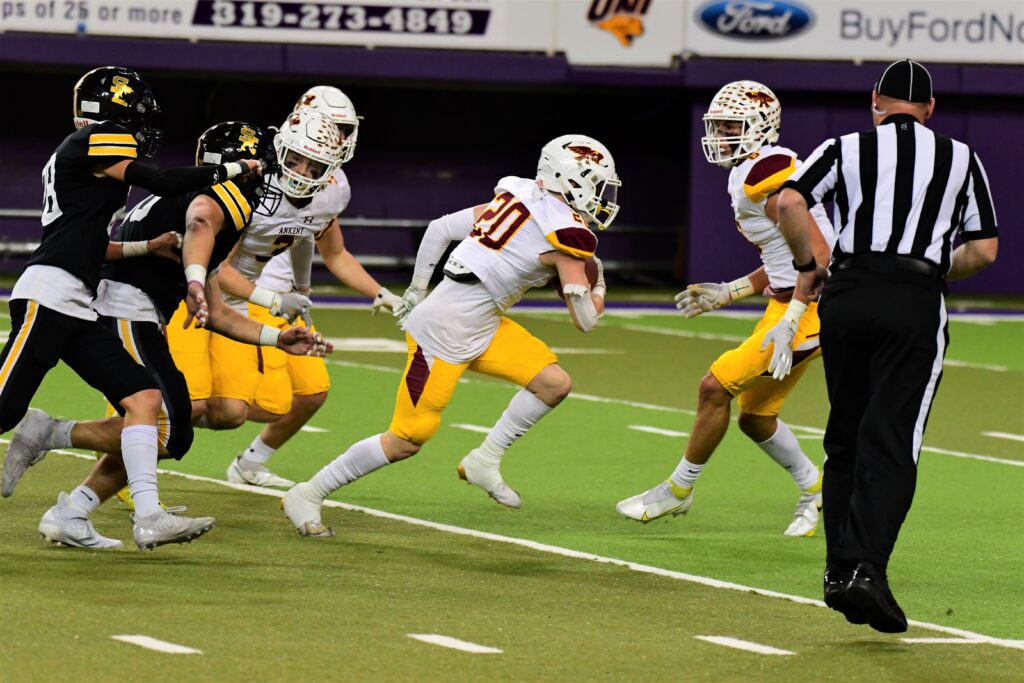 "We knew special teams were going to be a big part of (the game) as well," said Ankeny linebacker Brecken Manus, who led the Hawks with 9.5 tackles. "We needed turnovers for sure, especially after that first drive. That was a big turning point. We had a 3-and-out (on our first possession), and then they just kind of ran it down our throats. So that was a big turning point for the game for sure."
On Ankeny's next possession, Bauer connected with Colin Kadolph on a 40-yard bomb. He then found Bruce in the end zone two plays later for the go-ahead score.
"Those were some great catches," said Ankeny coach Rick Nelson. "Kadolph had a great one down our sideline, and then Arland caught the one in the end zone. That's just unbelievable–the ball hawks those two kids were."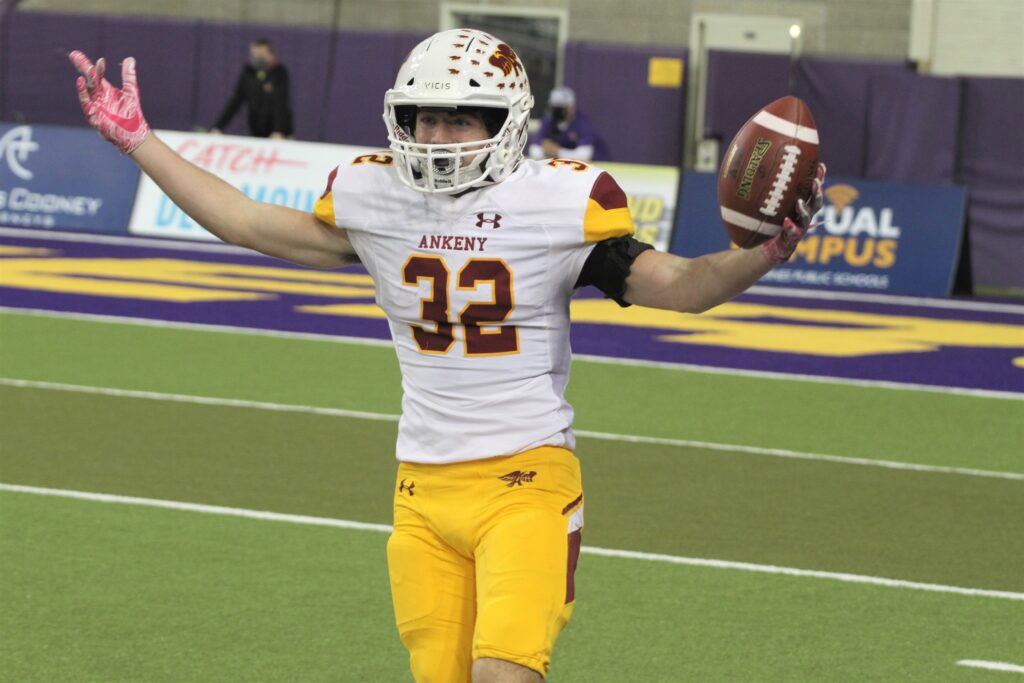 Bruce caught seven passes for 58 yards and ran 14 times for 91 yards. He raced 34 yards for a touchdown to give the Hawks a 21-7 lead with 8:23 left until halftime.
Bruce's scoring jaunt, which included a nifty move that left Nwankpa grasping for air, followed an interception by teammate Will Cornwell.
"We knew we were dominating up front," Bruce said. "And if we continued to do that even more in the second half, we could definitely win this game."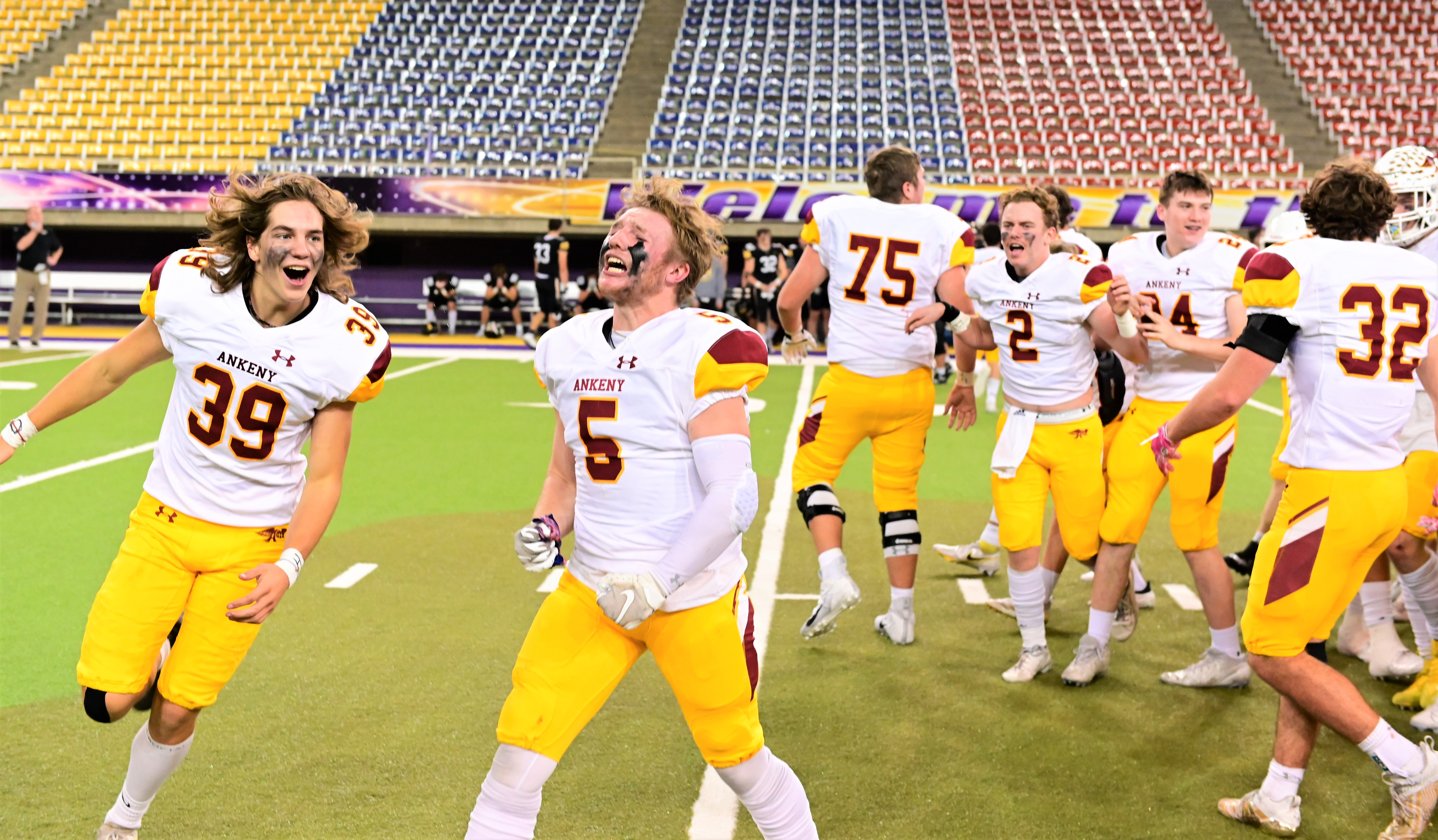 Bruce scored on a 9-yard run midway through the third quarter. Bauer added a 4-yard scoring run less than 3 minutes later.
"I felt very confident," Bauer said. "Our defense could do their thing, and we just kept driving the ball. They weren't going to let us pass after those first couple of drives, so we just kept running the ball."
Interceptions by Ryan Crandall and Brody Brecht helped Ankeny seal the victory. Kadolph scored on a 4-yard run in the final minute to punctuate the win.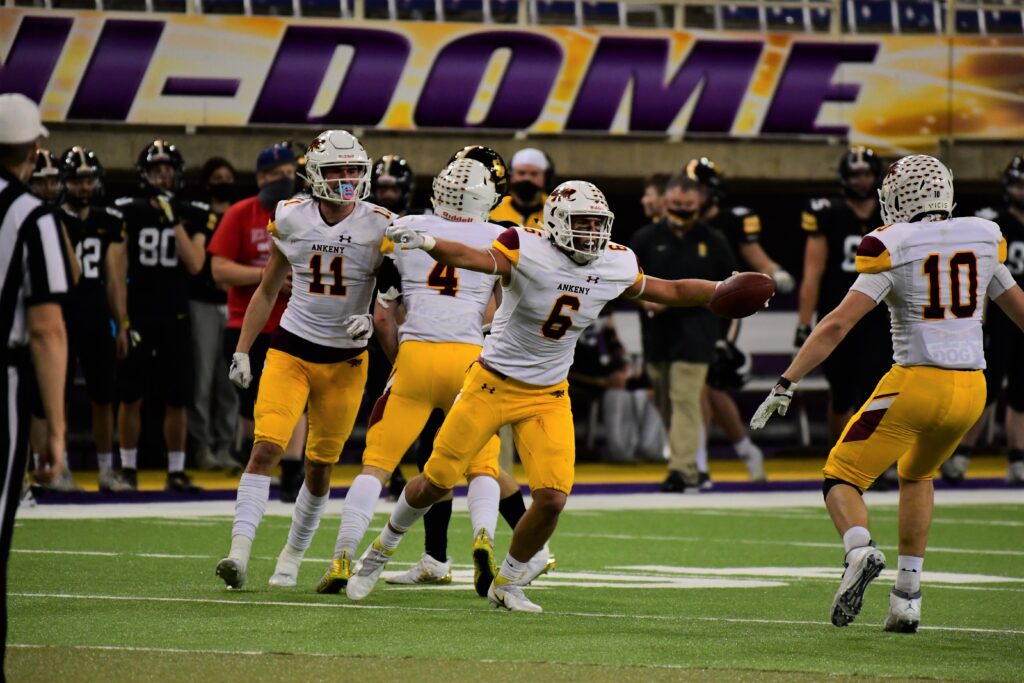 "It feels great," Manus said. "We came in really confident. We knew we could put up points, and we knew we had a really good defensive plan going in. But we would never expect this."
Rathjen added eight tackles as the Hawks captured their first crown since 2012, the year before Dowling started its historic run of seven consecutive championships. Ankeny ended the Maroons' dynasty with a double-overtime victory in the semifinals a week ago.
Now, the Hawks are state champions under Nelson, who spent the majority of his coaching career at Northern Iowa before coming to Ankeny in 2015 to take over the program.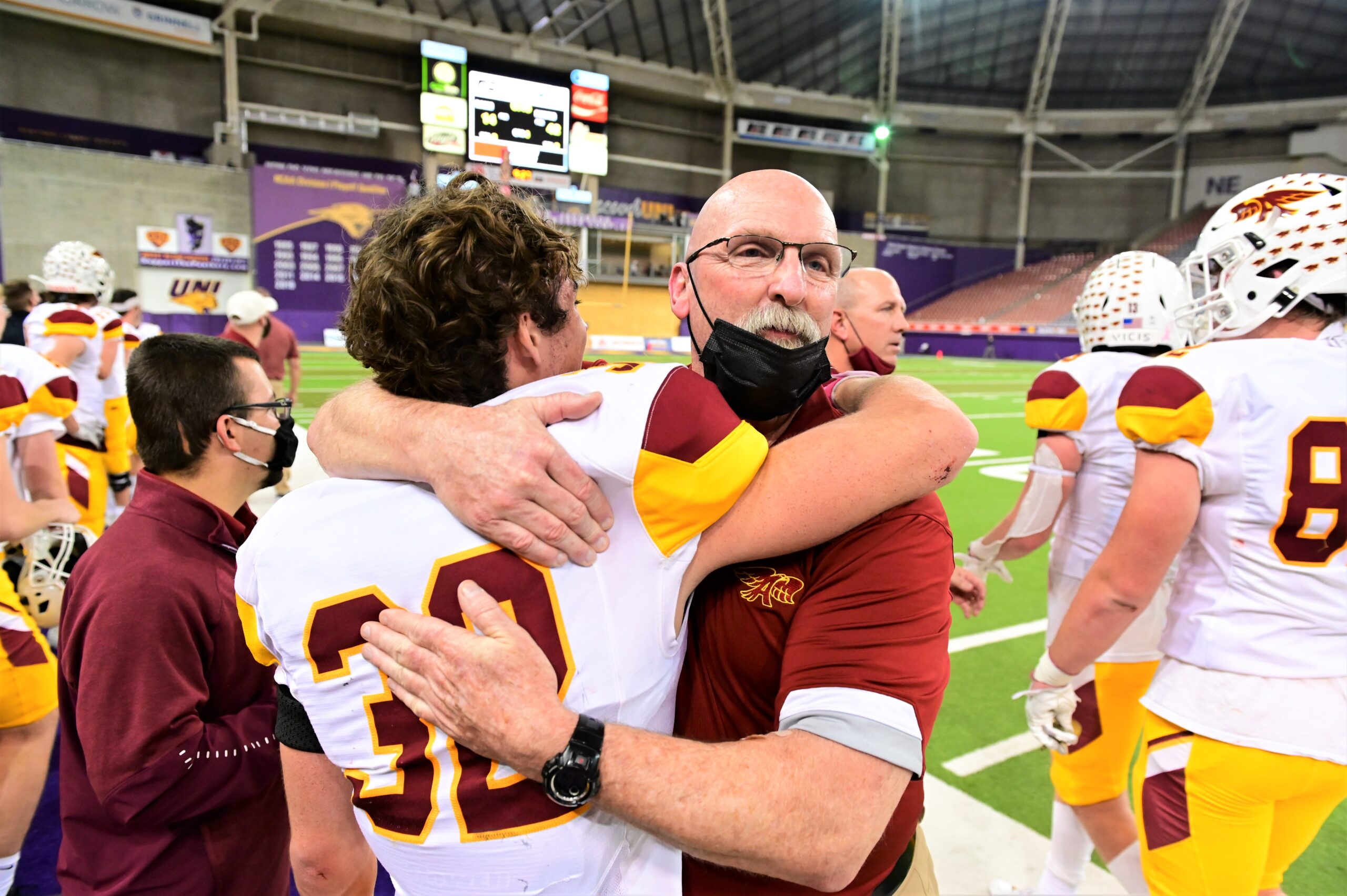 "I didn't know coaching high school football was this hard. It's hard," he said. "So those guys that have done it year in and year out and had great teams, my hat's off to them because it's a tough job. We've had great kids–we just haven't had some of the playmakers that you need to beat a team like Southeast Polk, and we did this year. That was a huge difference."
After the game, the Ankeny players posed for photos with the trophy and shared hugs with their teammates. The Hawks had fulfilled their championship dreams.
"I'm just so proud of our kids and our coaching staff," Nelson said. "We're just a big family right now. I hope we can keep that culture going. When the kids care about each other, you've got something."