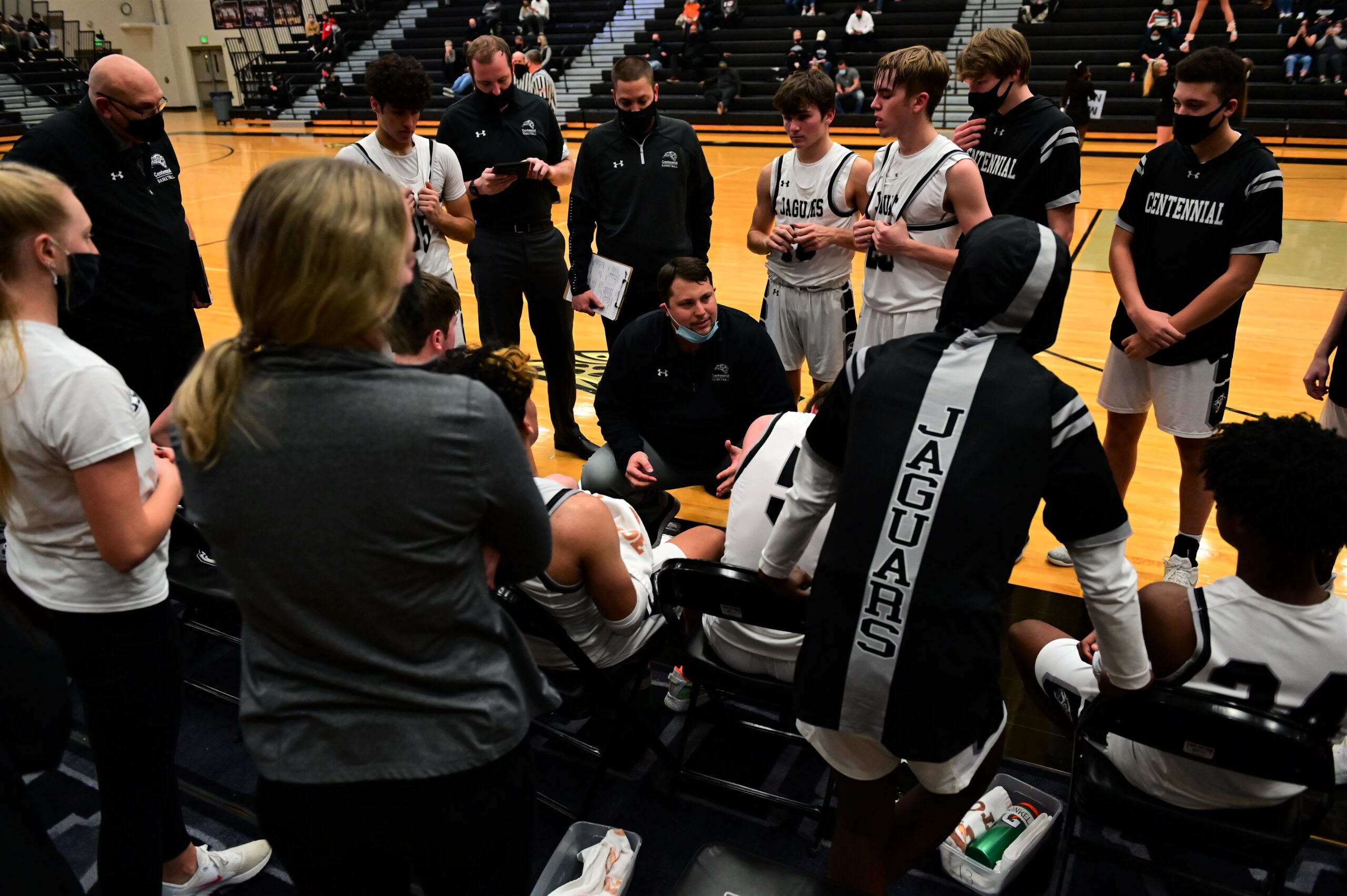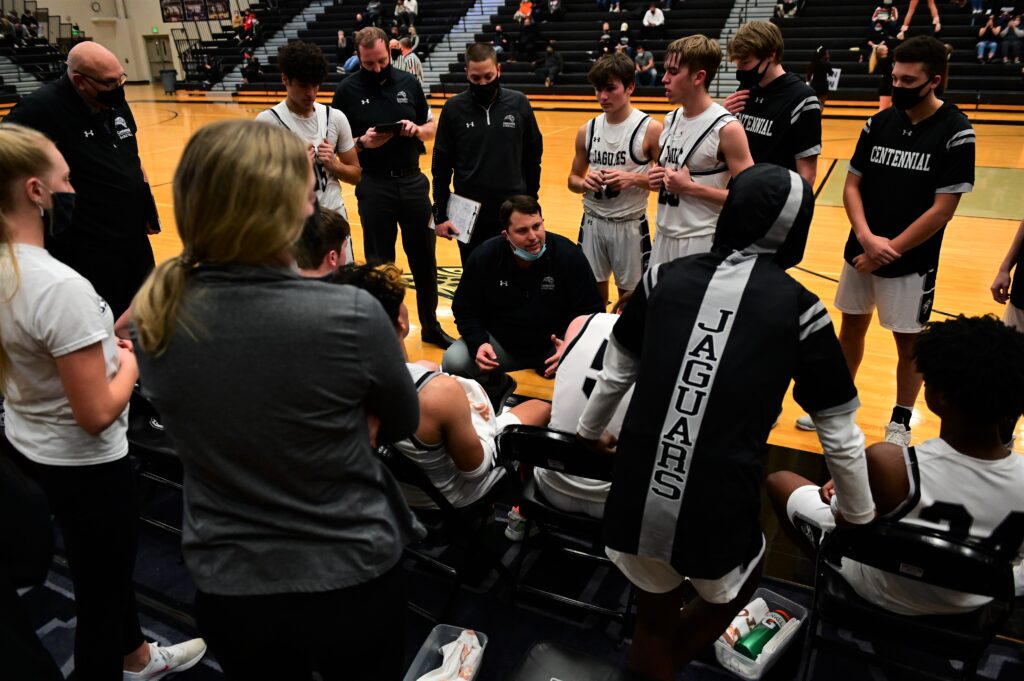 Ben Lamaak felt a little uneasy heading into Tuesday's game against the Ankeny boys' basketball team.
The play of his Ankeny Centennial squad calmed his nerves.
Lamaak, a longtime assistant coach, took over the team due to the absence of head coach Bob Fontana and guided the third-ranked Jaguars to a 71-56 victory in a CIML Iowa Conference game at Centennial. Fontana missed the contest because of a sinus infection.
"I'm not going to lie. I was a little nervous there," Lamaak said. "But I've been with Bob for eight years, and I played for him in high school. I know his system, and the guys played so hard and played great. I'm just really happy with their performance."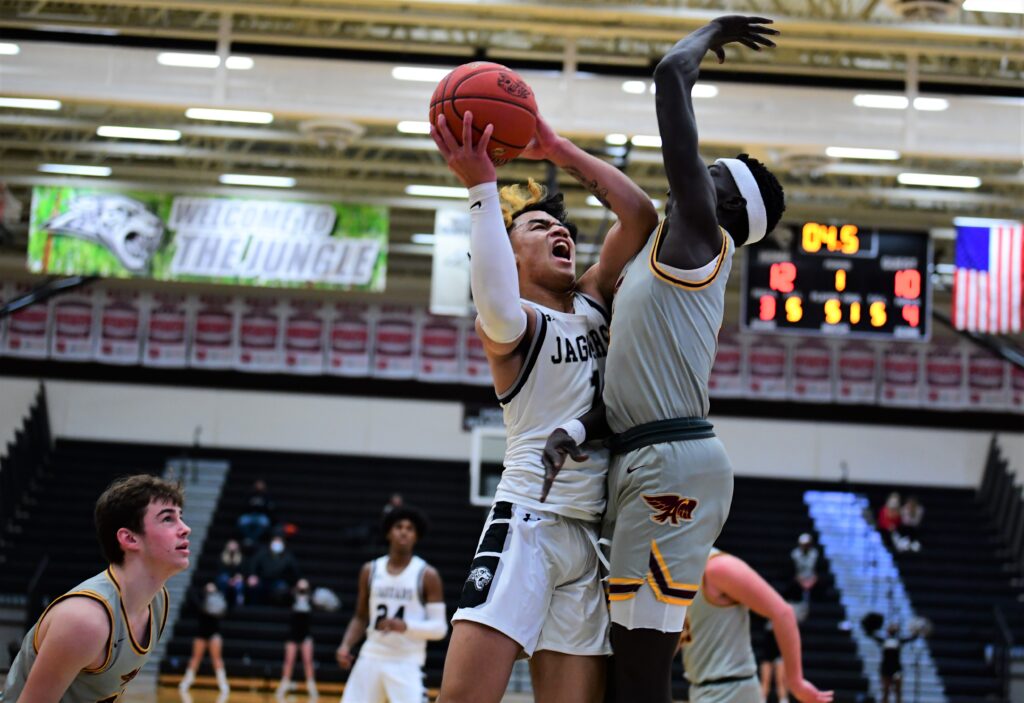 Jaron Crews led Centennial to the win against his former team. He racked up 24 points, 10 assists, seven steals and four rebounds.
Crews made 5-of-10 3-pointers, including one in the second quarter that broke a 14-14 tie and put the Jaguars ahead for good.
"I was just trying to come out extra aggressive because I was playing bad before the break," said Crews, who had just four points in his team's win at Ames on Dec. 22. "I was just trying to get into my groove again."
As a team, the Jaguars went 13-of-23 from behind the arc (56.5 percent). Brock Jensen made 3-of-4 attempts and scored a career-high 13 points.
"That's our MO," Lamaak said. "We have the capability, and we've got multiple guys who can shoot. Anytime you can make that many 3s, it makes my job easy."
Lio Aguirre added 10 points for the Jaguars, who improved to 4-0 in the conference and 5-0 overall. Ankeny's records dropped to 2-1 and 2-3.
"The (23) turnovers on our side were really the difference, I thought, in giving us a deficit," said Ankeny coach Brandt Carlson. "It's frustrating, but at the same time I guess we're just learning about our team a lot more and doing our best to see who can continue to help us try to find some success."
Ryan Crandall led the Hawks with 12 points. Brayden Drea and Brady McCullough each added 11.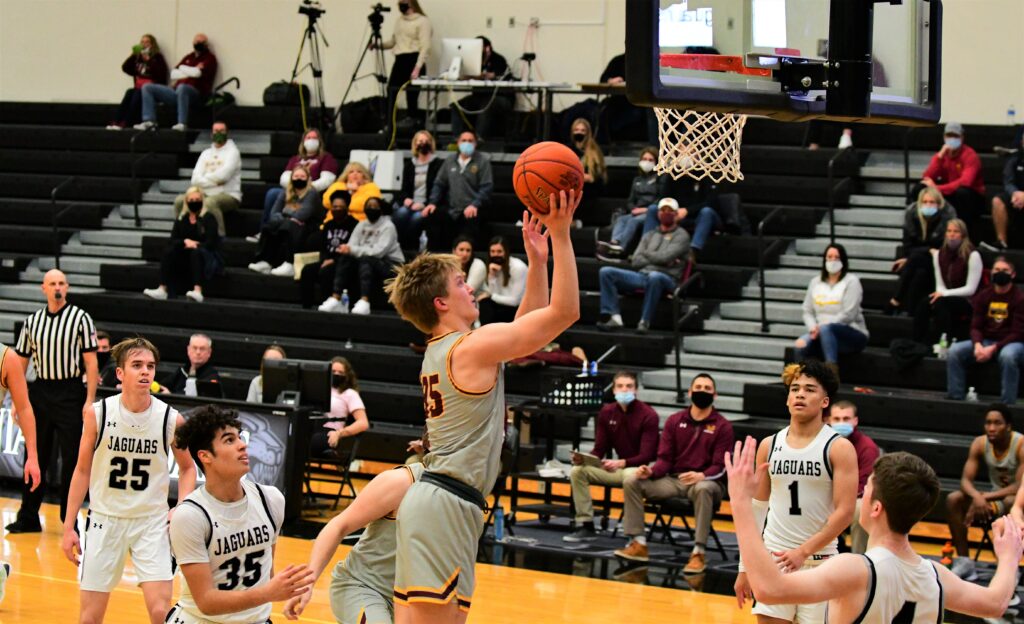 "The second quarter was the difference," said Crandall, who also had nine rebounds and four assists. "Obviously, we couldn't guard Jaron. They shot a lot of 3s and made a lot of them."
Centennial closed out the first half with a 20-5 run to build a 34-19 advantage. Crews had 17 of his points in the first half.
"I thought we played aggressive and matched their intensity," Crews said. "We moved the ball well."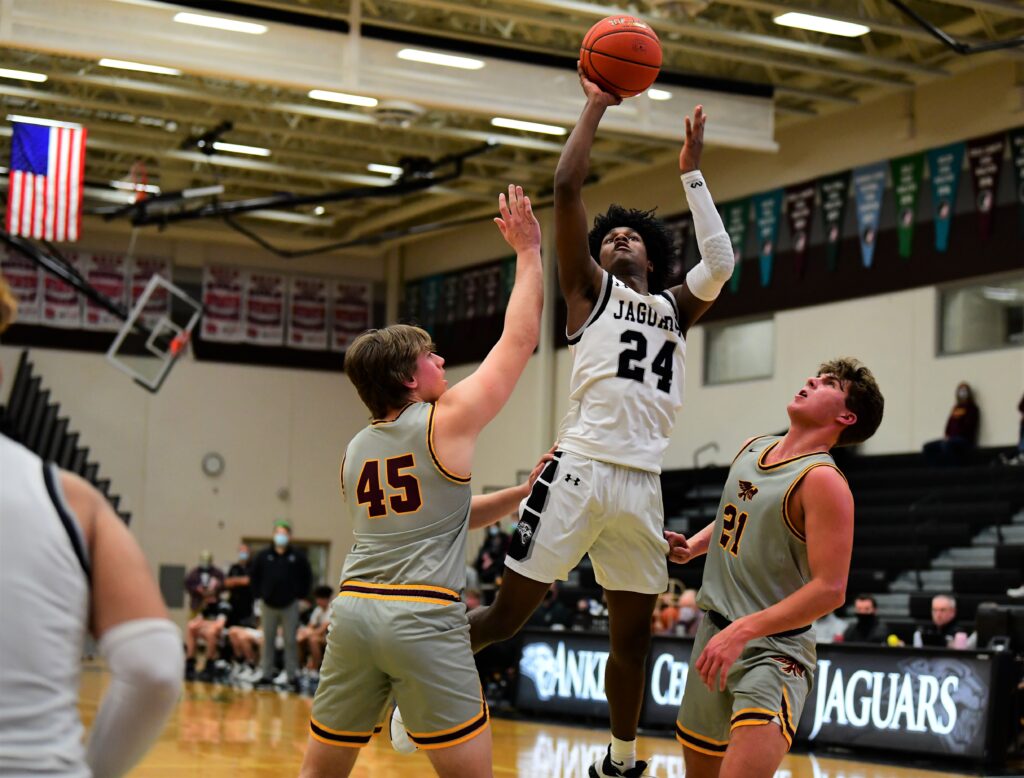 The Jaguars held a 55-39 lead after three quarters. They led by as many as 22 points in the final period.
Lamaak said his players responded well to the news that Fontana would miss the game.
"We found out a couple days ago," he said. "We had some adversity, but I think that's kind of the mantra of how the year has gone. Our guys played hard, and they executed the game plan."
Carlson tried some different combinations in the second half. The Hawks received a spark in the fourth quarter from some of their younger players.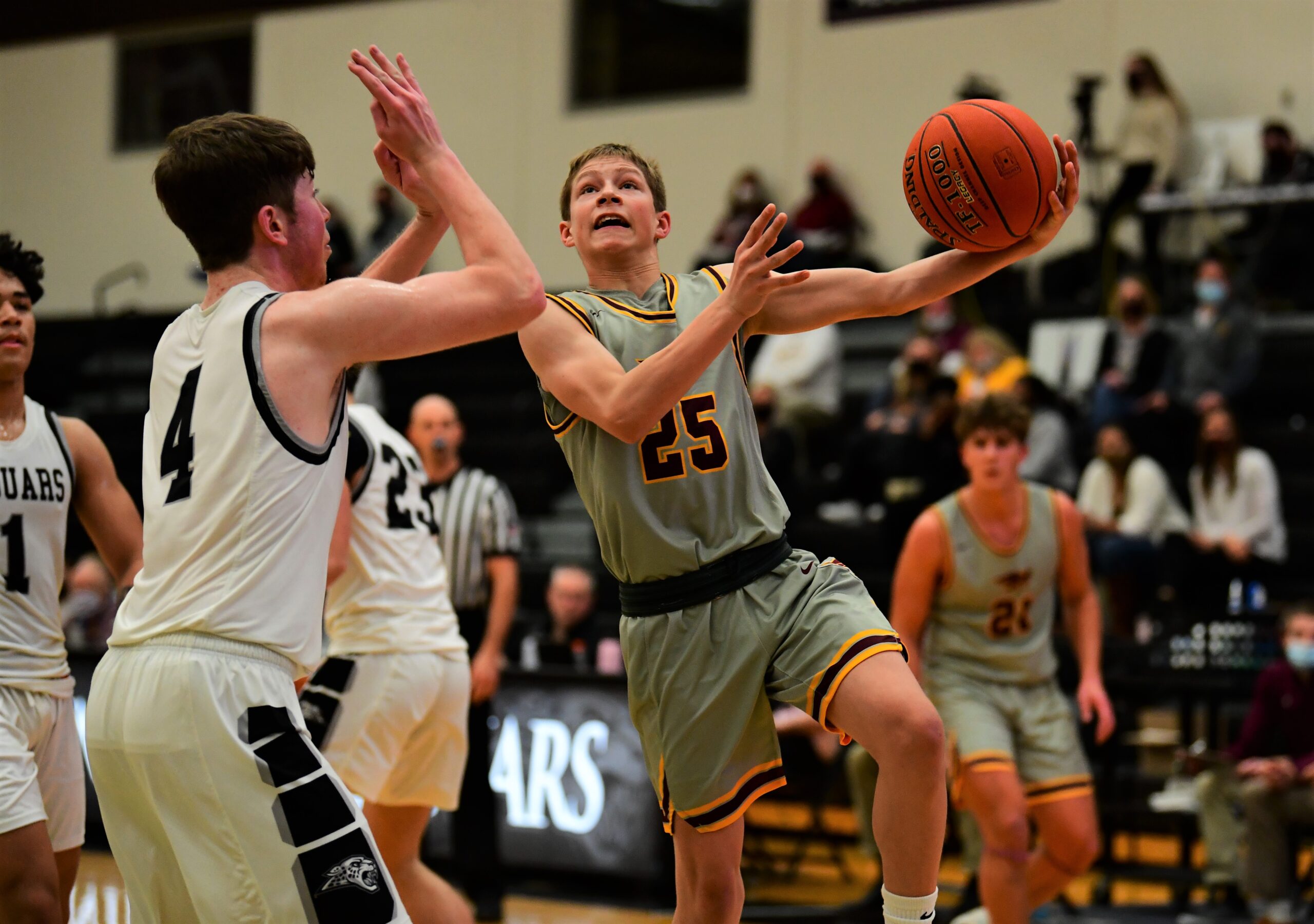 Drea, a sophomore, and Carson Johnson, a freshman, each had a pair of 3-pointers late in the game.
"That's what we're going to have to do–just building confidence honestly," said Carlson, whose team was coming off a 65-28 loss at No. 1 Waukee on Dec. 21. " I think when you play Waukee, you can get yourself down pretty quick. And during Christmas break, it maybe didn't go away yet. And Centennial is very good. We'll just keep working and trying to build, and hopefully at the end of the year we can be the best version of ourselves."
Drea and Johnson combined with sophomore JJ Kohl to score Ankeny's final 15 points. Kohl was playing against his former team for the first time since transferring after the football season.
"They've got a good team," Crews said of the Hawks. "They have some pretty good shooters. They're going to be tough later in the season."
Ankeny will host a rematch against the Jaguars on Jan. 29. The Hawks have lost the last three meetings in the series.
"We're a young team," Crandall said. "We're going to get there."
The Hawks will host a conference game against Marshalltown (1-2, 1-5) on Friday. Centennial will play a non-conference game at Valley (2-0) on Saturday.