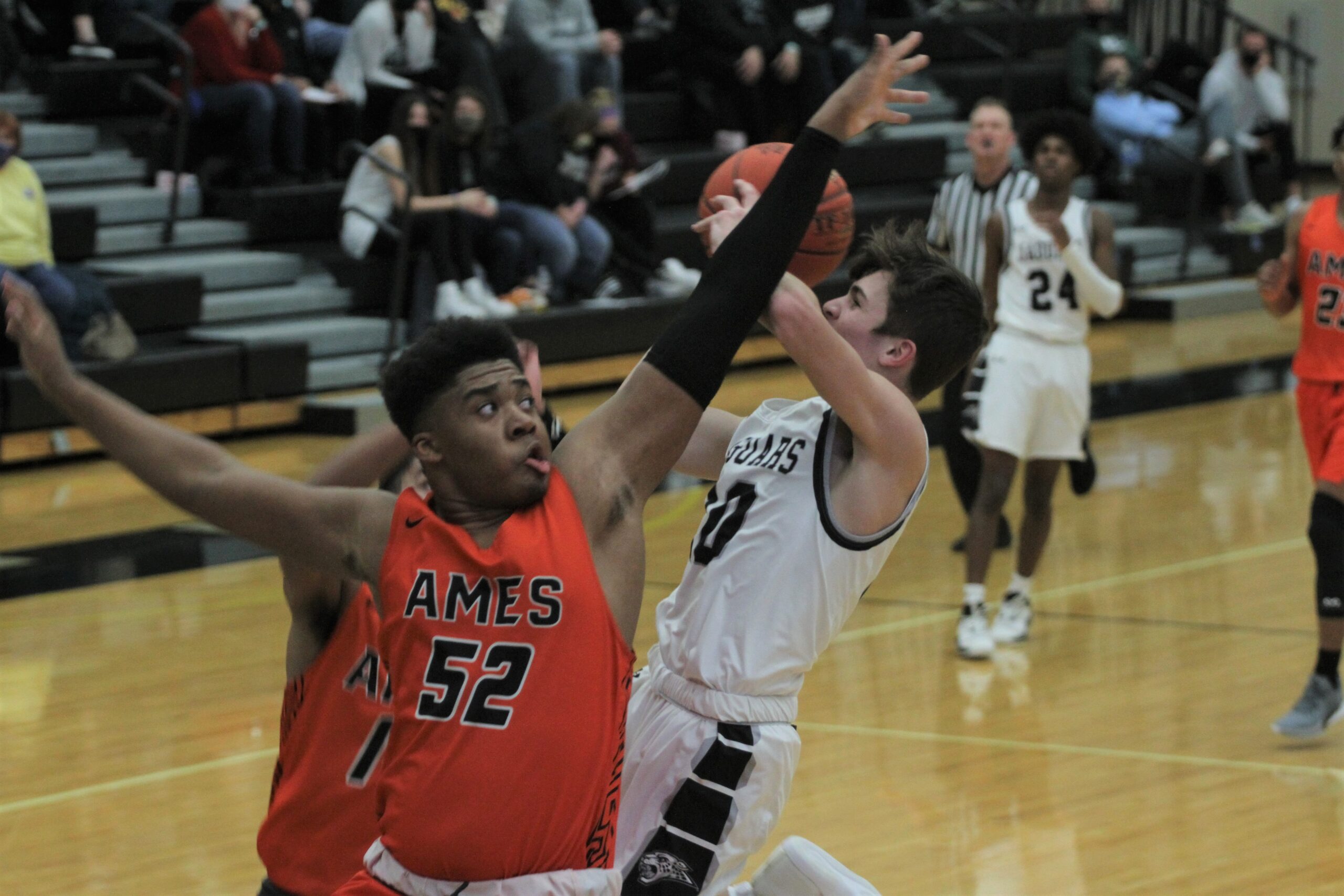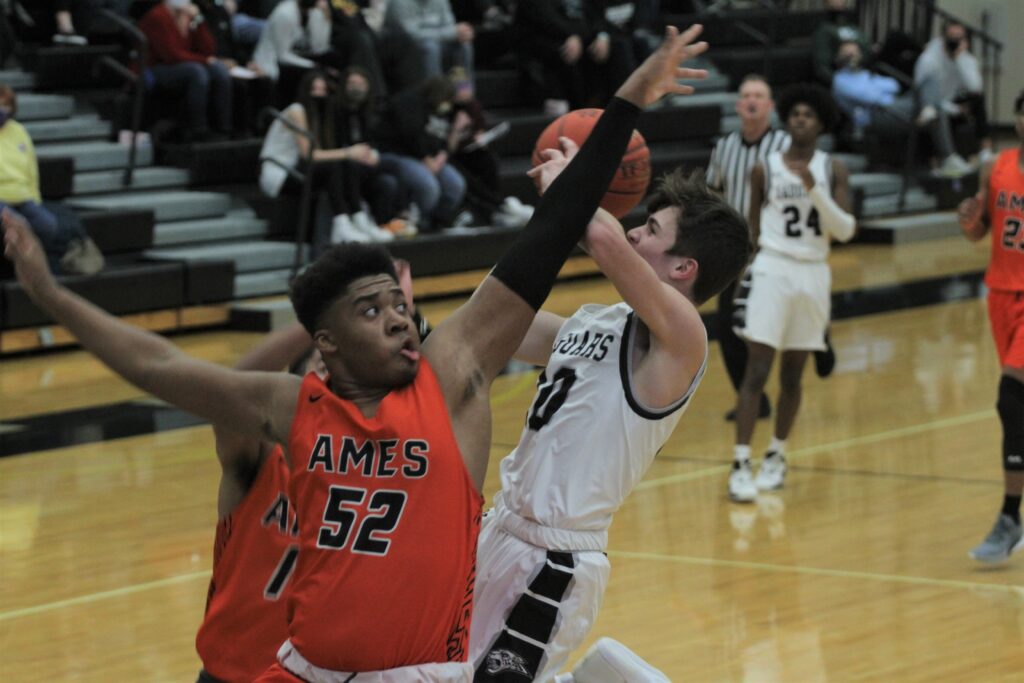 A two-game lead in the CIML Iowa Conference gave the Ankeny Centennial boys' basketball team some margin for error on Friday night.
All-state point guard Jaron Crews sat out with an ankle injury as the fourth-ranked Jaguars lost to No. 10 Ames, 56-46, in a top-10 showdown at Centennial.
"I could have played tonight, but I just wanted to make sure I was 100 percent for next week," said Crews, who was injured during his team's loss to No. 2 Waukee on Tuesday.
While Crews sat on the bench in his warmup clothes, the Jaguars had no answers for Ames all-stater Tamin Lipsey. The junior point guard scored 19 of his 25 points in the second half as the Little Cyclones avenged an earlier 55-53 loss to Centennial.
"Lipsey's a great player," said Centennial senior Brock Jensen. "I've played with him ever since second grade, and we've played on the all-Iowa Attack together. He made great plays down the stretch."
Centennial trailed by just 28-26 before Lipsey went on a 7-0 run all by himself midway through the third quarter to give Ames some breathing room. Lipsey started the run with a free throw, then rebounded his own miss on the second attempt and converted a layup.
On the Little Cyclones' next possession, Lipsey posted up on the block and scored again. He then picked off a Centennial pass and drove in for a dunk.
Lipsey later opened the fourth quarter with a pretty spin move that resulted in a layup. Shortly thereafter, he posted up again and converted a 3-point play to give Ames a 42-31 lead.
"Whether he drove it or knocked down a jump shot or a free throw, and he posted up a time or two, he was scoring in a variety of ways," Centennial coach Bob Fontana said of Lipsey. "That's why he's as good as he is. He's obviously a big catalyst for them."
Lipsey left the game in the final minutes after picking up his fourth foul. The Jaguars immediately got a pair of baskets from Caden Kelling, then Kelling was fouled as he drove to the basket again with 2:08 remaining.
Kelling sprained his ankle on the play and was replaced by Lio Aguirre, who made both free throws to cut the Ames lead to 45-39.
"I hope Jaron can go next week because Caden's got a pretty good sprain," said Fontana, whose team will play a non-conference game at Dowling Catholic (6-7) on Tuesday. "He might be out for awhile."
Lipsey then returned to the court and helped the Little Cyclones seal the victory. He scored five points in the next minute to thwart Centennial's rally.
The last of those points came with 59 seconds left after Lipsey forced a turnover that led to a technical foul against the Jaguars. He then made both free throws to give Ames a 51-42 advantage.
"It was definitely a learning experience for our younger guards," Fontana said. "We'll try to learn from it and grow and get better because of it."
Lucas Lueth had 11 points, including a trio of 3-pointers in the first half, as Ames earned its sixth straight win. The Little Cyclones, who were without starting guard Keyshaun Brooks for the second game in a row, improved to 7-2 in the conference and 11-3 overall.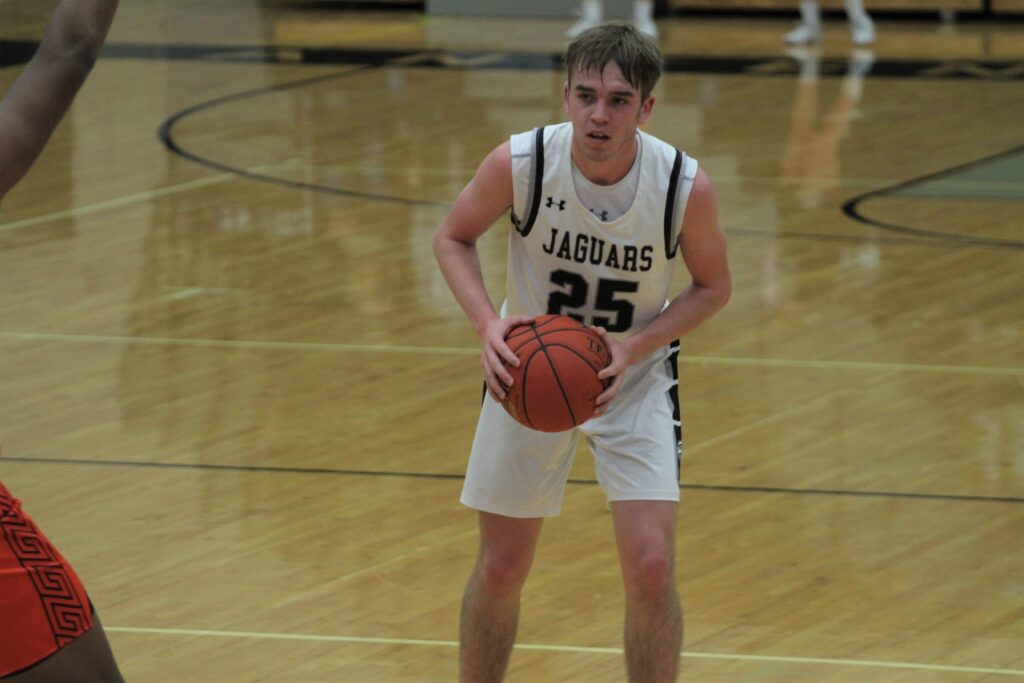 "I had the confidence in our guys," Jensen said. "Tonight just wasn't our night. We had a few guys banged up, and it just didn't go our way tonight."
Centennial's records dropped to 8-1 and 10-3. The Jaguars can still win the outright league crown with a win at Mason City on Friday–or an Ames loss at Ankeny.
Aguirre led Centennial with 13 points. Colin McAleer chipped in 10, Chris Louis had nine, and Jensen added eight.
"I thought a lot of people stepped up," Crews said. "Chris had a good game–he got into the paint. At the end of the night, I just thought we beat ourselves really."
Centennial was held to its lowest point total of the season. The Jaguars had scored at least 55 points in every other game.
"I thought we battled, but there were just some key moments where we were inconsistent on offense in the first half," Fontana said. "We had some empty possessions, and again we didn't shoot it very well from the free-throw line (9-of-17)."
The two teams could meet again in the postseason. Both squads have been placed in Class 4A Substate No. 2 by the Iowa High School Athletic Association.
"I'll be ready if we play them again," Crews said.