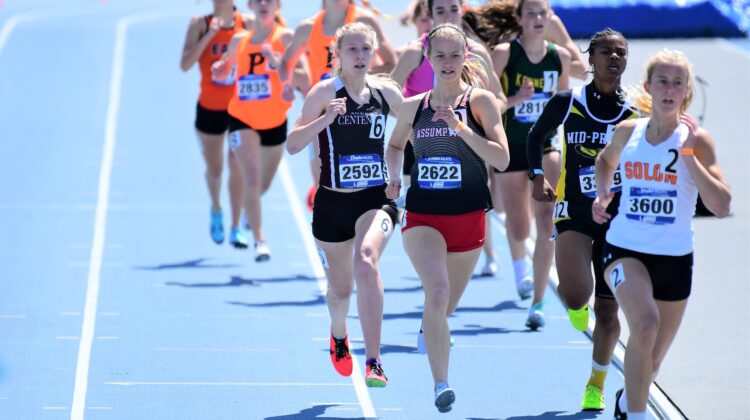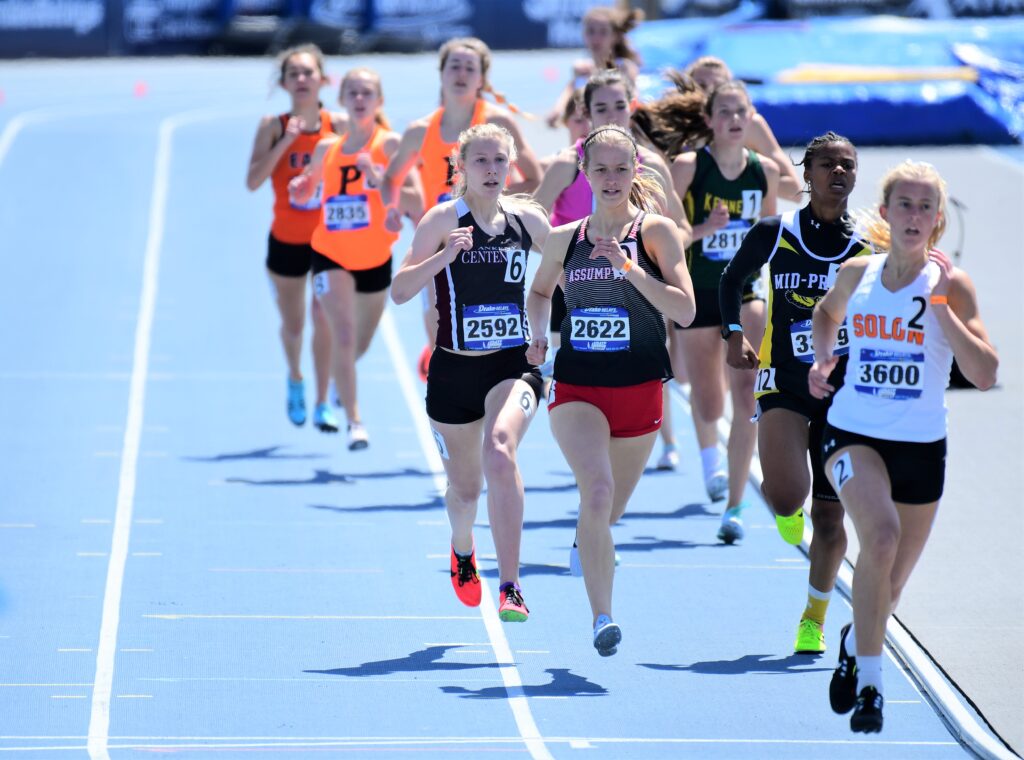 With the high school portion of the Drake Relays condensed into one day, the Ankeny Centennial girls' track team was forced to make some tough choices on Thursday.
Two of the Jaguars' top individual qualifiers–Kathryn Vortherms in the 400 and Rondi Quass in the 3,000–decided to skip those races in order to focus on other events. And the strategy paid off.
"It was a tricky day for us, because the schedule didn't allow us to do everything we wanted to," said Centennial coach Andrew Kruzich. "We scratched Kathryn's 400 and Rondi's 3,000–even though both of those were top-10 qualifiers.
"We're so happy for Kathryn's 800 medal, and we're pumped for Rondi's 1,500. Neither of them could have done that had they run their other events, so it felt like the right decision," he added.
Vortherms smashed her own school record in the 800, placing second in a time of 2:15.50. She was in fifth place midway through the race, then ran the final 400 meters in 1:06.90 to pass three other runners.
Ainsley Erzen of Carlisle won the 800 in 2:13.73. She ran the opening 400 in 1:06.36 to build a commanding lead, then held on for the victory.
"I was really happy with the way I ran! I think my races went really well," Vortherms said. "For the 800, my strategy was to go out with the top group on the first lap, and just kind of sit with them for a bit. I reset halfway through and then on the last 300 I picked it up and kicked at the end! (Assistant coach Eric) Cog(dill) and I had talked about the race beforehand, and I stuck to our strategy pretty well, so it was pretty close to what I was expecting. It felt really good the whole time, which I was super excited about!"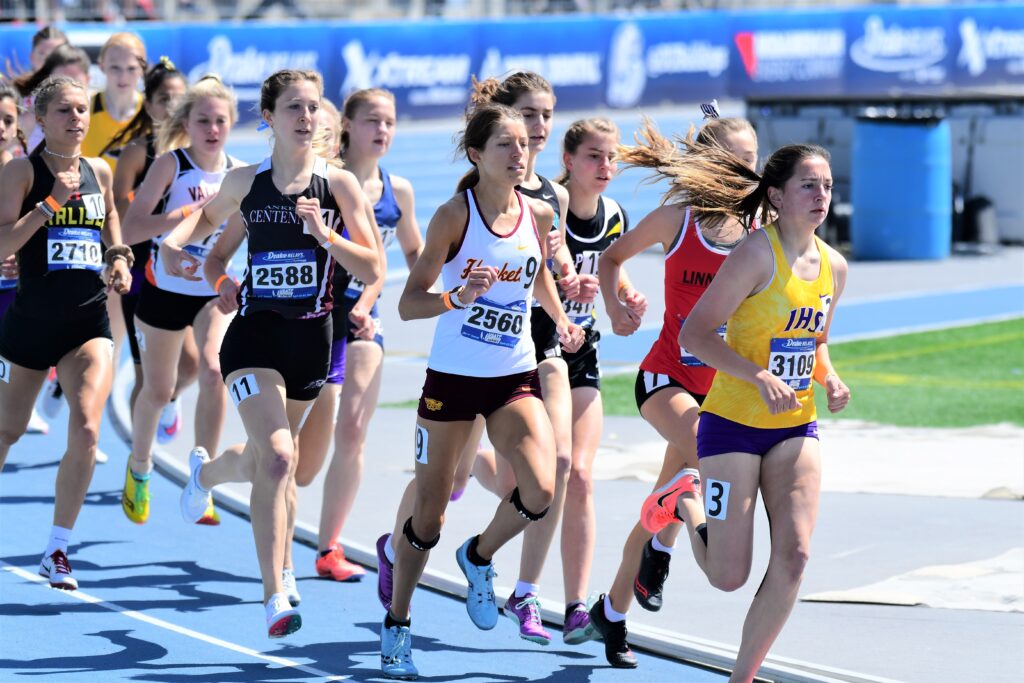 Quass, meanwhile, took fifth in the 1,500. She posted a time of 4:46.15.
Quass was part of a lead pack consisting of five runners, including Lauren McMahon of Ankeny, that was tightly bunched going into the last lap. She tried to make a strong move, but Ashlyn Keeney of Iowa City Liberty then surged to the front, running the final 400 in 1:07.30 to win the race in 4:39.24.
"I was super excited to run and get my first experience at Drake this year!" Quass said. "It was also great to be there with good friends like Lauren who make races fun and competitive. That said, I was definitely nervous going into such a stacked race, but I knew it was also an opportunity to really push myself! The race went pretty much according to the plan that coach Cog(dill) had laid out for me, and at the last 500 I decided to go for it and dare people to follow me!
"It was very exciting to put myself in a good position going into that last 200! Getting outkicked at the end can always be a bit hard, but I knew I gave it all I had, so I wouldn't change a thing. I'm so glad I've had the support of my team and coaches to push me to be able to do what I did, and I can't wait to take on state in a few weeks after great performances from our entire team!" she added.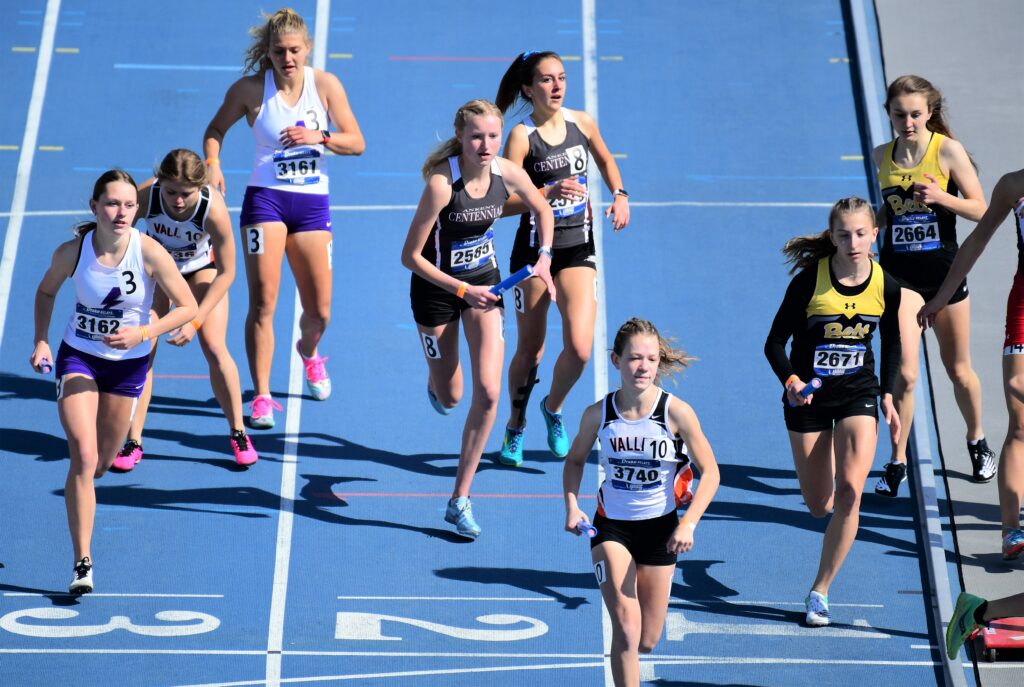 Quass and Vortherms also teamed up with Josie Bearden and Katie Jensen to place fourth in the 4×800 relay. Vortherms ran the anchor leg in 2:19.97 as the Jaguars set a school record with a time of 9:31.12.
"Our goal was to either match our seed time or place higher," Vortherms said. "Cog told us to just go out there and do our thing!"
Southeast Polk won the 4×800 in 9:19.90. Two other CIML schools, Johnston and Waukee, placed second and third.
"We had six Drake medals in six Relays in our school history, and we had 3 this year," Kruzich said. "Obviously, that's great. But there is a part of me that wonders what we would have looked like over a regular two to three days of Drake. Still, it was great to be back at the Relays."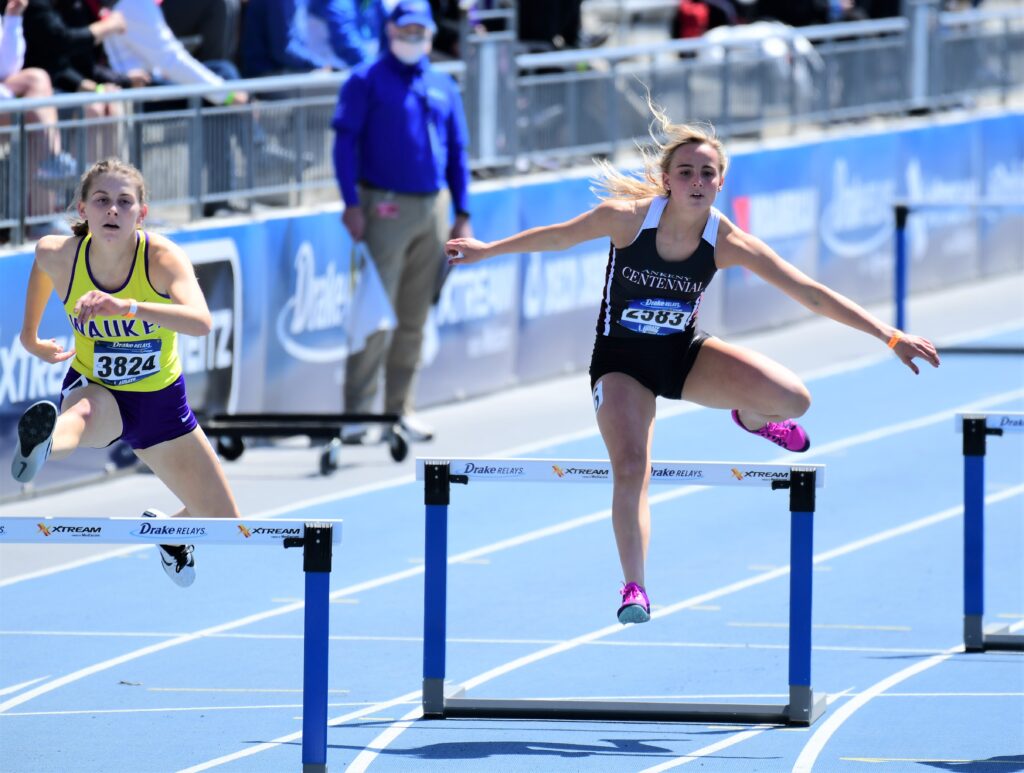 Centennial got a seventh-place finish from Millie Hill in the 400 hurdles. She broke her own school record with a time of 1:06.23, but missed medaling by .45 seconds.
"Millie got the dreaded seventh place, but she ran her all-time PR," Kruzich said. "That's all you can do sometimes."
Hill, though, was not pleased with the race, which was won by Mackenzie Carney of Waukee in 1:04.39.
"Missing a medal by one place stings quite a bit and left me feeling quite disappointed," she said. "Overall, I started out the race strong, but wasn't as smooth over the hurdles as I would've liked along the backstretch and the third curve. I did my best to use my competition and grind it out on the straightaway to make up some ground and just fell short. I was still able to PR, but was by no means satisfied with that performance.
"Ultimately, I am extremely grateful for the opportunity to run the 400 hurdles at Drake; it's quite the experience not many get. I am also excited for what the rest of the season holds, and I will be back and faster by the time state rolls around," she added.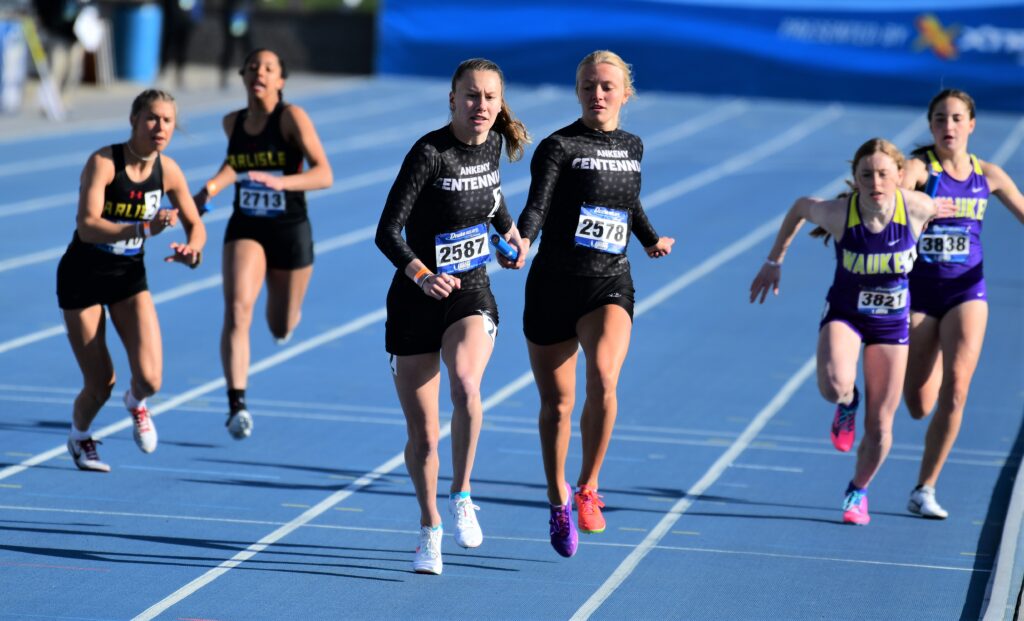 Centennial opened the day by placing 23rd in the sprint medley relay. The foursome of Mariah Belzer, Maraye Breeding, Olivia Anderson and Maddy LaVoi was clocked in 1:56.48.
The Jaguars took 14th in the 4×200 relay. The team of Jordan Su, Elle Street, Anderson and Breeding posted a time of 1:47.59.
Centennial later closed out the meet with an 18th-place finish in the 4×400 relay. The quartet of Vortherms, Street, Hill and Breeding turned in a time of 4:09.59.
"I thought our girls performed well," Kruzich said. "The 4×200 and 4×800 ran season's best, and our three individual races were all PRs–two of them school records. We tried to get it going again in the 4×400, but Kat and Millie had really tight turnarounds and they just weren't themselves. Our sprint medley was subbed out, and our 4×200 actually ran a season best with Kathryn subbed out of it. That's a positive."